Medical Spa Marketing $599 to $999/mon
Medical spa and aesthetics practice need a steady flow of new clients every month.
Most of your clients and patients look for your services on:
So your strategy is to be in front of the potential clients and patients when they are looking for your services. This means Social media and Google. These 2 are the most important channels to acquire new clients of your med spa.
Data shows that for Medical Spas in major cities on the West and East coast, the cost of each lead generated is approximately in the range of $16 to $27. In the Midwest and Southwest lead generation costs are 23% less. Med spa's in the outskirts of major metropolitan areas usually see costs in the range of $8 to $14 per lead.
The cost of each new lead varies from area to area, as competition and demand for services offered by each medical spa varies. But the good news is that using a comprehensive Medical Marketing Platform can provide your medical spa with a competitive edge, and only one extra procedure can produce enough return on investment to justify your investment.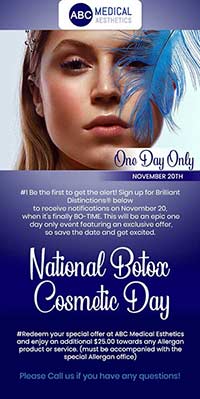 Step 1: Must Have an Emotionally Attractive and Google Optimized Conversion Website for Your Med Spa Practice.
Step 2: Must Have a Proven Marketing and Advertising Plan for Your Med Spa Practice. Covering Google, Social Media & Mobile.
Step 3: Must Have a Technology Platform & Staff For Sustainable Competitive Advantage.
Key Tactics for Med Spa Marketing 1) Marketing is not equal to advertising 2) You must have an advertising budget in addition to marketing. Medical spa advertising can make big difference, however it is not a simple task of just placing ads on Facebook/Instagram or boosting your post. We recommend a holistic and proven marketing and advertising plan for your practice. This is offered in 1) GOLD service $599/mon 2) PLATINUM service $999/mon. The key difference is, if you are located in a competitive area, you will need more resources dedicated to your account, and we will recommend PLATINUM.
The Med Spa industry is becoming increasingly competitive. Successful Med Spas in the United States and Canada can ensure the success of their business if they properly market their med spa to their surrounding areas. Employing these marketing tactics for your med spa can help you stand out among your competitors. These tactics will help maintain and build your customer base. Read more about medspa marketing tactics here.
$599 per month plan – read more here. If you are located in an average competitive area.
$999 per month plan – read more here. If you are in an highly competitive area.
4 Good Examples of MedSpa Marketing
Example no 1 Medical Spa Marketing – Mobile website intelligence
Majority of your clients and patients will find you on their mobile devices. Make sure your website is mobile optimized and have 2 key intelligent apps 1) Ability to send you a Text/SMS from the website quickly and your ability to reply 2) Medical spa Chat*Bot installed on your website to answer questions and capture leads.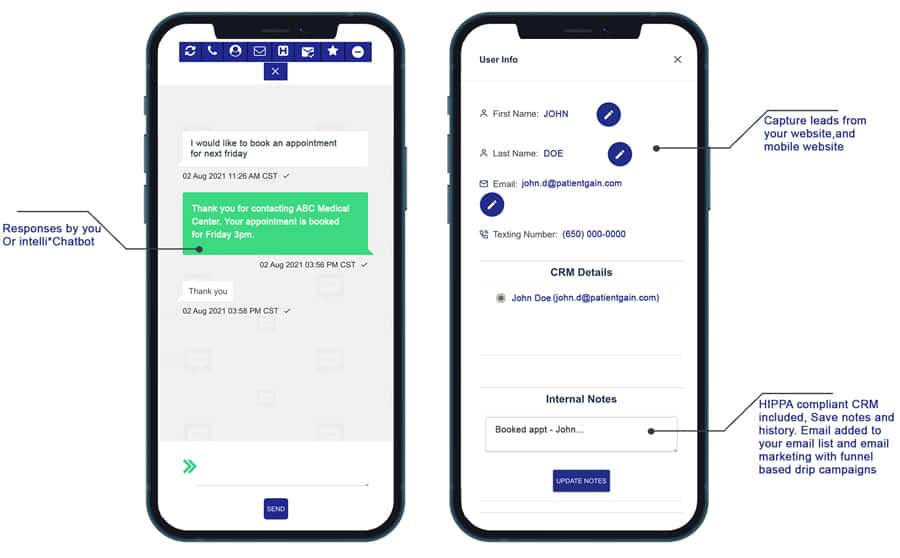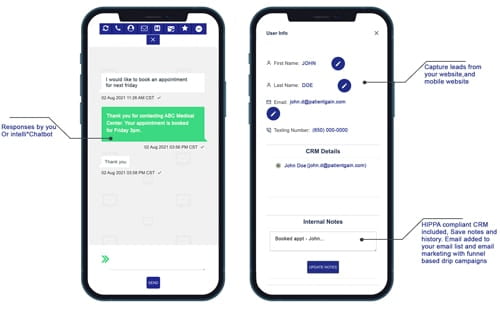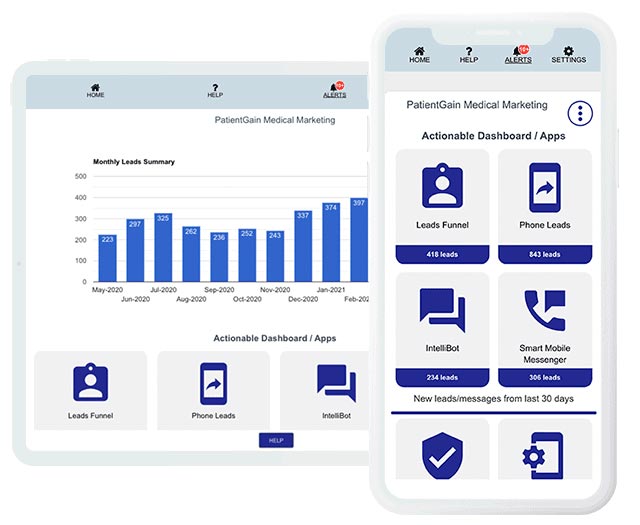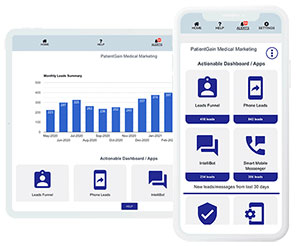 Example no 2 MedSpa Marketing – Presence on Google SEO
As clients and patients look for your services, they will start with Google search. Be present on Google search and Google ads. Example of Google SEO results: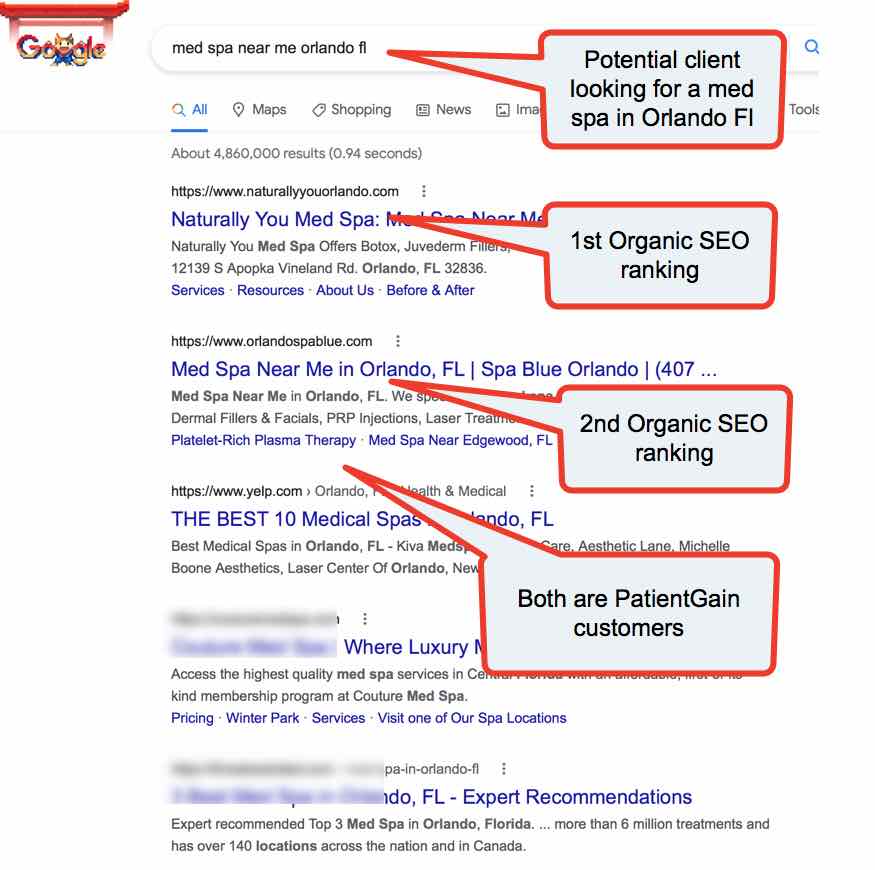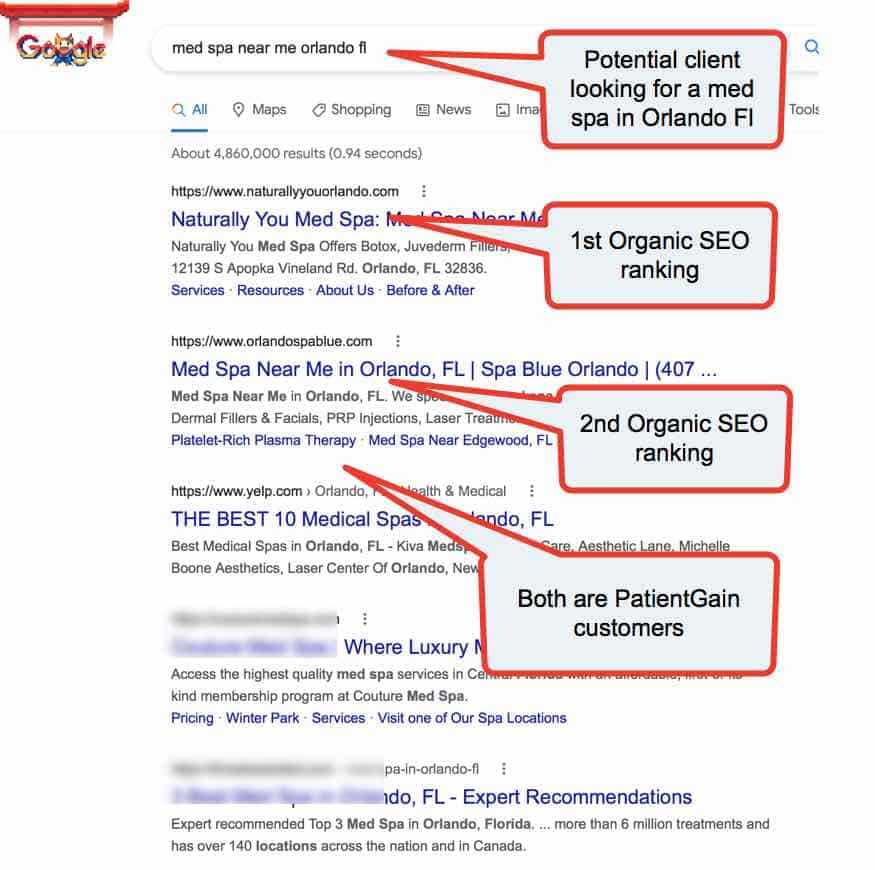 Example no 3 MedSpa Marketing – Presence on Social Media
For example posting regularly on Facebook and Instagram posts. For medical spas, aesthetics, anti-aging, sexual wellness and integrative practices, we recommend posting 5 days a week. However the best results we see when the posts are focused on providing useful, education information about your services first, and then subtly have a sales promotion or offer.
Example No 4 MedSpa Marketing – Monthly Email Marketing
Majority of your clients and patients will contact you and may not make a decision to become your client the same day or week. You will need to send monthly or weekly Emails. Email marketing can be a very effective tool for your marketing.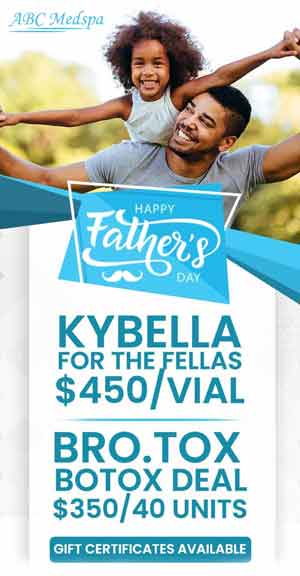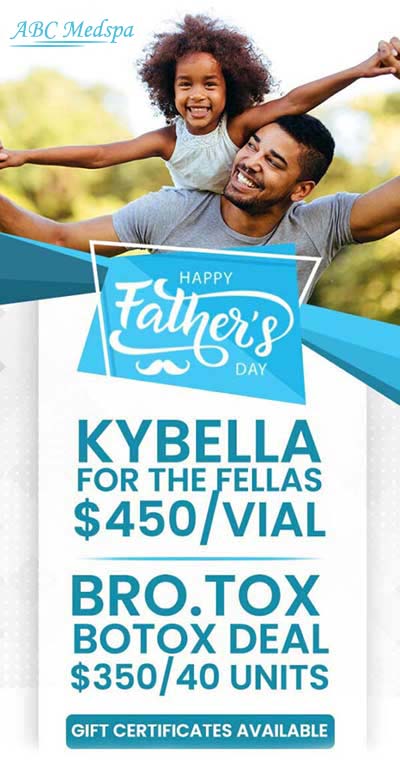 Example No 5 MedSpa Marketing – Advertising and Promotions App
Promotions app increases website conversions. Your branded promotions can be redeemed using "Pay now" or added to CRM. We do the setup and create beautiful promotions for your website. Mobile version is included. Example below is from Facebook ad.
Example No 6 MedSpa Marketing – ECommence App (Shopping Cart App)
Medical spa's and Aesthetics practices increase conversions and your practice's revenue by offering products and services that your patients can buy online. Simple setup, and we take care of adding your products and services. HIPAA compliant Ecommerce apps for healthcare practices.
See Good Examples of Medical Spa Digital Advertising
Medical Spa Marketing Companies Should-Do List
12 Action Items To Discuss With Your Medical Spa's Marketing Company Every Month.
MONTHLY ACCOUNT REVIEWS
1) Meet with your account manager at least once a month and go over current month's performance and discuss plan for the next month.
2) Review SEO Rankings. Go over the top keywords and see your rankings. It should be done in a live meeting. Reports have stale data. Automated reports are mostly inaccurate.
3) Review Advertising Performance – Top keywords, budget exhaustion, average cost per interaction, Facebook ads performance, Google ads performance.
4) Review Social Media – Posting, Apps, Ads on Social Media. How many posts were posted in the last month. How are your ads running on Facebook and Instagram. Are they producing any new patients? Or are they simply producing visitors who take no action?
5) Review Email Marketing. How many Emails went out? what is the open rate? Each newsletter should have some useful information for the patients and it should also have some type of "promotion"
6) Review Call Data. Number of phone calls received. Phone calls missed. Duration of phone calls. Time of day when you receive most phone calls. Number of calls received after hours.
7) Review Reputation Management. Number of reviews requested. What percentage is happy/unhappy. How many actual reviews posted. Are you using all three mediums to maximize the your online reputation.
8) Review Texting/SMS Data. Your SMM app is a gold mine. Patients who interact using the SMM app are 6 times more likely to become your patients and buy something from you, than phone calls or contact forms.
9) Review Content. Every page on your website must have a purpose. Every page should have useful content for the potential patient or existing patient. Call to action should present on every page. Every page should be considered a "landing page" with call to action.
10) Review Promotions & Deals Apps. Monthly promotions and time-based promotions are extremely important for your medical spa. We recommend 3 to 4 active promotions per month. Recycle old promotions. Custom promotions with nice "flyer" type of look are very effective. These promotions are even more effective if you allow the visitor to "buy now" online – with a 10% discount. This fill your medical spa calendar. But the promotion must be meaningful, and there should be sense of urgency.
11) Review Training and Misc Items. Does your staff need training? Do they know how to respond to inquiries? Can they answer the questions from your medical spa website?
12) Discuss Plan for the Next Month *** VERY IMPORTANT ***
How To Launch Medical Marketing Strategy For Your Medical Spa
In order to launch a successful, profitable, and comprehensive medical marketing online strategy, your Medical Spa has to utilize a multiple software tools and online marketing consultants. Medical practices typically have to work with four to eight different vendors and software companies to coordinate and manage their efforts on the Internet. Keeping up with the constantly changing online landscape is hard enough, and when you have to get strategy advice and execution from multiple companies it becomes an even bigger headache.
PatientGain.com is a proven new patient marketing solution, includes apps, websites, SEO, HIPAA compliance and account management.