Medical Spa, Aesthetics & Wellness Marketing Services $999 to $1499/mon. PatientGain Offers Fair Pricing But Unfair Advantage For Your Medical Spa Marketing. Repeat Clients, Rewards, Loyalty and Referrals For MedSpas and Aesthetics Practice. Done For You. Cost $499/mon. Free Setup.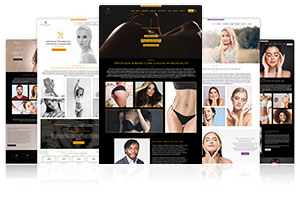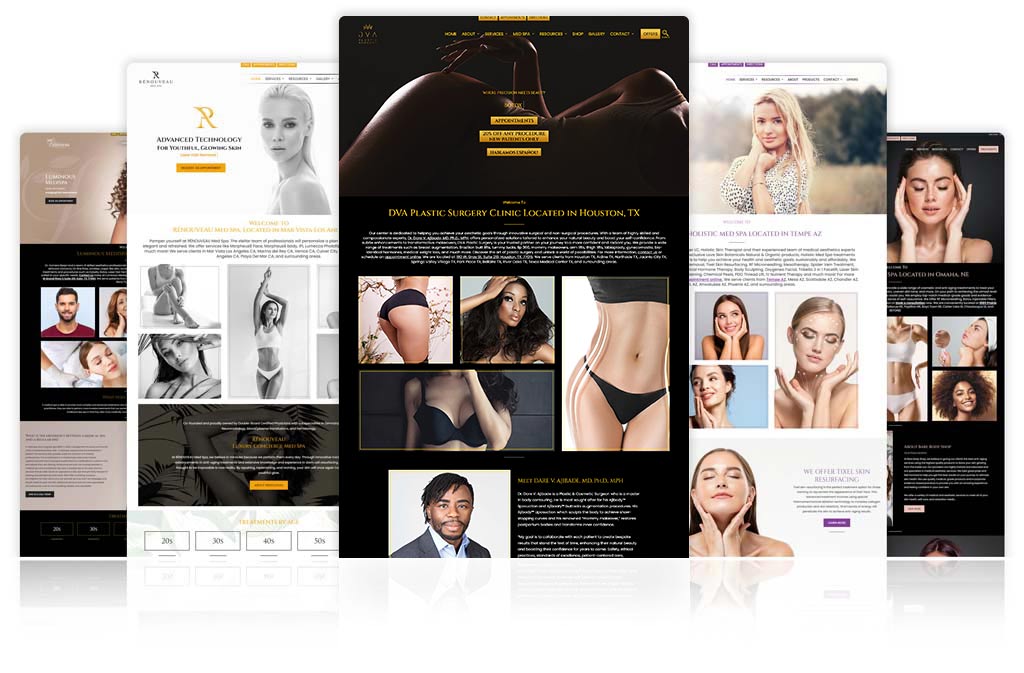 There are more than 19,325 Wellness and Aesthetic practices in USA, out of which 6531 are considered medical spas. In addition there are approximately 7000 plastic surgeons, and 34 percentage of plastic surgeons also perform non-surgical aesthetic procedures. Medical spa and medical aesthetic practices need a steady flow of new clients every month, every week and every day. The top MedSpa marketing companies are those who build your brand, understand your needs, provide reliable service, and provide services that meet your business needs at a reasonable price. PatientGain can also help your MedSpa with inclusive MedSpa marketing strategy. Aesthetic practices surveyed in Jan 2022, revealed that post covid, they are focusing 1) Brand awareness 2) Client engagement 3) Client acquisition and 4) Client loyalty 5) Less discounts and more "exclusive" services. Aesthetic medicine is predicted to reach USD 245 billion by 2030, growing at a CAGR of 9.8% during the forecast period (2022–2030).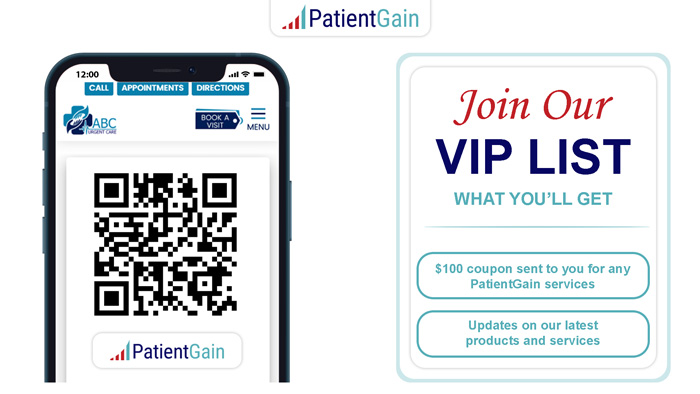 Most of your clients and patients look for your services online. After working with hundreds of MedSpas, aesthetics, plastic surgeons, medical weight loss, IV therapy and wellness practices, we have learned that you will need a marketing company that understands your brand, aesthetics industry, your business needs, marketing, advertising and digital technology. A healthcare focused marketing solution based on modern advertising and marketing trends, within your marketing and advertising budget. PatientGain services, technology and top customer service is what your Medspa practice needs. Medical spa marketing services cost $999 to $1499/mon with excellent results in major cities. The cost of each lead generated is $16 To $27. Another important and emerging strategy emerging post covid era is 1) marketing plans based on short term revenue generation 2) marketing plans based on long term revenue generation.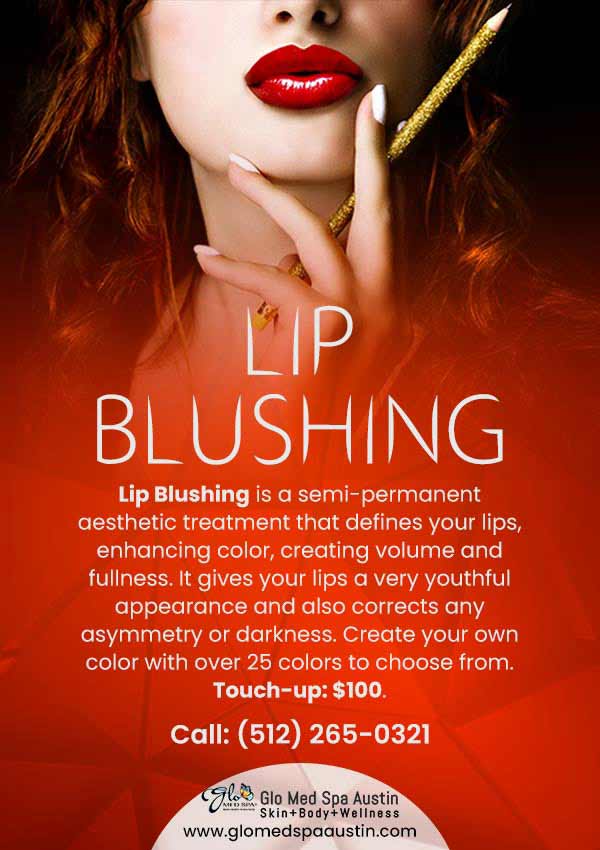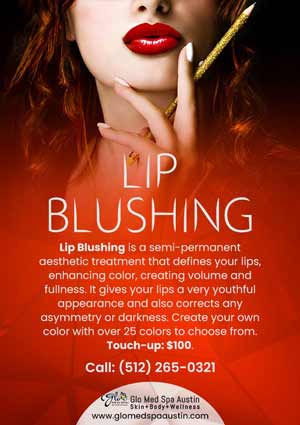 Google PPC Ads are based on user "Intent" VS Facebook, Instagram ads are based on user "Interest" and past history. Our data from hundreds of medical spa marketing campaigns, shows that "Intent" wins and is more accurate and produces better online advertising ROI for medical spa practices and physicians.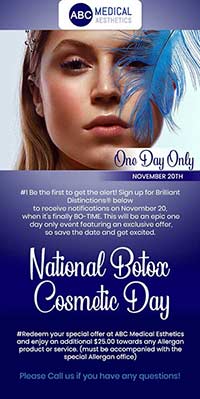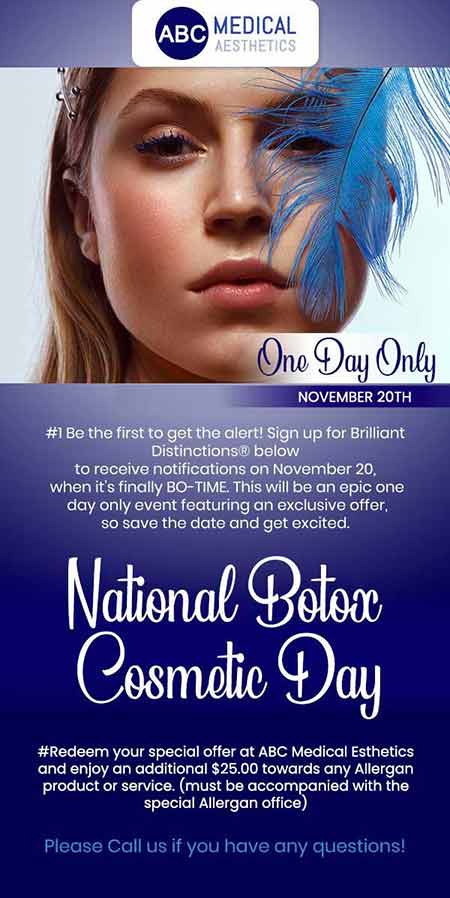 Provide easy way for your clients/patients to pay for your aesthetics services, while they are still on your web-page and exciting about your compelling offers. Your clients buy now, pay later without the fees. This process is called BNPL, and allows your clients and patients to get approved while they are on the website, it is a smarter way to pay over time. Payment schedule is flexible, provides options without any fees, or payment plan. It is different from credit card payments.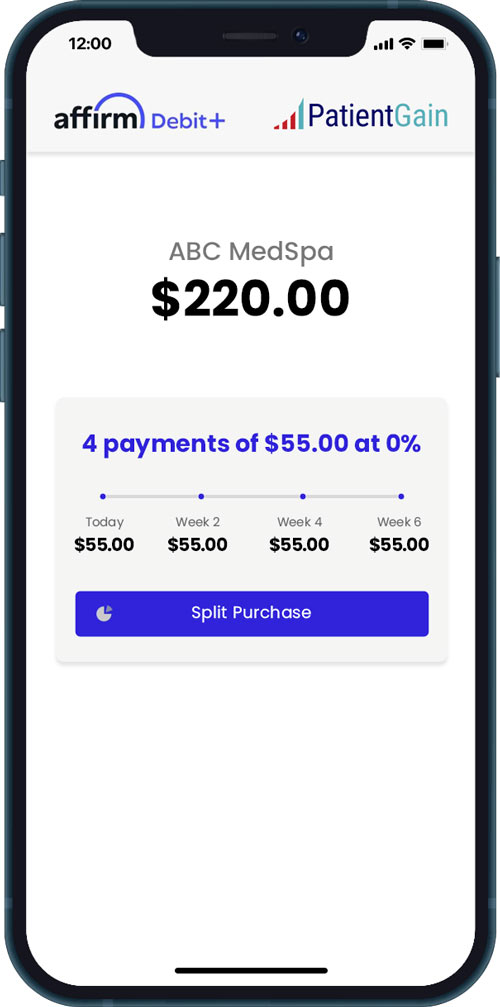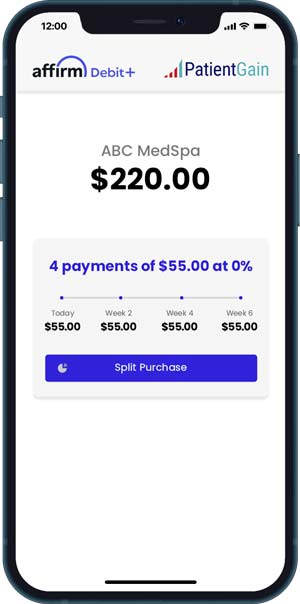 14 proven steps to build your MedSpa, this is a proven Medical Spa marketing plan :
1) Your Brand Focused Medspa's Website – Building the brand of your aesthetics and MedSpa practice is the foundation of your success, it should be beautiful and represent your brand. Your digital footprint starts and ends with a professional, attractive, fast loading website. Your website must have original, high quality content, so it ranks very high for each of your services in your area in the Google search. This is also called SEO (Search Engine Optimization). The website should have separate landing pages for your services, and at least one page devoted to each of the providers. For example, if you have an "Aesthetic Nurse Injector", the page should be like this, where your staff is speaking to the reader. The more personable your website, the higher the conversion. Faster the website loads on a mobile device, higher the conversion. It is also important to place apps on the website in specific places so it is easier for patients/clients to take an action.
Example 1: Medspa & esthetics practice in a very competitive area in California.
Conversion rate of 17.69 percentage. This means that if 100 patients/clients visit this website, over 17 of them take an action. Which means 1) Call the "new patient number" 2) Send a text 3) Send a ChatBot request 4) Request an appointment 5) Redeem a promotion online. The data below is for new patients only, existing patients have been removed from this data. For example in the month of September, 1091 patients/clients visited the website from 1) Google SEO 2) Social media page 3) Yelp 4) Email marketing campaign – There is no advertising campaign running because the SEO is so good, this Medspa does not need to run any ads on Google, Facebook, IG, TikTok or YouTube. From a total of 1091 patients/clients visited the website, 172 took conversion action. Which means that the conversion rate is 15.77 percentage in the month of September. Your results will vary. Learn more about conversion rates.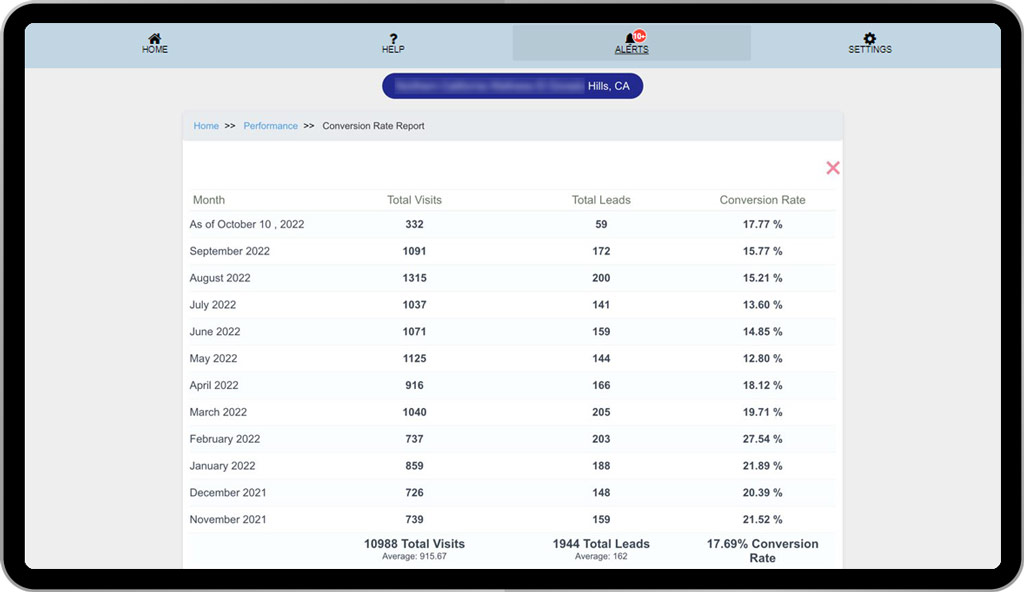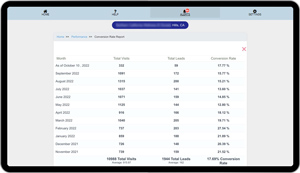 Example 2: Esthetics practice offering surgical and non surgical services in the mid USA in a very competitive area.
This practice offers Liposuction, fat transfers, scarless breast reductions, facetite, skin tightening, scarless breast lift, microneedling, O-shot injections and many other services. They have been in business for 3 years. Prior to using PatientGain PLATINUM service, they were using 5 different vendors for multiple marketing services. These services were replaced with a single vendor solution. Existing website had 3.3 % conversion rate. With the PLATINUM service, from 15118 visits, 1784 new patient leads generated, with a 11.80 % conversion rate. Your results will vary. Learn more about conversion rates.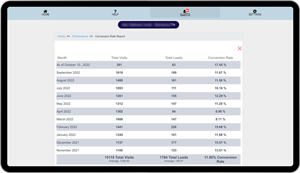 2) Mobile website strategy As clients and patients visit your website, the majority of them will do so from a mobile device. So you must have a mobile-first marketing plan for your website. In the example below, you can see that a patient can easily see your promotion, and "redeem" it and pay you a "deposit" and then book an appointment.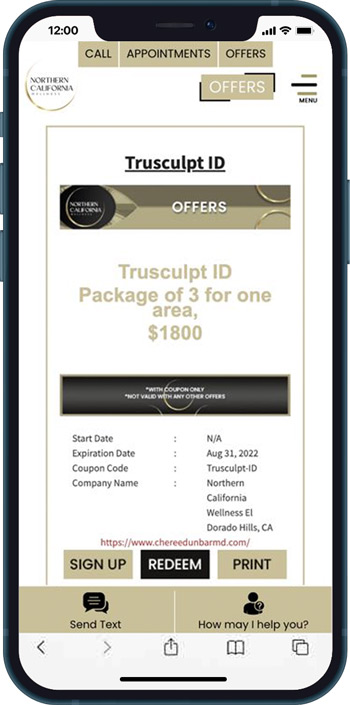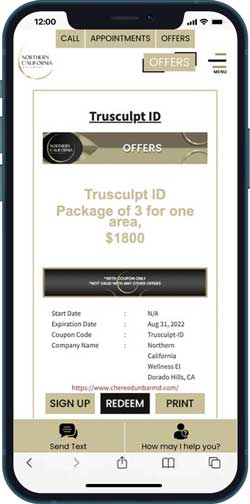 3) Facebook and Instagram Ads (learn how your medical spa can benefit) This strategy costs money and can be expensive. The advertising on social mediums works, however it is not a simple process where you can setup ads and forget about it. Social media advertising requires monitoring, and fine tuning, and should be done by a professional company. Here is good page that goes over how much other aesthetics practices spend on advertising in the US. Example of a social media ad below: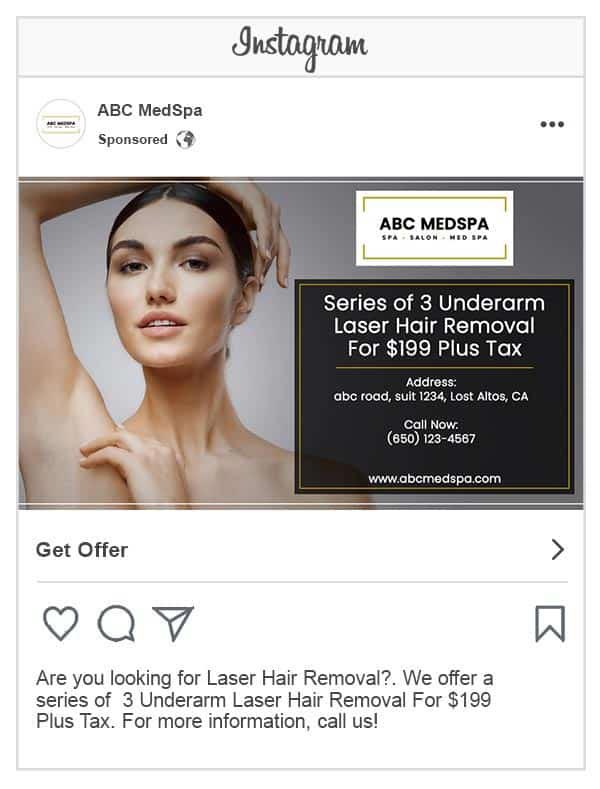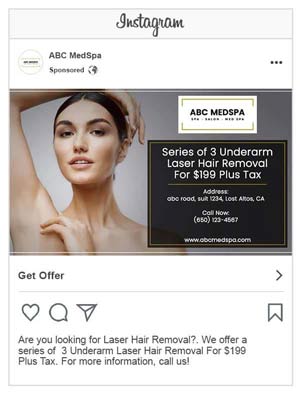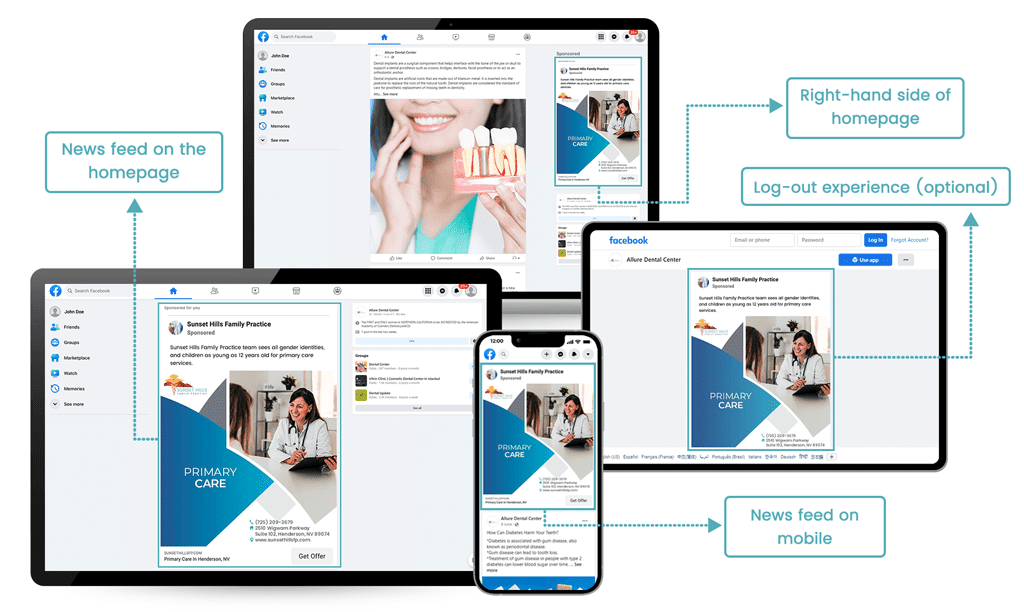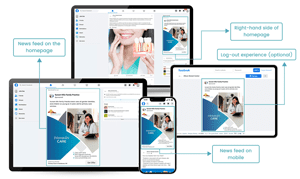 4) Google SEO for MedSpa (learn how your medical spa can benefit from SEO) This strategy costs time and effort and is difficult, but has best ROI, and for your long term success, it produces excellent results. Although SEO rankings for med spas and aesthetic take time, but it produces best long term results and is worth it. In the example below a potential client is searching for "medspa lake zurich IL"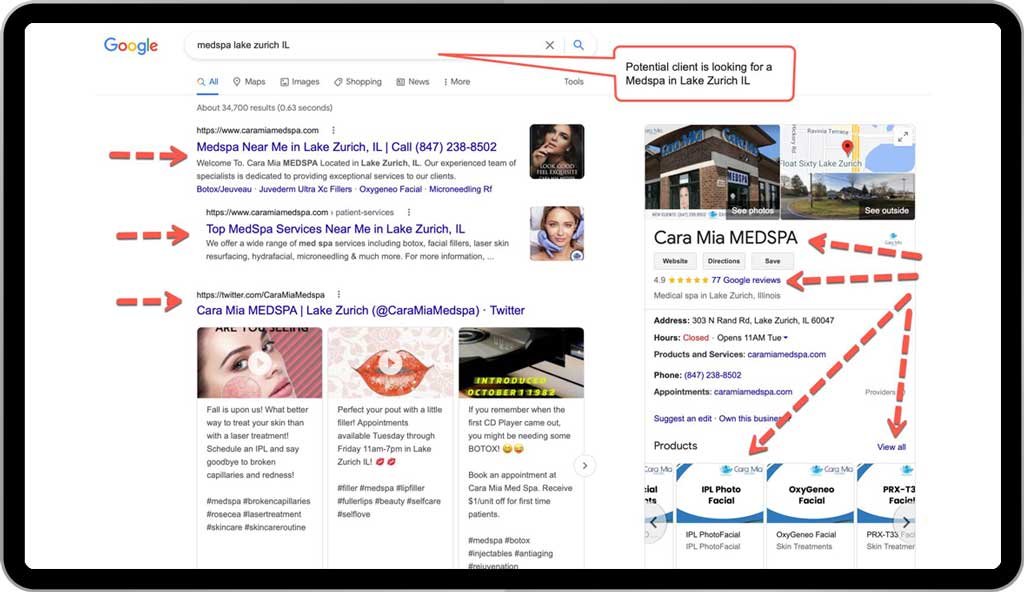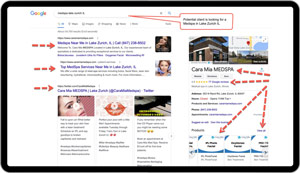 SEO Example of a client looking for a Men's medspa in Newington NH
Your clients/patients turn to Google every day to browse, research, and buy. If you want to focus on long term success of your aesthetics practice, you must focus on Google first.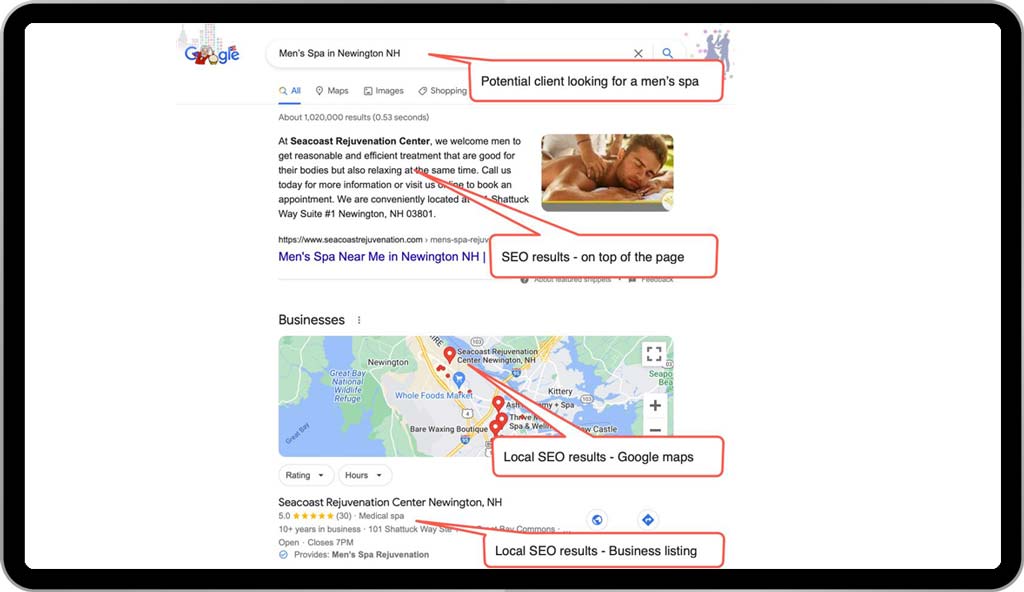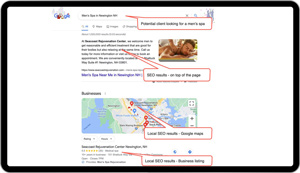 5) Google local SEO (learn how your medical spa can benefit from local SEO) This strategy requires specific steps, and optimizing your GMB (Google My Business) in a specific way. We want to show you examples on how we can optimize your GMB and 5 additional very important local SEO websites. See example of a local SEO optimized Med spa below. There is a direct relationship between SEO content and local SEO GMB. As Google's algorithm's read the website pages and build a correlation between your GMB and your website. Higher the correlation, higher the quality score = higher rankings.




6) Google Ads (learn how your medical spa can benefit from Google paid ads) This strategy costs money and can be expensive. Google PPC ads can deliver excellent results, however, they are not simple. Setting up and managing your Google PPC ads requires that staff have deep understanding of Google PPC algorithms and you should have detailed landing pages for each of your services. We add hundreds of negative keywords, so you do not spend your hard earned $$ on low-value keywords. See example of a Google PPC ad of a medical spa below: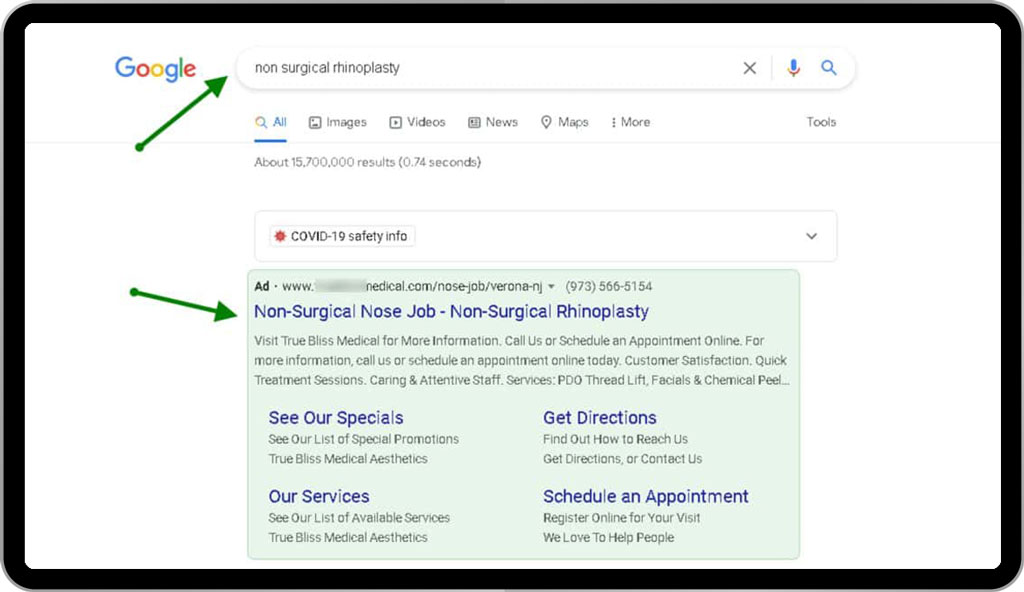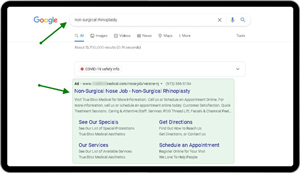 7) Other secondary websites – This strategy costs time and money and a lot of effort. For example, if you want to list your website on RealSelf, it will be initially free, but you will pay for promoting your listing, you will also need to add a lot of information about your services in RealSelf. Another website is YouTube, where you can post videos of your services, introduction from your "master injector" etc. This will also help, but to get leads, you will need spend dollars to "promote" your videos.

8) Social media fan base – This strategy costs a lot of effort and requires constant involvement from the owner of the practice to build your brand, and relationship with your social media fans. Again, this is a long term strategy and takes extreme effort to build a fan base.

9) Monthly Email marketing campaigns for Med Spa and aesthetic practices – Very effective and low cost, but requires 2 to 3 Email campaigns per month, with useful information about your procedures + promotions, and also include your promotions. Email marketing requires that you are able to capture leads from your website and social media pages. Once you have established a "system" to capture the leads, you have to make sure that the clients have provided you permission to send them Emails. We recommend have at least 2 lists. 1) Potential clients/patients. 2) Existing clients/patients. You can also further segment the lists by interest. For example a list of clients/patients who have inquired about "lip injections" but never purchased from you.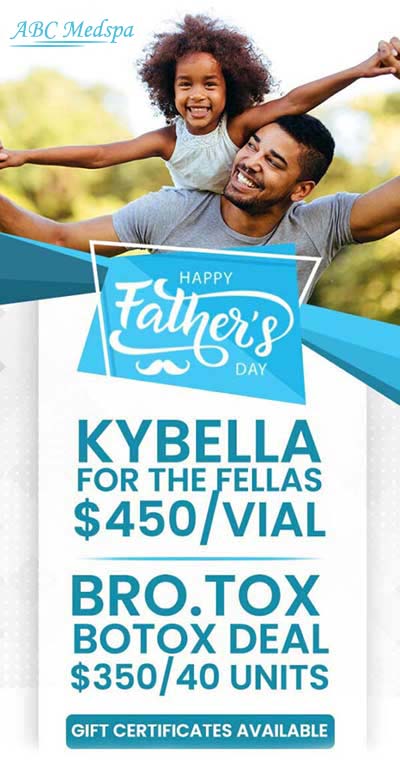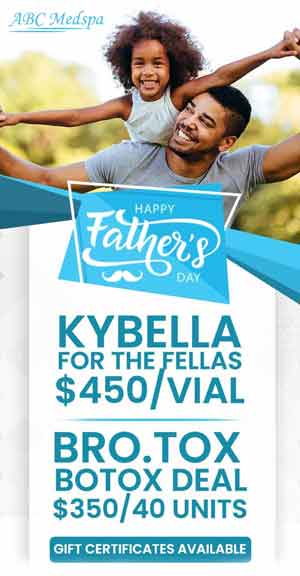 10) Texting/SMS marketing campaigns – Can be effective with proper opt-in. However, this requires building a list of potential clients/patients and a list of existing clients. We recommend targeting them separately, just like Email marketing campaigns. Just remember that just like Email marketing spam laws, there are texting/SMS spam laws. You should also not send texts to clients/patients during non-business hours.
Texting Example of a client sending a SMS/Text from a Medical Spa' website to the MedSpa staff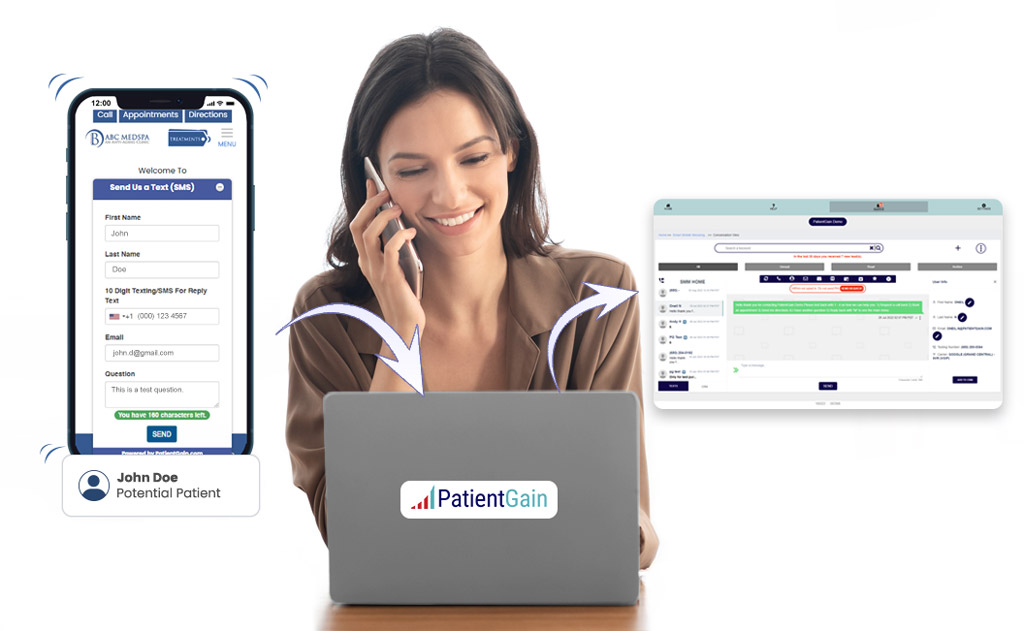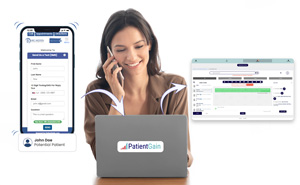 11) Texting/SMS from your website – Allow your website visitors to send you texts directly from your website. Remember that 75% to 85% of your website clients/patients visit you from a mobile device. This texting app is extremely helpful to build clients/patients conversions and build trust that you are company who is focused on clients/patients service.

12) Traditional referrals and word of mouth – This strategy costs time and a lot of effort, however you should always build on providing excellent customer service and hence your clients/patients will send more referrals.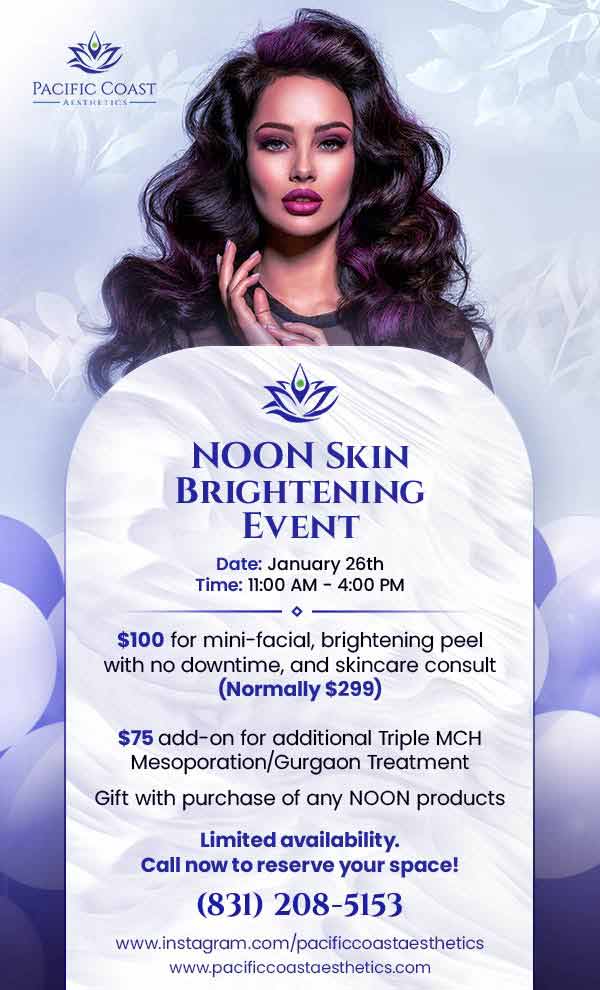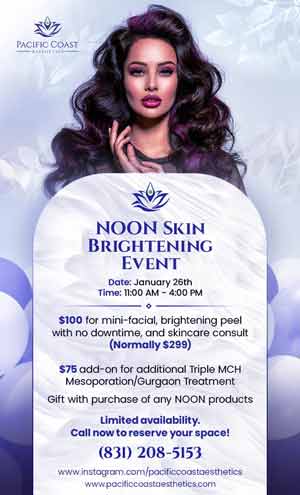 13) Loyalty and rewards programs – This strategy costs money for apps, and then a requires that you promote your loyalty and rewards program. PatientGain offers this service, starting at $499/mon. See more details here.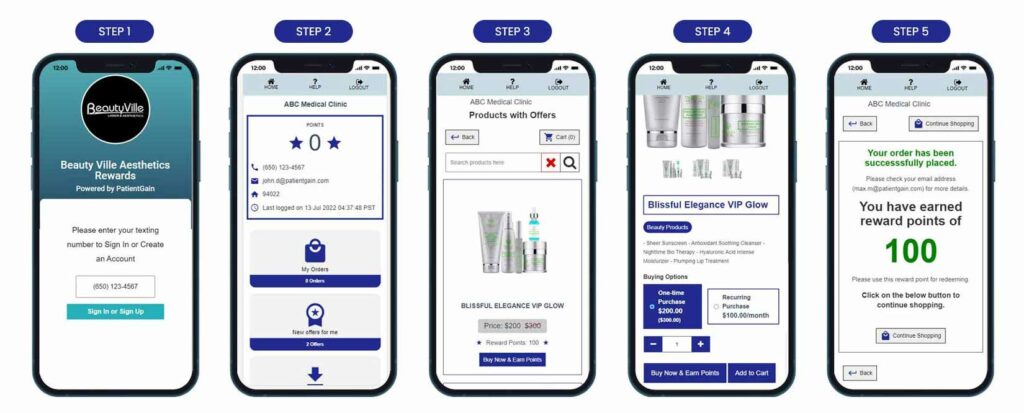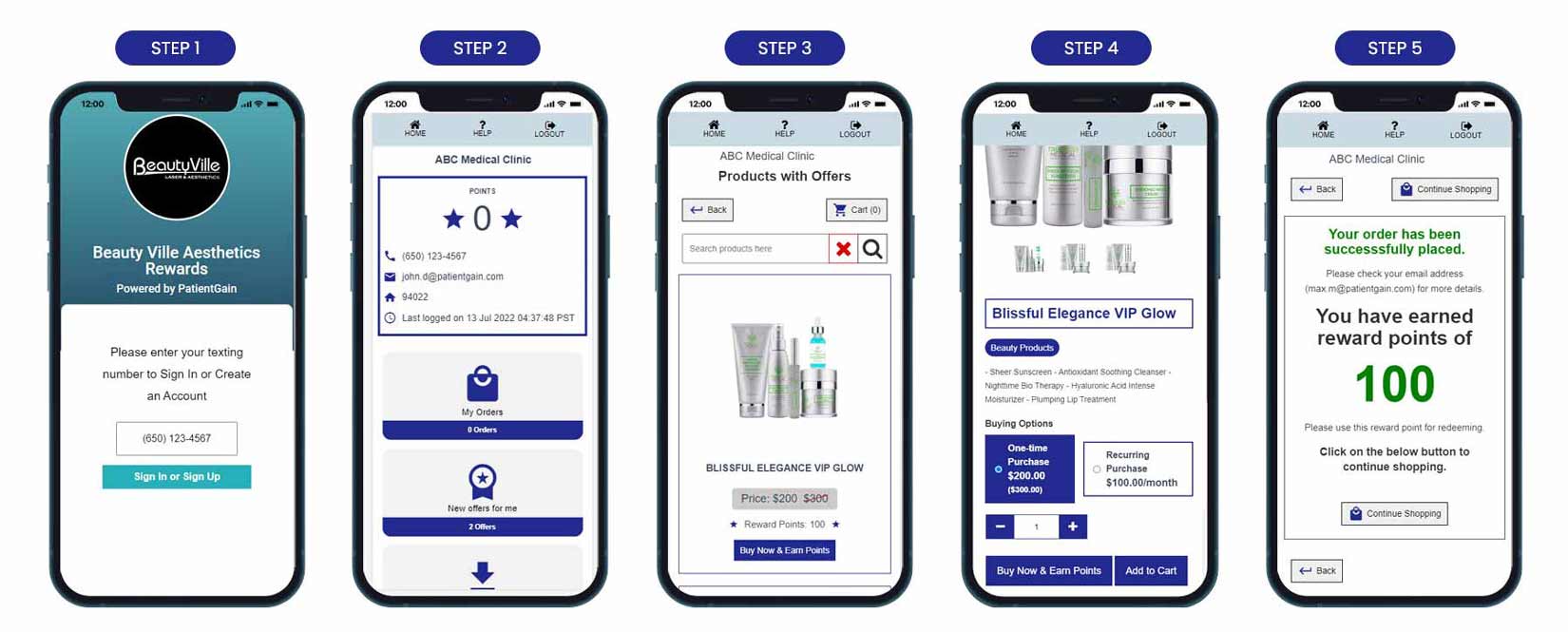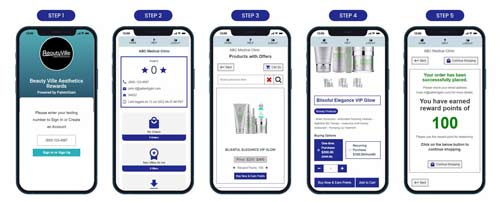 14) High conversion from website and social media leads – Most of the MedSpa owners contact us and ask this question "I am getting so many people visiting my website and social pages, but very few are contacting me! What is going on ?" Answer: This is common problem. Having someone visiting your website or your social page is the first step. You should not assume that a potential client is ready to contact you.
Example 1: In the example below, the leads from Google, YourTube, TickTok, Facebook and Instagram, are sent to specific pages of this particular medical spa website. In the month of August, 2027 total patients visited the website from multiple sources. Out of 2027, 294 potential new patients contacted the medspa. Which means that the conversion rate is 14.5 % . This does not include existing patients contacting, this has been subtracted from total leads.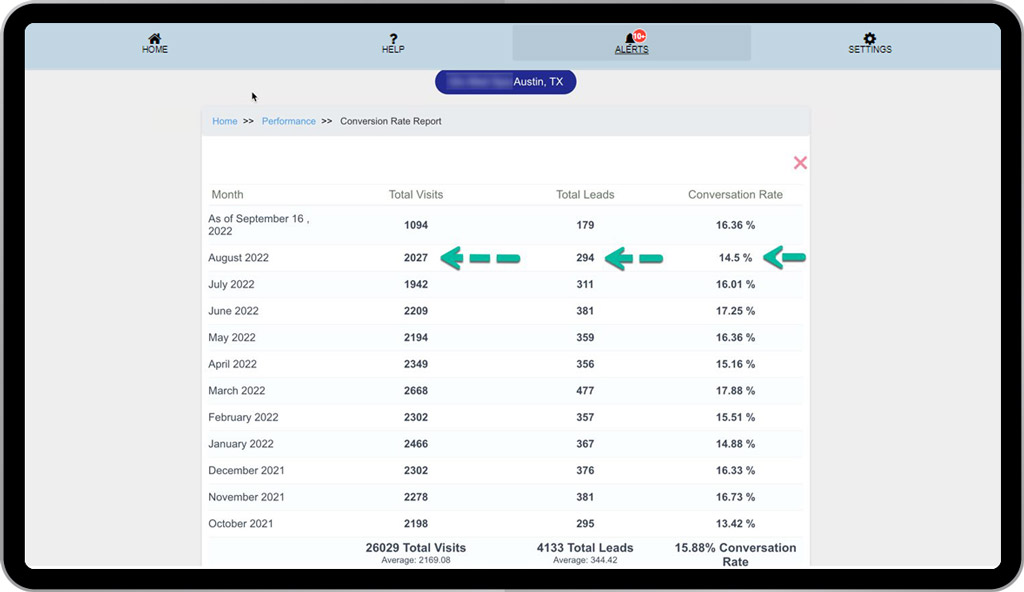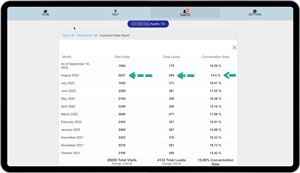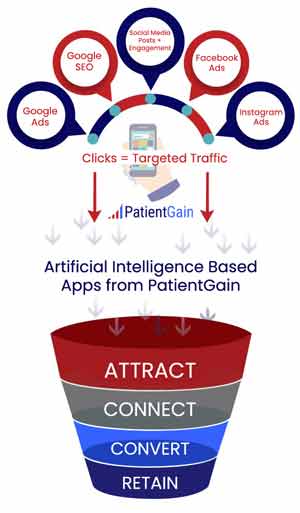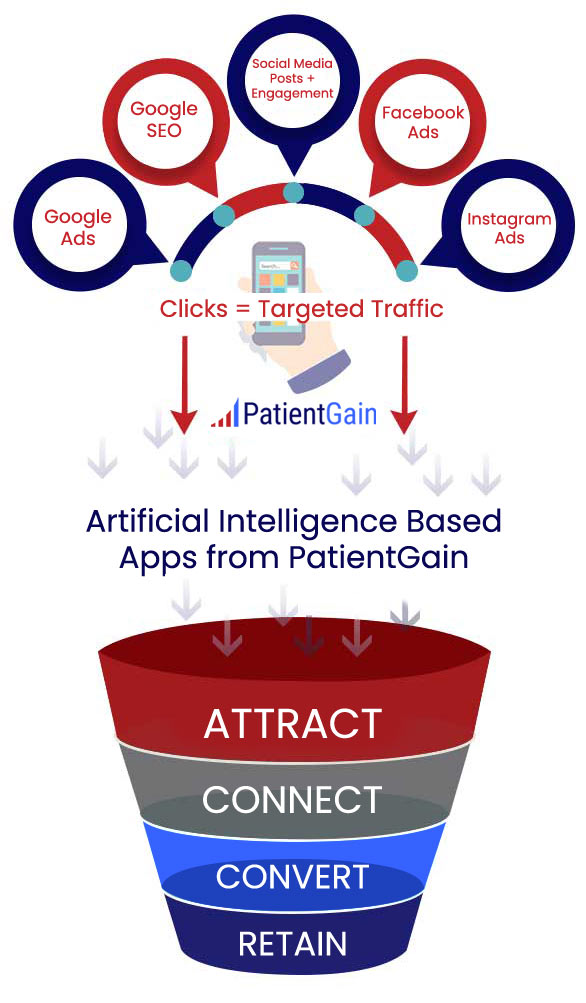 So your strategy is to be in front of the potential clients and patients when they are looking for your services. This means Social media and Google. These 2 are the most important channels to acquire new clients of your med spa.
Data shows that for Medical Spas in major cities on the West and East coast, the cost of each lead generated is approximately in the range of $16 to $27. In the Midwest and Southwest lead generation costs are 23% less. Med spa's in the outskirts of major metropolitan areas usually see costs in the range of $8 to $14 per lead.
The cost of each new lead varies from area to area, as competition and demand for services offered by each medical spa varies. But the good news is that using a comprehensive Medical Marketing Platform can provide your medical spa with a competitive edge, and only one extra procedure can produce enough return on investment to justify your investment.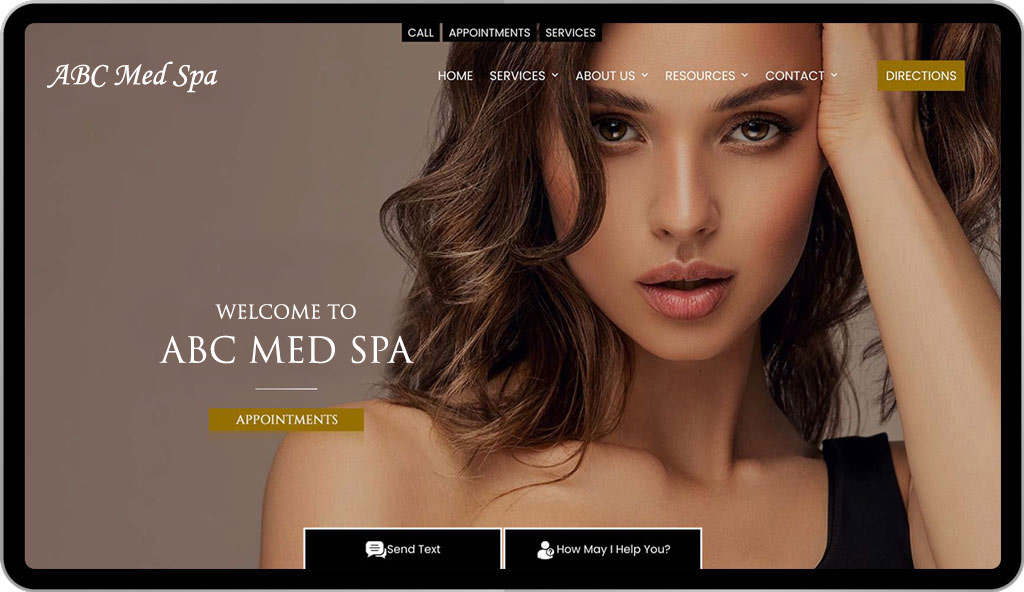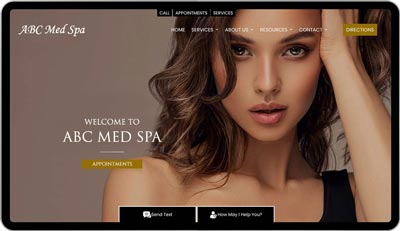 Step 1: Must Have an Emotionally Attractive and Google Optimized Conversion Website for Your Med Spa Practice.
Step 2: Must Have a Proven Marketing and Advertising Plan for Your Med Spa Practice. Covering Google, Social Media & Mobile.
Step 3: Must Have a Technology Platform & Staff For Sustainable Competitive Advantage.
Key Tactics for Med Spa Marketing 1) Marketing is not equal to advertising 2) You must have an advertising budget in addition to marketing. Medical spa advertising can make big difference, however it is not a simple task of just placing ads on Facebook/Instagram or boosting your post. We recommend a holistic and proven marketing and advertising plan for your practice. This is offered in 1) PLATINUM service $1199/mon 2) PLATINUM+ service $1699/mon. The key difference is, if you are located in a competitive area, you will need more resources dedicated to your account, and we will recommend PLATINUM+.
The Med Spa industry is becoming increasingly competitive. Successful Med Spas in the United States and Canada can ensure the success of their business if they properly market their med spa to their surrounding areas. Employing these marketing tactics for your med spa can help you stand out among your competitors. These tactics will help maintain and build your customer base. Read more about medspa marketing tactics here.
$1199 per month plan – read more here. If you are in an average competitive area.
4 Good Examples of MedSpa Marketing
Example no 1 Medical Spa Marketing – Mobile website intelligence
Majority of your clients and patients will find you on their mobile devices. Make sure your website is mobile optimized and have 2 key intelligent apps 1) Ability to send you a Text/SMS from the website quickly and your ability to reply 2) Medical spa Chat*Bot installed on your website to answer questions and capture leads.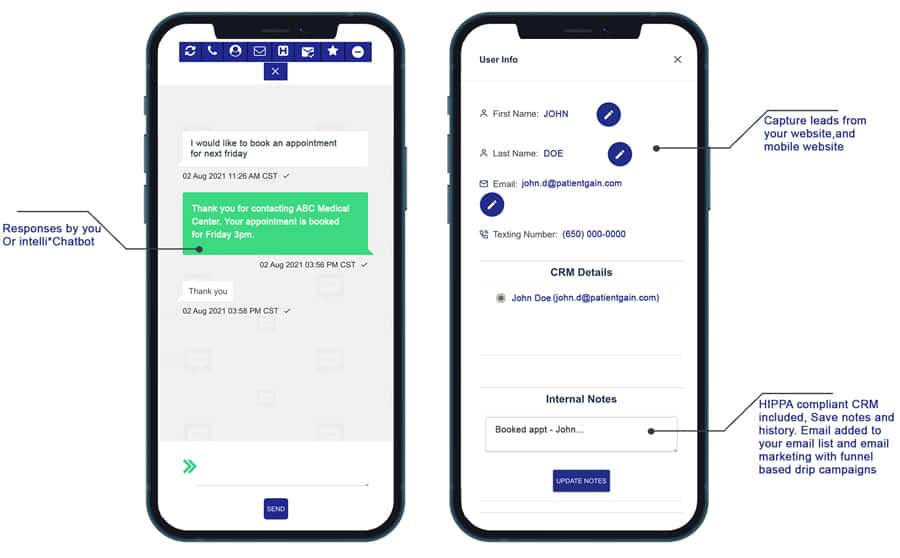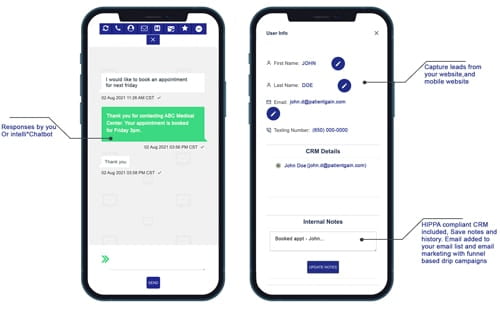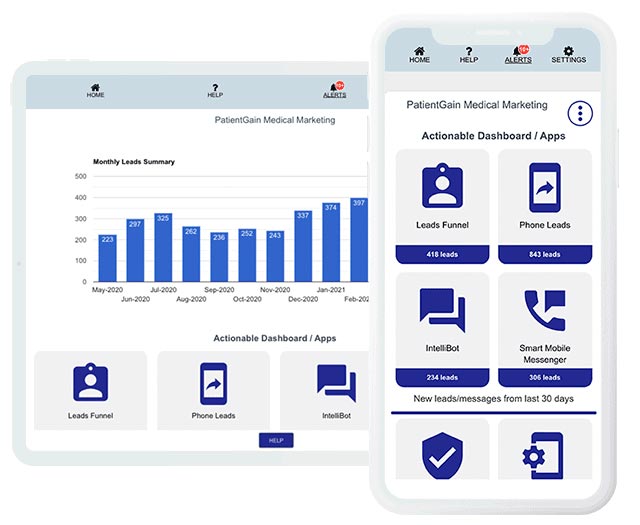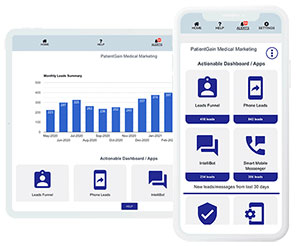 Example no 2 MedSpa Marketing – Presence on Google SEO
As clients and patients look for your services, they will start with Google search. Be present on Google search and Google ads. Example of Google SEO results: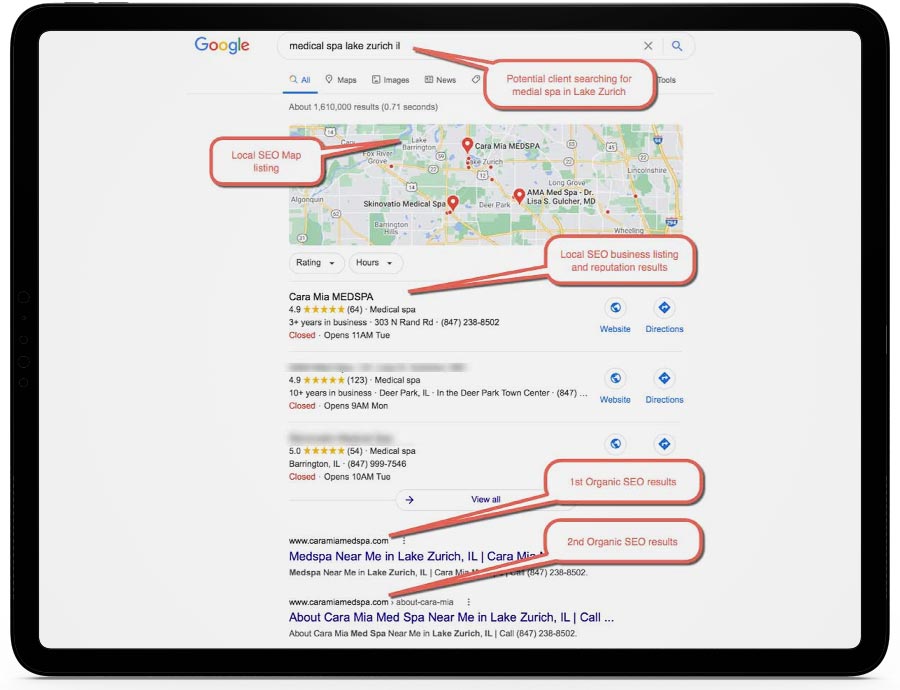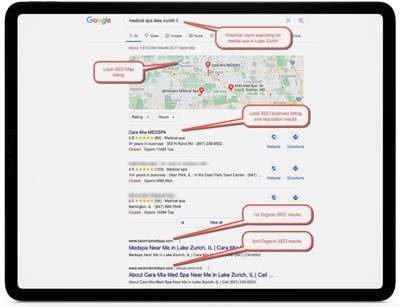 Example no 3 MedSpa Marketing – Presence on Social Media
For example posting regularly on Facebook and Instagram posts. For medical spas, aesthetics, anti-aging, sexual wellness and integrative practices, we recommend posting 5 days a week. However the best results we see when the posts are focused on providing useful, education information about your services first, and then subtly have a sales promotion or offer. In Med spa practice marketing, an investment in social media such as Facebook, Instagram, Twitter, and YouTube helps you reach large numbers of potential patients. It also provides the opportunity for you to have direct interactions with them and build a relationship before they even set foot in your office.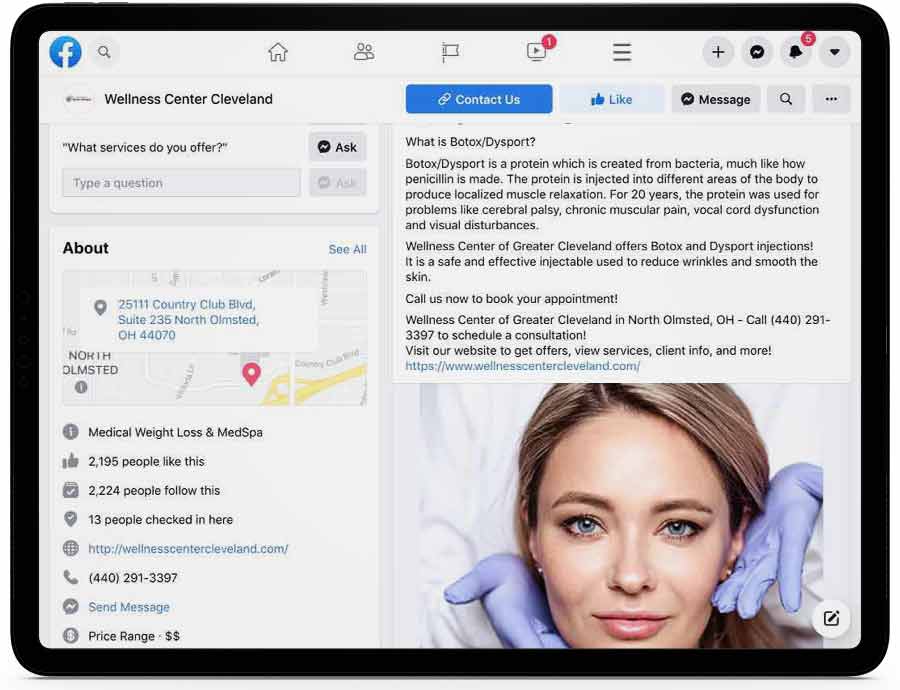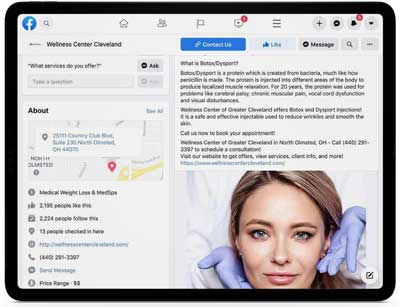 Example No 4 MedSpa Marketing – Monthly Email Marketing
Majority of your clients and patients will contact you and may not make a decision to become your client the same day or week. You will need to send monthly or weekly Emails. Email marketing can be a very effective tool for your marketing.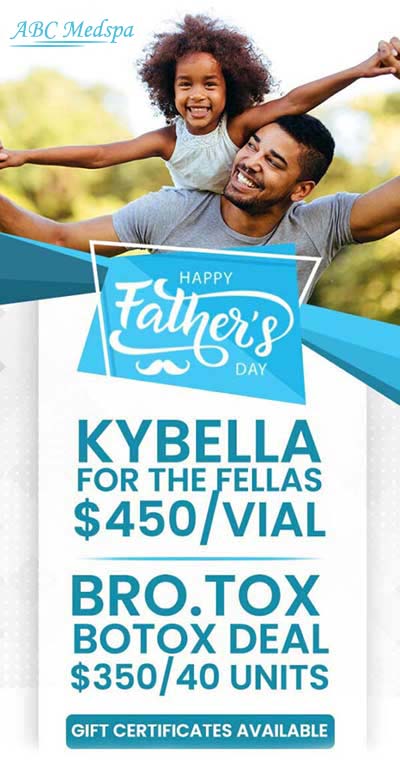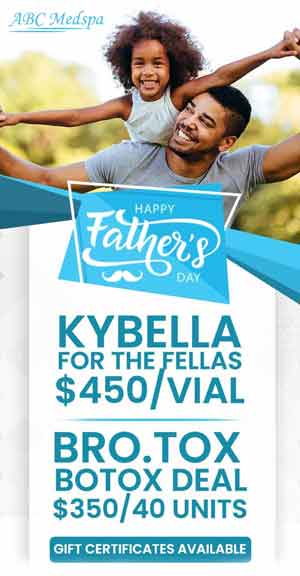 Example No 5 MedSpa Marketing – Advertising and Promotions App
Promotions app increases website conversions. Your branded promotions can be redeemed using "Pay now" or added to CRM. We do the setup and create beautiful promotions for your website. Mobile version is included. Example below is from Facebook ad.
Example of a Facebook ad with a "Get Offer" Call-To-Action (CTA)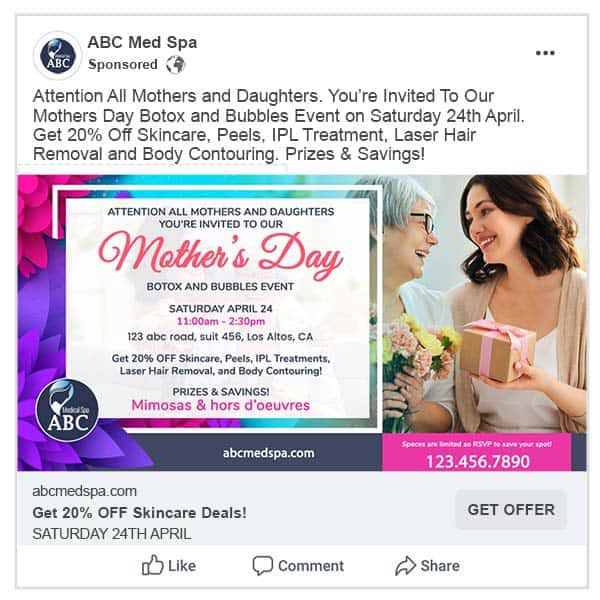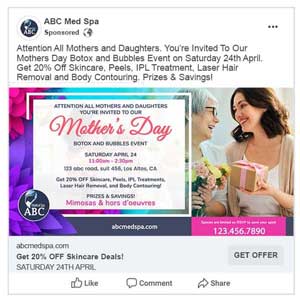 Example of an Instagram ad with a "Get Offer" Call-To-Action (CTA)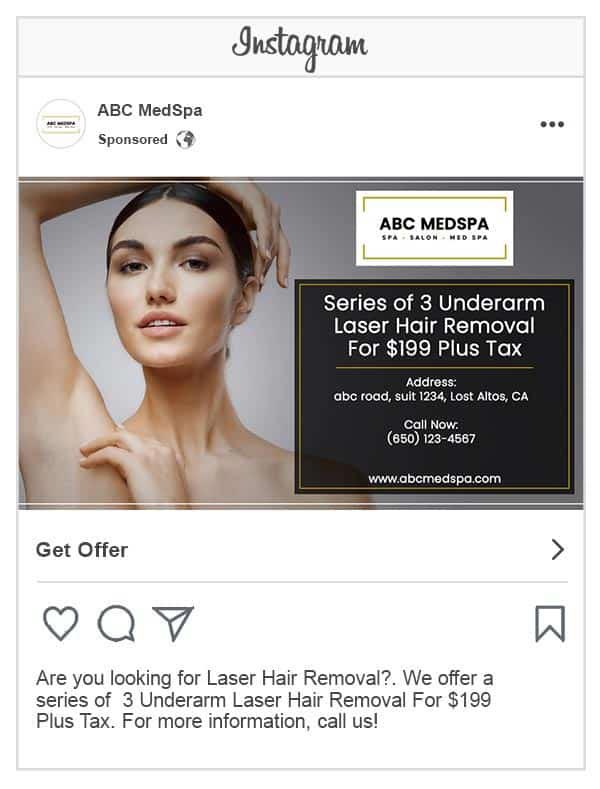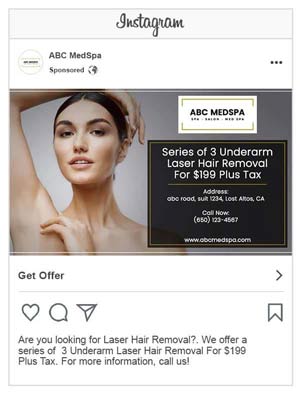 Example No 6 MedSpa Marketing – E-commerce App (Shopping Cart App)
Medical spa's and Aesthetics practices increase conversions and your practice's revenue by offering products and services that your patients can buy online. Simple setup, and we take care of adding your products and services. HIPAA compliant E-commerce apps for healthcare practices.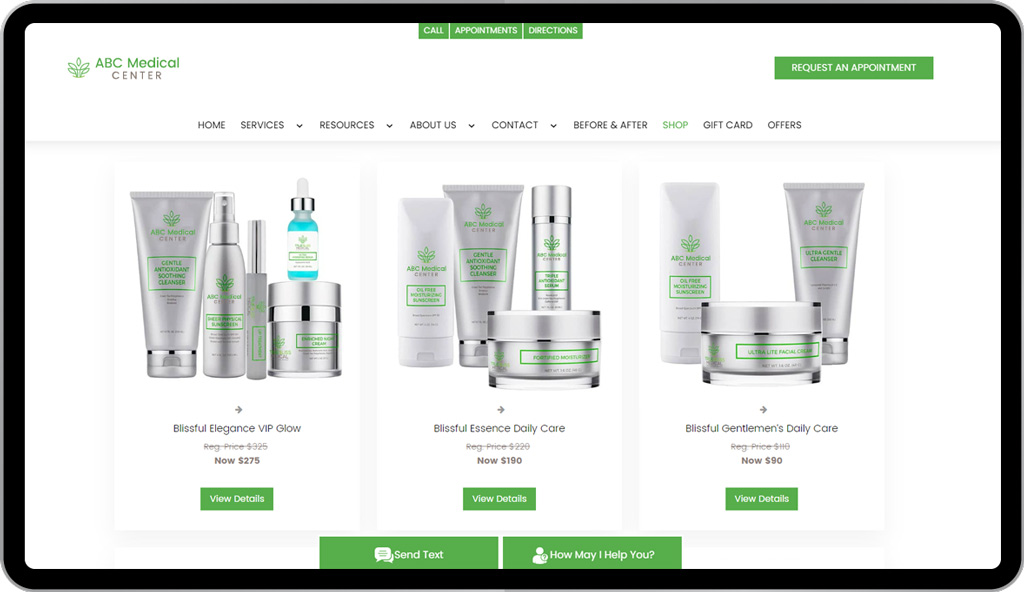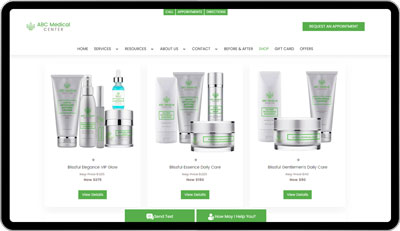 See Good Examples of Medical Spa Digital Advertising
Medical Spa SEO Secret Sauce
Medicals spas are growing in popularity throughout the country as people seek out various treatments to make themselves feel better and look younger, both internally and externally. With the increased demand for these services and more medical spas opening up, competition has become fierce for patients and clients. As an owner of a medical spa, you need to actively market your business to grow and succeed. One of the most cost-effective and successful ways to market a healthcare business is search engine optimization or SEO. Although it can take some time to produce results, a medical spa should embrace this marketing technique for its long-term success. The experts at PatientGain.com can help you find the SEO secret sauce to drive new patients and clients to your website. Below are some components of an effective SEO strategy.
How can website SEO help a medical spa?
The first step to an effective SEO strategy for a medical spa is to insert target keywords throughout content on a website. When a search engine produces results for someone looking for a medical spa online, it wants to provide the best relevant results for that user. SEO keywords need to appear throughout the content to help a search engine better understand a medical spa's website. For example, if a medical spa offers massages or acupuncture, those words and words related to that treatment need to appear in the content. Ideally, the terms and phrases that patients and clients use to find services should be included in the content of a medical practice's entire website.
When including keywords for SEO on a website, be sure to use both short-tail keywords and long-tail keywords. Both types of SEO keywords are essential to the SEO Secret Sauce to help market a medical spa's website. SEO keywords can be easily divided into these two types. Short-tail keywords are three words or less. They tend to cover broad topics, get more web traffic, are more competitive but have low conversion rates. Long-tail keywords, as you may have guessed, are four words or more. These keywords are focused on specific topics, and while less competitive and receive less web traffic, tend to have higher conversion rates. Both types of keywords working together will help enhance the overall organic ranking of a website. Long-tail keywords are becoming more critical as more people use voice search from smart speakers and personal digital assistants. When someone uses voice search, they are generally asking a question with four or more words. If a medical spa can match that question word for word on their site, they stand a better chance to be selected as a relevant result.
Another aspect regarding SEO keywords on a medical spa's website is that they need to be updated. The popular keywords today may not be the same ones that patients and clients use next year. A medical spa would be wise to stay on top of current trends and ensure that the right keywords maintain top organic rankings. When new services are being offered at a medical spa, ensure those keywords are tracked to get the expected traction in search results. Some adjustments may need to be made, but be sure to give keywords some time to build organic rankings. Changing keywords one day will not result in a dramatic change in organic ranking the very next day.
What is the impact of Local SEO on a medical spa's organic rankings?
Medical spas benefit significantly from good local SEO, especially in areas where there is heavier competition. One of the most significant benefits of Local SEO is having a medical spa show up in the map results in search engines results. Search engines generally display paid results and organic results. However, when looking for a business, map results will be wedged between them, showing at least three possible local choices with their review rating. Many search engine users will not look past map results and search for a medical spa based only on these selections. A medical spa needs to appear in map results for local searches.
To appear on a map result, a medical spa needs to appear on a map. To accomplish that, it needs to create or claim a listing in a directory. The major directories where a listing needs to be created include Google, Yelp, Bing, Facebook, and Foursquare. The vast majority of mapping apps and websites pull their business data from these five directories. Creating or claiming a listing is relatively easy. Still, Google, Yelp, and Bing require a business to verify the ownership of a listing via automated phone call or a postcard sent to them through the mail. Be careful to check for any duplicate listings that may exist out there. "The more, the merrier" does not apply to directory listings and can hurt organic rankings by confusing search engines.
Once a listing is claimed, each one should be checked to ensure it has the same information about a medical spa has listed on its website. The following details should be the same on all listings:
Name of medical spa
Address, including any suite or office numbers
Phone number
Website URL
Hours of operation
Services (if applicable)
Many directories allow their users to submit updates and suggestions. Listings need to be monitored to ensure no accidental updates are made that make the information suddenly incorrect.
Finally, consider making a "Directions" page on a medical spa's website. Unique content describing how to get to a medical spa will search well and help a search engine know it is located in a specific area. Write out directions about how to reach a medical spa from different directions and target communities. If available, write what bus routes, subways, or rail lines are nearby so patients can reach stops near a medical spa. Helping those reach via public transit still help boost a patient count and enable a search engine to figure out how relevant a medical spa is to a map location.
What are the importance of referral links to a medical spa's SEO?
Something that a search engine loves to see are links from third-party sites to another website. The more a website is linked to, the more relevant and authoritative that site appears. As a result, it will then appear higher in organic results. However, getting referral links is not simply a matter of asking a bunch of websites to put links to a medical spa on their website. The links from these third-party websites need to be reputable and not spammy. In the past, hundreds of websites would just be "link farms." They would just be websites that had links to other websites and very little content. Search engines used to see this as a positive, but as algorithms were refined, it became clear these links were of little use. Today, if a website gets linked to too many link farms, it can hurt its organic rankings. It is essential to monitor referral traffic on Google Analytics to look for any traffic from a website that can damage a site's organic rankings.
With that in mind, there are plenty of good places to get good links from for a medical spa's website. Given the nature of medical spas, it is unlikely that links from medical practices will be easy to get. However, websites promoting events, relaxation, and other tourist-related activities may have a section on their website for medical spas. They are popular in the "Relax and Recharge" themed categories on these websites. Another good source of referral links is from a local business or community organization that owners can join. These organizations promote business, networking and usually have a directory of members available to the public and for those who are members. Some of these organizations also organize community-wide events that often look for sponsors that are promoted throughout the event, in literature, and on the event's website.
Finally, although it is difficult to achieve, links from local publications, news, or blogs can be valuable to referral traffic to a website. Often these outlets will write stories or accept a guest column from a medical spa to publish. Sometimes these articles will be written about a medical spa and the services they provide. Other times, they will be about a local topic that a medical spa owner or provider has the expertise to talk about. Regardless of the reason, a link to the medical spa's website will often be provided in the short bio about the writer or within the article.
Many referral links will come from websites ending in .com. While those are certainly great to have, the most valuable referral links come from a website ending in .org, .edu, or .gov. These websites are much more authoritative since it is harder to get a site ending in those domains. It is also equally hard to get a link from those sites to a medical spa's site or any website for that matter. A medical spa owner should try to keep their eyes and ears open for any opportunity to get linked from one of these sites.
What role does content marketing play for organic rankings?
The final ingredient in a good SEO secret sauce is content marketing. The content on a website is going to be the fuel that drives good overall organic rankings. Content and SEO keywords enhance each other's effectiveness and should work together to promote a medical spa's website. Unfortunately, many medical spa owners may think content is a "one and done" arrangement, whereas it does not need to be addressed again once it is written. It is a mistake to assume this for a couple of reasons. First, an owner should not think that content will not change over time. Updates in treatments, services, protocols, or phrases that people expect to see will change over time. It may hurt a medical spa's credibility when something looks like it was written half a decade ago. Second, a search engine likes to see a website that is kept up to date.
Search engines place more credibility, relevancy, and authority into a website that is kept up to date. Content marketing helps make a website look more critical by constantly improving, refining, and adding content to a site. Instead of making all of the updates at once and letting content age over a year, updates should be gradually made on a website throughout the year. Medical spa owners should list all content pages on a website and place a date the last time a page was read from top to bottom. Every month, take a few pages and read them aloud to make sure they make sense, flow correctly, and that everything is spelled correctly. You may be surprised how often a missing comma, apostrophe, or a word your brain automatically puts in may be there. These minor improvements will help the content on a page be more effective and show a search engine that it is being kept up to date.
As updates are being made to pages and content added, do not be afraid to split large pages into different content pages. For example, when a medical spa first open they may have only offered one type of massage. Over the years, additional types have been added, and now there are a dozen. A single page with a dozen massage types in detail is a bit unwieldy. Conversely, a single page with a dozen massage types with only a few lines of description will not help SEO. This is a case where dividing this page into different content pages would be a wise decision and helpful to SEO scores.
Is a medical spa's website perfect with no new content to add and very little if any updates needed regularly? In that case, consider adding a monthly blog to a website. Topics for this blog can include highlighting certain services or offering health tips to current and potential patients. Adding this new and unique content regularly will help a search engine see a website is being kept up to date. Aim for a monthly content pages or blogs at first so as not to put too much pressure on a writer. It is much easier to write 12 well-written, insightful, and valuable blog posts than it would be to write 52. These blogs also make great content for social media posts or email marketing campaigns.
Medical Spa Marketing Companies Should-Do List
12 Action Items To Discuss With Your Medical Spa's Marketing Company Every Month.
MONTHLY ACCOUNT REVIEWS
1) Meet with your account manager at least once a month and go over current month's performance and discuss plan for the next month.
2) Review SEO Rankings. Go over the top keywords and see your rankings. It should be done in a live meeting. Reports have stale data. Automated reports are mostly inaccurate.
3) Review Advertising Performance – Top keywords, budget exhaustion, average cost per interaction, Facebook ads performance, Google ads performance.
4) Review Social Media – Posting, Apps, Ads on Social Media. How many posts were posted in the last month. How are your ads running on Facebook and Instagram. Are they producing any new patients? Or are they simply producing visitors who take no action?
5) Review Email Marketing. How many Emails went out? what is the open rate? Each newsletter should have some useful information for the patients and it should also have some type of "promotion"
6) Review Call Data. Number of phone calls received. Phone calls missed. Duration of phone calls. Time of day when you receive most phone calls. Number of calls received after hours.
7) Review Reputation Management. Number of reviews requested. What percentage is happy/unhappy. How many actual reviews posted. Are you using all three mediums to maximize the your online reputation.
8) Review Texting/SMS Data. Your SMM app is a gold mine. Patients who interact using the SMM app are 6 times more likely to become your patients and buy something from you, than phone calls or contact forms.
9) Review Content. Every page on your website must have a purpose. Every page should have useful content for the potential patient or existing patient. Call to action should present on every page. Every page should be considered a "landing page" with call to action.
10) Review Promotions & Deals Apps. Monthly promotions and time-based promotions are extremely important for your medical spa. We recommend 3 to 4 active promotions per month. Recycle old promotions. Custom promotions with nice "flyer" type of look are very effective. These promotions are even more effective if you allow the visitor to "buy now" online – with a 10% discount. This fill your medical spa calendar. But the promotion must be meaningful, and there should be sense of urgency.
11) Review Training and Misc Items. Does your staff need training? Do they know how to respond to inquiries? Can they answer the questions from your medical spa website?
12) Discuss Plan for the Next Month *** VERY IMPORTANT ***
How To Launch Medical Marketing Strategy For Your Medical Spa
In order to launch a successful, profitable, and comprehensive medical marketing online strategy, your Medical Spa has to utilize a multiple software tools and online marketing consultants. Medical practices typically have to work with four to eight different vendors and software companies to coordinate and manage their efforts on the Internet. Keeping up with the constantly changing online landscape is hard enough, and when you have to get strategy advice and execution from multiple companies it becomes an even bigger headache.
PatientGain.com is a proven new patient marketing solution, includes apps, websites, SEO, HIPAA compliance and account management.