Social Media Marketing for Medical Spas – Facebook, Instagram, TikTok, YouTube and More
Effective Social Media Marketing for Med Spas As Used By Top Medical Spas in US & Canada. Costs $1299 to $1999 /mon. Hundreds of Success Stories.
Social media is a powerful tool for med spas to market their business to their current patients and potential patients near them. However, social media must be used correctly when marketing their med spa, or you run the risk of alienating your possible audience, making the time, effort, and potentially ad money you put into it less effective. Med Spas have the advantage of providing services that help people feel better and look young again. This aspect of your business lends itself to make compelling posts for consumption on Social Media easily.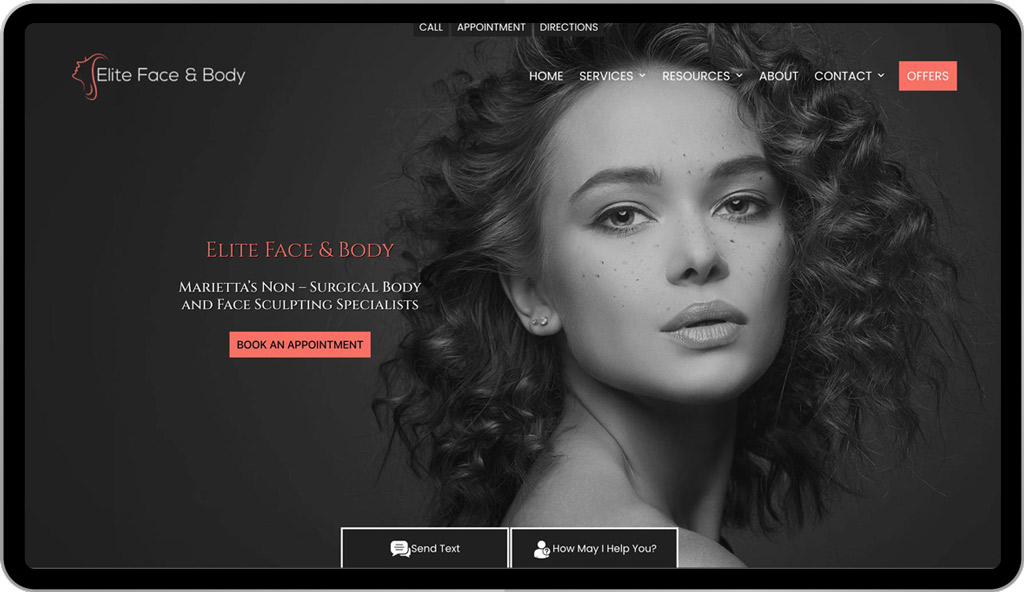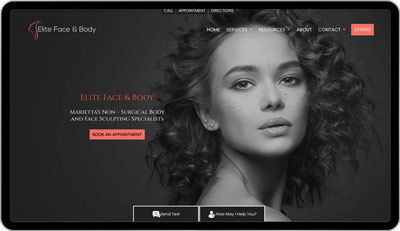 How clients and patients find your medical spa services on the internet?
There are hundreds of websites and apps to use for your medical spa, aesthetics, anti-aging, wellness, IV therapy, sexual wellness practice. However each strategy requires careful review of your investment of dollars and time. Every website or channel does not produce that same ROI ( Return Of Investment). Generally the following list should provide you a good starting point.
MedSpa Patients look for your services on:
1) Google SEO (Learn more about how healthcare SEO works)
2) Google local SEO (Learn more about how local SEO works)
3) Google Ads (Learn more about how Google ads work)
4) Facebook, Instagram Ads (Learn more about social media advertising)
5) Digital ads on other secondary websites (Insurance websites, healthgrades, vitals, and other medical and dental directories etc)
6) Offline traditional advertising (Newspapers, Yellow pages, billboards, leaflets, flyers, USPS mailed attention grabbers)
7) Referrals (Referrals from your network of other providers)
8) Word of mouth (Existing happy patients tell their family members, friends and neighbors)
9) Ecommerce apps (Like Amazon, etc)
The first four points are the most important mediums for your online success.
What social media channels should I be on for my med spa?
There are quite a few social media channels out there today, and if you are reading this article years from now, there are probably even more that might be useful. Given that services at a med spa can easily be shared via picture, focus on social media channels that allow you to share images or videos with ease. Below are some social media channels you should consider for your med spa. Keep in mind you do not have to do all of these channels at once. Feel free to start with one and slowly build up to it.
Facebook is a platform where you can share photos, videos, and engage with your customers. Claiming a Facebook Business page allows you also to use paid advertising to promote your page or posts to specific demographics surrounding an area. Current customers and patients can also leave reviews about your services on this page. When you claim this page, be sure to link it to your website (and vice versa) and fill out all of the information, including your hours, address, and verify the map pin showing your location is accurate.
Example of Facebook ads and where to place the ads.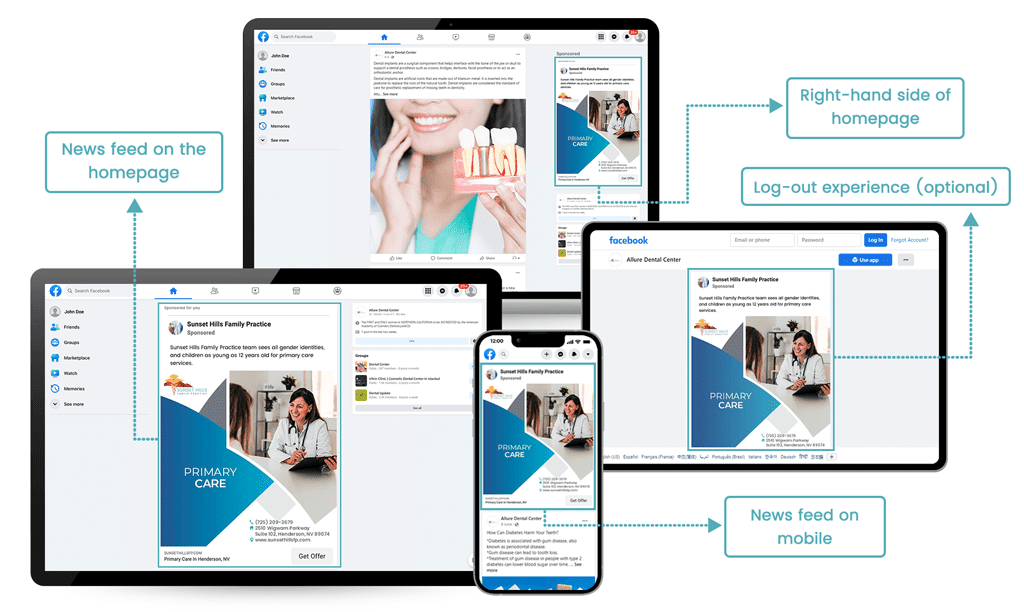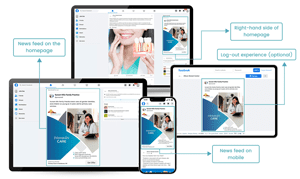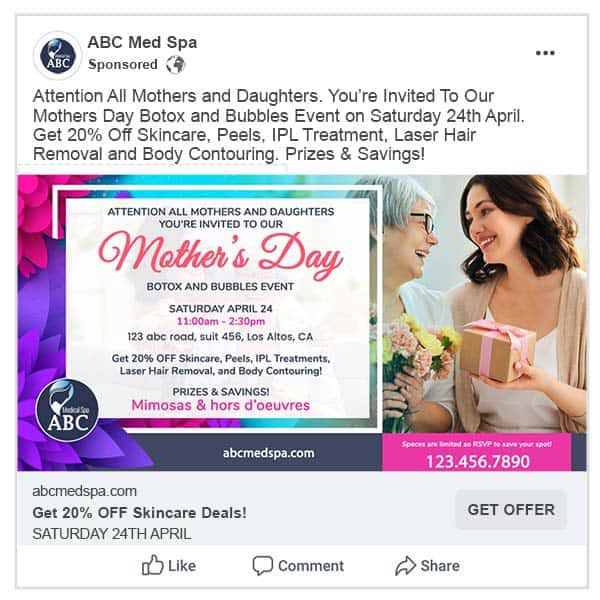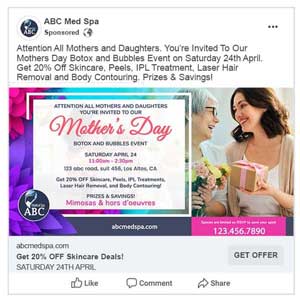 Although Google My Business may not be considered a full social media platform, we like what you can do with Google Posts. PatientGain's data shows increase in client engagement, and more paying clients for Med Spas if you post at least 3 times a week, however you must post content related to services and call-to-action back to your website.


Instagram is a photo and video sharing social media channel where you can show off your services and products you offer. This channel does not let you easily share links in your posts, so be sure to make your posts visual and provide as much information in the post as possible. Your patients and customers can interact with you on this channel and leave comments.
Twitter is great for short messages and updates about your business. You can also share photos and videos on this channel as well. Generally, you will get less engagement on this channel, but it should be monitored for any negative comments.
YouTube is where you would host any videos that you could then embed onto your website. Avoid taking shaky videos with handheld cell phones and use professional equipment. Cell phone videos are generally okay for Twitter, Facebook, and Instagram, but on YouTube, people do expect a higher quality when they watch videos.
Other Social Media Channels You Could Consider
LinkedIn is mostly for networking with other businesses and professionals. However, you could share some of your services here as well as some customer testimonials about your business. It could serve as an excellent recruiting tool for employees if you get to the point where you want to expand your medical practice.
Traditionally, these are not usually considered to be social media channels. However, these are places where you can list your business, the hours of operation, services, and where people can leave feedback. You can also post short messages about specials and updates on these channels, allowing you to communicate with current and potential patients.
How do I use social media for marketing my med spa?
As mentioned before, a med spa lends itself to using pictures and videos to show off your facility and services you offer. Use videos and photos to show where patients receive their services in your facility. While it may seem obvious reading this, but take pictures of the outside of your med spa to help first time visitors know they've arrived at the right place. If you decorate outside for the holidays or different seasons, those photos can also promote engagement when shared online. Does your med spa offer specific products for sale? Display them and take pictures or videos to share on social media channels. Those photos or videos should have descriptions talking about the advantages of those products and the price.
Another popular idea med spas use to share across social media channels are photos and videos of people receiving your services. Ideally, you should have actual customers receiving your services in this content, but that may not always be possible. It would be okay, for demonstration purposes, for an employee to receive a service to share it. Be honest with your audience, and don't pretend an employee is just some random person off the street.
When sharing videos and photos, ensure you post the best quality photos and videos online. Avoid shaky, blurry videos that have poor lighting and audio. If possible, try to use professional equipment to capture these images. You do not need to spend thousands of dollars on a camera but spending a little money can make it much easier to take high-quality pictures.
Finally, introduce your staff! It will add a degree of authenticity if people meet the employees who will be working on them. Pictures, bios, and updates in their life will bring your patients closer to your med spa and their employees. Some med spas, in the morning, will post who is working today. This can be especially helpful if you take "walk-in" appointments, and their schedule remains open. Also, "regulars" will also comment on those pictures praising their work and could remind them to make an appointment.
What kind of posts should I focus on my social media channels?
The truth is that you should have a nice mix of posts on your social media channels. Your posts should not all be about selling products or the services you offer. Those are important, but also mix in news from your employees, how you've decorated for the season or even news about local events. People do not always want to be "sold" to, so keep that in mind when posting online. Think of it like a relationship you have with a friend. If they are always coming to you trying to sell knives or a magazine subscription, you are going to tune them out or even stop talking to them altogether. Keeping a nice mix of social media posts will help you avoid losing your target audience and also grow it.
Social media channels can be a powerful, cost-effective way to promote your med spa. Use channels you are most comfortable with and don't get in over your head by trying to create dozens of posts every day to post online. It can be time-consuming, and before you know it, you've spent 8 hours posting and commenting online.
PatientGain data shows that for Medical Spas in major cities on the West and East coast, the cost of each lead generated is approximately in the range of $16 to $23. In the Midwest and Southwest lead generation costs are 23% less. Medspa's in the outskirts of major metropolitan areas usually see costs in the range of $8 to $14 per lead.
The cost of each new lead varies from area to area, as competition and demand for services offered by each medical spa varies. But the good news is that using a comprehensive Medical Marketing Platform can provide your business with a competitive edge, and only one extra procedure can produce enough return on investment to justify your investment.
Budget Range is $600 per month to $15000 per month, depending on specialty, location, number of services and competition. Data from Medspas, aesthetic practices, plastic surgeons and dermatology practices.
The actual advertising budget for each clinic and practice is different. Some clinics/doctors are very aggressive and spend $1000 per day (or more) and some spend $1000 a month on advertising. We also have few clinics/doctors who do not spend any money on online advertising, they doctors rely on referrals and very strong SEO rankings. This data refers to online advertising, not offline advertising spend. For example we have a medical practice with 30+ locations, on average they spend – per location – $1600 per month on online mediums and $1000 per month for offline, traditional mediums. Another medical practice with 5 locations, spends $5400 per month per location, entirely on online strategy. They are no longer spending any advertising budget on offline, traditional advertising channels. A single location in 8 exam rooms, with extreme competition, spends $15000 per month on online advertising, with average patient count of 80 -110 patients per day. A plastic surgeon with medium competition spends $8000 per month on online advertising.
4 Good Examples of MedSpa Advertising
Example no 1 . Google SEO for "Medspa near me" – Mobile potential patient searching for a medical spa.
Example no 2 . Facebook App for Med spas advertising – Engaging potential patient on Facebook using a Promotions app.
Example no 3 . Facebook Paid Ads for Med spas advertising – Engaging potential patient on Facebook using Facebook Paid Ads.
Example no 4 . Google Search Paid Ads for Med spas advertising – Engaging potential patient on Google Search Engine using Pay-Per-Click Ads.
4 Good Examples of Effective MedSpa Marketing
These days, especially in year 2020, if your aesthetics medical practice is not using the latest marketing strategies and activities for modern med spa marketing, you are very likely being left behind. Building your aesthetics practice's digital success starts with specific actions, steps and plans. There are hundreds of options for marketing for med spas. We outline specific activities and steps with examples to guide you through your success. But remember, digital marketing is constantly changing, technology, techniques and tactics are always changing, as long as your focus and foundation is to help your clients and patients achieve great results, and patient trust is the foundation of your practice, you will succeed.
Example No 1 For Effective Medspa Marketing: Your Mobile Conversion Website With SMS/Texting App
In this example below, 83 percentage of the clients and patients visit this site from mobile devices. By adding Texting/SMS app (yellow pop-up tab) to the mobile website, the practice experienced 6 percentage better conversion.
Example No 2 For Effective Medspa Marketing: Social Media Techniques
In this example below, posting of content on Google posts and on Facebook posts, results in higher patient engagement.
5 Important elements of your social media strategy:
1) Posting of Facebook. Content based on actual services offered by you produces better ROI for your med spas. Post on a regular basis. Post at least 2 times a week.
2) Link your Facebook business page to Instagram.
3) Online advertising on Facebook and Instagram. In your online ads, use branded images to build your brand.
4) Link your Facebook business page to your website. Clients and patients who visit your website from a social media page are more likely to contact you. Conversion on your website is higher than on your Facebook business page.
5) Use Google Posts. Technically, Google posts are a part of your Google My Business (GMB) page, however, the Google Posts are more like Facebook posts and have excellent CTA (Call-To-Action) built into each and every post. Post at least 3 times a week.
6) Avoid images with needles and pain. Your patients want to see the results of the procedure – not the needles.
Example No 3 For Effective Medspa Marketing: Custom Image For Email Marketing, Posts and Promotions
In this example below, custom image is created for your brand, promoting national botox day, with a clear call to action, and time sensitive offer, with a sense of urgency. Result: higher patient engagement & sales.
Example No 4 For Effective Medical spa Marketing: Superior SEO with Reviews Ratings Embedded in Search Results.