HIPAA Compliant Text Messaging Apps $199/mon to $499/mon. Benefits of Using Medical Texting Apps on Your Website
PatientGain's 2-Way texting app engages patients right when they land on your website. Increasing conversion of patients. In addition, you can use the app to send transactional messages also, for example confirming an appointment. Our apps are integrated. Texting app saves data in HIPAA compliant CRM. And there is integration for autoresponders, speech-to-text, and Email responses, auto-text-back, promotions, online payments.
Text messaging is becoming the norm. More and more patients prefer that you text them, rather than call them. How many times have you been out in public, heard the "text message bell" go off on the phone, and you immediately go to your phone to check your text messages. It is the same with patients. For example PatientGain's data shows that if you simply add 2 apps to your current website, you are likely to see 5% to 8% higher conversion. Our data also shows that patients who text you from your website are 6 times more likely to become your patients, as opposed to the ones who call you for initial inquiry.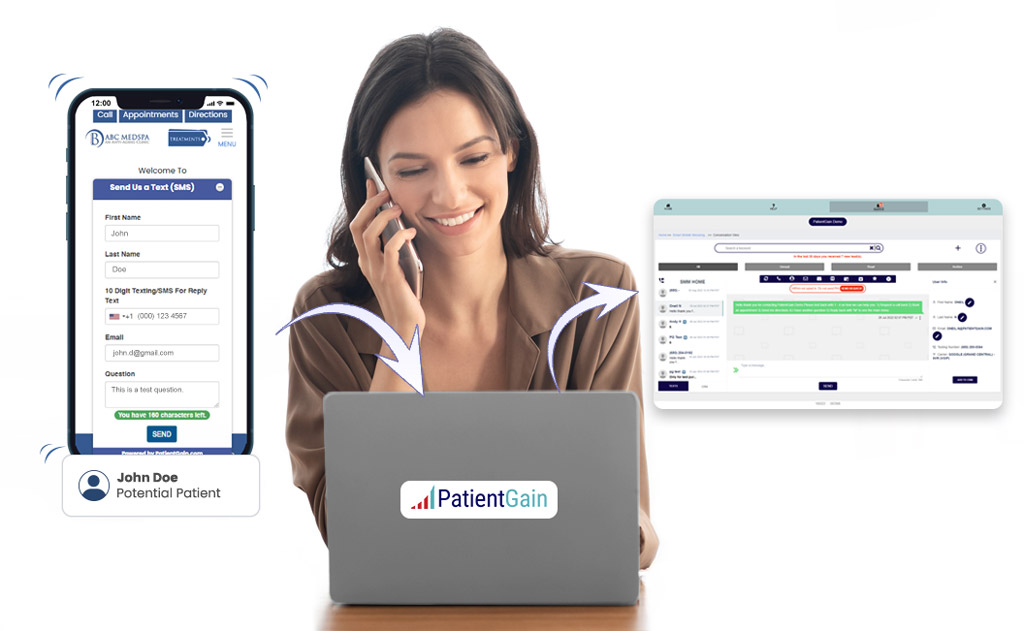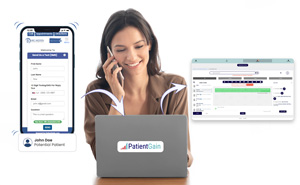 Why use a texting app on your medical website?
1) Your staff can initiate the texts from a simple dashboard
2) Patients can send initial text from your website
3) Patients receive messages on their personal mobile device
4) It is HIPAA compliant
5) All conversations are captured in a secure database so you can review how your staff communicates with patients
6) Reduces the number of inbound phone calls in your clinic, while increasing the conversion rates
7) This app is available on iPhone and Android phones – your messages can be answered anywhere.
Patients read 97% of text messages. 71% to 88% of your patients are mobile. They are browsing on their cell phones and visiting your website. They also prefer to communicate with you using texting/sms
Most of the people get alerted when they hear their cell phone ding or vibrate in their pocket, bringing it up to see who had messaged them. For a medical practice that uses a texting app on their website, this a great advantage. Studies have shown that a text message campaign's open rate is much higher than the open rate you would see in an email campaign. How much greater? Most email open rates are between 8% and 22%, depending on the campaign and the offered healthcare services. Studies show that well over 95% of all text messages, which are over 2 trillion a year, are opened within 3 minutes of arrival. That is a powerful and compelling reason to use medical text apps on your website. Below are some additional benefits and tips for using this excellent marketing tool to your advantage.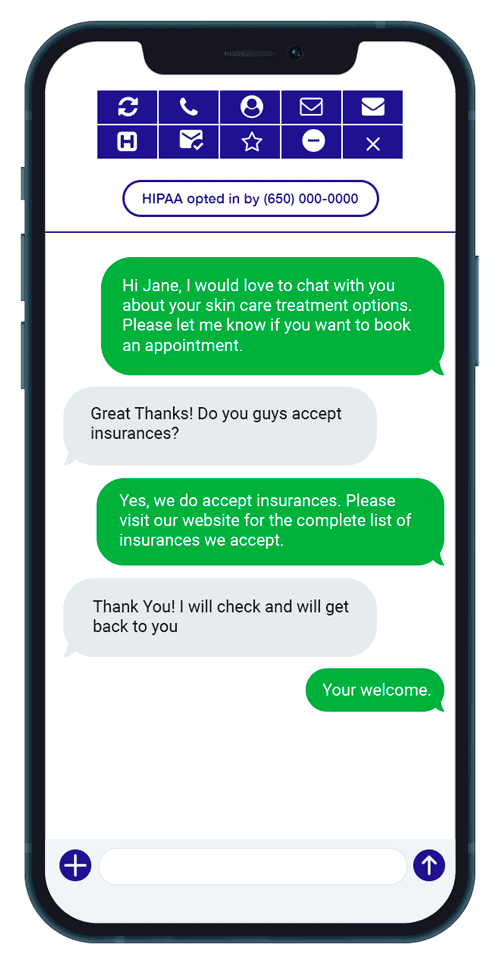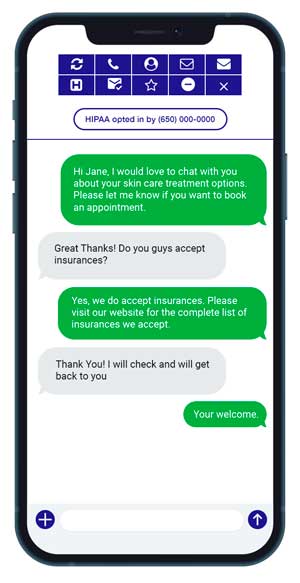 1. Gets Important Updates Literally Into The Hands Of Your Patients
When you have important updates to get to your patients, a text message is a great way to reach them. The high open rate ensures your message will be read, and if you include a link with it, then additional information is likely to be consumed. While that link may not be clicked immediately, it can be saved for further reference. Unlike an email, you have a limited amount of real estate to get your message across. You have the same amount of space as you would in a tweet on Twitter. You generally have 140 to 280 characters to work with, including spaces and punctuation, depending on the platform you are using. The more characters you use (140 vs. 280), the more expensive the text might be for you.
Tip – Only send out the most relevant and essential information
The power to text message must be used with responsibility. If you are sending out a text every day hoping everyone had a goodnight's sleep, you will see your unsubscribe rate skyrocket. Even if you send a text out once a week or once every two weeks, it needs to be essential and relevant. Reminding people of your office hours does not quite make the cut but reminding people that fall sports are coming and their child may need a sports physical would be essential and relevant.
A more recent example of important and relevant information being sent out has been during the recent COVID-19 pandemic. Texting alerts to people became so effective; some places were texting out "shelter in place alerts" to residents to remind them not to leave their house for non-essential reasons. During this crisis, many medical practices were rushing to get COVID-19 testing kits in. When they arrived and were in a sufficient quantity to test many people, medical practices sent a text to every single patient informing them of this new service. This text message would not only reach households but likely to extended families and neighbors. Text messaging marketing is a powerful way for medical clinics to keep their patients up to date with the latest and most critical information.
2. Use Texts To Remind Patients Of Appointments
Making appointments online has become very popular by allowing patients to take control of their healthcare decisions and make appointments that fit their schedule. However, the self-service nature does result in a higher than usual "no show rate." A patient may make an appointment, but then not write it down or enter it incorrectly into their online calendar. Fortunately, medical texting can help cut this down by sending out a reminder text to patients a few times before their actual appointment. Of course, this is dependent on the patient consenting to text messages and putting in a valid mobile phone number.
Even if patients do not make an appointment themselves, using a medical texting app to send out reminders to patients has been shown to knock down no-show rates effectively. While you again need their consent to send out this text and a valid phone number, your front desk staff can employ a medical text app to help remind patients of their appointments. They are becoming more and more common to the point where you may be losing income and other opportunities for your business if you are not using one.
Tip – Include Your Name and a Link or Phone Number With Your Reminder
If someone gets a text out of the blue, you need to provide context to your message. A patient who receives "You have an appointment this Monday at 2 pm," from a number they've never seen before will likely and rightfully assume it is spam. That text will be ignored, and that number might be blocked. Instead, a better text would be, "You have an appointment at Dr. Clark's office on Monday at 2 pm. Please call xxx-xxx-xxxx if you have any questions." That text could also include a link to your medical practice's website or the online scheduler they used to create the appointment in the first place.
With appointment reminder texts from your medical texting app, you may want to consider sending more than one text to a patient. It isn't uncommon for a patient to get a text a week before and the day before an appointment. A week before the appointment, they can then change their time if they are no longer available, allowing a medical practice to put someone else in that now open slot. A day before prevents them from forgetting to come all together. Will your "No-Show" rate drop to zero? Unlikely. But, you will see a notable difference and decrease in that rate, making a medical texting app well worth the investment.
3. Medical Texting App Can Help Get Your Medical Practice Good Reviews!
After someone leaves a medical clinic, it isn't uncommon to send them a follow-up email asking them to rate their service. Ideally, you want a patient to give positive feedback and then send them to your Google Profile to leave a five-star review or an internal feedback form if they had a neutral or negative experience. However, these emails have become increasingly ineffective as open rates continue to be lower and lower. Many healthcare businesses have found success using a medical texting app to get new reviews and testimonials about their services.
A medical texting app can make this process automated and straightforward. Usually, a patient will receive a text within two hours of checking out of a medical practice asking them to rate their service from a scale from 1 to 10. (Some medical practices wait a full 24 hours, wanting a treatment to take effect before getting feedback). If a patient rates your practice an 8, 9, or 10, they get a direct link to leave a Google review. Anything less will engage them in a follow-up text asking them to provide feedback so a staff member or owner can follow up with them. This method allows you to get good reviews and address any issues before they turn into negative reviews.
Tip – The Fewer Steps To Leaving A Review, The More Reviews You Will Receive
Basically, every step it takes to leave a review on Google, you will lose more and more people who will abandon the process. For example, this may seem like a very straightforward way to get a review, but there are too many texts involved.
• Hi! Were you satisfied with your care at our medical practice? (Yes)
• How would you rate your experience on a scale of 1 to 10? (10)
• Thanks! Would you be willing to leave a review for us online? (Yes)
• Would you like to leave a review on Google, Facebook, or Yelp? (Google)
• He's the link.
That is entirely too many hoops for someone to hop through to leave a review. Below would be a better approach that would see increased rates of leaving reviews.
• Hi! Thank you for visiting our medical practice. How would you rate your visit on a scale from 1 to 10. (10)
• Great, we'd love to hear from you on our Google Profile. Click here to leave a review.
Suddenly those five steps are down to 2. Some medical practices go even further and use this approach.
• Hi! Thank you for your visit to our medical practice. Please leave us a review on our Google Profile or call us if you had any issues.
Granted, sending patients directly to a Google Business Profile without asking them to rate or allowing them to send negative reviews to you first can cause some issues. You are likely to receive more negative reviews then you would otherwise, but you would also likely receive a vast amount of positive reviews that would cancel out the negative ones. Not all medical practices are comfortable doing that, but some have found great success by using their medical texting apps in that fashion.
4. Using a medical texting app to alert patients when test results are available can make your practice more efficient.
Receiving medical diagnostic testing is very common at medical practices and can be ordered for various reasons. In the past, you would make an appointment for testing and then come back again to review those results with your doctor. Previously, the doctor's office would call you and ask you to call back to check results over the phone with a doctor. Many medical practices are now using their medical texting app to alert patients that rest results have returned. Why would this be more efficient than a phone call? Sending an alert out to 40 patients to call to discuss results will be a lot quicker for your staff than someone making 40 individual phone calls. It is unlikely they are going to reach all 40 on the first call. By sending a text message, a patient can call when it is convenient for them.
Texting to alert patients of test results is an excellent solution for medical practices and helps them compete with major, regional health organizations. These wide-ranging, multi-million, or even multi-billion dollar companies usually deploy their custom Apple or Google apps to alert patients of their test results. A medical texting app is a cost-effective way to provide this alert service to your patients.
Tip – Do not include the actual test results in a text message
A text message should only alert someone to call for test results, not provide the actual results. A regular text message platform on a mobile phone is not a secure way to communicate. Sending results via this method would be a HIPAA violation. Text messages should only be used to alert patients that they should call for results, or you could violate this law. Depending on your testing services' procedure or vendor, you could text them a link for them to log in and review their results. Having them log in on their end on their own is a very secure way to check results and is safe. If they have to call, include your phone number and suggested hours to reach someone.
You should also avoid engaging in 2-way communication with a patient over text. Again, you have no way to know for sure who is viewing that text. You can give general information, like your hours of operation, services you offer, and phone number. It would be best if you were not offering medical advice over text or telling a patient what the next steps are in their treatment.
A medical texting app is an excellent tool for medical practices to use to connect with their patients. Contact PatientGain.com today and speak with our team about our great medical texting app our clients use to market their business effectively. We look forward to working with you!