Urgent Care Marketing Expert Services $799/mon to $999/mon
There are nearly 10,000 urgent care clinics in the United States! That number is growing, too, as urgent care clinics provide vital services. As the owner or the practice manager of an urgent care, ask yourself: If a patient is looking for an urgent care clinic in an area near you, why should they consider your urgent Care?
Easy to implement marketing and advertising plan for urgent care centers $799/mon. Used by top urgent care centers in the USA and Canada. Same strategy is used by top clinics in USA – With patient acquisition costs of $8 to $18.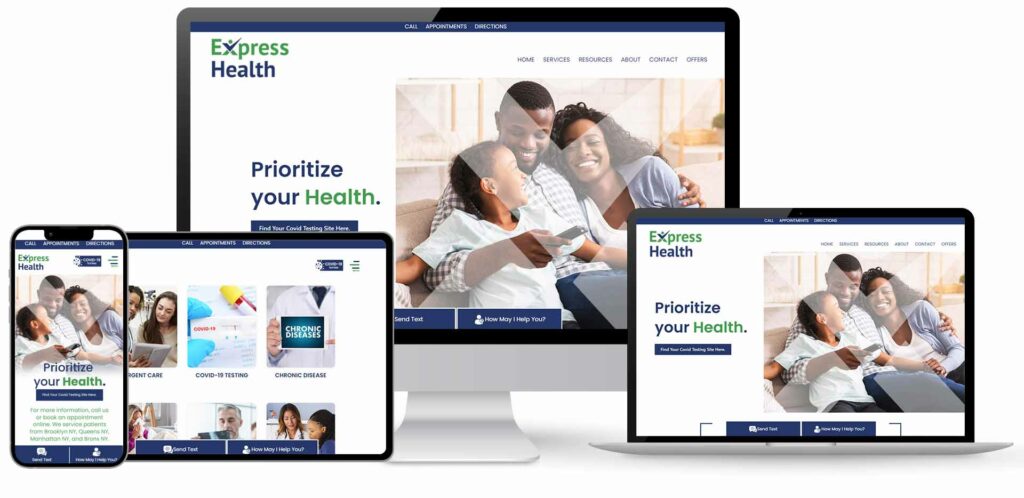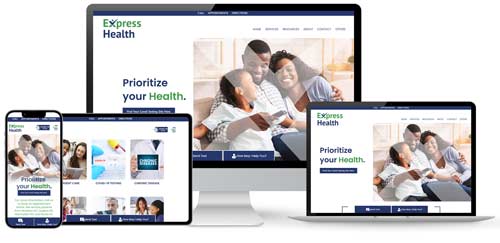 Your target prospect patients looking for urgent care and walk-in services are driven by two reasons. They either have a need to address a medical illness or injury or need a quick walk-in visit for another medical reason, such as a physical exam. Approximately 81% of prospective patients are searching the web for the right doctor or urgent care center to fulfill their immediate care needs. Online Marketing and Advertising on Google produces the best ROI (Return On Investment) for Urgent Care clinics.  There is another trend helping urgent care centers. Urgent care visits increase as emergency room visits fall, study finds.  All studies are pointing to more consolidation and more competition for patients. Intelligence embedded in your urgent care website has become one of the biggest conversion factors. Read more about intelligent chatbots for urgent cares here.  
Patientgain.com's urgent care marketing plan includes creating custom image every month for your promotions and offers, and social media posting.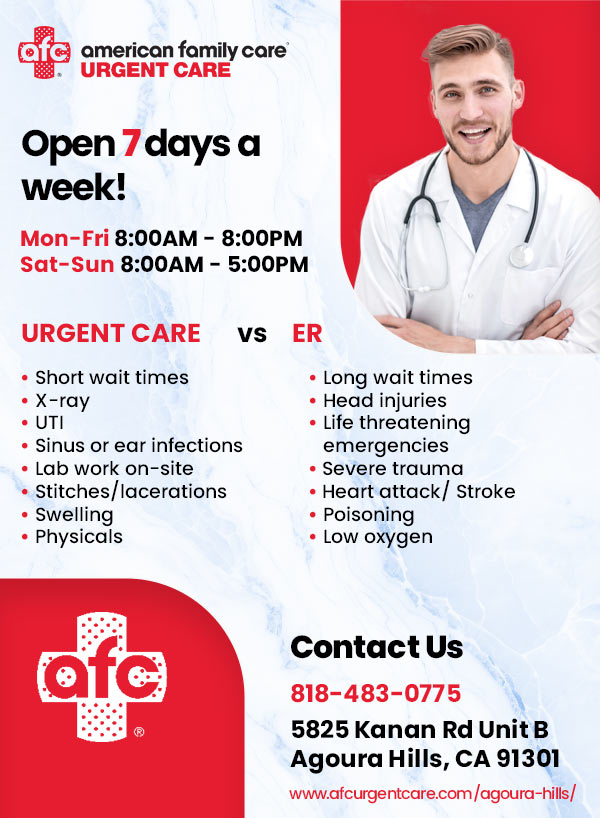 Patientgain.com's urgent care marketing plan includes creating monthly newsletters for your practice, and it includes content and offers.


Patientgain.com's urgent care marketing plan is not focused on technology, but on results. It covers six key areas:
No 1) Fast loading SEO focused urgent care website, plus targeted online advertising for patient acquisition. We focus on mobile advertising for Urgent Care centers – 82 percent of your patients find you online. Advertising includes SEM (Search Engine Marketing) SEO (Search Engine Optimizations), speech based SEO and of course social media.
No 2) Software along with online and medical industry expertise
No 3) Effective communication and online marketing for patient engagement
No 4) Applications that track advertising and marketing strategies for low patient acquisition costs
No 5) Communication apps designed to convert your website into a full-fledged communication center
No 6) Content marketing designed to 1) increase your SEO rankings 2) Engage patients
8 Specific steps
4 Good Examples of Medical SEO for Urgent Care Clinics
Search Engine Optimization – SEO For Urgent Care Centers produces excellent results for hundreds of Urgent Care Clinics, from coast to coast.
Example 1 – Medical SEO for a patient searching for "urgent care near me okc" – In Oklahoma City. You will notice that first 4 results are from the websites – This is due to high quality content and hence high SEO ranking for this urgent care.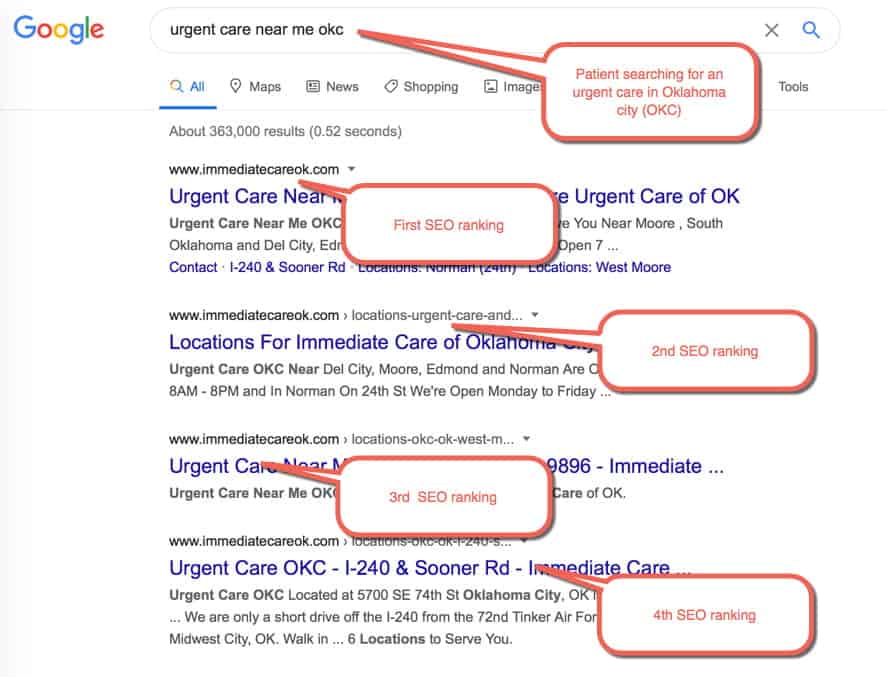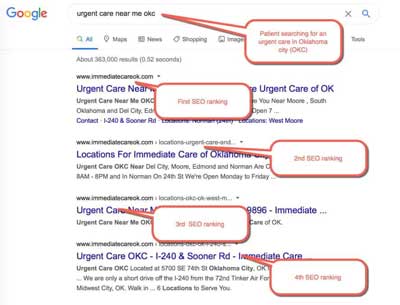 Example 2 – Medical SEO for a patient searching for "urgent care el cajon ca". High quality content is extremely important for high SEO rankings for your urgent care.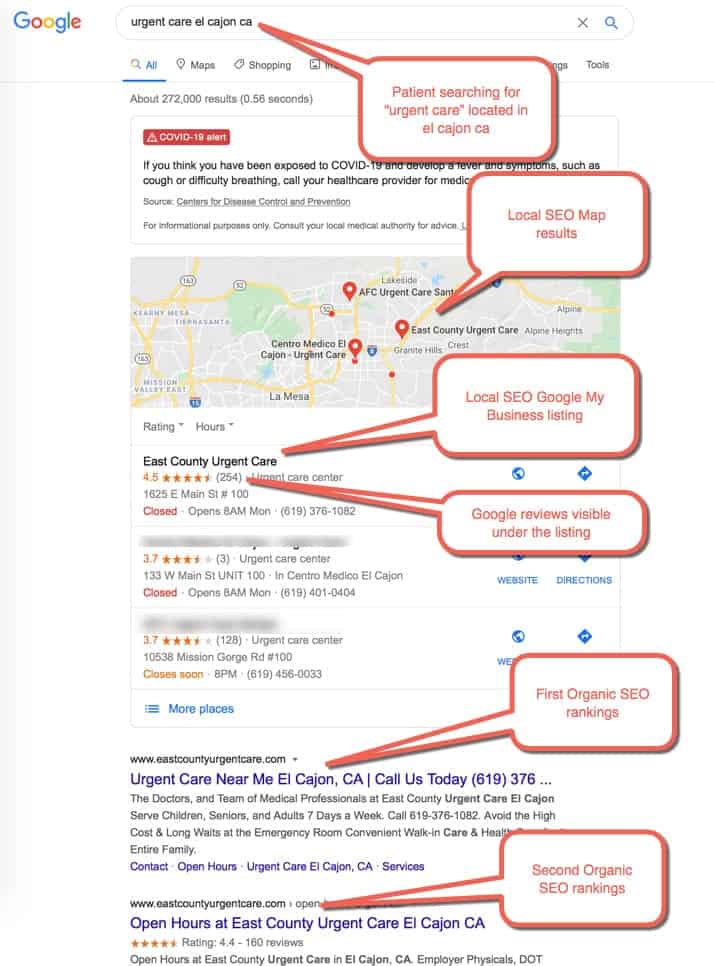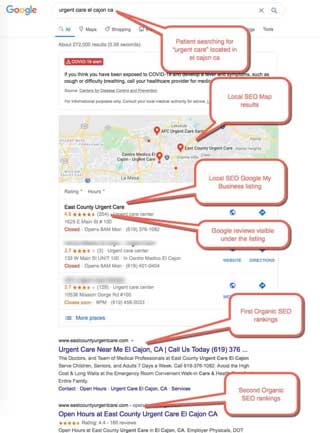 Example 3 – Medical SEO for a patient searching for "nearest urgent care maui" – This patient is looking for any urgent care, close to her. In this results first and the second results are from the same urgent care. So this urgent care is likely to have more patients.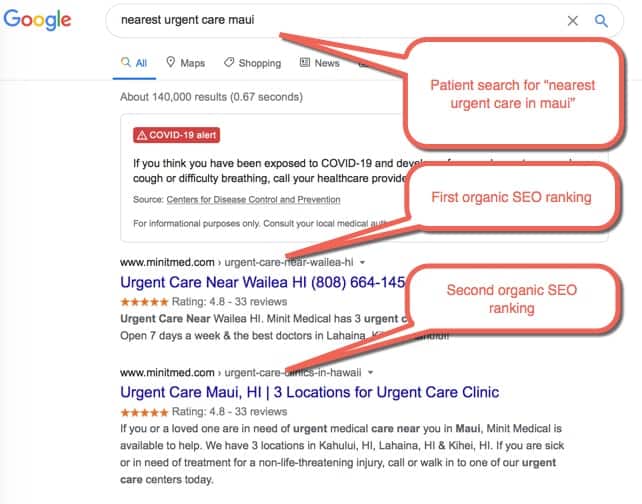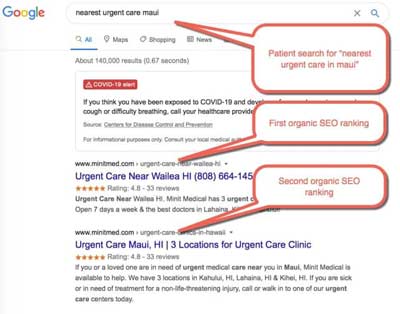 Example 4 – Results from Urgent Care SEO for a 7 location urgent care practice in a very competitive area. These are results are after being on PLATINUM service for 4+ years.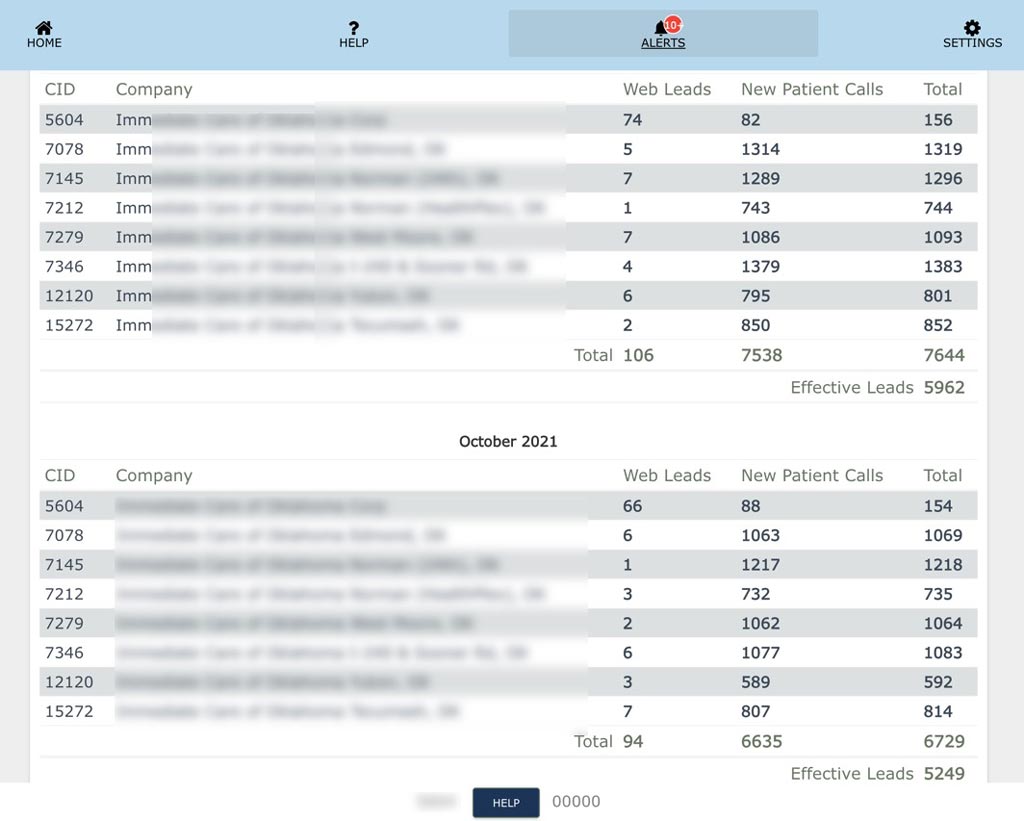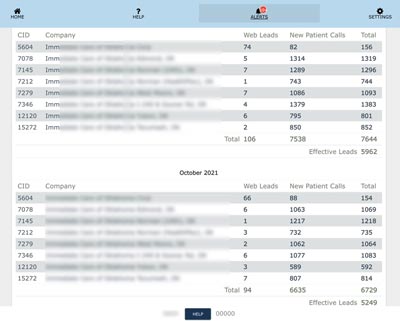 Example of Promotions app for Urgent Care Clinics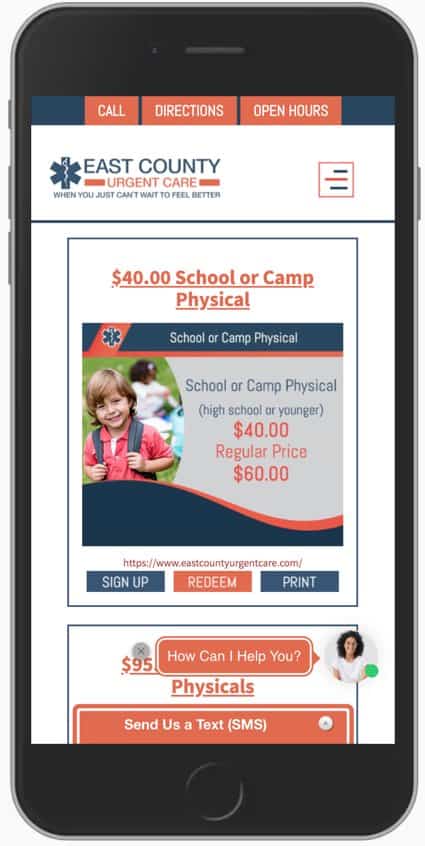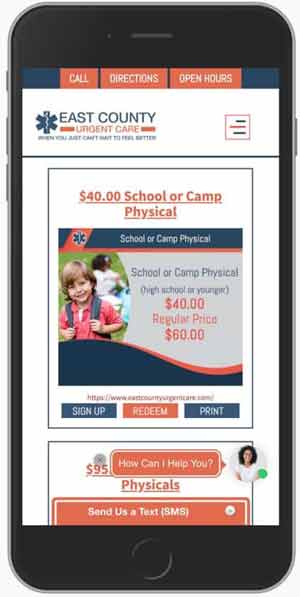 Case Study: Centralized Urgent Care Marketing Example – Dr Myers.
For example, Dr Myers has been working as a primary care physician affiliated with a hospital in western USA. During his tenure, he had an opportunity to work and trained in emergency medicine (American Board of Emergency Medicine (ABEM) ). He was exposed to all sorts of patient emergencies and he also learned that most of the patients sitting in the ER room, really did not need ER room services. This led him to buy a local walk-in clinic and transition it into an Urgent Care. This clinic has 5 exam rooms, average patient count was 15 patients per day. Clinic is open 7 days a week, 8 am to 8 pm. It is located in good traffic area. Over the last 4 years, it has grown from struggling 15 patients per day to 32. Doctor is the owner operator and he understands he ultimately wants to expand his practice to another location, close to his home. Which is 22 miles away from the primary location. He also understands that many of the procedures in an Urgent Care or Walk in clinic can be handled by a PA-C and / or RN certified AACN. His plan is to expand into 3 to 6 locations over the 5 years. Since Urgent Care is a growth area, this is a very realistic plan. During his search to find a solution to support his growth, he encountered PatientGain's GOLD solution. Few years into his expansion plan, his 2 locations have grown to total of 5 locations. After launching GOLD solution, the total acquisition cost per patient decreased by 22% in the first 13 months. His PPC advertising cost has been kept the same, at $1800 per month per location. However the total number of patients seen increased from 51 patients per day to 87 patients per day, between 2 locations. All of his locations are using the GOLD solution. Other improvement areas : SEO Rankings for all of his clinics has seen the biggest improvement. For his top 6 major keywords like "Urgent Care Near Me" his positions are no 1 and No 2 in the google maps, and no 1 on google search, new content is added for other keywords also. Additional benefits of the GOLD service include 1) Monthly Email Marketing with focused content 2) Dedicated account manager who looks after doctor's account and hold monthly account reviews 3) Every week new content is posted on Facebook and Google – All content is related to medical services by each location. 4) Patients can directly SMS/Text clinic's staff and ask questions 5) Proactive reputation management has increased rankings on google reviews from 3.2 average to 4.6 rankings across all location. 6) There is a centralized dashboard to see the progress and metrics of each location. 7) Owner has consolidated 5 vendors into a single centralized solution, saving 32 hours of time per month.
Case Study: Multiple Locations Example – Dr Smith
Dr Smith has 2 locations and a cell center office to take phone calls directly from patients. Dr Smith is located on the east coast, and is in very high competition area. There are many other urgent care centers located. Dr Smith has been in business for 16 years. He has tried multiple strategies for patient acquisition. His bill-board's budget is $2200/mon, and digital advertising budget is $6000/month, mostly being spent on Facebook and Google ads for both locations. Dr Smith contacted PatientGain in January, and has elected to use PLATINUM Service.
The following data is from the month 2 – so this is the baseline. In this example, the first thing PatientGain did was to stop social media ads for the urgent care centers. Based on PatientGain's data, social media ads for urgent care have a very low conversion rate, so stopped the ads on social media. The new budget is $4000/mon for Google PPC ads. Dr Smith's old website had 4 main issues. 1) Slow website on mobile devices had a very high bounce rate. 2) Structure of the website was not designed for conversion 3) Content of the website was plagiarized 4) There was no CRM behind the website for tracking purposes, hence no-one could determine if the ads or SEO was effective. All 4 main issues were resolved by the PLATINUM service.
In the report below, effective leads 110.

12 months later, In the report below, effective leads 1300. The ads budget is still the same $4000/mon for both locations. However due to higher conversion rates, and improved SEO, 53% of leads are from SEO.

8 months later, In the report below, effective leads 1427. The ads budget is still the same $4000/mon for both locations. However due to improved SEO, over 60% of the new leads are from SEO, non-paid ads. Every location is different, this is just one example. So your results will vary.

How Much Do Urgent Care Centers Spend On Advertising in USA?
Range is $1000 per month to $9000 per month, depending on services, location, number of exam rooms and competition. Data from Urgent care centers, walk-in clinics and primary care practices.
The actual advertising budget for each clinic and practice is different. Some clinics/doctors are very aggressive and spend $1000 per day (or more) and some spend $1000 a month on advertising. We also have few clinics/doctors who do not spend any money on online advertising, they doctors rely on referrals and very strong SEO rankings. This data refers to online advertising, not offline advertising spend. For example we have a medical practice with 30+ locations, on average they spend – per location – $1600 per month on online mediums and $1000 per month for offline, traditional mediums. Another medical practice with 5 locations, spends $5400 per month per location, entirely on online strategy. They are no longer spending any advertising budget on offline, traditional advertising channels. A single location in 8 exam rooms, with extreme competition, spends $15000 per month on online advertising, with average patient count of 80 -110 patients per day. A plastic surgeon with medium competition spends $8000 per month on online advertising.
Also you have to understand that every practice area is different. For example let's review specific specialties:
Urgent care centers
The typical range is $1000 to $9000 per month, spend on average spend $3600 per month per location. However these are "average" locations with medium competition. There are many factors, number of exam rooms and how many providers, and fixed overhead also dictates how aggressive each owner is. Brands and chains spend more on advertising than stand alone locations. We have also noticed if the owner is a doctor/physician, vs a business person, doctor/physician owners will have a hard time understanding value of advertising. doctor/physician owners view advertising and marketing as an expense, rather than an "investment" with an ROI (Return On Investment).
Walk-in primary care practices
Walk-in Clinics – with primary care services and some "urgent care" services spend $1000 to $3400 per month, with an average monthly budget of $1900 per month.
Primary care practices
Primary care doctors spend $600 to $1300 per month, with an average monthly budget of $890 per month.
Pediatric urgent care practices
The typical range is $900 to $2600 per month, spend on average spend $1412 per month per location.
Urgent Care Marketing ROI (Return On Investment) Example
As a business owner or manager of an urgent care center, your goal is to convert these prospect patients into patients who return to your medical business whenever they need urgent care and walk-in clinic services. You cannot simply achieve this conversion by putting together a "great website" that focuses on visuals rather than targeted content. In order to increase your odds of converting those patients from their online searches to real patients walking into your doors, there are six strategies that should be implemented into your urgent care center's marketing plan.
Urgent Care ROI Example – Urgent Care & Walk-In Clinic – Midwest USA
Healthcare Medical Marketing ROI Calculator Example
For example in this case, this healthcare provider has been in business for 4 years, in the Midwest. There are 6 Exam rooms, average patient count is 380 to 400 per month. Desired patient count 700 per month, approx 23 per day. There is a medical director associated with the clinic, but primarily the main providers are 2 Physician Assistants Certified (PA-C) . Owner is a Physician Assistants Certified (PA-C).
Average patient spends $142 per visit., with a LTV of $1800 per patient. There are digital x rays, exam rooms to provide main urgent care services like, minor injuries, sutures, broken bones, pediatric urgent care, physical exams, onsite lab testing, STD tests, travel medicine and DOT physical exams. The clinic is open 7 days a week, 8 am to 8 pm. The owner has not seen growth. In February, 2 new urgent care centers opened within 7 mile radius. One of the urgent care centers is a part of a large national chain. Due to this increased competition, the owner went on Google and searched for "urgent care marketing company". The GOLD service from PatientGain.com was implemented. Here are the results : ( your results will vary ).
Jun – Gold service launched. 401 patients
Jul – 453 patients
Aug – 625 patients
Sep – 536 patients
Oct – 709 patients
Nov – 805 patients
Dec – 838 patients

How to calculate ROI (Return On Investment) for medical marketing for an urgent care center
Using PatientGain.com's marketing techniques, HIPAA compliant software, Facebook apps, Google Advertising apps, Facebook ads, website conversion apps, organic content based SEO, improvements in local SEO and unique key-word tracking software, the following ROI was calculated in the 8th month of the launch.
Total spend $12,600.
Total 722 monthly patients – delta – 322 patients per months increased
Revenue increased over 7 months ($45,724 per month) = $320,068
ROI Calculated : 24.40 Times
If calculated using LTV ( Life Time Value ) = $4,057,200 – with 20% patient retention – Urgent Care metrics = $811,440
ROI Calculated : 63.40 Times
Average ROI Calculated : 43.90 Times
Steps you can take to help your urgent care center improve patient acquisition
No 1. Your website should not only have an attractive design, but it should also be designed for conversion.
In order to do this, it should be intelligent. With the various ways and devices available to patients to conduct web searches, including reviewing your business, your website needs to be responsive to your audience and the device they are using. Also, it should have software working in the background that is acquiring new leads, responding to the potential patients, collecting and storing information to build strategic data insights. It should also be HIPAA compliant.
No 2. In addition to the above, you should be using mobile apps to engage, communicate with and ultimately convert the prospective patients to billable services.
With everyone relying more and more on cellular communications, SMS texting is also a very important communication tool. Further, offering marketing promotions on mobile devices, including iPads and other tablets, are effective conversion strategies that should be included in your urgent care center's marking plan. Read more about Mobile Marketing here. Across the USA, our data shows 78% to 82% of the patients find an Urgent Care or Walk-In Clinic near them, using a mobile device.
No 4. In order to make your urgent care center thrive online, you must also utilize software to effectively manage the interactions you and your staff has with your leads, prospective patients and eventual patients.
Once you have captured the lead information, a database to manage those leads, such as a PRM (Patient Relationship Manager) or a CRM (Customer Relationship Manager) is necessary and effective. Not only do these tools allow you to store your prospective patients' information, but they also help you keep them organized and allow you to send emails, office promotions, connect through social media and quickly follow-up regarding inquiries. Urgent Care Centers need a HIPAA compliant CRM that securely store any potential PHI that is submitted to your office through your website.
No 5. As you may or may not be aware, Email Marketing and Email Marketing Automation are two very different tools.
If you are a startup urgent care, then Email Marketing is a valuable tool to get your marketing campaign started. However, if your plan is to grow your Urgent Care Center, you must plan on incorporating Email Marketing Automation into your marketing strategy. This is shown to be one of the most effective ways to convert prospective patients into patients with billable medical events.
No 6. Social Media, specifically Facebook, is also an effective tool for the Marketing Plan For Urgent Care Centers.
Although this strategy is listed last, it does not mean it is the least important. For Urgent Care Centers and other medical businesses, social media engagement and conversion is necessary. If you don't already have it, your Urgent Care Center needs apps that effectively connect your website to your business' Facebook page. Not only should you be able to push content from your website to your social media pages effortlessly, but you should also be able to schedule appointments and accept payments through social media.
There are a multitude of apps and technology, which are worth millions of dollars that fit within these categories. Business owners find this to be a massive undertaking as it requires certain expertise to make these strategies effective. This is why PatientGain.com was created. We have implemented these strategies and tools into Marketing Plans for Urgent Care centers that cover all of these six areas. These strategies are backed by over 20 apps and are available to your Urgent Care Center for a reasonable monthly fee with no setup costs.