Medical & Dental Marketing Phone Call Tracking
Simple to Use Phone Call Tracking For Medical & Dental Practice Marketing
Supercharge Your Advertising ROI By Tracking Every Phone Call. It's included in your PatientGain.com GOLD or PLATINUM service. Extra lines are available for each trackable medium like billboards, newspapers and other off-line mediums.
Each call produces a digital foot-print. This information can be used to marketing and advertise your healthcare practice. 
For 70% to 90% of medical and dental practices, new patients will contact you by phone initially. It is imperative to have new patient phone calls tracking strategy and tools so that you can measure the conversions.
Use case data: From a vein practice. This practice is using PatientGain's PLATINUM service and receives hundreds of new patient leads every month. See data below: In the month of October – 866 new patient calls received and 168 appointment requests and SMS/Text messages received. This means 84% on new leads are coming from phone calls. And 16% from other sources, like appointments and SMS/Text messages.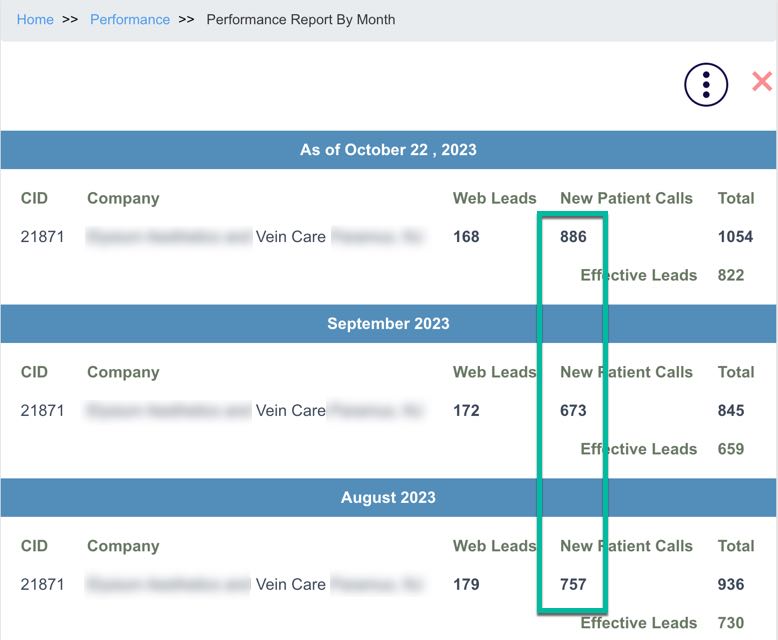 8 Key benefits of using call tracking software for healthcare medical practices:
1. Return On Investment (ROI) can be measured. You can see which marketing channels are working and which ones have the highest return.
2. You can assess time distribution of calls. Peak times, low times and after-hour call data is very useful to allocate staffing resources.
3. Data from call tracking software is available to you quickly, so quick operational decisions can be made efficiently.
4. Keyword level SEO optimization could make a big difference in your online campaigns. Using the time-stamp technology (offered by PatientGain's GOLD package), you can build a very competitive strategy for your online SEO and Advertising for your medical practice.
5. Improvement to your Local SEO. Each call produces a digital foot-print. This information can be used to market and advertise your healthcare practice to the most targeted patients.
6. Listening to your recorded calls can provide you with data on how your staff is answering the calls, when you are not watching them.
7. Repeat VS New patient calls data is immensely useful to keep your patient engagement at peak efficiency.
8. Reduced advertising costs. For example, a customer of Patientgain.com had a one year contract for a TV spot on a local channel – with a call to action phone number. TV commercial sales rep keep on insisting that ads on TV are working. When a call tracking was added, it was discovered that $1200/per mon for 12 month, generated 4 calls a month, with 1 conversion to a real patient for an elective medical service, with an average revenue of $6000 per patient procedure. This seems like a good ROI but then compared to the same advertising dollars spent on another medium (online advertising using Google), produced 23 phone calls, and 6 new patients/month. So the ROI was greater with the 2nd online marketing medium. To read more about it, please go here.
9. Common question asked is "where do my calls go?" The calls are still received at your clinic, just like a regular call. However, now we can track the call and determine if the advertising is working.
Example of a medical call tracking strategy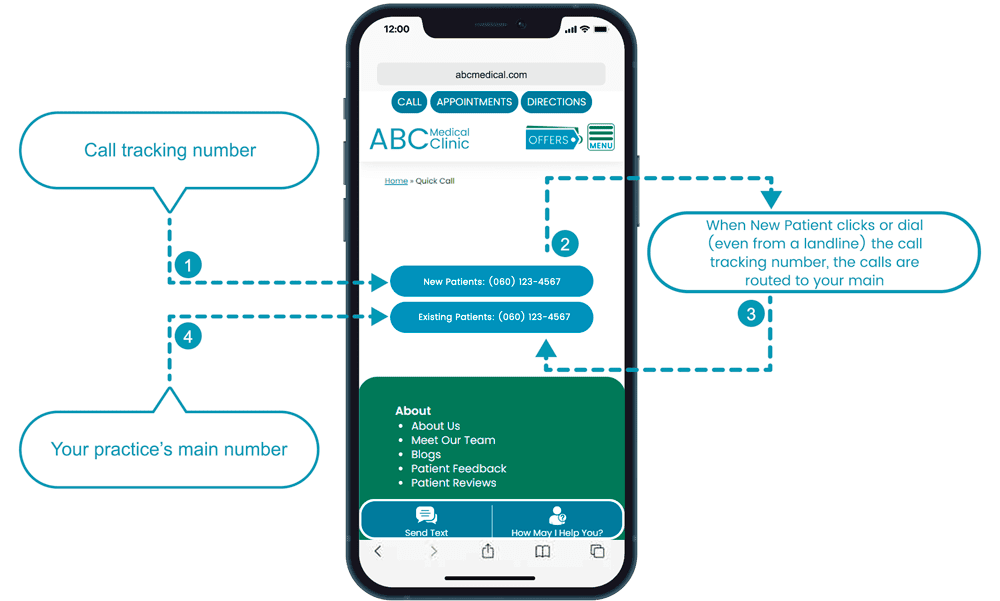 Case Study 1: Practice with 3 locations. Tracking of "new patient calls" linked to CRM, and location based data produces excellent conversion to new paying patients.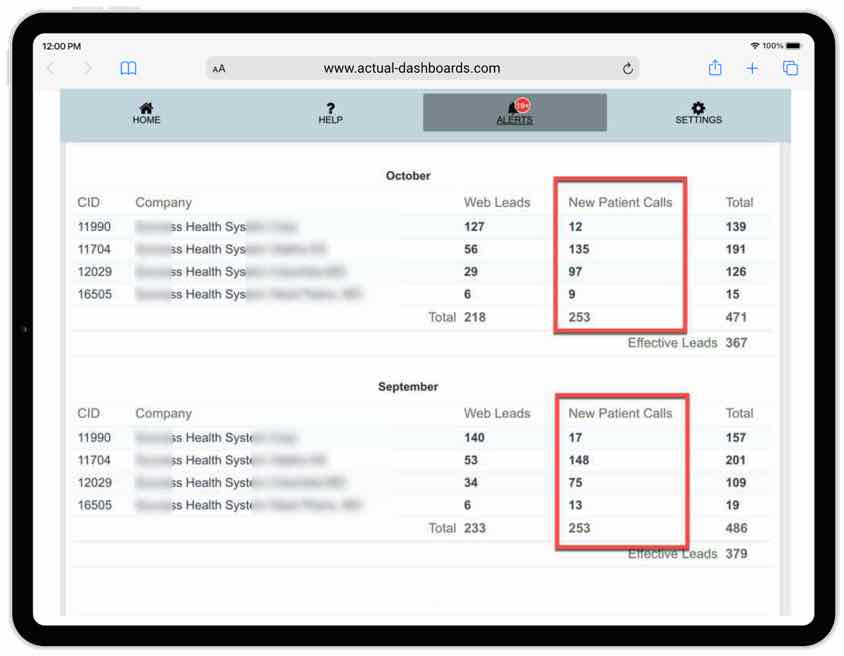 Actual Customer Dashboard for medical marketing phone call tracking: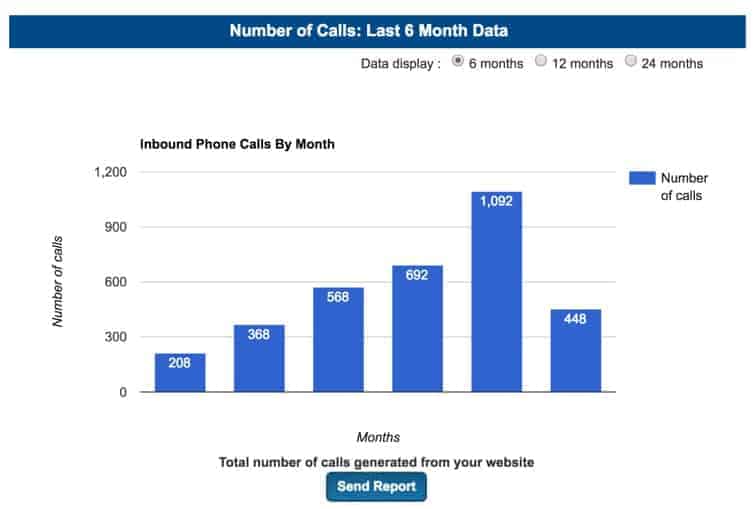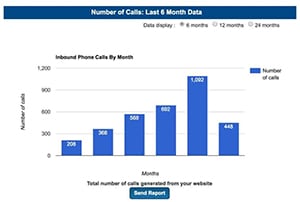 Never miss a lead's phone call. PatientGain.com applications for phone call tracking capture every phone call that is generated from your website, mobilesite and dozens of additional sources like billboards, newspapers and any other advertising medium. Each of the calls are tracked for source and stored in your PatientGain.com CRM. You receive alerts as calls are made to your call tracking number. Capture every phone lead in yourPatientGain.com CRM.
Every inbound phone call is stored and displayed in easy-to-view dashboards. Auto-Reports functionality allows the PatientGain.com system to send you daily, weekly, or monthly reports.
When someone calls or contacts you your medical practice they fall into these areas
1. Sales calls – trying to sell you something
2. Existing patient calling – usually billing issues
3. New potential patient calling – but ready to make an appointment
4. New potential patient calling – but not ready to make an appointment, they have questions
5. Others – like wrong numbers etc.
The call tracking software is a tool to improve your conversions and improve the operational efficiency of your medical practice. 99 percent of the time it will add value to your business.
PatientGain.com call tracking apps are designed to increase your patient acquisition and provide your marketing and sales staff clear insight on what's driving the phone calls – tracking both online and offline campaigns.
The system is automated and all numbers are setup for you and ready to be used for any campaign. You can allocate as many numbers as you like to different campaigns. Each number can be routed to where you like. All call data can be exported into Excel files or reports can be generated for easy analysis.
Medical Marketing Auto-Optimization Built in
PatientGain.com advertising system is designed to invest more in ads that generate more phone leads for your business. Let's face it, the more intelligent software you have on your website, the more likely you are going to stay ahead of competition.
Amazing Data for Medical Marketing Phone Call Data
Majority of medical practices receive their first patient lead from simple phone inquiry – but majority of businesses have no system in place to track the phone-based leads!


Medical Marketing Phone Call Tracking
Simple to Use Phone Call Tracking For Medical Practice Marketing