Dental SEO Expert Marketing Services
$699/mon Using GOLD Service, $1199/mon using PLATINUM Service
Dental SEO (Search Engine Optimization) or SEO for dentists and dental practices is complex and is constantly changing. Dental SEO has specific benefits for your dental practice: 1) Increased website traffic 2) Higher brand recognition 3) Higher new patient acquisition 4) Higher existing patient satisfaction 5) Higher visibility in your local community.


Dental search engine optimization, refers to the process of improving your dental website's search engine ranking to reach and attract more patients who are need of your dental practice's services. It is based on data science, human behavior, search algorithms, and 200+ factors considered by Google 's search engine. Dental SEO (Search engine optimization) is also known as Natural SEO. It implies that a search engine's results are displayed "naturally" without paying for ads. However, this is a very simplistic view. These days, for dentists if SEO is done properly, you can have excellent SEO results, and you may not have to pay for ads, however the only issue is that it takes a several months to develop SEO for your dental website. Dental marketing experts are also known as dental SEO experts. They are used interchangeably by the dental practice managers and dentists. Generally the practice managers mean that they are looking for an expert, professional who can help them with patient acquisition and retention for their dental practice, using ROI based marketing and advertising. ROI stands for Return On Investment. Majority of dental practice managers focus on measuring the ROI from the practice's dental marketing investments. Per www.statista.com, around 30 percent of global web traffic is generated via online search, and as millions of people flock to websites such as Google for services and products research every day. So if you want to increase the SEO of your dental practice's website, start with 1) Add good content about each and every service you offer 2) Remove anything that makes your website slow 3) Update the software of the website so it does not have any code that is not being used 4) Update the structure of the website 5) Build links within the website, outside and to the website. If the your dental website is built and used properly, conversion from Google search is 3 times higher than from social media sites. However, if you are building your brand, then social media is a better channel.
Basically, dental practices like yours, typically experience the following: (This is collected from hundreds of our customers)
Some or all of this may apply to you:
1) You may have hired someone to build the website – Website looks pretty, but does not perform
2) You may have spent thousands of dollars on your dental SEO marketing
3) You may have spent a lot of time trying to figure out what works and what does not work. (trial and error)
4) You may have mostly received substandard support from your dental SEO company
5) Return on your investment (ROI) is not justifiable
6) It is hard to find experts who can guide you with your dental SEO marketing and advertising
7) There are no useful and accountable live dashboards to show you performance of your online strategy – At most, some reports are sent to you once a month.
Example of dental SEO performance of a dental practice in a very competitive area
Data examples:
67 clicks on keyword "dentist near me"
25 clicks on keyword "dental implants near me"
24 clicks on keyword "dental implant cost"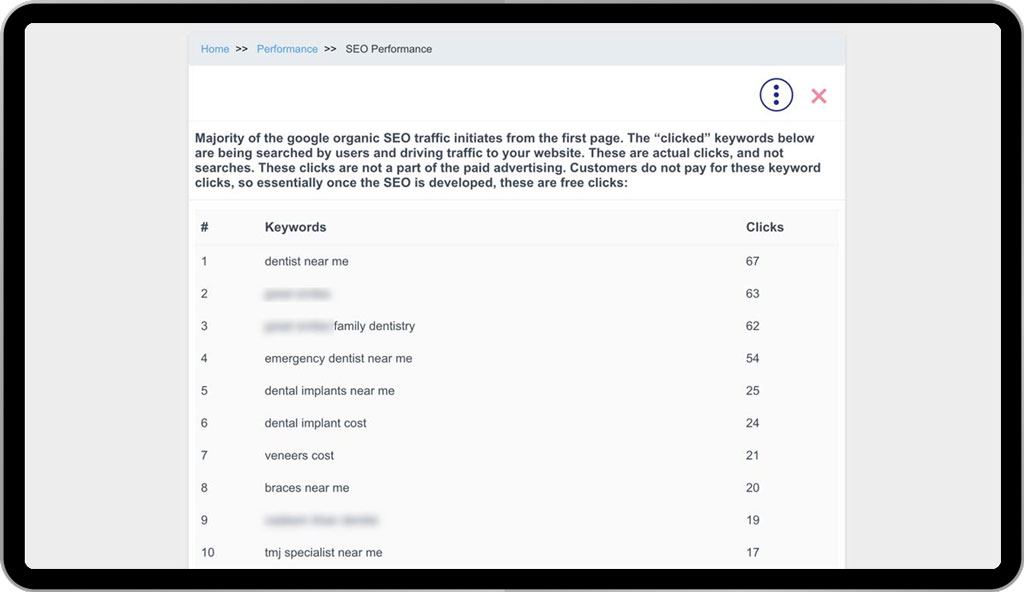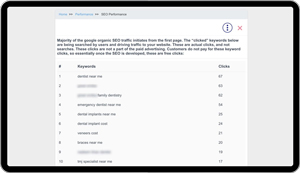 Example of dental website new patient leads in a very competitive area
Data examples:
Month of January: 1096 total leads received – 855 effective leads
Month of December: 870 total leads received – 679 effective leads
Month of November: 822 total leads received – 641 effective leads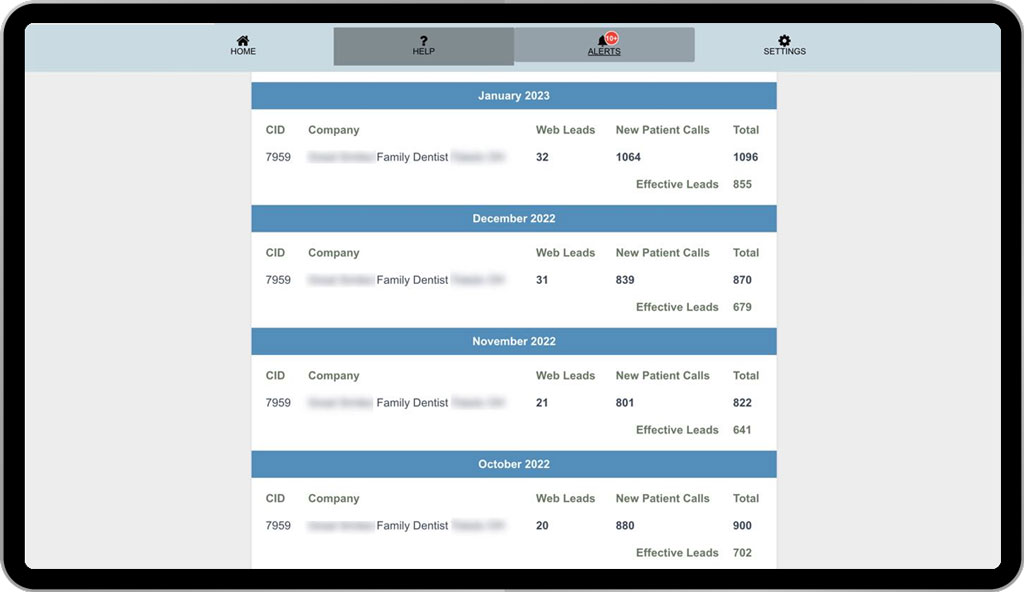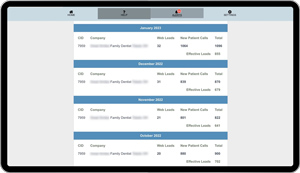 Example 1: Dental SEO for a implant dentistry in DFW area, Dallas Fort-Worth TX area with focus on implant dentistry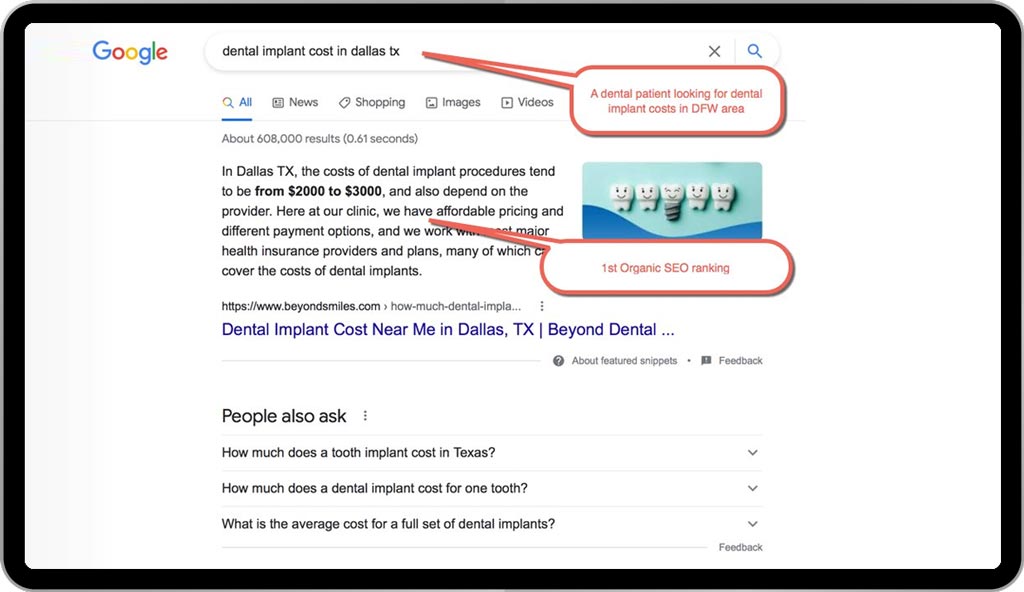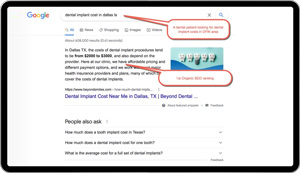 Example 2: Dental SEO for a family dentistry in Toledo OH area, with focus on family dentist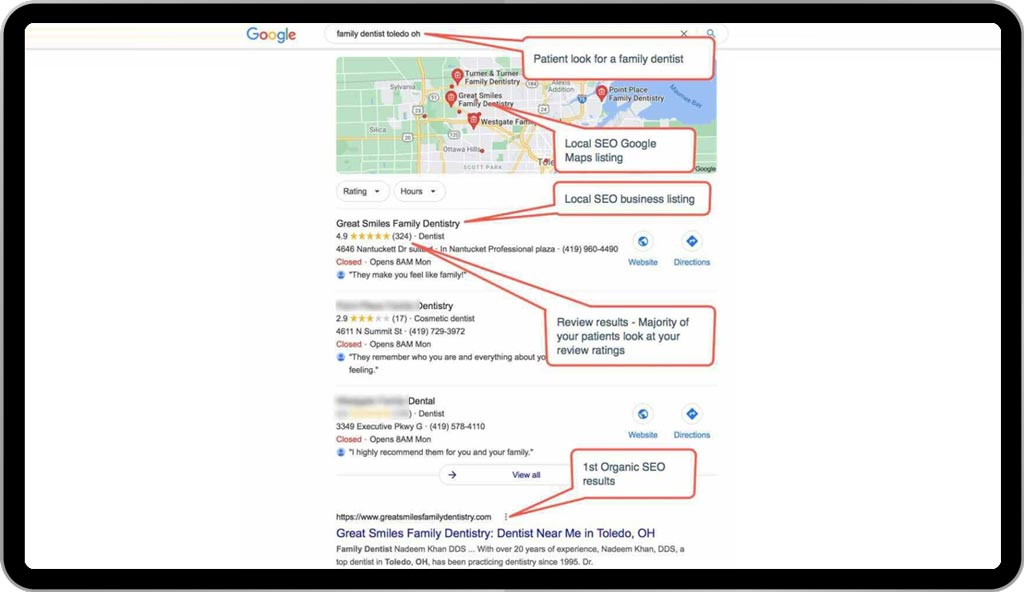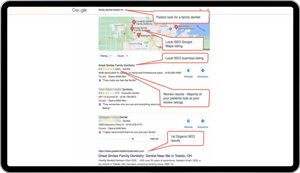 Example 3: Dental SEO for a dental provider. Patient looking for a specific dental provider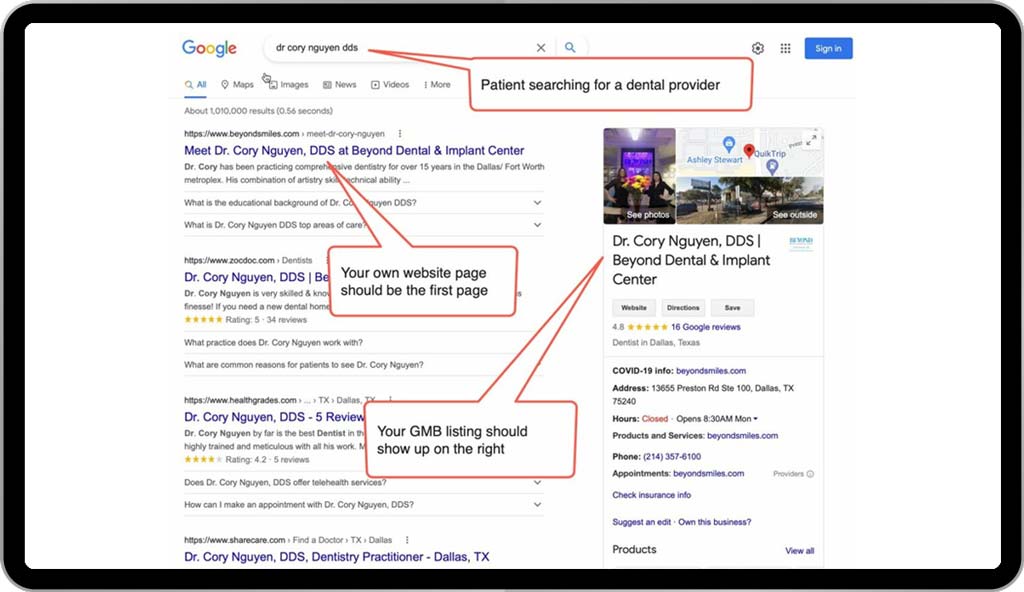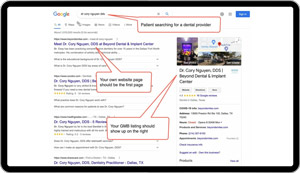 Example 4: Dental SEO for a endodontists – root canal provider in Washington DC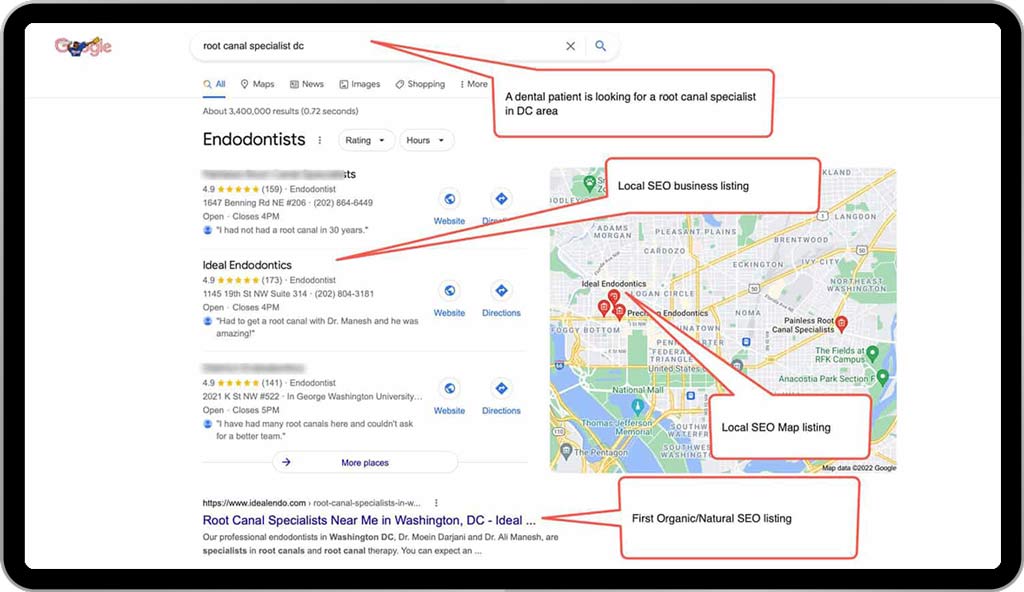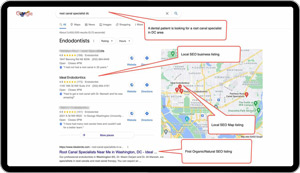 As a dental practice, you need to apply top-notch search engine optimization strategies to your website. These dental SEO (Search Engine Optimization) tactics will help grow your dental site's organic rankings. The organic results google, bing, or other search engines display are 100% free. In addition, consider this: According to Search Engine Journal, 70% of the links search users click on are organic. Dental SEO is also known as SEO for dentists and dental practices. High quality unique content not only will build your SEO rankings, but also establishes expertise on your subject matter, authority within the industry, and trustworthiness as an entity. There are four basic foundational steps you must take 1) Mobile website that loads very fast, remove anything that slows your website 2) Content of the website must be unique, fresh, focused on adding value to the reader and easy to understand by the search engines 3) Website links (internal and external) 4) Website must be designed for your own brand, with specific references to the provider pages and procedure pages.
Majority of dental providers and dental practice managers believe that when they refer to Dental Search Engine Optimization or Dental SEO, they really mean 1) Higher rankings in Google search engine 2) Appearing in the top area of Google search 3) Appearing in the Google My Business results (local SEO) 4) Google paid ad being displayed in the top area. Dentist SEO is very similar to medical SEO. The key difference is that for dentist's SEO to be successful, you will need to have many SEO pages written for each dental service provided by your practice. As a dental marketing expert, managing and improving your dental SEO is included in the monthly service from PatientGain.


Technically no 4 is not considered Dental SEO, it is dental SEM – Search engine marketing or paid ads. However for our dentists and dental practice managers, we will use this broader definition. See some examples of dental SEO here.
Google maintains a market share of over 90% when it comes to search engines, so SEO improvements are often geared towards Google search engine. The more often you can be at the top of a page for search results, the more likely you are to get potential patients to your website and grow your patient count. While dental SEO results take time to appear, the long-term benefits of this marketing effort cannot be denied and should be a part of your healthcare marketing plan. The experts at PatientGain.com have years of experience helping dentists improve the SEO of their dental websites. We serve 1) General dentists 2) Endodontists – root canal specialist 3) Oral and maxillofacial surgeons, TMJ specialists 4) Orthodontists – alignment specialist 5) Pediatric dentists 6) Periodontists – gum specialists 7) Prosthodontist – replacement specialists. Below are some dental SEO tips and are among the things we do to help your website rank high in organic results. SEO for dental practice does not happen by itself. You will need to focus several areas to get high SEO rankings for your dental practice. It will also take many months before you start seeing results from the SEO. There are additional dental marketing strategies that should be considered. Advertising on Google and social media sites can also be beneficial.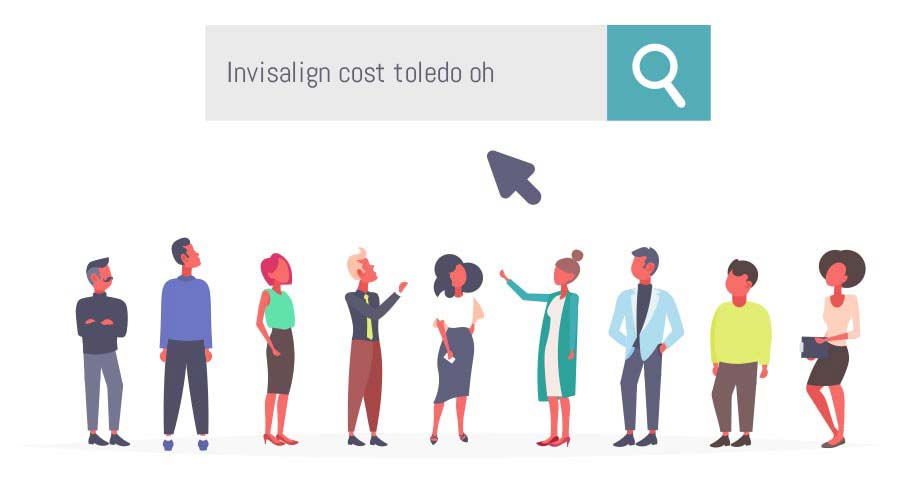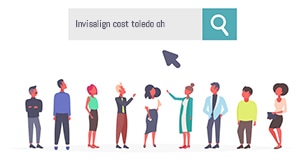 51 key dental SEO questions asked by dentists and dental practice managers:
Table of Contents:
1. Evaluate What Keywords Your Website Has And What Keywords Are Missing
2. Short Tail Keywords and Long Tail Keywords
3. Advantages and Disadvantage of Short Tail Keywords
4. Advantages and Disadvantage of Long Tail Keywords
5. Technical Dental SEO
6. Off-Page Dental SEO
7. How to Acquire New Dental Patients
8. How many new patients does a dental practice need in a month to maintain their business and grow?
9. How can a referral network help dental practices acquire new patients?
10. How can online scheduling help a dental practice acquire new patients?
11. How can a dental engagement chatbot help acquire new dental patients?
12. How can managing a dental practice's online reviews and reputation help it acquire new patients?
13. Is dental SEO and dental SEM different?
14. Is dental SEO profitable? Does it make sense to invest into dental SEO for my dental practice?
15. Is dental SEO a secret? or can I learn about dental SEO?
16. How is dental marketing ROI (Return On Investment) calculated?
17. Do I need to hire a dental marketing expert?
18. What is dental SEM?
19. I do not see my SEO rankings on page 1 of Google search, but search console shows that I am getting so many SEO clicks for certain keywords – What could be the problem with Google search data?
20. Why is SEO for dentists so difficult?
21. What determines the effectiveness of a dental practice website?
22. How much does a typical website for a dental practice cost?
23. Does traditional advertising for dental practices still work?
24. How can search engine optimization and content marketing help orthodontists acquire more patients?
25. Are there any specific marketing steps that have been proven to be successful for other dental practices?
26. Is the Bing search engine important for dental SEO?
27. What is dental SEO Marketing?
28. What is dental SEO?
29. Why do dentists need SEO?
30. What are the key factors used by Google's SEO algorithms for dental SEO?
31. If I switch over to PatientGain's GOLD or PLATINUM service, will I lose my current website's dental SEO?
32. Why dental SEO depends on detailed procedures knowledge and content writing skills?
33. Do I need a detailed plan for the SEO of my dental website?
34. Generally, what are typical cost areas for a successful dental marketing plan?
35. How can search engine optimization help a pediatric dentist get more patients?
36. How to attract uninsured patients to join your dental membership program
37. Pros and cons of social media marketing in dental marketing
38. Dental SEO VS Dental PPC Advertising – Which one produces better ROI
39. What is dental patient LTV?
40. Can I just buy dental practice SEO ?
41. Once a patient visits my website, how do they contact a dental practice?
42. I am an endodontist (root canal specialist), do patients look for me online or should I be only building referrals?
43. How does a patient marketing database differ from an EMR? Why would a dental practice have a patient marketing database?
44. Does dental advertising work? Are there any tangible examples of digital dental advertising?
45. How can I promote my dental products?
46. What should be included on a dental website?
47. How is conversion rate calculated of a dental website?
48. How long does it take for dental SEO to start working?
49. What is EAT algorithm and does my dental website needs it?
50. What is dental practice branding?
51. Additional related topics to dental SEO:
PatientGain is a dental marketing company that serves all 7 types of dental practices
Dentistry Practices – General dentist
Dentistry – Endodontist – Root Canal Specialist
Dentistry – Oral and Maxillofacial Surgeon
Dentistry – Orthodontist – Alignment Specialist
Dentistry – Pediatric Dentist
Dentistry – Periodontist – Gum Specialist
Dentistry – Prosthodontist – Replacement Specialist
The experts at PatientGain.com are ready to help you with your Dental SEO needs. We can also help you take advantage of new areas of Dental SEO, such as Speech Based Dental SEO. Make an appointment today with our team, and let us show what we can do for you and your business!
Dental SEO Expert Marketing ($699/mon Using GOLD Service)
As a dental practice, you need to apply top-notch search engine optimization strategies to your website. These dental SEO (Search Engine Optimization) tactics will help grow your dental site's organic rankings. The organic results google, bing, or other search engines display are 100% free.