Dental SEO Expert Marketing ($599/mon Using GOLD Service)
As a dental practice, you need to apply top-notch search engine optimization strategies to your website. These dental SEO (Search Engine Optimization) tactics will help grow your dental site's organic rankings. The organic results google, bing, or other search engines display are 100% free. In addition, consider this: According to Search Engine Journal, 70% of the links search users click on are organic.
Google maintains a market share of over 90% when it comes to search engines, so SEO improvements are often geared towards Google search engine. The more often you can be at the top of a page for search results, the more likely you are to get visitors to your website and grow your patient count. While dental SEO results take time to appear, the long-term benefits of this marketing effort cannot be denied and should be a part of your healthcare marketing plan. The experts at PatientGain.com have years of experience helping dentists improve the SEO of their websites. Below are some dental SEO tips and are among the things we do to help your website rank high in organic results.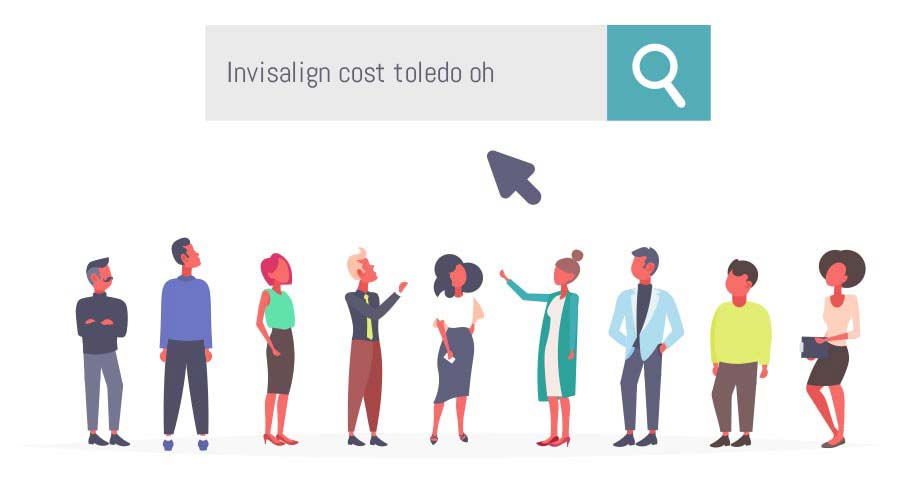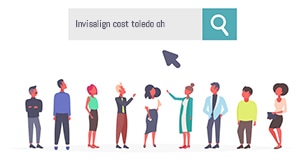 Table of Contents:
1. Evaluate What Keywords Your Website Has And What Keywords Are Missing
2. Short Tail Keywords and Long Tail Keywords
3. Advantages and Disadvantage of Short Tail Keywords
4. Advantages and Disadvantage of Long Tail Keywords
5. Technical Dental SEO
6. Off-Page Dental SEO
7. Additional related topics to dental SEO
Evaluate What Keywords Your Website Has And What Keywords Are Missing
Chances are you already have some essential keywords on your website in your content if you have had a website for a few years. With that said, you should always check so you have the right keywords on the correct pages. This area should be a part of your SEO evaluation. Many keywords and phrases are associated with your dental practice. Some of these words should be on every page, while others are specific to individual pages. For example, you will want the words "Dentist," "Dental," and the name of the town you operated out of on practically every page. However, keywords related to root canals should be on the root canal service page, and keywords about cavities should be on its service page. Inserting every keyword onto every page regardless of its relevancy, will not improve your organic ranking. This tactic is called "Keyword Packing" and is frowned upon in the world of search engines. If detected, you are likely to be penalized by search engines, hurting your overall organic rankings.
When selecting what keywords to focus on for your Dental SEO, you will want a nice mix of medical terms and terms everyone uses. If you use only medical terms, you will likely miss out on some patients who have no idea what you are talking about. You will also miss patients who will not use those words in the search engine query and use more common keywords. If they are not on your website, it will be hard for you to rank organically. If you use only common keywords and avoid medical terms, your website will not look authoritative to a search engine, and your organic rankings will again suffer. For example, if you have a service page talking about root canals, you will have "Root Canal" on that page as an SEO Keyword. You will also want to check to see if the medical term is on there: "endodontic therapy."
To select what keywords to focus your dental SEO efforts on, review every page of your website. Make a list of words that should be on every page and then a list of only on some pages. That should be a good starting point for building your keyword list for your dental SEO marketing plan. Put some time into some research and look at related keywords to the ones you have selected. You may come across keywords you have overlooked or discover others you did not realize were associated with your current selection. It will help round out your dental SEO keywords and increase the chances of success with your efforts. 
Dental SEO Example – Patient searching for a a family dentist. Patient located in Toledo Ohio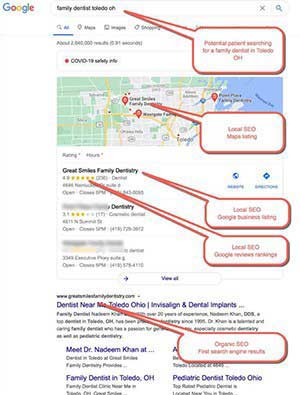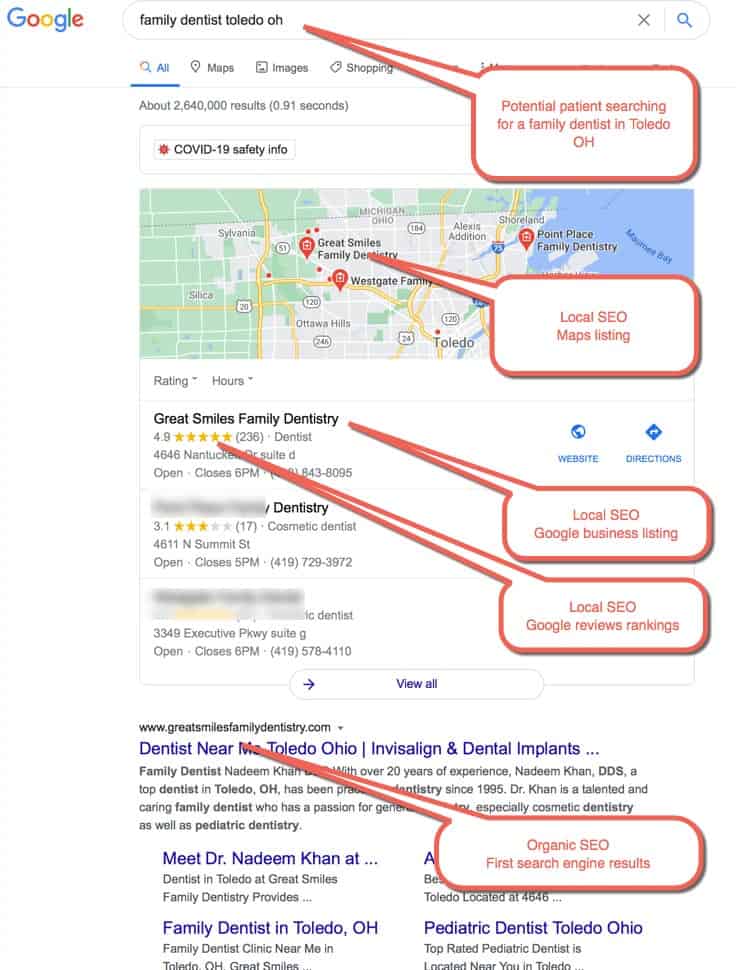 Short Tail Keywords and Long Tail Keywords
While you have likely heard of SEO and other terms associated with search engine optimization, you may not have heard or understood these two: Short Tail Keywords and Long Tail Keywords. While they may sound like a breed of wild animal with a winter hunting season, they are different kinds of keywords you use for dental SEO. Knowing the difference between the two will further refine your keyword list to make it more effective. Much like using medical terms and everyday phrases for dental ailments, you will also want a nice mix of these two types of keywords.
A short tail keyword, by definition, is a phrase that has three words or less. They are also known as "Head Terms" because they are the first few words you think of when someone names a topic. Generally, short tail keywords are broad and may cover a lot of topics. Good examples of dental; short tail keywords include:
Dentist
Root canal dentist
Same day dentist
Emergency dentist
Cavity
Cavity Filling Repair
A long tail keyword, as you may have guessed, is somewhat the opposite. It is more than three words, and it less broad and more targeted. While a short tail keyword will bring in more traffic, long tail keywords bring a higher conversion rate. If someone uses a long tail keyword in their search, they are looking for something specific, and if your website is presented to them, you have a higher chance of converting them into patients. Some examples of long tail keywords for dentists would include:
Dentists that accept Blue Cross Blue Shield
Dentists with low self-pay rates
Emergency Root Canal On Weekends
Free Dental Exam For Children Under 10
Walk-In Dentist Open After 5 pm
Advantages and Disadvantage of Short Tail Keywords
Short tail keywords, unlike their Long Tail brethren, have a high web traffic volume associated with them. Generally, the shorter your keyword phrase is, the more volume you will get because it is broader. If you can get your dental website to rank in the top three for a short tail keyword, chances are you are going to get a significant amount of traffic. Keep in mind; however, if you are launching a website, these keywords will be among the hardest to rank for when starting your SEO plans. While your overall goal should be to rank high for as many short tail keywords as possible, they are a few challenges you will face.
Competition for short tail keywords tends to be very high. Everyone wants to rank high for them, so these words tend to be on every dental website. Some short tail keywords may even be incorporated into the name of a competitor. If you want to rank high for "Dentist," expect stiff competition if your competitors are "The Friendly Dentist" or "Pottstown Dental Solutions." The shortest and broadest short tail keywords will be challenging to rank for in search engines. For example, unless you are an international dentist conglomerate, ranking #1 for "dentist" could be difficult. Ranking #1 for "Dentist near me" is easier to accomplish, but as you can see, that is a longer keyword phrase. For keywords using "near me" Local SEO often plays a strong role.
While you will get a lot of traffic using short tail keywords, there are two disadvantages you should keep in mind. The conversion rate of those visits to your website is likely to be low. You may get more visitors to your website using short tail keywords than long tail keywords, but the conversion rate will be lower. If getting traffic is your goal, then great, but you do want potential patients to make appointments at the end of the day. Conversions are low because short tail keywords are less focused and do not target people as precisely as long tail keywords. "Dentist" or "Dentist near me" is very broad. That potential patient may be looking for a service you do not offer. You might appear as a top result, but they may move on once they discover you do not provide a service after visiting your website. With that said, there is a percentage of this traffic where you will be precisely what they are looking for. Hence, short tail keywords need to be part of your Dental SEO Plan.
Advantages and Disadvantage of Long Tail Keywords
Long tail keywords are very focused on their target audience, and therefore have a much higher conversion rate. When a potential patient types in a long tail keyword and your website appears, there is a good chance you are precisely the dental practice they are looking for. These keywords generally do not have much in the way of competition, compared to their short tail keyword brothers and sisters. Many dentists will use these keywords to highlight specific services they offer or denote certain dental practice traits. For example, a dental practice may use long tail keywords to showcase late hours, be open on weekends, or treat children. These specific aspects of a dental practice cannot be adequately highlighted using short tail keywords. Therefore long tail keywords must be used to bring attention to these services or unique attributes.
A targeted audience with a high conversion rate is advantageous, but there is a disadvantage to long tail keywords. Unlike short tail keywords, the traffic you see from these keywords will be low. It is a valuable audience that will visit your dental website, but it will be a small audience. Depending on the nature of your dental practice, this may be your goal. However, generally, you do want a fair amount of traffic to improve your organic rankings and grow your patient count. Long tail keywords work hand in hand with short tail keywords to bring you a healthy amount of potential patients to your website to convert them into regular patients.
Technical Dental SEO
What goes on behind the scenes of your website is just as important as the content on it. Technical SEO for dental websites looks at a website's infrastructure to make sure everything is operating correctly. This aspect of search engine optimization is often overlooked or not fully understood outside of those who specifically work in this area of marketing. If ignored, you are putting your dental website at a disadvantage to your competitors.
One of the biggest killers of organic rankings is site speed. In today's world of next day shipping and on-demand video downloads, people do not have the patience to wait for something to load. Your website needs to load within a couple of seconds on any desktop, tablet, or mobile device. Site speed is a critical factor in dental SEO, and technical SEO addresses it. The most common reason for slow site speed is unoptimized pictures on a webpage, videos loading, or multiple snippets of code, all trying to load simultaneously. Optimize these areas of your website, and you can expect your site speed to go up.
Your website must also be mobile-friendly. Over half of your web traffic likely comes from mobile devices. With that in mind, your website needs to have the same functionality on these devices as it would on a desktop computer. Good technical dental SEO will ensure your website loads correctly and is functional on a mobile device. Search engines are now penalizing websites that do not have an excellent mobile version of their site. Competing with other dentists without a mobile version of your website is like boxing with both hands behind your back. Give yourself a fair fight, and do not ignore site speed.
Off-Page Dental SEO
Off-Page Dental SEO involves things that do not appear on your website. The majority of off-page SEO involves backlinks. Backlinks are other websites linking to your website. The more websites that link to your website, the more authoritative you appear to search engines. In turn, you begin to rank higher than your competitors. With that in mind, backlinking is not strictly a numbers game. You want more quality links than quantity. If you aim just to be linked on pages full of other links (known as link farms), you often get penalized in organic rankings. You want to be linked to other quality websites. While your competitors are unlikely to link to you, local business organizations, medical associations, and blogs are often great places to get linked from. If you write a column for a newspaper or get featured in a story, you can usually get a link to your site on the online version of their story.
More likely than not, you will get most of your likes from websites ending in .com. However, it would be best if you tried hard to find ways to get listed on websites that end in .org, .edu, or .gov. These websites are generally considered much more authoritative and will boost your organic rankings much higher than .com websites. However, these are often among the hardest to get linked on. Building backlinks is a long-term process, but you should build a nice, healthy list of sites that link to your dental practice over time.
Additional related topics to dental SEO:
Digital Marketing For Dentists & Dental Practices
Dental Marketing Pricing ($199/mon to $999/mon)
Dental Website Design Cost
What Is Dental SEO, and Does It Work?
How Voice Search Impacts Your Dental SEO
Dental Marketing ROI Calculator Used By Top Dental Practices
Dental Practice Advertising
SEO for Dentists: How to Reach More Patients Online
Dental SEO Keywords
What Is Dental Marketing? How Dental Marketing Works?
What Makes a Dental Marketing Company Helpful to Your Dental Practice?
The experts at PatientGain.com are ready to help you with your Dental SEO needs. We can also help you take advantage of new areas of Dental SEO, such as Speech Based Dental SEO. Make an appointment today with our team, and let us show what we can do for you and your business!
Dental SEO Expert Marketing ($599/mon Using GOLD Service)
As a dental practice, you need to apply top-notch search engine optimization strategies to your website. These dental SEO (Search Engine Optimization) tactics will help grow your dental site's organic rankings. The organic results google, bing, or other search engines display are 100% free.