What Is Dental Marketing? How Dental Marketing Works?
Having a dental practice means you need to engage in effective dental marketing if you expect it to grow. An effective dental marketing plan requires several pillars if an owner wishes to see results. Some of the most effective dental marketing tactics dental practices use are dental SEO, content marketing, and ensuring that a site loads within seconds.
What is Dental SEO?
SEO, also known as Search Engine Optimization, is the process of updating your website's content so that a search engine better understands the context of the content of your website. Improving the quality and quantity of a dental website will make it more relevant to search results for potential patients. SEO is vital to increase the ranking of a website in organic rankings, which does not cost anything for a dental practice unlike pay per click ads.
A crucial part of Dental SEO is identifying what keywords and phrases your patients will use when they are looking for services you provide. Many of your new patients are not going to know your dental practice exists, but they will know what services they want. By infusing your content with the keywords, phrases, and questions potential patients use while looking for a healthcare solution, your site will look more relevant to a search engine, increasing its organic rank. Be careful, do not jam as many keywords as possible into every sentence, paragraph, or webpage, as that could lead to your website being penalized. It is better to sprinkle these words into your content than to have your content marinate in it.
Dental SEO as a whole can be broken down into three smaller general areas: Technical SEO, Off-Page SEO, and On-Page SEO.
What is Technical SEO?
Technical SEO helps a dental website by optimizing a site's "behind the scenes" technical aspects. A website that has undergone technical SEO improvements will likely look visually indisputable from a site that does not improve its technical SEO. However, someone who begins to explore a website with this improvement will see some differences and have a better user experience. Technical SEO will help to:
• Eliminate dead links
• Make a website mobile-friendly
• Eliminates duplicate content
• Implement structured data
• Add an XML map
• Make a site more crawlable by search engines
• Improve overall URL structure to make it more user-friendly.
What is Off-Page SEO?
Many dental practice owners may not be fully aware of how impactful off-page SEO is to their overall organic ranking. Some do not put a lot of effort into it because much of it is hard to control. Off-Page SEO refers to backlinks to your dental website from other websites. A backlink is exactly what it sounds like: it is a link back to your website from another website. These can be very valuable if they are from noted, authoritative, and reliable websites. While almost any backlink to your dental website has some value, the most valuable ones come from .gov, .edu, or .org websites. These are often very authoritative websites that have a lot of relevancy.
One backlink you do not want is one from a link farm or a website with many links on them and no content. While you can not control who links to your website, you can disavow any links to your website. Search engines generally penalize websites associated with link farms, but if you disavow that link, they will know to ignore it and not count it against your organic ranking.
What is On-Page SEO for dental websites?
On-Page SEO for dental websites is more than just improving the content of service pages. Your dental website likely has visuals in the form of pictures, graphs, videos, and other visuals. All of this media needs to be optimized for a website. First, any visuals on a website need to be optimized for speed. Unlike traditional print media, the highest quality and highest resolution pictures are not required for websites. While you certainly want a picture to be detailed and crisp, it needs to load quickly. Any videos should also be embedded into a site and hosted offsite to improve overall load speed. Second, visuals need to have an alt-tag associated with them. While improving, search engines can not "read" pictures effectively, only text. Assigning an "Alt-Text" to a picture tells a search engine what that picture is about. While a website visitor will not see the Alt-Text, a search engine will. Finally, both the content and the visuals need to be arranged in a way, so that it is visually appealing to a user. The use of H1, H2, and H3 headers will help organize your content for your visitors and the search engines crawling your site. If it is hard to navigate, a website visitor will soon leave and look at other results. This will hurt your overall rankings.
On-Page Dental SEO often works hand in hand with another dental marketing area discussed below: Content Marketing.
How does content marketing help a dental website?
Content marketing is an ongoing process that will significantly help your website's overall organic ranking and often works jointly with various other SEO work. If you need only to remember one thing about content marketing, it is that "Content is King." The more content you have, generally, the better your website will do in search engines. This does not mean you should load up your site with content fluff to reach a magic word count. Your content needs to be unique, engaging, authoritative, and relevant to the page's topic. A well-written 1,000-word page is going to perform better than a poorly organized and written 3,000-word page.
Content length matters because it impacts how long a website visitor will spend on your website. Someone will spend less time on a page with 200 words of engaging content than they would on a page with 1000 words of engaging content. Time spent on a website tells a search engine that the content is relevant and informative and that a website is an excellent choice for those search terms. If a website user quickly goes back to search results and explores other dental websites, it indicates to a search engine that your site is not a suitable choice.
Essentially, content marketing is improving, refining, updating, or adding content to your website. This should not be done all at the same time once a year. You would be essentially replacing your entire website in the eyes of a search engine, which will throw your organic rankings into disarray. A dental website should be updated bit by bit over time throughout the year. This shows a search engine that a site is constantly being kept up to date and is as relevant as possible. Pages should be evaluated throughout the year and updated as needed. If no improvements or additions can be made, consider starting a blog and adding entries to it at least once a month about important dental health topics.
How can web development help market a dental website?
Well-written award-winning content about a dental practice and the services they offer will not do much if no one ever has a chance to read it. A website must be user-friendly and easy to navigate by any website user, both a regular patient and a first-time visitor. Your website's most essential and popular pages should be only a click away from your home page. The fewer clicks a website visitor has to make to find the information they are looking for or accomplish the task they set out to do, the more likely they are to convert into a patient. Fortunately, using the best SEO practices will help make your website easier to navigate for both the potential patient and search engines. Periodically review the organization of your website and see what improvements can be made. Pages that are popular today may not be popular next year, or more likely, you may find yourself rotating certain pages throughout the year as the seasons change.
How does page speed optimization help a dental website?
"I feel the need—the need for speed!" is not only a line Maverick says in "Top Gun," but it also a good motto for your website. The quicker your website loads on a desktop computer, mobile device, or tablet, the better. For better or worse, today's society wants things right away. Every second it takes for a dental website to load, more potential patients are clicking on the back button and looking at other possible dental practices. As a result, search engines consider the loading speed of a website when producing organic results. It is not a good user experience for someone to wait forever for a website to load, which means a slow-loading website will see its organic rank fall.
Site speed must constantly be monitored. Just because a site loads quickly today does not mean it will load as quickly next month or next year. Technical faults, updates in code, or changes in the platform a website is hosted on can silently gum up the works for site speed without an owner noticing. By constantly monitoring it, you ensure that any problems are caught quickly before they significantly impact your organic rankings. The most common culprits to slow loading times for a website are pictures, videos, and code that have not been optimized for speed. Another common issue is site speed improvements being made only for desktop computers and little if not attention being paid to how it impacts the mobile experience. Both are vitally important to overall search rankings.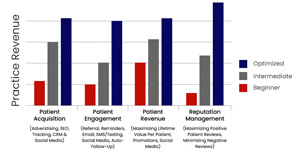 The experts at PatientGain.com can help you with your dental practice's medical marketing. Our team has years of experience in applying best practice SEO strategies to dental websites to improve their overall organic rankings. Call today and let us show you what we have done for our other dental clients!