SEO for Dentists: How to Reach More Patients Online
Marketing a dental practice using online advertising techniques is vital to the success of a dentistry. A website is one of the most powerful tools available to dentists to reach more patients online. A dental website will be something that practically all potential new patients will visit and explore before making an oral healthcare decision.
In recent years, many dental websites have been redesigned by their owners to attract new patients. Some, however, are not seeing any results of their redesign because they are not optimizing their websites for search engines. To do this, a dental practice must utilize search engine optimization techniques, also known as SEO. Many dentists also consider that SEO of their dental website is equal to "advertising of the dental practice", which is fair game. Advertsing in general, 25% of the world wide spend still goes to television ads, however digital advertising ( and hence SEO ) is extremely cost effective, and ROI (Return on Investment) can be denied.
In the past, a dentist could rely on a sign out front and a listing in a phone book to ensure they had a steady supply of new patients to their practice. In this century, people use search engines like Google and Bing instead of a phone book to find businesses for the products and services they need, including dental care. While a search engine will return hundreds or thousands of pages of results when people search online, rarely will people look past the first page of results. For a dental practice to grow and stay in business, it needs to be on the first page of those returned results when a potential patient is looking for oral health care. Ideally, they will want to among the top products on that page.
What is dental SEO?
SEO is the common shorthand phrase for search engine optimization. It is the process of refining and updating your website so a search engine better understands the content so it can present the site as a relevant result to different keywords and phrases. Google, Bing, and any other search engine want the users who use their service to have the best experience possible. The key to that experience is giving them relevant, authoritative, and valuable results to their searches. Dental practices that use SEO tactics make it easier for those search engines to do their job and keep their users happy.
The results returned by search engines are organic results, which are free to dental practices. Free is much better than paying for results; however, it does take time to build good SEO value as well as effort and continued maintenance. Increasing organic rankings is not easy. It takes a lot of work and time for improvements, so patience is a virtue. There are several different ways to boost the SEO of your dental website. Some are easy, some are more involved, and some require the expertise of a website designer to do correctly. All of these work together to help search engines put your site in front of the best eyes for your practice.
What is SEO for dentists?
Marketers call SEO for dentists "Dental SEO." Essentially, Dental SEO uses all of the same tactics you would use to increase the search engine optimization for any other website. The goal is also the same: Increase the ranking for a dental practice's website for various keywords on search engines. These optimizations should make a website more user-friendly for a website visitor by making it informative, engaging, fast, and mobile-friendly.
Example no 1 for SEO for a dentist located in Kansas City MO. A patient is looking for a TMJ specialist for orofacial pain.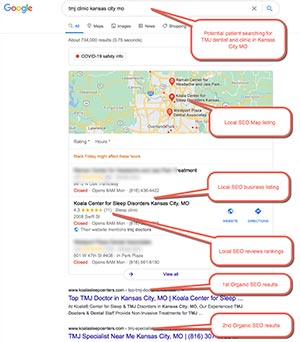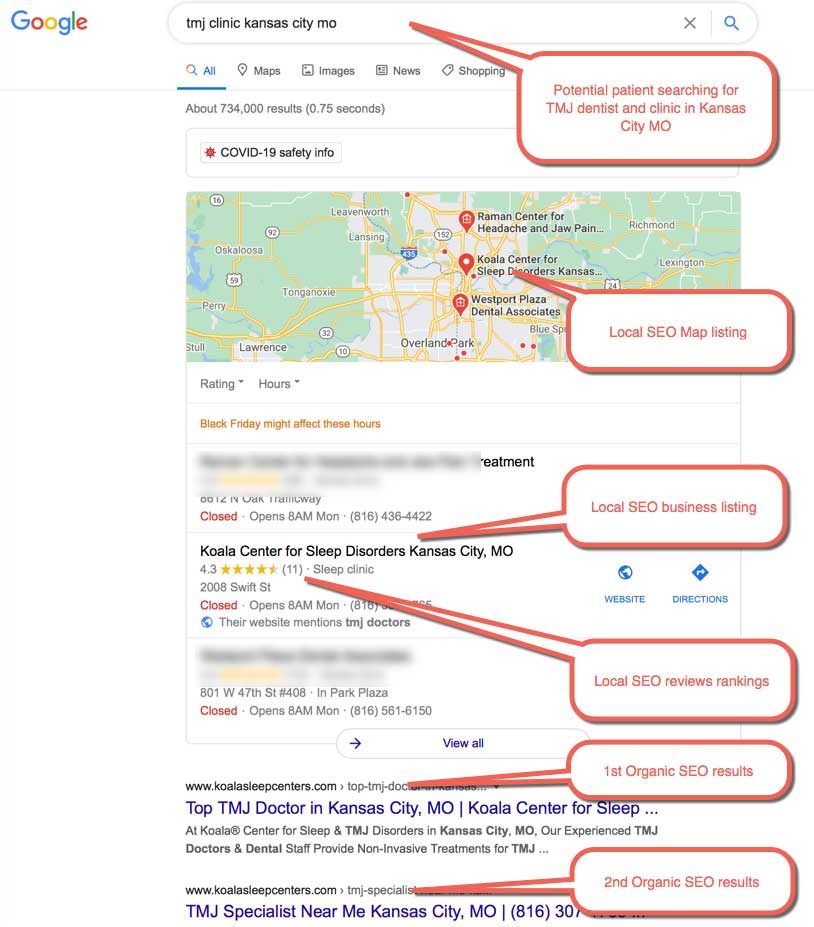 Example no 2 for SEO for a dentist located in Toledo Ohio, patient is searching for an invisalign dentist.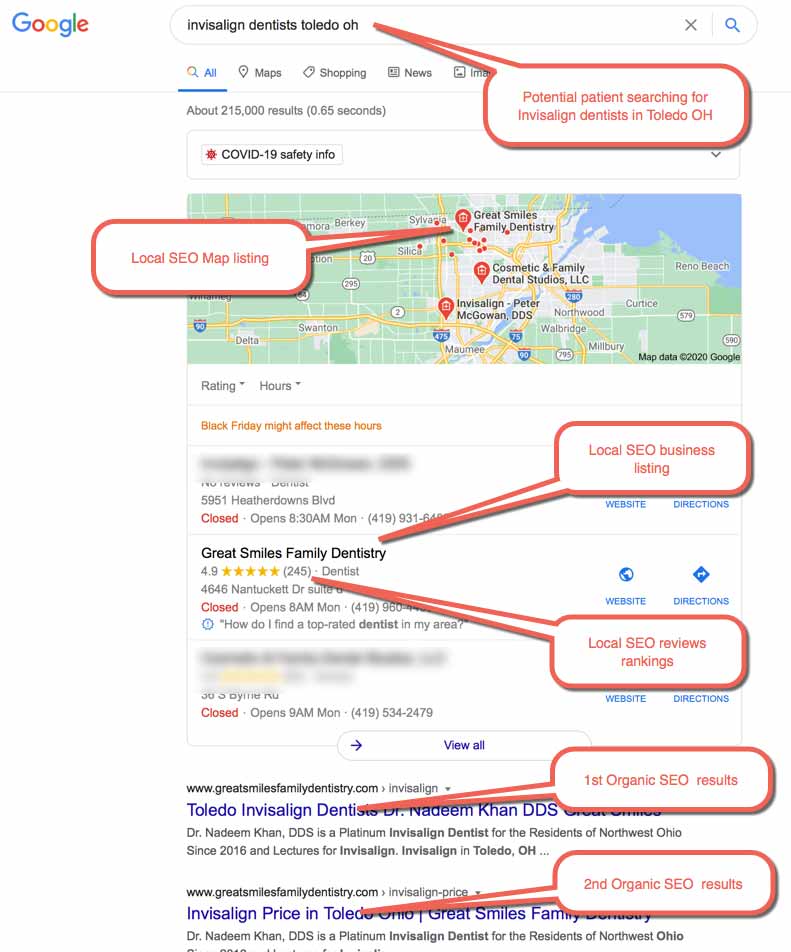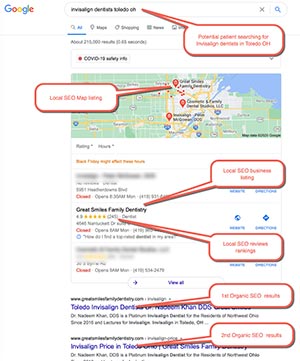 Why should Dental SEO matter for dentists?
Without good SEO, your website will find it difficult to be a topped ranked dental website in your community. As such, this will make it challenging to attract new patients who are unaware of your density. A dental practice's goal should be to appear among the top results for their most important keywords and phrases. The majority of the population is going to only click on the top results on a search page. Being a top-ranked dental website will drive the following to your site:
Website traffic
Increased website authority
Increased website credibility
Patient Leads
One of the best reasons to put time and effort into Dental SEO is that your competitors are likely already doing the same thing. Please do not give them an unearned advantage over your dental practice by ignoring this critical marketing. If you are a new dental practice in an area, SEO work is often your best, most cost-effective tool to get the right pair of eyes onto your site and hook in their attention. A dentistry may undoubtedly pay for top spots in pay-per-click ads, but it is not cost-effective and requires a large budget. Dental SEO is a must for a successful medical marketing plan.
There is also a chance that a competitor is not paying much attention to the SEO of their site. This gives you an incredible opportunity to siphon off some of their regular new visitors so you can present yourself as a viable dental care provider. The more eyes that see your dental practice's website, the more likely they will be converted into patients. As soon as you assemble a great team of providers and design a great website, the only thing left to do is get people to visit it and become patients!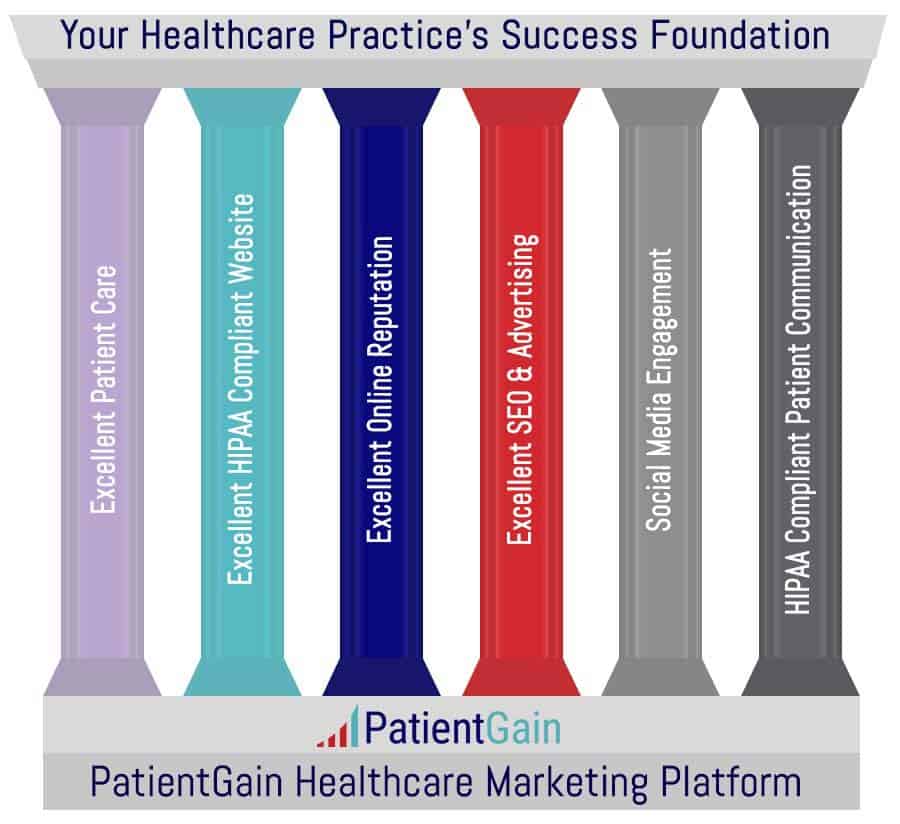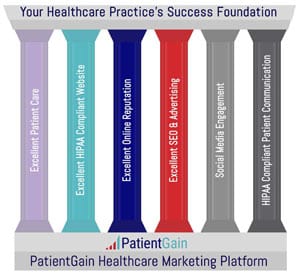 How can a dental practice get started with its dental search engine optimization?
First and foremost, a dental practice needs to know their target audience and what words they are most likely to use. It is impractical and ineffective to have "everyone" be in a target audience. It needs to be narrowed down to develop your SEO strategies to attract them to your site. Below are a couple of things you can do to help boost your SEO rankings for your site.
A. Add top relevant keywords and phrases to your content
Some patients will use the word "dentist" in their search for their oral health care. However, not every patient will use that word when looking for services. Some will use the names of specific services when using search engines. Instead of using "Dentist," they may look for things like "root canal," "teeth whitening," or "braces." Some searches may include phrases like "annual dental exam for my child before school." While these longer phrases, known as long-tail searches, will have low search volume, they can have a high conversion rate.
So, with that in mind, these words and phrases need to be sprinkled amongst your content pages. If your website has the exact word or phrase someone is using in a search engine, your site suddenly becomes very relevant to that's person's search. Long-tail keywords and their counterparts, short-tailed keywords, should be spread across a dental practices website on applicable pages.
Do not just limit your keyword list to the dental services being provided. Keywords referring to your surrounding area and community should also be considered. Cities, states, counties, and neighborhoods should all have their keywords and be used throughout the website's content.
B. Optimize your dental practice's website for local searches
When a search engine returns results, it often shows paid search results and organic search results. When a search query indicates that someone is looking for a local business, map results will often appear. To appear on these map results, you must have a listing that puts your business on the map. Even if you have a profile on Google or Yelp, you still must optimize your website, so it is relevant to put on the map results.
As mentioned above, the easiest way to do this is by including the name and address of your dental practice on every website page. Often this is posted in the header or footer of each page, so each page has this significant local SEO boost. Inside the content of your website, mention not only the city or town a dental practice is located in but other nearby locations where someone could quickly drive from. The names of places do not need to be limited to the content copy either. If practical, include the name of locations in the page titles and URLs of your site pages. You do not want to be too heavy-handed with these keywords. Search engines do not appreciate sites that engage in "Keyword packing." Avoid this so as not to be penalized.
C. Start a blog for your dental practice
The more unique content a dental practice has on its website, the more relevant and authoritative it will look to search engines. One of those ways to add more unique content to your site is to start a blog. Blogging is a great way to add unique content to your site that can not be found on other dental websites. Dentists often have many of the same services, but a blog talking about dental health and tips can make your site stand apart from the rest. It adds credibility to your site and gives it authority in the eyes of a search engine. A well-written blog may start to gain SEO value and rankings on its own, promoting your site in the process.
Avoid the trap of trying to set too ambitious of a goal for yourself to write a blog. Writing a well-written blog once a week is a very high target. Try to write something once a month and post it. If you try to post too much, you will soon run out of ideas and find yourself having less time for other marketing duties. A once a month goal is a good benchmark to see how much you can write in a month.
D. Obtain quality backlinks to your dental website
Backlinks are exactly what they sound like: Links that send users back to your website. The more sites that link to your site, the more important and relevant your site looks to search engines. The best quality links come from sites that end in .gov, .edu, or .org. These backlinks are incredibly difficult to obtain, so do not be discouraged if you do not get one quickly. A popular way to get earned links and backlinks is by reaching out to bloggers to link to your site. Again, not every request to be featured in a blog will be successful. However, given enough time and requests, you will begin to build up some good-quality links.
Another opportunity to get links to your website is participating in community events as a sponsor or purchasing a table to set up during an event. Some of these events will have websites to go along with it telling the community who they should expect to see there. Some will even have a map allowing people to find the booths they want to visit. These websites will often link back to your website, providing some valuable SEO backlinks. The more you sponsor, the more prominently you and your link will be displayed on the event's website.
Frequently Asked Questions About Search Engine Optimization For Dentists
How does a dentist successfully implement Dental SEO?
Dental SEO (Search Engine Optimization) is successful when a dental practice's website is optimized for search engines, so they better understand the website's content. This work will increase its organic rankings in search engines by making it more relevant to search keywords and phrases. Some areas of Dental SEO include:
On-Page SEO
Off-Page SEO
Technical SEO
Local SEO
How long should a dentist wait for dental SEO to start to show results?
While many factors play into organic rankings, it will usually take at least six months for results to appear. Sometimes they can appear sooner if there is not much competition in an area, and other times, competitors may try to counter improvements with their SEO work, which will delay results. You should begin to see improvements in your SEO rankings, within first few months, and then gradual improvements. Read more about how this process works, according to Google staff, there is also a very good video from Google staff. While waiting for organic results to improve, many dental practices will use Google PPC ads as a solution to acquire new patients quickly.
How much do dentists spend on SEO specialists?
On average, an marketing agency will charge $400 to $1500 a month for SEO work. An independent SEO expert charges $75 to $150 an hour.
At PatientGain.com, we charge $699/mon for the GOLD service, and it includes a lot more than just the SEO. Learn more about monthly GOLD service.
Is it possible to calculate the ROI for dental SEO?
Yes, you can! Generally, the best way to calculate the ROI for dental SEO is:
(Gain from Investment – Cost of Investment) / Cost of Investment
While it is challenging to assign value increased organic rankings, you can use phone call data and new patient conversions as data points. That is the goal of good dental SEO: more patients! Learn more about how to calculate and dental marketing ROI.
The experienced team at PatientGain.com is the dental website design and SEO company you want to build and manage your website. Our staff has years of experience in various healthcare areas and can create an effective website for your practice. Call today and let us show you what we have done for other dentists and how we can help you grow your business!