Medical SEO Secret Sauce is Also Known as SEO Content for Medical Practices
Your Content Is the Single Most Important Factor in Your Online Success, and SEO of Your Medical Website. If you are a dental practice, then this applies to you as Dental SEO secret sauce.
Why is your website not ranking as well as your competitors? How come your website isn't converting visits into patients? What could you be doing differently to boost your patient count? The first thing you should look at is the content that is actually on your website! The content of your website is often the most influential factor in how it will perform in making your business a success. "Content is King" is not only a catchy phrase but, in many cases, very true. Here is a summary list : 1) High-quality content (cannot be copied from another website & must be written just for your website). 2) Structure and coding of the website – Does it load in less than 3 seconds. 3) Page speed. 4) Page experience per Google's tool https://web.dev/measure/. 5) On-page SEO optimizations 6) Internal-linking. 7) External linking. There are additional 200+ SEO ranking factors per Google's CEO.

8 Reasons Why Content Is Important
1. Content defines your medical practice's brand (applies to your dental practice and all healthcare practices)
How will potential patients tell you apart from other competitors? The content on your medical website will solidify your brand to make you stand out from your competitor. The medical services you offer and the quality of service your staff provides should be communicated in what you write for your website. The more specific you are, the more likely you are to grab the attention of someone looking to make a health care decision. AI (Artificial Intelligence ) content writing for medical practices is a new evolving area and should be used with caution.
2. Content expresses who you are, how you conduct your business
Your website is often the first time a potential patient is exposed to you. It would be best if you made an excellent first impression, and the content on your medical practice's website is your opening salvo. This is your chance to say who you are and why you are the best person to treat someone. Patients will attempt to figure out the quality of services you offer, how you treat your patients, and the way you conduct business at your medical practice. Avoid any misconceptions and clearly show how things operate at your location. Hence, you should never copy content from another website. Here is an example of what happens to search algorithms and Google SEO results, when you copy content from another website.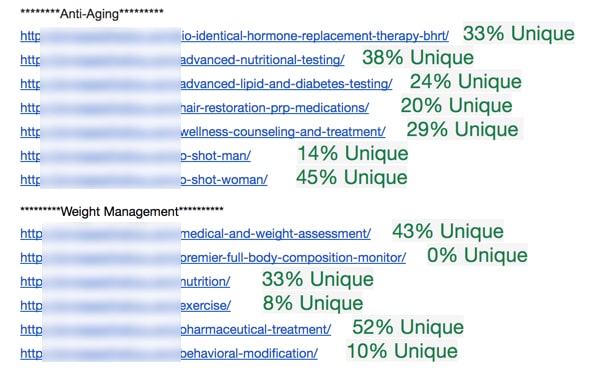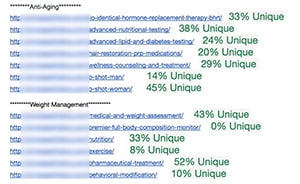 3. The Search Engines read content
When search engines, like Google or Bing, scan your website to determine their rankings, they are not looking at your movies, pictures or graphics on your website. They are reading the words on every single page. These words are going to determine if you are the #1 search result or on the 4th page where no one will look for you. Resist the urge to copy and paste content from another website you like and is performing well in search results. This tactic will backfire and penalize your rankings. Also, you could get a very nasty letter from another website if they discover you have stolen their content. Looking at competitors for ideas is fine, but your content should be unique to your site.
4. Content can make your marketing flourish
If you spend hours and hours working on your marketing materials, you will want to make sure your website provides at least as much, if not more, to anyone who visits your site. An online ad, brochure, or any other marketing effort should hook a potential patient to visit your website to learn more. They shouldn't learn more from what brought them to your website than the website itself. A site that supports and expands on marketing efforts will not only converting visitors to patients but will make your campaigns much more effective.
5. Content can make your advertising irresistible
Amazing content on your website will not only convert visitors into patients, but those people will spread the word about your medical practice. For every pair of eyes, you impress with your website who were led there by an advertising effort; there is a good chance they will tell friends and family about your medical practice. Again, the content of your website that can broaden the knowledge and spark the continued interest of a potential patient brought on by a piece of advertising will make your campaigns very useful.
6. Social media loves GOOD content
Social media is now a significant part of many medical practices efforts to increase their patient count. If your website is loaded with great content, patients will begin to share your services with friends and family. If you can be the first thing in their mind when they think of the services you offer, you will be the first link they share across social media channels when a friend or family member is asking or suggestions. In fact, the more web traffic your website receives from social media channels, the better it will be for your organic rankings. Make it easy to share content by providing patients great content to share!
7. Email marketing with good quality content will give you higher open-rates
True, email marketing isn't what it used to be. It is mind-boggling how much email someone gets in a single day, and in many cases, those emails go unopened. However, you can boost the open rates of your email marketing campaigns by sharing great content with your mailing list. You do not and should not copy and paste an entire webpage to an email and send it out. However, if you have a new page describing a service, send out the first paragraph and tell patients to visit the page for more information. It is unlikely you can offer a new page of content every week to your mailing list, but when content is uploaded or updated, you practically have a new email blast ready to go!
8. Best of all – Patients LOVE useful content
Content is King because patients eat up useful content. It is one thing to flip through a website to look at pictures and read a few reviews. If you have content that is superior to your competitors, potential patients will spend time reading each line you've written. This will engrain your medical practice into their heads and be at the top of their own internal search result when they think of the services you offer. Content that informs, educates, and familiarize them with your medical practice will long stay in their minds after they have visited your website.
The content of your website will make or break your efforts to get patients to visit your medical practice. Great content will boost your rankings, bringing people to your business, which will, in turn, generate good reviews. It will begin a self-feeding loop of patients to your facility that will help grow your business. Start today by evaluating what you are saying on your website and how you are stating your services. While it may take some time to get your site exactly how you like it, it is well worth the time and effort!