Online Reputation Management for Doctors & Dental Practices. Doctor Rating App $299/mon
Online reputation management can be a headache or a winning strategy for doctors & healthcare clinics. Only 28 percent of the time it is patient-physician related.
72% Of the patients who are unhappy and who post negative feedback on Google and Yelp are not doing so because of the patient-physician experience; they are unhappy due to billing issues, incorrect deductible payment, rude front desk person, lack of perceived patient focus, improper handling of the paper-work, long wait time or impolite response from a clinic staff member ( non-physician ). 28% of the time it is patient-physician related.
Let's face it – as patients leave your medical practice, either they are happy with the service, unhappy or somewhere in the middle. With a little bit of focus and excellent software on your side, you can turn the entire patient experience into a winning strategy for your practice. Unhappy, disgruntled patients can destroy the reputation of a dedicated doctor. So your strategy should be to proactively address this issue.
1. Sends patients review requests
2. Follows up with spaced-out reminders
3. Intercepts poor reviews
4. Ranks you high on Google, Facebook, Yelp, and all leading sites
5. Displays reviews on your website
As a practice manager, you want to ask this question – Every patient should be asked this question. There are three ways to do this.
Key Question: Are You Happy With The Service? Would You Recommend Our Practice?
3 ways to improve online reputation for your healthcare practice
1. Using an Ipad in the lobby (app offered by PatientGain)
2. Using Texting/SMS (app offered by PatientGain)
3. Using Email (app offered by PatientGain)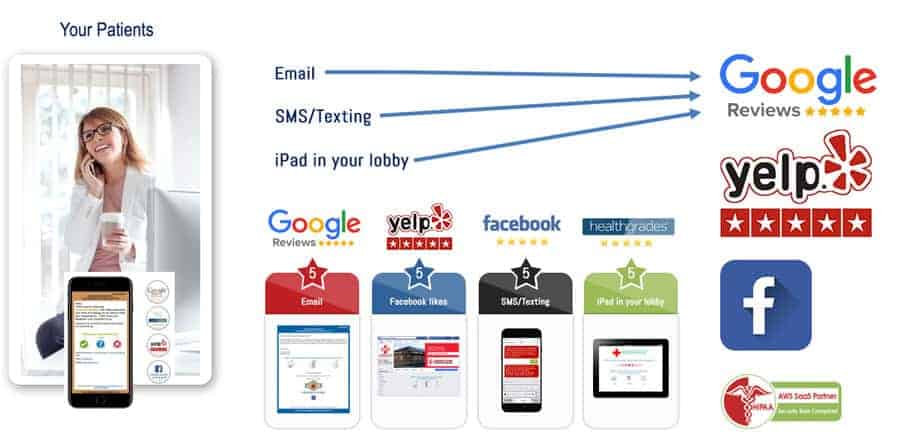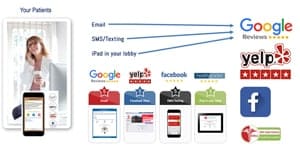 There are different ways to acquire positive reviews for your medical practice. Your clinic's lobby is not a place for patient's to wait – It is a gold mine for your business. Convert the patient departure into a pleasant experience for your patients and for your clinic's reputation. This reputation app works on iPads and is very easy to use. Most practices start seeing results in the first few week.
Example : How Google reviews app alerts you if you receive a 5-Star review (You want to receive more of these)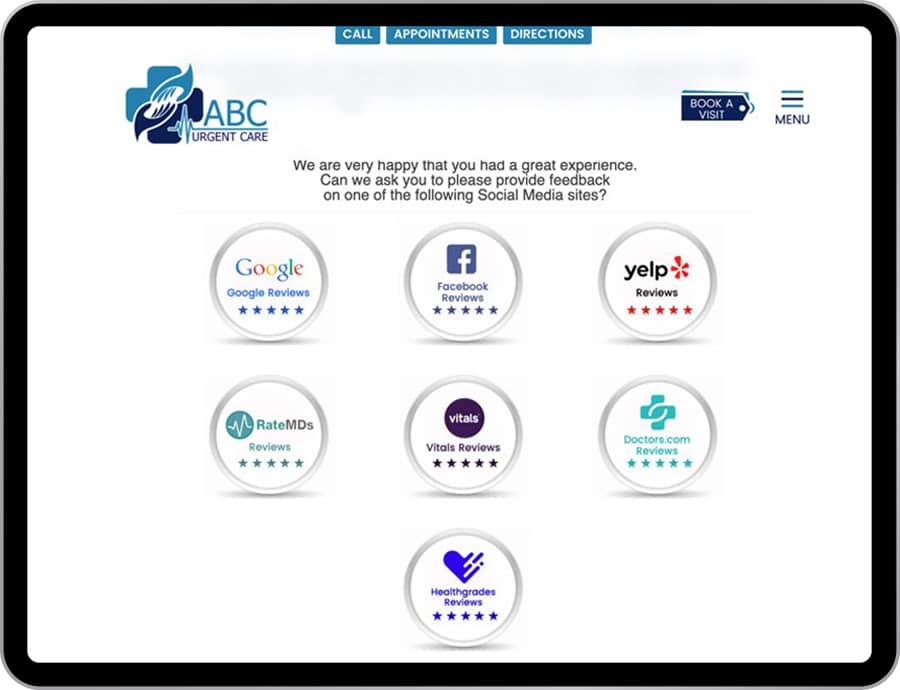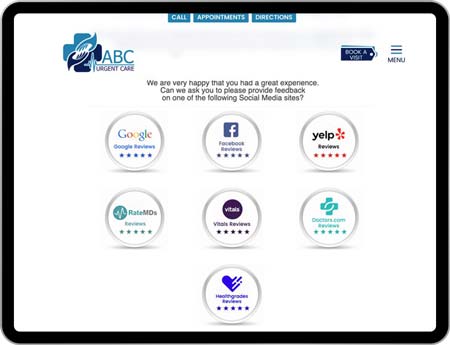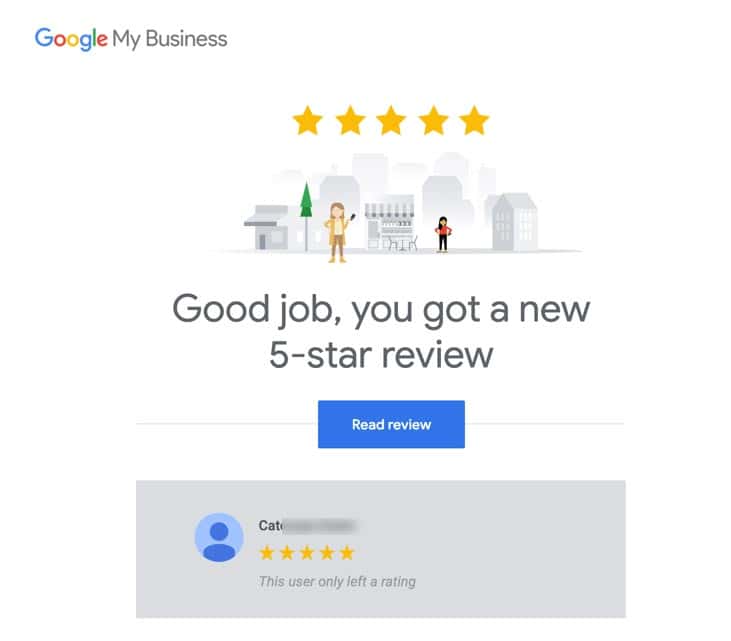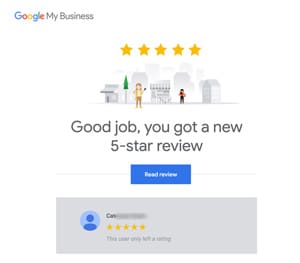 Example : How Google reviews app alerts you if you receive a 1-Star review (You want to avoid this)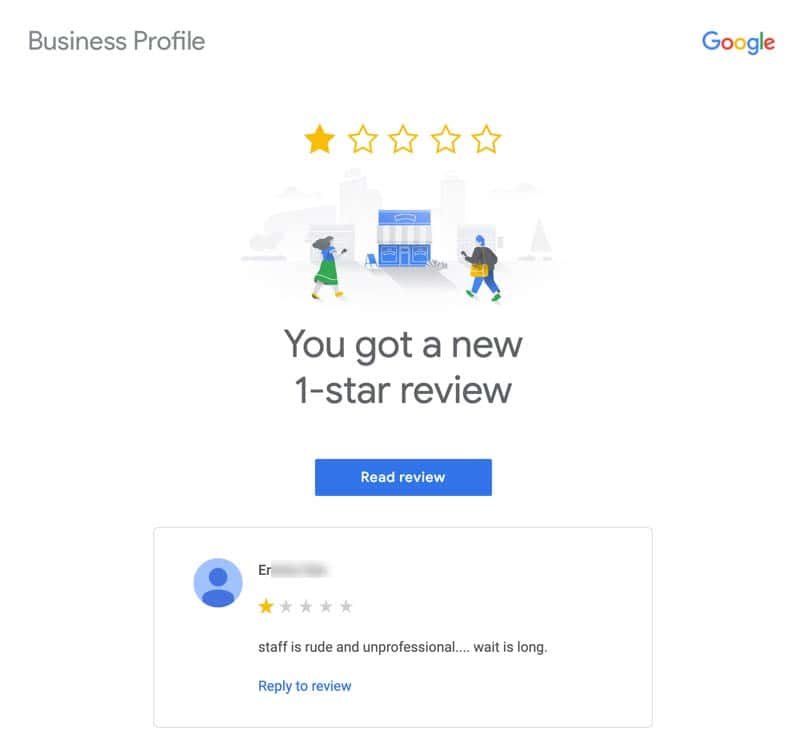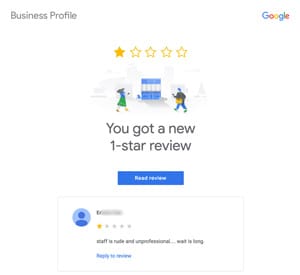 Your practice's reputation on Google search is the single most important strategy that you should implement. Other review sites are important but start with Google first, then follow up with healthcare specific review sites. We know that Google's paid search produces excellent results for medical healthcare clinics. Within Google search results, one of the most powerful visual aspects is the number of Google+ reviews in the search results. Lets review this real example below: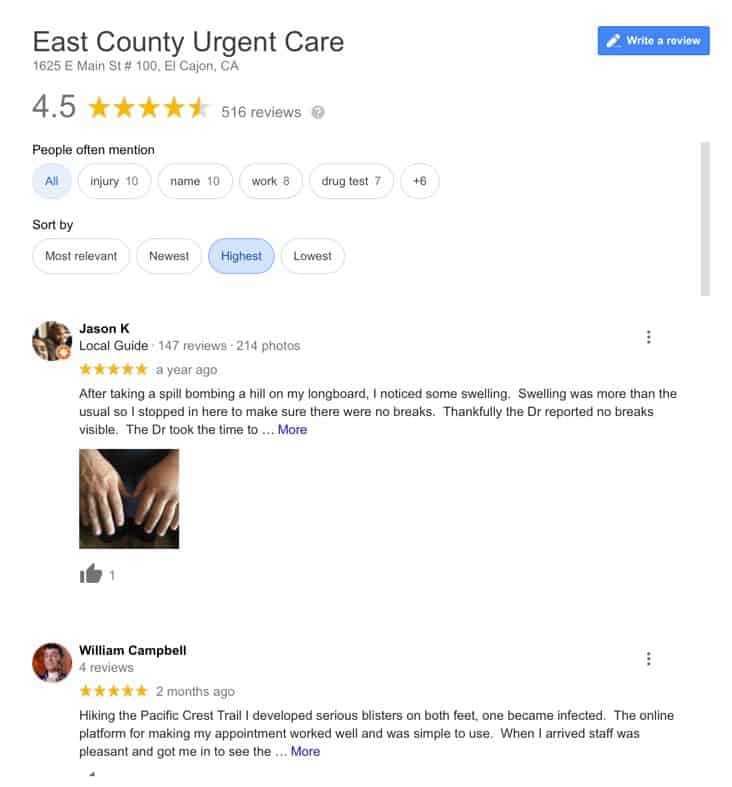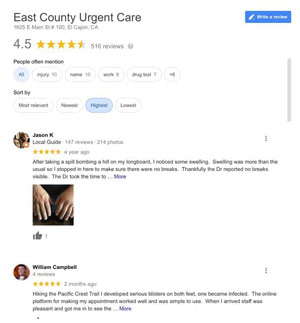 In this example, for Google search, high lighting reviews and reputation of the medical practice, we know that users are very likely to go to search results with 4.5 ratings and 84 reviews. Obviously this will have a positive impact for patient acquisition and engagement for this clinic.
PatientGain.com's data shows that how a user gives you a review on Google & Yelp makes a difference also. For example if you use Texting/SMS based review app, you will get many reviews with SHORT or NO COMMENTS – This will flag the Google and Yelp algorithms and can cause the reviews to be not displayed. Also we noticed that Texting/SMS app causes a "Burst" os activity – will leads to Google and Yelp's algorithms to start blocking your reviews.
So what is the best strategy for Online Reputation for Doctors? Use Email, Texting/SMS, Facebook and In-Lobby Reviews Apps – All of them.
Strategy For In-Lobby Patient Reviews For Medical Professionals
If you are using the iPad app for a collection of reviews, then you have to use intelligent reviews apps to ask your patients to provide you with honest feedback. The main focus of your plan should always be to measure the patient sentiment (negative or positive) and then improve service for your patients.
In a perfect world, the quality of the medical care and level of personal attention provided by you should be enough to ensure that your patients contribute glowing reviews and testimonials. Of course, the reality is that most patients need to be gently and subtly encouraged to submit any online feedback, this is even more important for acquiring positive reputation and reviews for doctors and medical practices.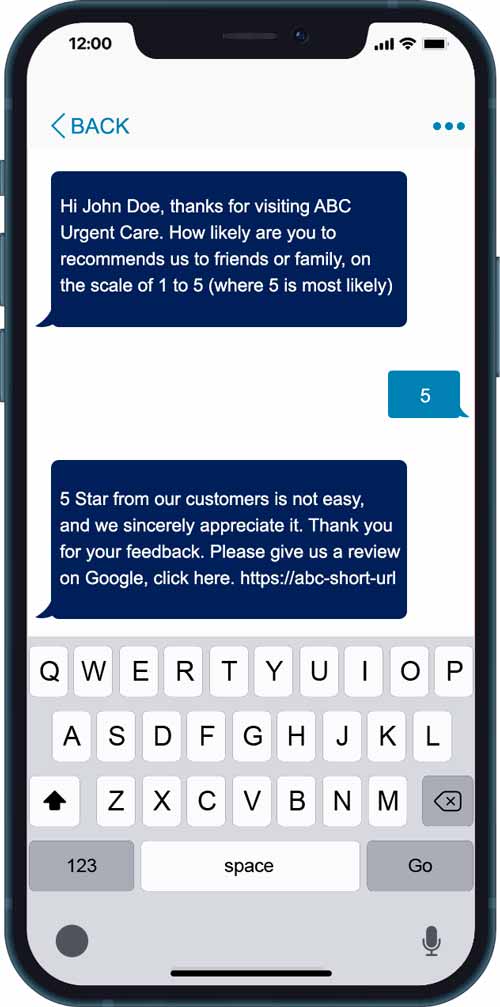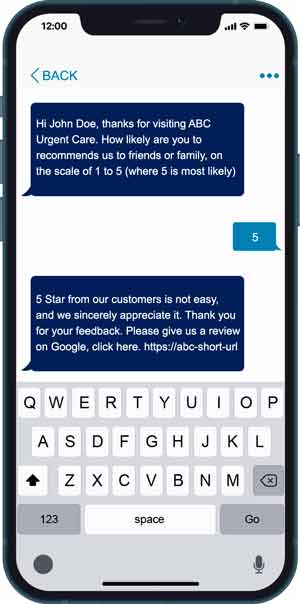 In real life, maximizing positive online reviews and minimizing negative reviews should be your strategy
At PatientGain.com we have achieved great success for our healthcare customers. We have also learned that success rule of 80/20 still applies in online reputation for doctors and clinics. There are hundreds of online reputation sites. More than 80% of your success is likely to come from Google Reviews and Yelp Reviews. Other review sites are still useful to your clinic's online strategy, but much less so than these two.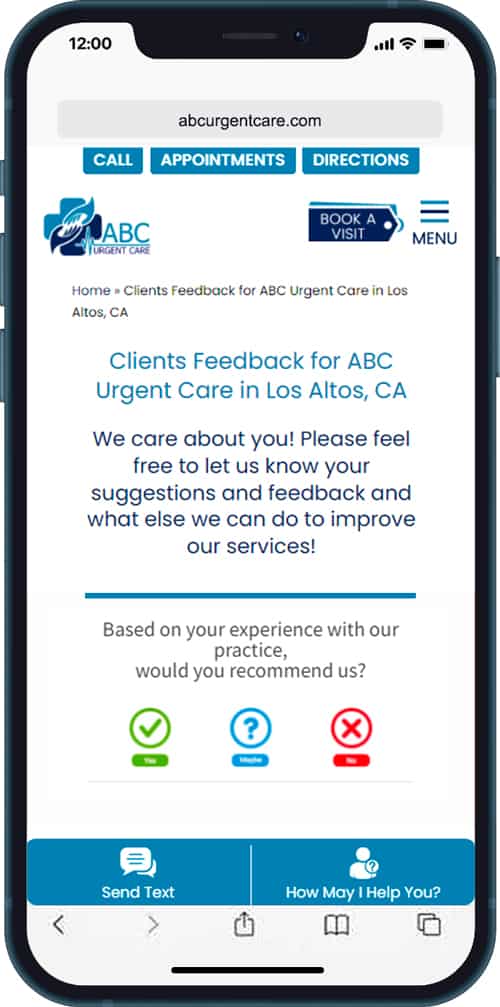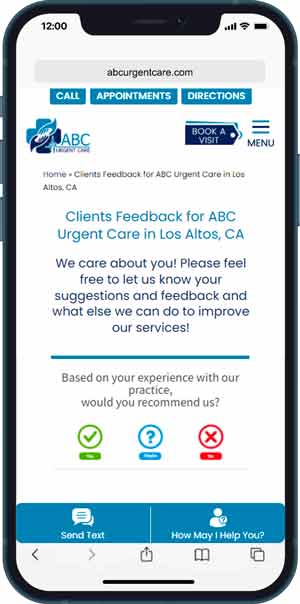 So what should be your strategy for reputation management for your medical practice? Should you have simple apps that allow to capture reviews from patients as they are about to leave your practice? Should you send them surveys? Unfortunately these techniques may work on a limited number of reputation sites, but the most important reputation sites, Google and Yelp, their algorithms are likely to filter or blacklist your patient reviews if they are all being submitted from the same computer, same IP address, or same location. It is easy to track originating reviews and testimonials. So if it's too easy, it is likely to have an adverse effect on your reputation, rather than increasing your reputation.
8 Ideas for responding to negative reviews
Online reviews and reputation are critical to a medical practice's medical marketing plan. Good ratings will help boost local organic results and give you an edge over your competitors with poor ratings or with a low number of reviews. Reviews can also be used for online marketing campaigns and be posted on a website for additional content. Generally, the vast majority of reviews will appear on Google, Yelp, and Facebook. In a typical month, a medical practice expects most of them to appear on Google, but all three need to be monitored. Unfortunately, no matter how hard a medical practice may try, negative reviews will appear. How a medical practice handles that negative review is important, or it could do additional damage to its online reputation. Below are eight golden nuggets to follow when responding to negative reviews.
1. Negative reviews are rarely deleted even if you vehemently disagree with them
Reviews exist on third-party sites to ensure their authenticity and that a medical practice (or any other business) is not cherry-picking good reviews and deleting negative ones. A medical practice does not control these sites and therefore can not delete them. Even if you call Google, Yelp, or Facebook and speak with someone about deleting them, chances are they will not be deleted. Most people on the other end of the phone do not have authority or permission to even do anything to the review other than creating a ticket and having a team review it.
A review will be removed if it violates the terms of service, known as a TOS Agreement. Most of the time, reviews will be removed if it is spam, promoting another business, threatening violence, or overly lewd. It will not remove a review if an owner has no proof if a patient was ever there or believe they are lying about their experience. It will simply not happen in most cases. Yelp will occasionally remove brand new profiles that are not filled out, leave a single review, and never return. These "burner" accounts tend to get suppressed, but if someone comes back and reviews other locations with a fleshed-out profile, the review could appear once again.
An owner can report a negative review if they feel it is a lie, someone has mistaken them for another location, or think the person never actually visited their facility. However, the success rate for reporting these reviews to get them removed low. Medical practice owners should not expect it to work.
2. Do not aggressively attack reviewers
Understandably, an owner of a medical practice might be infuriated by a negative review, especially if they feel it is unjustified or just flat out wrong. However, they should resist verbally attacking them with mean, vulgar, or aggressively inappropriate language. First, this is certainly unlikely to get them to remove their review. Second, when a potential patient looks over past reviews and sees the location's owner explode on someone, it does not paint them in a good light. A potential patient has no context when reading the review, and the attitude and tone of a response can have a negative impact on their decision-making when evaluating medical practice for possible care.
Some owners may feel tempted to pursue legal action as the result of a bad review. In the past, some business owners have filed a lawsuit against the reviewing websites (Google, Yelp, Facebook) or the reviewer, assuming they can identify who left the review. By in large, all of these lawsuits have failed and have heaped mounds of negative publicity onto a business. Unless the reviewer is purposely defaming a company with malicious intent, which can be challenging to prove, the lawsuits are best left to those with a short fuse to embarrass themselves and hurt their business. They will not help, and once a story is written about this attempt, it will get the negative review even more publicity and traction.
3. Research a review compliant before responding
Unlike many other businesses, there is likely a record or notes of a patient's interaction with staff at a medical practice. Unless they came in the front door and departed after getting into an argument with staff before they registered, a practice will know the name and contact information of the person. Before responding, review the notes and talk to the team and provider about the interaction with the patient who left a negative review. Take their concerns to the staff and see if the facts match up, if there was a misunderstanding, or if they genuinely are justified commenting on their negative experience. Getting more information before writing a response will allow an owner to craft a better and more thoughtful response to address a reviewer's concern.
If the contact information is available, some medical practice owners will call the patient first to get more information and context about their visit. They will speak to them even before they write the first words of a response. Often, the irritated patient will significantly appreciate the hands-on approach of an owner actively trying to problem-solve their issue. Calling them to threaten them with a lawsuit is not the right way to go about getting in touch with a patient after a negative review. Sometimes, although not always, if an owner solves the patient's issue, they may even change their review. If they do not, an owner should write in their review thanking them for speaking with them on the phone. If they are happy with the resolution, mention that also, even if they do not change their review. For potential patients, this shows that an owner cares about the quality of service a patient receives.
4. If the reviewer is unknown, request a call from them
Unfortunately, not everyone who leaves a review for a medical practice will identify themselves or use the same name they used on their registration. They will sometimes use nicknames, their maiden name, or a different name altogether when leaving a review. Without matching them up to medical records, it can be difficult to confirm what they have said. If the person never actually visited the medical practice or received treatment, they will not be in the patient management system. Do not make the mistake of simply ignoring these reviews.
Instead, please write back and explain to them that there is no record of their visit to the medical practice and ask them to call to speak with the owner or center administrator. Other than that, there is very little else you can do other than talk in general terms. For example, if someone said they waited 4 hours for treatment on a day and according to the records of that day, everyone was in and out in under an hour, then incorporate that into a review. They may not call back, but explaining this for others to read will show the medical practice's side of the story. Ignoring the review may seem like a clinic quietly acknowledges the issue and does not want to talk about it.
5. Document negative reviews and interaction with patients
Unfortunately, not every staff hire at a medical practice will work out in the long run. Occasionally, bad hiring decisions are made, and employees or staff may not be the best fit for a medical practice. In most cases, they will be employed "at-will," meaning they can be let go at any time for any or no reason by their employer. However, having reasons and documentation of why they can no longer be employed there will be helpful.
When a negative review comes into a medical practice explicitly talking about a provider or staff member, an owner needs to document it. If a pattern begins to develop with an employee, this will be robust evidence to present to them if they question why they are being let go. Even before it gets to that point, an employer can sit down with an employee to discuss with them the negative review. Again, an owner can get the employee's side of the story and problem-solve how to avoid the issue in the future. Keep in mind that some patients can have terrible attitudes. In that case, problem-solving will involve what other staff members can be brought along so that there are two witnesses to the patient's terrible behavior. An owner can not only dismiss of an employee, but they can also refuse to serve a patient if their actions or attitude are overly abusive or disruptive. Unlike a hospital, a doctor's office or other healthcare provider, generally do not have to serve everyone that comes through the front door.
6. Maintain HIPAA privacy standards in review responses
It is important to remember when responding to reviews, even if they are negative, to maintain HIPAA privacy rules when writing responses. A medical practice can not disclose any Private Health Information (PHI) in responses. No information about a person's medical history should be written about, or a medical practice could face fines and other violations. A response should be written as general as possible without discussing the treatment, diagnosis, or other aspects of a patient's visit. Always encourage the negative reviewer to call the clinic to discuss their experience further with an owner or a center administrator.
Although HIPAA rules apply a medical clinic, a patient is not bound by them. If a patient writes paragraph after paragraph detailing their medical history, diagnosis, and treatment at a medical clinic, that is their responsibility. That information is posted publicly by them on a third-party site. A medical clinic is not responsible for information posted on a Google, Yelp, or Facebook review. If that review submission and posting occurred on their medical website, that would be a different story altogether. Just remember that even if a patient posts their detailed medical history, that does not give a medical practice explicit written permission to do so. Even if they do have written consent, it generally is best not to. It will give the impression to potential patients that a medical practice routinely posts Private Health Information online.
7. Do not let negative online reviews responses linger
A medical practice should not let a negative review go on unanswered for too long. Yes, the owner or administrator should take time to track down information or talk to staff about a patient's visit. However, this should be done as quickly as possible. Ideally, a response to a negative review should be posted within 1-3 days. This deadline may not be practical if a medical practice is bustling or if the staff members who need to be spoken to about the experience are not immediately available. Responses should be made as soon as possible to show the patient and potential patients that reviews are taken seriously.
To respond to reviews as quickly as possible, they need to be monitored regularly. Sitting down at the computer once a week to sort through reviews is not enough. At that rate, a negative review may linger for a week or longer. Instead, reviews should be monitored daily or at the very least Monday through Friday. This should, at worst, only cause a couple of business days to pass before a response appears on a review. Constant monitoring will ensure reviews are promptly attended to by staff.
8. The best way to get rid of negative reviews: Acquire positive reviews – This only works if 1) You generally provide a good service 2) Use a system that asks patients if they would refer you to a family or friend (reputation management software for doctors or dentists)
Many negative reviewers will not delete their posts unless they realize they are mistaken and visited a different medical practice. (Even then, they may be too lazy to delete it.) The best way to get rid of negative reviews is to push them down with positive reviews from other patients. Negative reviews should be few and far between. Actively seeking out positive reviews will help a medical practice outnumber negative reviews. The most effective way to ask for reviews is via a text message. While more expensive than asking via email, text message review requests have proven to be more effective in conversion terms of rates.
Also, a medical practice should not get bent out of shape if they pick up a negative review here and there. Patients and other consumers are suspicious of a listing that only has 5-star reviews. They will believe that something is not quite right. While all owners would love to see their listing have 500 5-star reviews and no negative reviews, that would seem unnatural to the potential everyday patient. A few negative reviews, when appropriately addressed, will make a medical practice seem much more authentic.
The experts at PatientGain.com have years of experience in online reputation management and helping owners manage their responses to negative reviews. Call our expert team today and let us show you the apps we have in place for clients and how they are using them to cut down on negative reviews. We can also help you devise a negative review response plan that your staff can follow to stay ahead of them quickly. We look forward to working with you!
Example of impact of positive reviews strategy for healthcare practices
In the example below, this pain clinic, medical practice has 88 reviews and total ranking of 4.8 on Google reviews. Your potential patients look at this ranking and consider in their decision making process.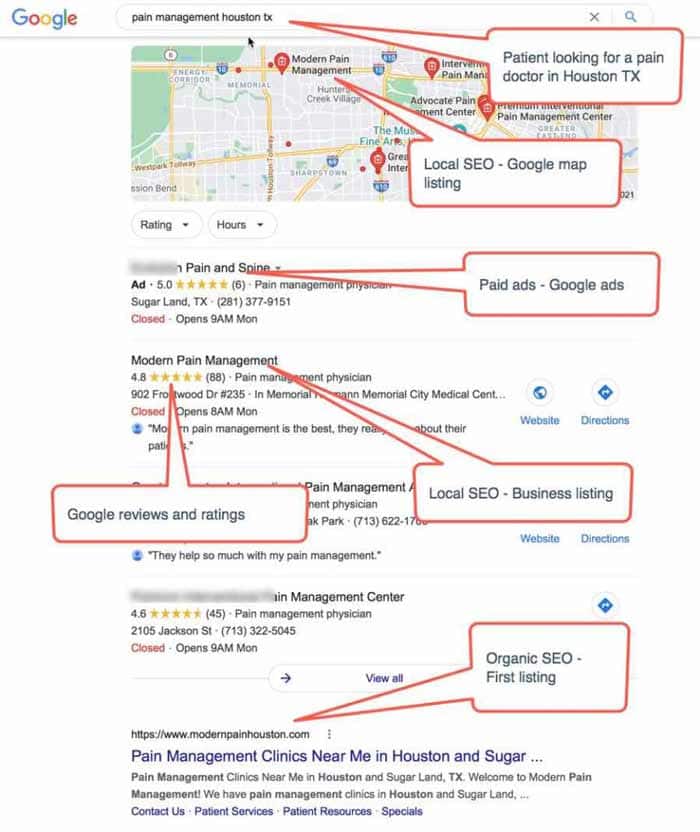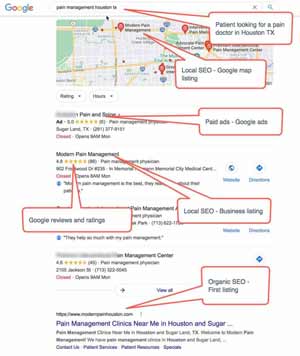 Reputation management can be a winning strategy
The PatientGain.com platform includes reputation management for doctors & dental practices. Healthcare marketing platform includes over 20 online cloud-based applications, all integrated to work together and generate new patient leads, manage leads, convert patient leads to actual paying patient customers, manage patient relationships, and generate referrals. PatientGain.com is a single vendor automated solution and it is available at a fraction of cost compared to custom built or multi-vendor non-integrated solutions. PatientGain.com platform runs on secure servers and data-centers, based in the USA, with headquarters in California.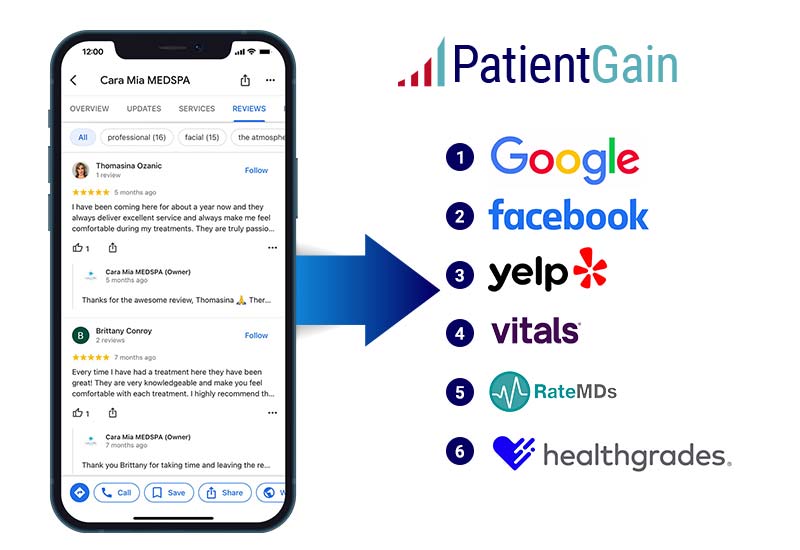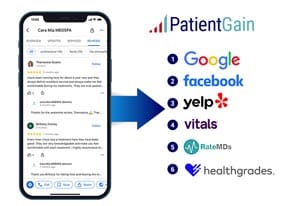 Online Reputation Management for Doctors & Dental Practices $299/mon
Online Reputation Management Can be a Headache or a Winning Strategy for Doctors & Healthcare Clinics. Only 28 Percent of the Time it is Patient-Physician Related.