Online Reputation Management for Doctors & Dental Practices $199/mon
Online reputation management can be a headache or a winning strategy for doctors & healthcare clinics. Only 28 percent of the time it is patient-physician related.
72% Of the patients who are unhappy and who post negative feedback on Google and Yelp are not doing so because of the patient-physician experience; they are unhappy due to billing issues, incorrect deductible payment, rude front desk person, lack of perceived patient focus, improper handling of the paper-work, long wait time or impolite response from a clinic staff member ( non-physician ). 28% of the time it is patient-physician related.
Let's face it – as patients leave your medical practice, either they are happy with the service, unhappy or somewhere in the middle. With a little bit of focus and excellent software on your side, you can turn the entire patient experience into a winning strategy for your practice. Unhappy, disgruntled patients can destroy the reputation of a dedicated doctor. So your strategy should be to proactively address this issue.
1. Sends patients review requests
2. Follows up with spaced-out reminders
3. Intercepts poor reviews
4. Ranks you high on Google, Facebook, Yelp, and all leading sites
5. Displays reviews on your website
3 Ways to Improve Online Reputation for Your Healthcare Practice
Key Question: Are You Happy With The Service? Would You Recommend Our Practice?
As a practice manager, you want to ask this question – Every patient should be asked this question. There three ways to do this.
1. Using an Ipad in the lobby (app offered by PatientGain)
2. Using Texting/SMS (app offered by PatientGain)
3. Using Email (app offered by PatientGain)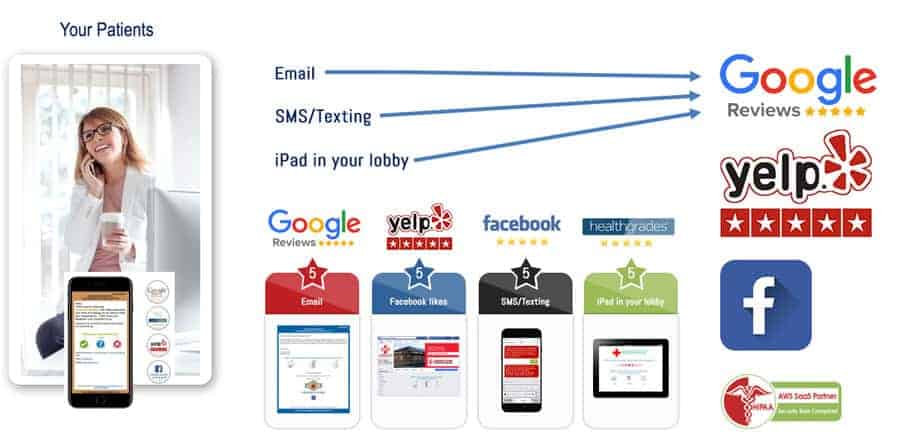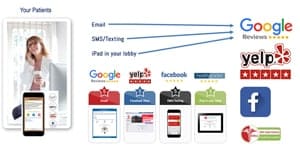 There are different ways to acquire positive reviews for your medical practice. Your clinic's lobby is not a place for patient's to wait – It is a GOLD MINE for your business. Convert the patient departure into a pleasant experience for your patients and for your clinic's reputation. This reputation app works on iPads and is very easy to use. Most practices start seeing results in the first few week.
Your practice's reputation on Google search is the single most important strategy that you should implement. Other review sites are important but start with Google first, then follow up with healthcare specific review sites. We know that Google's paid search produces excellent results for medical healthcare clinics. Within Google search results, one of the most powerful visual aspects is the number of Google+ reviews in the search results. Lets review this real example below:
In this example, for Google search, high lighting reviews and reputation of the medical practice, we know that users are very likely to go to search results with 4.5 ratings and 84 reviews. Obviously this will have a positive impact for patient acquisition and engagement for this clinic.
PatientGain.com's data shows that how a user gives you a review on Google & Yelp makes a difference also. For example if you use Texting/SMS based review app, you will get many reviews with SHORT or NO COMMENTS – This will flag the Google and Yelp algorithms and can cause the reviews to be not displayed. Also we noticed that Texting/SMS app causes a "Burst" os activity – will leads to Google and Yelp's algorithms to start blocking your reviews.
So what is the best strategy for Online Reputation for Doctors? Use Email, Texting/SMS, Facebook and In-Lobby Reviews Apps – All of them.
Strategy For In-Lobby Patient Reviews For Medical Professionals
If you are using the iPad app for a collection of reviews, then you have to use intelligent reviews apps to ask your patients to provide you with honest feedback. The main focus of your plan should always be to measure the patient sentiment (negative or positive) and then improve service for your patients.
In a perfect world, the quality of the medical care and level of personal attention provided by you should be enough to ensure that your patients contribute glowing reviews and testimonials. Of course, the reality is that most patients need to be gently and subtly encouraged to submit any online feedback, this is even more important for acquiring positive reputation and reviews for doctors and medical practices.
In real life, maximizing positive online reviews and minimizing negative reviews should be your strategy.
At PatientGain.com we have achieved great success for our healthcare customers. We have also learned that success rule of 80/20 still applies in online reputation for doctors and clinics. There are hundreds of online reputation sites. More than 80% of your success is likely to come from Google Reviews and Yelp Reviews. Other review sites are still useful to your clinic's online strategy, but much less so than these two.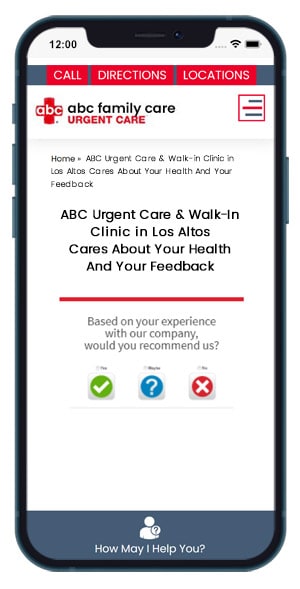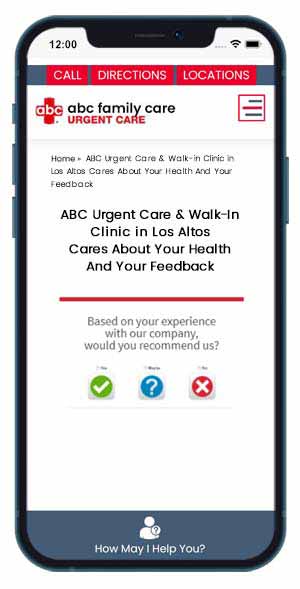 So what should be your strategy for reputation management for your medical practice? Should you have simple apps that allow to capture reviews from patients as they are about to leave your practice? Should you send them surveys? Unfortunately these techniques may work on a limited number of reputation sites, but the most important reputation sites, Google and Yelp, their algorithms are likely to filter or blacklist your patient reviews if they are all being submitted from the same computer, same IP address, or same location. It is easy to track originating reviews and testimonials. So if it's too easy, it is likely to have an adverse effect on your reputation, rather than increasing your reputation.
Reputation Management Can be a Headache
Reputation Management Can be a Winning Strategy
The PatientGain.com platform includes Reputation Management For Doctors & Dental Practices and consists of over 20 online cloud-based applications, all integrated to work together and generate new patient leads, manage leads, convert patient leads to actual paying patient customers, manage patient relationships, and generate referrals. PatientGain.com is a single vendor automated solution and it is available at a fraction of cost compared to custom built or multi-vendor non-integrated solutions. PatientGain.com platform runs on secure servers and data-centers, based in the USA, with headquarters in California.
Online Reputation Management for Doctors & Dental Practices $199/mon
Online Reputation Management Can be a Headache or a Winning Strategy for Doctors & Healthcare Clinics. Only 28 Percent of the Time it is Patient-Physician Related.