Dental SEO Questions & Answers From Dental Offices in USA & Canada
Dental SEO is also known as SEO For Dental Offices. We cover specific questions we receive from dental practices every day
Online marketing of healthcare businesses continues to be more and more critical, including those with dental practices. Websites need to be designed to help current patients find what they are looking for and also attract new patients so the practice can grow their business. Taking a page from other medical practices' advertising efforts, many dentists are using content marketing plans to help boost their website's rankings. Others are posting more on social media to make more personal connections with patients in the community. Some dentists, however, are missing a key component to these new online marketing tactics: Search Engine Optimization. For those who do not engage in it, also known as SEO, their new marketing plans will have only a limited impact.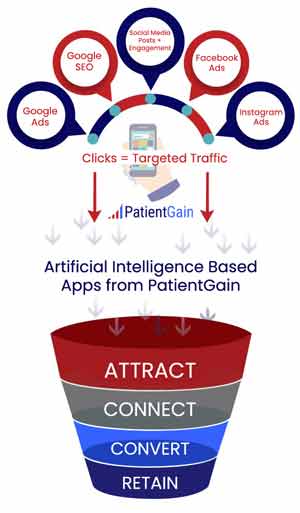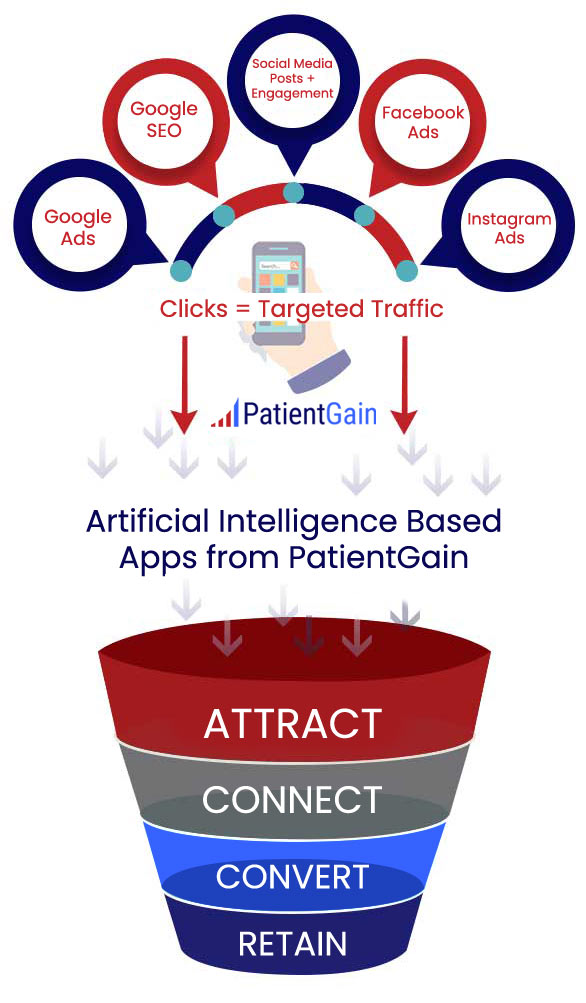 Question No 1: How many dental patients search for my dental services online?
Answer: 82 percent of the patients check online before contacting a dental practice – majority of the searches occur on Google search engine. There are 3 important areas of the Google search results. The top area is usually for paid google ads (meaning that you have to pay to appear in the top area) Mid area is for local search results, this includes Google maps, review rankings and business listing. The bottom part of the search is for organic results. So if a patient search for "invisalign dentist toledo oh" and your dental practice appears in all 3 areas, you are more likely to get new patients for your practice.
Question No 2: How much does it cost? I have heard that Dental SEO is free?
Answer: It takes a lot of time and effort (hence money) to build the dental SEO of your dental clinic's website. Yes, it is free from Google's perspective. When compared to Google search ads, medical SEO and local SEO for dentists and other type of practices is free. However there are 2 main ways to build your SEO over time. 1) Do it yourself 2) Hire a professional medical marketing company in US or Canada. We recommend no 2.
Question No 3: What is the cost of monthly Dental SEO?
Question No 4: Is there an ROI (Return On Investment) Examples?
When people search online, many do not go beyond the first page of results, and some do not even look past the top three results that are returned. Think about it, when was the last time you looked at more than one or two pages of results when looking to learn more about a business? You need to be on the first page of results in Google or Bing search results, or you are unlikely to get anyone to visit your website. Good SEO work will help you get on that first page of results to attract and keep new patients to your dental practice. The experts at PatientGain.com have years of experience in developing and implementing an effective SEO strategy for dentists. Call today, and let us get started in helping you grow your business! Below is some more information about this vital marketing component.
Question No 5: What is search engine optimization (SEO), and how does it work?
Search engine optimization is the process of refining your website, so it ranks higher for specific search results in search engines like Google and Bing. Your website is (or at least should be) unique to your dentistry. However, with competition heavy in this area, you need to make your website stand out amongst your other local competitors. The higher you rank in search results, the more likely you are to stand out to people looking for a dentist, and therefore the more clicks and visitors you will receive. The best way to start is to have a comprehensive and informative website with the unique written content on every page.
Increased organic ranking of your website does not happen overnight. It takes time to see results from your SEO efforts. Unlike paid advertising, you cannot buy your way to the top of organic results. When you make changes, you need to give them time to impact your overall rankings. It can be frustrating to wait but results generally appear in 3 to 6 months. The impact of those results depends on the changes you made and if your competitors made any changes in that time to counter your improvements.
Question No 6: What does SEO for dentists look like?
Dental SEO concentrates on optimizing a practice's website, so it begins to improve their organic rankings. Being the #1 result for every possible keyword, and search is a big mountain to climb. To start, select some of the top keywords and work from there. The idea is to improve so that you are on the first page of Google, Bing, and other search engines. Ensuring you are using the right keywords is essential, but so isdesigning your website to be mobile-friendly, load quickly, and be informative to any potential patients who visit. All of these factors should be considered when executing an effective SEO plan.
Question No 7: Why should dentists be concerned with SEO?
Search engine optimization should be a priority of your medical marketing plan. If you ignore it, potential patients will have a tough time finding your website without being directed there by someone else. Without SEO, you are potentially missing a large number of potential patients, making it difficult for you to maintain or grow your patient count. The higher organic ranking your dental practice has, the easier your marketing efforts will be, and the more authoritative and credible your practice will appear.
More importantly, your competitors are likely investing in SEO work as well. Ignoring it only makes it easier for them to compete with you. Once a patient selects their dentist, it will be tough to get them to change their mind. At that point, it takes a terrible experience at a competitor's practice or the closing of it before they will seek out another dental solution. It is only to your advantage to reach them first before another captures their attention and converts them into a regular patient. If a competitor is not taking SEO seriously in their medical marketing plan, this is a tremendous advantage for you! You can get out in front of them and start directing potential patients to your dental practice before they are even aware of a competitor's website. While the results may take a while to appear, search engine optimization is a powerful and cost-effective way to promote your dental practice.
Question No 8: Are there any effective dental SEO steps?
Step 1. Add Relevant and Target Keywords To Your Content
When people search for dentists, many use the word "Dentist" or "Dentistry" in their online search. Being a dental practice, you likely have those words throughout your content. However, if you offer specific services, make sure those words are added throughout your content on relevant pages. For example, if you provide Root Canals, there should be a page dedicated to it talking about that service, and "root canals" should be mentioned on your home page.
Words like dentist, dentistry, and root canal are examples of short-tail searches. They are called short-tail searches because they are one or two words. These searches, for the most part, are very broad and are often highly competitive. Short tail searches are essential, but you should not forget their counterpart, long-tail searches. These searches are usually longer, made up of several words or phrases. While the search volume for these is often much lower, the conversion rate is often higher. For example, if someone searched "Teeth whitening for my wedding," chances are they are looking for teeth whitening. If you mention that phrase on your teeth whitening page, a search engine could flag you as a top result for that search query.
Finally, be sure to include location-based keywords in your content. Associating your dental practice and the services you offer with your community's name and the surrounding area. A common way people search is often putting the name of their city and state after the search. Some will search for "Dentists," but it is also common for people to search "Dentists in [city], [state]." Having the name of your town, surrounding towns, and names of areas will significantly increase your overall rankings by associating locations with your business. When someone searches online for a dentist and mentions your general area in the search, you will get good results!
Step 2. Optimize For Local Search
As mentioned above, your website needs to be optimized for searches in your area. Unless you have one website covering multiple clinics across several regions, you need to consider geographic location in your SEO work. Target essential areas for your dental practice by mentioning the town you are located in and neighboring towns. These names should be included on your content pages of the services you offer and the titles of your website pages. If possible, include the name of the town your dental practice operates out of in the URL.
Finally, you want to make sure your dentistry is listed in every directory possible. The big five you should concentrate on are Google, Bing, Yelp, Facebook, and Foursquare. Create or claim listings on these directories and ensure that all information is the same and matches your data on your website. Mismatches will lower the boost this will give you and only serve to confuse potential patients. As a bonus, creating these listings on these websites will help you get listed on map apps. Many mapping websites and apps take their business data from these directories to list businesses on their maps.
Step 3. Start A Dental Blog
Blogging can help boost your practice's online credibility and reputation. Showing your expertise and knowledge in a topic area will go a long way to increasing your organic rankings. Do not attempt to write a new blog every day or even every week. Try to update your blog once every two to four weeks with something interesting, informative, and useful for your current and potential patients. Post too many too quickly, and you will soon run out of ideas to write about.
The idea behind a blog is getting more people to visit your website and read what you have to say. The more visits by people who spend a decent amount of time reading your blogs, the higher your organic ranking will be. This will tell a search engine that many people often consume your content, causing their algorithms to boost your rankings and put you higher on search results. Useful blog posts lend themselves to be shared across social media channels and emailed amongst friends and family. This viral sharing of your blog post will also lead to increased SEO rankings. With enough SEO work, your blog posts may become an authoritative local source for dental-related questions.
Step 4. Earn Back Links To Your Dental Practice's Website
Backlinks play a crucial role in the SEO of your dental practice. These are links from other websites to your dentistry's website. The more backlinks you have, the more important your website will look to search engines. There is a couple of ways for you to get good backlinks to your website.
First, check out your local newspaper for opportunities for links. Yes, newspapers put out a print version of their stories, which will not help your SEO, but many also have websites where they post and archive their stories. They are often looking for content, so pitch stories to them now and again. Do not contact them every day, or they will certainly ignore you after a while. However, when offering a new service, celebrating a milestone, or even contributing to the community, send them a story pitch. Even if the story does not make it to print and is just featured online, a direct link to your website will boost your rankings.
Another organization that can help boost your SEO with a backlink is your local chamber of commerce. It usually is straightforward to join, membership fees are typically reasonable (or tiered), and your website will be included in a directory. Chamber of Commerce websites are generally very authoritative and respected in search engines. A link on there will show search engines your website is important and respected. Also, the main goal of these organizations is to promote local business. By being a part of it, you will benefit from their area promotions and often have access to advertising opportunities.
Your friends and family and the friends and family of employees can be a great source of SEO help. With more people having personal websites and blogs, you could get your link out to many people. It is one thing to ask them to share it on their social media profiles, which can certainly help. However, if you could get your link included on their website or blog, that can help build some backlink SEO power for your website. Does a link on a family member's blog hold the same weight as a regional chamber of commerce? Of course not. But a few dozen links on a few dozen different websites will make an impact!
Finally, approach local educational organizations and other local nonprofits for linking opportunities. Websites that end in .edu, .gov, or .org are often considered more authoritative than regular .com websites. With that said, it can be challenging to get your dental practice listed on any of these sites unless you have a particular relationship with them. However, you may be able to get listed on a .edu or .org website related to dentistry. A dental nonprofit organization or a school may be able to list you on their website if there is an established relationship between you.
The experienced team at PatientGain.com has spent years helping many medical professionals, including dentists, improve their website's overall search engine optimization. Call today and let us show you what we have done for other dental practices and their SEO. We look forward to working with you and helping your business grow!