Top Medical Marketing Expert Companies in USA Provide an Essential Service
There are over 202,536 dentists and over 1,077,115 physicians, this is 1,279,651 healthcare professionals in USA alone. Adding Canada will make this over 1.4 million providers.
There are certain features you should look for in any modern healthcare medical marketing company. There are 6 features you should look for, and 8 important questions. Patientgain.com medical marketing solution is used by the top healthcare practices in the USA & Canada – from coast-to-coast. Typical costs $999/mon to $1499/mon. A good medical marketing company should provide 1) Service that suits your practice's marketing needs 2) Should provide quality service that earns your trust 3) Service should provide you options, at reasonable rates.

Our society is turning into a Digital Society. Healthcare Medical industry is also changing. More and more people are on mobile devices, on the internet, on social media, and reading their Emails on a mobile device. Just look around you. At a traffic stop light, look to your left, you will probably see a woman checking her Email on her iPhone, look to your right, you will probably see a man sending a text or responding to one while waiting for the red light to turn green. Not a good idea while you driving, but it is happening. You will also see more and more people using devices like Siri and Digital Personal Assistants. PatientGain and many healthcare marketing companies exist to help practices acquire new patients and retain existing patients. This is a complex process and require extensive healthcare knowledge, digital marketing experience, advertising and technology skills. Hence it is expensive and difficult to build quickly. It takes years to build a company focused on healthcare marketing that can deliver results, consistently.
Medical marketing can be offline ( traditional ) or online ( Digital ), both are important.
Examples of offline, traditional marketing:
1) Offline traditional advertising (Newspapers, Yellow pages, billboards, leaflets, flyers, USPS mailed attention grabbers)
2) Referrals (Referrals from your network of other providers)
3) Word of mouth (Existing happy patients tell their family members, friends and neighbors
Examples of online, digital marketing:
1) Google SEO (Learn more about how healthcare SEO works)
2) Google local SEO (Learn more about how local SEO works)
3) Google Ads (Learn more about how Google ads work)
4) Facebook, Instagram Ads (Learn more about social media advertising)
5) Digital ads on other secondary websites (Insurance websites, healthgrades, vitals, and other medical and dental directories etc)
6) Ecommerce apps (Like Amazon, etc)
Healthcare Medical Provider, Doctor, Dentist, Mental health provider or any medical service provider you have to realize that you have 3 choices :
No. 1) Ignore the digital change
No. 2) Accept it, and do the minimum to stay relevant
No. 3) Compete and win in the digital age
8 Important Questions For Healthcare Marketing Companies:
1st Question: Is The healthcare marketing company results focused or marketing focus?
Is the Medical Marketing Company focused on results or marketing & advertising and spending your $$$? Does the Medical Marketing Company provide you with monthly account reviews and clear to understand dashboards so you can login ANYTIME and see the performance of your marketing dollars and advertising dollars? Or do they simply send you a report? Are there any hidden charges?
2nd Question: Is the healthcare marketing company focused on healthcare only or do they have "Other" focus?
Is the Healthcare Medical Marketing Company focused on results for Medical Practices and Doctors? Healthcare focus is indeed requires a a lot of focus, and resources. We have found that without core focus, you simply cannot serve medical practices. Ask them are they HIPAA compliant and will they provide you with a BAA (Business Associate Agreement). If not, don't do business with them. You, as a medical service provider are at risk.
3rd Question: Is the healthcare marketing company focused on providing you services or software? There are 2 very important components of medical marketing, service and software.
Is the Healthcare Medical Marketing Company focused on providing services only for Medical Practices and Doctors? Who will provide the Software? Or if the company will provide Software – Who will provide the BAA for the Software or Service? Many Medical Marketing Companies provide service only, like website design and SEO services, and you still need to buy software in order to compete online. On the other side, there are a lot of Reputation Management software companies who provide software, so you would still need to hire a service provider. Same issue comes into play if you would need to send Monthly Newsletters, Medical ChatBots, Call-Tracking, Patient CRM, Patient Surveys, Patient Reviews Marketing and several more areas.
4th Question: Is the healthcare marketing company focused on providing you with a search engine optimization?
Is the Healthcare Medical Marketing Company focused on providing services so you show up very high for Search Engine Optimization for your targeted keywords for Medical Practices and Doctors? So check to see if they show up number 1 or no 2 for their OWN Search Results. For Example, go to Google and search for "Medical Marketing for Doctors" and "Advertising for Doctors", "medical seo" and see if they show up in the first 1, 2 or 3 results of the Organic Rankings on Google. If they don't, they will not be able to help you.
5th Question: Is the healthcare marketing company focused on providing you with a search engine marketing (SEM)?
Is the Medical Marketing Company focused on providing services so your online advertising dollars are not wasted. Majority of the advertising campaigns are not optimized. For example, is the staff of the healthcare advertising company certified? Have they taken courses, and is there a system and data for running high quality advertising medical campaigns?
6th Question: Is the healthcare marketing company providing you live dashboards or a monthly report?
Is the Medical Marketing Company equipped to provide you with actual data driven apps and dashboards so you, as the healthcare business owner has accurate data on your finger tips. The dashboards should be transparent. You should see the actual leads, phone calls, text/SMS messages coming in. These dash boards should be HIPAA compliant and connected to HIPAA compliant CRM so you can build patient engagement strategies. All data about your leads should belong to the client.
7th Question: Is the healthcare marketing company focused on providing you with a medical marketing automation apps?
Is the Medical Marketing Company focused on providing applications so your Medical Marketing is automated? For example How are phone calls tracked? How many phone calls should be generated per day, per week? What should be the average length of each phone call at the front desk? If there are leads (potential patients) generated from your Website or Facebook, are they automatically saved in a CRM ( Prospect Patient Database ) ? Is this Database HIPAA Compliant? Can your system automatically send "Auto-Responders" ? Are there Facebook Apps available to capture the leads from facebook traffic? Are there "Lead-Capture" and "Conversion" apps built into the medical marketing platform?
8th Question To Ask : How easy is it to contact your medical marketing company?
How responsive is your project manager and is there a "team" behind the project manager to help your healthcare business? PatientGain team includes a project manager, a technical website manager as your primary point of contact. in addition there are multiple staff, apps and skill set who work for your healthcare practice.
Why is this important?
Why is this important? We have found that every medical practice goes through a development stage. Let review these stages. In the end, you want best healthcare marketing ROI for your practice.
Additional Questions for Doctor Marketing Companies
Since Medical SEO is such a essential part of your marketing plan, we highly recommend that any doctor marketing company comply with these guidelines from Google SEO team – Must watch video.
PatientGain data shows that out of a sample of 3450 Medical Clinics in USA, only 148 clinics have a results driven online patient engagement marketing plan to gain a competitive advantage. If you are using software that is based on data mining & data driven results based strategies, then you are likely to benefit immensely. Majority of the medical clinics are simply using a static website with few links to patient portal, and may be a local web company managing non-intelligent but pretty website.
How to Hire a Good Medical Marketing Company
Marketing your medical practice can be a daunting task. While some doctors successfully handle their marketing efforts in-house, most will need a professional medical marketing company to truly grow. As a doctor or business owner, there are a dozen things to handle every day that might make marketing a secondary concern. A "set and forget" mentality isn't a long term solution to your marketing efforts. A marketing company can make changes as the needs arise, not every three months when an owner gets around to checking metrics. Is every medical marketing company the same? Not at all. Read more.
A beautiful and attractive website is a given, but you also need an Intelligent Responsive Website also. It is very important for your medical practice. It is included in the PLATINUM service.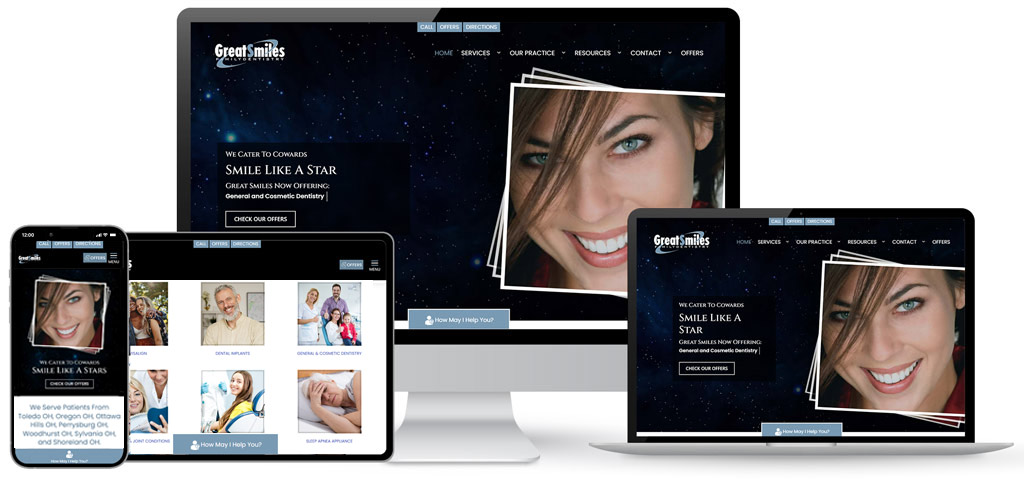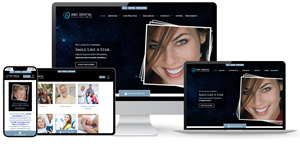 A Healthcare Medical Provider, Doctor, Dentist, Chiropractor or any medical service provider face a lot of difficult choices while running their business. They must realize that they have three choices when it comes to the digital age:
No. 1) Ignore the digital change.
No. 2) Accept it and do the minimum to stay relevant
No. 3) Compete and win in the digital age.
No 1) Ignoring The Digital Change
An owner of a medical service provider is putting the future of their business in danger by ignoring digital change. While one could justify resisting it one or two decades ago, it is here to stay, and those who ignore it will be left behind. There is a chance they may survive, but they will likely find it harder to compete and may shut down altogether.
Blockbuster Video is one of the best examples of a company that did not embrace the digital age and was ultimately sunk by it. Founded in 1985, it was one of the premiere video rental franchises in the United States and had stores worldwide. At its peak in 2004, it had over 9,000 stores and employed over 84,000 people. At that time, it had the largest market share of all of the video rental franchises active at the time. Their competitors included Hollywood Video, West Coast Video, and Family Video. However, Blockbuster Video and these other companies failed to embrace the changing digital age, and ultimately all of them went out of business.
The first technology change came in how movies could be rented. Previously, someone would have to walk into a physical store, pick their video out, rent it at the counter, and take it home. They generally had 24 to 48 hours to return the movie or pay a late fee. The first technology change came in RedBox, an ATM like video rental machine. These machines appeared at gas stations and convenience stores, taking up much less of a physical footprint and requiring less overhead to maintain. They often had the same selection, and one could reserve the movie online in advance, pick it up, and return it 24 hours a day.
The last change in the digital age that spelled the end for the physical video rental store was online streaming and on-demand videos from cable companies. Once internet speeds were able to support it, video rental stores went out of business for the most part. Someone could rent a movie and watch it without even leaving their couch. Movies could now be published digitally, increasing their profits by reducing the need to produce DVDs, Blu-Rays, disc cases, and ship them to stores.
Ironically, Blockbuster had a chance to buy Netflix, now worth almost 40 billion dollars, for $50 million in the early 2000s. Redbox now has over half the market share of the physical DVD rental business, but it is feeling the pressure of the digital age and is trying to convert itself to embrace more streaming services. Major movie companies also have their streaming systems, and Amazon Prime Video produces top-rated movies and programs.
A medical service provider does not want to become the next Blockbuster and be featured in the Harvard Business Review.
No 2) Accept it, and do the minimum to stay relevant.
Not wanting to become the next Blockbuster, many medical practices accept that digital change is coming and need to adapt. However, resisting to change too much, many of these medical practices are just doing enough to stay relevant and not look out of date. Although they have "updated" aspects of their business, they are still a few steps behind the current digital wave. More than likely, they have done this minimum work to remain relevant:
Created a social media channel
Added a video on their website
Have an ability for patients to message the practice
Updating banners throughout the year to display messages
Updating content to reflect current services
Update pictures of existing staff and providers.
Refresh brand colors and layout
This is an excellent first step for any healthcare medical provider to stay relevant and competitive compared to doing nothing. Embracing the digital wave should not be looked at as buying or trying something new. If anything, you are performing maintenance to a business to keep it up, running, and humming. A good comparison is maintenance to a vehicle. Someone could do the minimum work to keep it running, but the chances of a more significant, more expensive problem later increases, and when it does break down, it might be unfixable. Embracing the digital wave prevents healthcare medical providers from falling behind on the times and getting into a position where they can never catch up.
No 3) They are competing and winning in the digital age
Healthcare medical providers that embrace the digital age will see themselves be more competitive and win more patients over to their practice. By staying with or even ahead of various digital changes in healthcare marketing, they will make their competitors catch up to them. Another benefit of keeping up with the digital age is that it is much more manageable. Taking small steps forward to adopt new technologies and marketing tactics is easier to accomplish and comprehend than taking giant leaps. It was much easier to go from a flip phone cell phone to a smartphone than it would have been going from a telegraph to a smartphone!
PatientGain.com is a leader in helping doctors, dentists, chiropractors, and other medical service providers win in the digital age by embracing it. Below are some of the leading-edge apps and services our clients have adopted to win.
Medical Engagement Chatbot
A new technology that forward-looking medical practices are using is medical engagement chatbots. This marketing tool can see increased conversion rates from websites and help reduce the workload for the front desk staff. Chatbots have already been used for quite a while in other industries, such as retail. While some people may think a chatbot is a super-advanced, government artificial intelligence program, the reality, it is a bit less flashy. While a program does mimic human conversation, the only questions a chatbot can answer are the programmed questions. Generally, a medical engagement Chabot will help website visitors find information or accomplish simple tasks, like making an appointment or calling a clinic.
Many questions the staff at the front desk receives from people are similar and relatively easy to answer. However, during some times of the year, the sheer volume of questions being asked can slow down the time it takes to answer everyone. This slowing of response time can lead to a poor patient experience and therefore cause potential patients to look at competitors who may provide a quicker answer and then possibly secure an appointment. A chatbot's goal is to answer some of those questions on the website before someone picks up a phone to call or submits a contact form.
The expert team at PatientGain.com will work with the staff at a medical practice, especially those in the front of the business, to determine what the most likely questions current and potential patients ask. A list of questions and answers will be developed to be programmed into our chatbot. During this process, a medical practice may discover that some content on their website may need clarification to avoid confusion. For any question a chatbot can not answer, our system will take that person's contact information and then send it to a HIPAA secure server to be answered by staff later.
One of the most significant advantages of having a medical engagement chatbot is flexibility. A chatbot is available 24 hours a day, meaning it can help a website visitor after hours, over the holidays, or when phone lines are busy. It also can be easily revised with updated or new information. For example, when new information about COVID-19 Testing and Vaccines became available, chatbots could be updated with the latest information. Ideally, this should reduce phone calls to allow staff to handle more complicated problems faster.
Online Appointment System
Today's patients are keeping up with the digital age as much as medical practices are and are ready to embrace new technologies! They are also more involved with their healthcare decisions than ever before. Today they want more control, including making their appointments whenever they want. Instead of having patients call in for appointments or leave messages and wait for them to call back, give them the ability to make appointments online.
An online appointment system needs to abide by HIPPA rules to be used in a healthcare setting. Not all appointment systems will meet these standards. For example, Facebook's appointment system for Facebook Business Pages does not have the safeguards to be considered HIPAA compliant and, therefore, should not be used. Data submitted to an online appointment system needs to be stored on a HIPPA compliant server, have limited access, and track who access data and how that data is used. A healthcare business is responsible for all data submitted to it regardless of whether they asked for personal health information or not.
Good online appointment systems will securely connect to the patient management system at a healthcare practice to update patient records of when their appointments are scheduled. Many online appointment systems also can send automated text and email reminders to patients. These reminders help cut down on no-show rates, which help not only the health of a patient but also the health of the business. Online appointment systems also have online registration, allowing new and current patients to fill out their information online from home or from a phone instead of spending that time sitting in a waiting room. Finally, like chatbots, patients can make appointments anytime during the day. It is always available.
PatientGain.com has an effective online appointment system that many of our clients use all over the country.
Mobile-Friendly Design
With very few exceptions, most websites, regardless of industry, will see most of their traffic come from various mobile devices. Traffic from desktop computers is no longer the number one source of website traffic to healthcare websites. As such, the website needs to be designed with mobile in mind. Search engines will penalize a website's organic ranking, especially in mobile results, if they do not have a mobile-friendly version of their website. A healthcare medical provider without a mobile website is saddling themselves with an anchor that will drag down website visits and ultimately website conversations.
The best way to achieve a mobile-friendly website is to have a responsive website. When mobile devices started to become popular ways to explore the internet, many websites would have their main desktop version of their site and then a separate mobile website with fewer features but could run on old phones. Today, keeping two different websites like that will not work. A website needs to have every function on a mobile device as it would on the desktop version. It needs to look the same, navigate the same, and it also needs to load quickly. A responsive website will automatically rearrange itself to fit neatly on whatever screen it is displayed on if laid out correctly by a talented web designer.
Site speed on a mobile website is critical and can make or break organic rankings. Every second it takes for a website to load causes more and more website visitors to click on the back button. Site speed on mobile devices, when not being impacted by signal strength, are usually the result of a few usual culprits:
Pictures that are unoptimized for the web and are too large to be loaded on a cell phone.
Videos not hosted by 3rd party sites (like YouTube) and are instead loading directly to the website
Code that is out of date and interfering with other parts of the site that cause it not to load correctly.
The experts at PatientGain.com are available to help you create a high-performance healthcare website that keeps up with the changing digital age. We can give you the edge over the competitors who fail to embrace the changing trends or are just doing the bare minimum to get by. Contact us today, and show us what we have done for other practices across the country!