Medical Website Design Company PatientGain
There is no advertising and engagement medium, past or present, that compares to an excellent conversion website with an excellent SEO.
Website itself is just one of the important factors for your online success. There are many other important factors. For example, SEO, content, security, HIPAA compliance, A/B Testing and conversion of the website, among others.
Question: How much should you pay for professional medical website setup?
Answer: $3000 to $10000 one time setup.
This depends on your requirements and size of your practice, content, apps, intelligence and many other requirements, like branding.
With PatientGain.com's GOLD solutions, your clinic gets a responsive medical website designed for patient conversion, worth over $3000 to $10000 in value, at no additional cost. PatientGain.com is a medical marketing and software company and we understand that there is a science to acquiring new patients and keeping them. Website is the visual piece of the puzzle, and there are more than 20 additional parts to the puzzle. However a practice/clinic owner or operator may only view "Website" there are multiple additional technologies that must work before a website can successfully deliver new patients.
Before hiring a medical website design company, ask these 11 Questions
In addition to a very successful and efficient medical website design for your practice, you would need to focus on 6 pillars of medical marketing
Key question to ask yourself: What is the ultimate goal of your medical website?
A medical website is the cornerstone of any medical marketing plan. To get the most out of a medical website, an owner needs to establish goals for the website to achieve. Without listing goals, the website and its design will lack direction and may not produce the best results for a business. There are six goals that a medical website needs to achieve for a medical practice to succeed and grow. The experts at PatientGain.com can help a website meet these goals!
1. Build the brand of your medical practice
The branding of a medical practice is an essential component of a medical marketing plan. A brand is generally considered to include the colors, logos, slogan, font, pictures, style, and voice of a medical practice. Staying on brand means that all marketing materials need to be consistent with brand standards. For example, the colors and fonts used in direct mail marketing mailers are the same colors and fonts used inside a medical practice's office. The branding standards established by a medical practice also need to apply to the website.
A website will be used to build the brand of a medical practice because that is a marketing property that practically all current and potential patients will visit. Branding needs to be applied consistently here as this will be frequently visited by patients. Inconsistent branding will not make a medical practice look very professional. Consistent branding also must be applied to any marketing campaigns that send people to the website. If a website is wildly different from the marketing campaign in terms of tone, colors, or logo, they may think they visited the wrong website.
Finally, medical practice owners should not shy away from updating a brand from time to time. Even major corporations and national companies will refresh their branding from time to time. They will update the font, choose a different shade of their brand colors, or even change their slogan. You may have even noticed fast-food restaurants updating their branding over the last few years online and inside stores. Updating a business's brand can help give it a newer, fresher look and not look dated. When a medical practice updates its brand, it should update everything, including the website. Changing everything associated with a medical practice at once is probably impossible. However, a website should be updated first. Sending out a postcard in the mail with slick updated branding only to send people to an outdated website will not help convert site visitors into patients.
2. Attract more new patients
Attracting more patients is done with an effective medical marketing plan. A website, as mentioned in the first sentence, is vital to that goal. The first step is getting patients to the website by appearing in search results. The most effective way to appear in organic search results is effective search engine optimization and content marketing. For search engine optimization (SEO), a medical practice needs to develop a list of target keywords. These will be the words that potential patients are typing into search engines to find healthcare solutions provided at that practice. Keywords should include both short-tail keywords and long-tail keywords. Short-tail keywords are three words or less and cover broad topics. Long-tail keywords are four words or more and focus on narrower topics. Short-tail keywords generally get more traffic but lower conversions, while long-tail keywords are the opposite. Keywords need to be spread out throughout a website on their relevant pages. Heavy-handed use of keywords will not be effective and could lead to penalties from search engines in organic rankings.
Content marketing works by helping a website look more authoritative and relevant in the eyes of search engines. Search engines like websites that are kept up to date and have unique, engaging, and informative content for users to consume. Effective content marketing is when a website is continually updating throughout the year. Content is added, refined, expanded, or updated gradually. If the content is already great, a medical practice will often add a blog to its site. When blogging, avoid committing to a weekly post at first, or you will struggle to find 52 different things to talk about throughout the year. Try a monthly blog first!
Finally, when someone does finally get to a medical website, it needs to keep them there. Studies show that websites only have a few seconds to catch someone's attention. An effective home page or landing page with a call to action and information that someone needs can keep that person on a website. Another factor in getting someone's attention is the load speed of a website. It needs to load as quickly as possible, so avoid big pictures or videos loading directly to a site. For every second it takes for a website to load, more people click on the back button and go back to search results.  
3. Serve existing patients 
As important as a website is for new and potential patients, it is also essential to have an effective website for current patients. Online patient engagement should be a goal of a website in order to serve existing patients. The website needs to be easy to navigate for patients returning for other services or exploring other future services. However, a website should not just be a static property that only hosts information; it needs to engage with website visitors.
A medical engagement chatbot is an excellent way for a website to actively engage with existing patients to help them find what they need. A chatbot is a program embedded into a website that allows visitors to find information, answer questions, or accomplish tasks. A chatbot can only answer the questions that are programmed into it by a medical practice. The best way to create a list of questions is to ask the staff what the most common questions and tasks they help patients with on the phone or through another messaging system. Having these questions and tasks loaded will help some patients find what they were looking for without emailing or calling a practice. It saves the front desk time, and a chatbot is available every day of the year, 24 hours a day. It does not take days off or needs a vacation. It is always standing by, ready to help. For any question or task it can not assist with, it can take a secure message and forward it to a staff member who will follow up later.  
4. Help your medical practice with more referrals
Referrals from other physicians are a great source of new patients and revenue. As impressive as a medical practice may be, there are likely some areas they are not experts in, so patients will need to be referred elsewhere. The same is valid with other medical practices that need to refer their patients to another location. Other medical practices may also not be accepting new patients and need to send inquiries to a reliable doctor who will take good care of them. Creating a referral relationship with other physicians takes some legwork, but it can be a valuable partnership.
Once the relationship is established, a medical practice should make it easy for other physicians to refer patients. In the past, this would involve their staff laboriously making copies of a medical record to then mail, give to a patient to hand over, or drive it over themselves to give to another office. From there, a medical practice would then have to create their file or type in the information into their system. As you may have guessed, this was time intensive and not very user-friendly from a staff perspective. A website can make referrals easy! The easier it is for another physician's staff to make referrals, the more referrals a medical practice will get.
Using a medical practice's website as a portal to send medical records is a great use of it. Of course, the website needs to have HTTPS security so that all data is encoded when uploaded to the site. Once uploaded, this data needs to be stored on a HIPAA-compliant server. From there, staff can look at the records and electronically upload them to their patient management systems. Ideally, this should also cut down on paperwork a patient has to fill out when they arrive, which is often a source of annoyance. Referral patients needed to be treated with extra special care. A bad experience will likely cause them not to return and could sour the relationship between medical practices, causing referrals to dry up. 
5. Provide useful healthcare information to your local community
A website for a medical practice should also allow the local community to use it as a resource for healthcare information. Not only will there be pages on a site about the treatments available, but there should be information about the ailments and illnesses being treated. Some people may not recognize the symptoms of a medical issue. Educating a target audience on what they should look for and when to come to a medical practice for treatment will make it an effective medical website. Ideally, when potential patients are typing in symptoms into a search engine in an area near the medical practice, effective SEO and content marketing should have that website appear in the results.
Websites are also a source of information during health crises. During the COVID-19 outbreak, the websites of medical practices were sources of information for their communities. While they were not doing research into the virus, they often wrote summaries of what people could do to keep themselves safe and gave links for more information. They served as a good filter for all of the misinformation on the internet and gave their community reliable links and resources they could use. The ability to update a website quickly with valuable, engaging, and relevant information is very important. Search engines also like to see these updates and will boost the organic rankings of these sites.  
6. Assist your staff with patient interactions from the online medium
Another goal a website should have is providing the ability for patients to communicate with a medical practice in a secure, HIPAA-compliant way. One way to do this is to have a contact form embedded into the website. From here, a patient can fill in their contact information and then send a message to a medical practice for staff to handle. This messaging system needs to be HIPAA compliant. All data needs to be sent via a secure connection and then arrive and be stored on secured servers to meet this requirement. Access to these messages needs to be limited, tracked, and auditable. A medical practice is responsible for every bit of data they receive through their website. While a medical practice may not ask for personal health information from a website visitor, they are responsible for it if it gets sent to them regardless. From a dashboard, staff members can then respond to messages one by one.
A popular and newer way patients can interact with a medical practice is through texting. From their phones, they can text a medical practice or text through the website. Much like contact forms, these messages go to a dashboard for review. They do not go to a cell phone sitting on the desk of a doctor or receptionist, as that would not be HIPAA compliant. These messages go on the dashboard and again can be handled by staff members who can text back to patients through the dashboard. This is a very popular communication method as it allows people to send messages without calling or trying to use the website to send a message. Contact forms may not be user-friendly depending on the size, model, and internet service a phone has available. Texting is much more user-friendly and something many people are familiar with, if not experts, by now.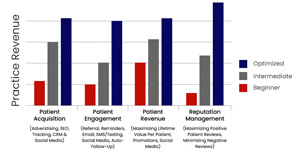 Not all websites are built equal. If your clinic's website doesn't utilize software intelligence, or effective patient conversion strategies, your patient acquisition is going to suffer. Through working with hundreds of healthcare providers across the country, PatientGain.com has learned that patient acquisition and retention for doctors and clinics requires much more than a flat website and a social media page. Doctors and practices across the US have boosted their patient generation and created lasting patient relationships with PatientGain.com's Healthcare Platform. By integrating your practice's website and marketing strategy with intelligent software, you're able to improve your results while also spending less time running these activities.
With PatientGain.com's Healthcare platform, your practice puts intelligence and software automation behind its website. Empower your practice with powerful Apps, so you can increase patient recalls, prevent broken appointments, effectively communicate health advisories, and improve your patients' wellness and compliance.
PatientGain.com's solutions have been used by clinics and doctors all over the U.S. to increase their patient acquisition, improve their communication with patients, and boost their clinic's growth. Our software platform has proven results, and we're proud to show how PatientGain.com has optimized our customer's online strategies.