Medical Content Marketing for Doctors and Medical Practices. Cost $999/mon.
Medical and dental practices need fresh content for compete in 2023. Healthcare marketing platform from PatientGain.com creates new content for your practice to send out each month, sets up your social media campaigns, and automates your email and content marketing strategies. Higher quality content, focused on providing useful information to the reader also results in higher conversion. Fresh content also improves your medical SEO.
Many providers and clinic owners have trouble keeping their patients engaged with their clinics, and as a result they struggle with their patient retention.  Clinics that utilize content marketing to keep in touch with patients are able to both increase the number of times that patients come to their clinic, and increase the long term value of that patient.  Keeping in touch with your past patients, or prospective patients, normally requires a lot of time and effort in outreach from your staff, but with PatientGain.com your patient engagement has never been easier. Human content writing VS AI (Artificial Intelligence) content writing for medical practices, which one is better? Read more about medical SEO blogs and see real data.
Content of your medical or dental website should never be plagiarized or copied from another website. it should be written for your website only. Example of website content copied from another website. Avoid this.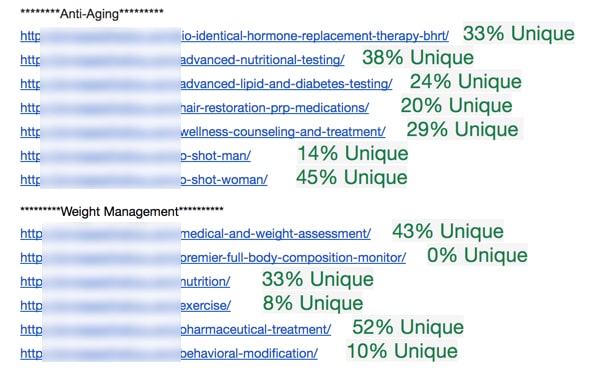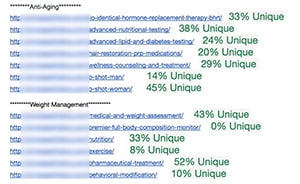 There are 2 basic rules:
A. Content should be relevant to to the patient's expectation. If you do not have good relevant content on a website page, the patient will leave the page, and you have high "bounce" rates, and lower conversion.
B. Content should never be plagiarized, and it should promote these important areas:
1. Your business, practice name, location, address, brand
2. Your services, for example, if you offer ketamine for depression, mention how it helps patients, are there any side effects, how many treatments are typical, who is an ideal patient etc.
3. Your providers. Start with your own bio, mention your schools, credentials, degrees. Any associations and charity work? mention it. Then do the same for every provider.
4. KISS approach. Keep it simple. Your patients did not go to medical school with you. In other words, you will want to write using words they can understand and comprehend. The average American patient reads at a 7th to 12th grade level, meaning do not write overly complex english terms. Writing using terms and everyday language your community understands while mixing in medical terms for SEO purposes is generally the best way to create content. Striking the right balance will allow you to look authoritative but also not talk over their heads. You want your medical practice's website to have a conversation with a potential patient, not lecture them about a health topic.
5. Content should be written as you are speaking to the patient. Focus of the content should be to provide useful information for a patient AND it should also mention and softly "sell" benefits.
6. To get good SEO value out of your content, you should aim to have it be between 500 and 1,000 words. If you write content that is longer than 1,000 words, be sure to organize it. Have your information organized into sections with specific themes, much like what you are currently reading. If your content is under 500 words, provide links to additional resources so potential patients can do further research.
No matter what type of content you're creating, the goal is to provide relevance and value for your reader.
Your readers are 1) potential patients and clients 2) existing patients and clients 3) suppliers to your practice 4) other providers who may refer you to patients.
The top content marketing goals for healthcare organizations are 1) brand awareness 2) engagement 3) patient acquisition and 4) patient loyalty.
Content marketing is a great tactic to use in combination with SEO (Search Engine Optimization).
Content for SEO main focus is improving the rankings for specific keywords for Google search – This content has to be unique and cannot be copied or plagiarized. We go through the content and make sure it is at least 96% unique. Content pages are added to search engine algorithms.
Content for blog posts – main focus is engagement based on specific healthcare, medical, dental services and treatments you offer. Content does not have to be unique, pages are hidden from search engine algorithms.
Content for social media posts – main focus is social media engagement based on specific healthcare, medical, dental services and treatments you offer. Post content does not have to be unique, and can be reused. Social media content is generally low-quality and search engines pay very little attention, except to 1) reviews on social pages 2) business address. 3) business location pages 4) provider pages on social media, like LinkedIn
Content should target patients and search engines. They are both equally important. Learn more about medical SEO and dental SEO, how it impacts your healthcare practice


Example 1: Very effective visual content for a treatment offered by a wellness practice: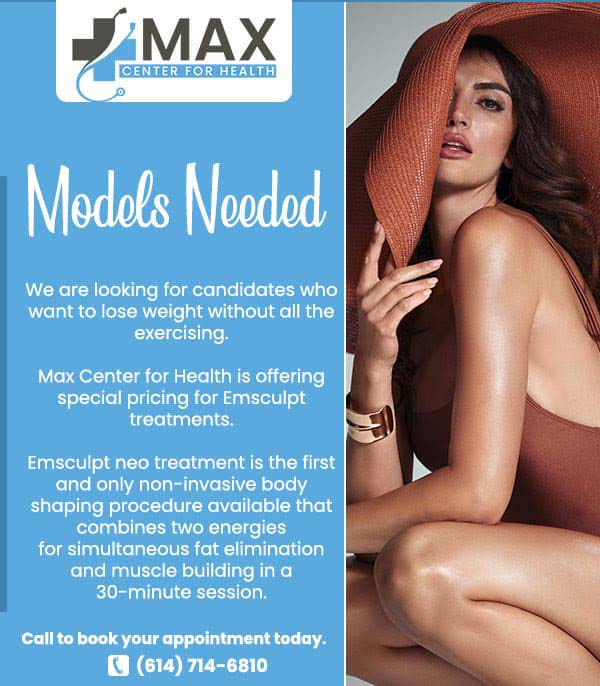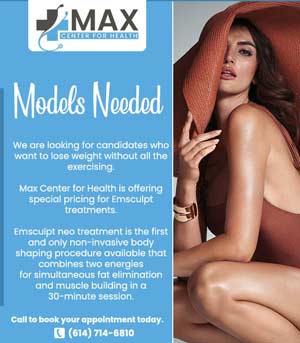 Example 2: Very effective visual content for a treatment offered by a primary care practice: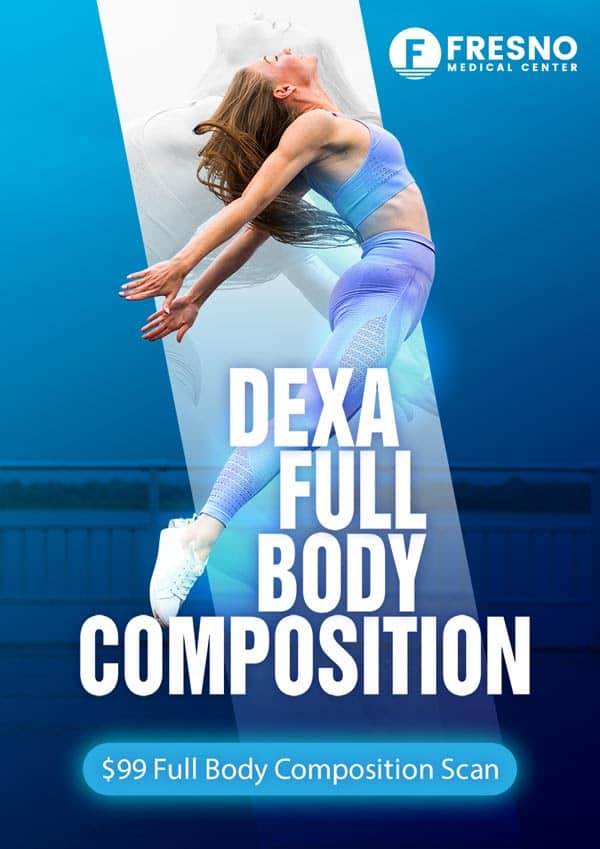 Example 3: Very effective SEO content for a treatment offered by a pain management practice in Houston TX: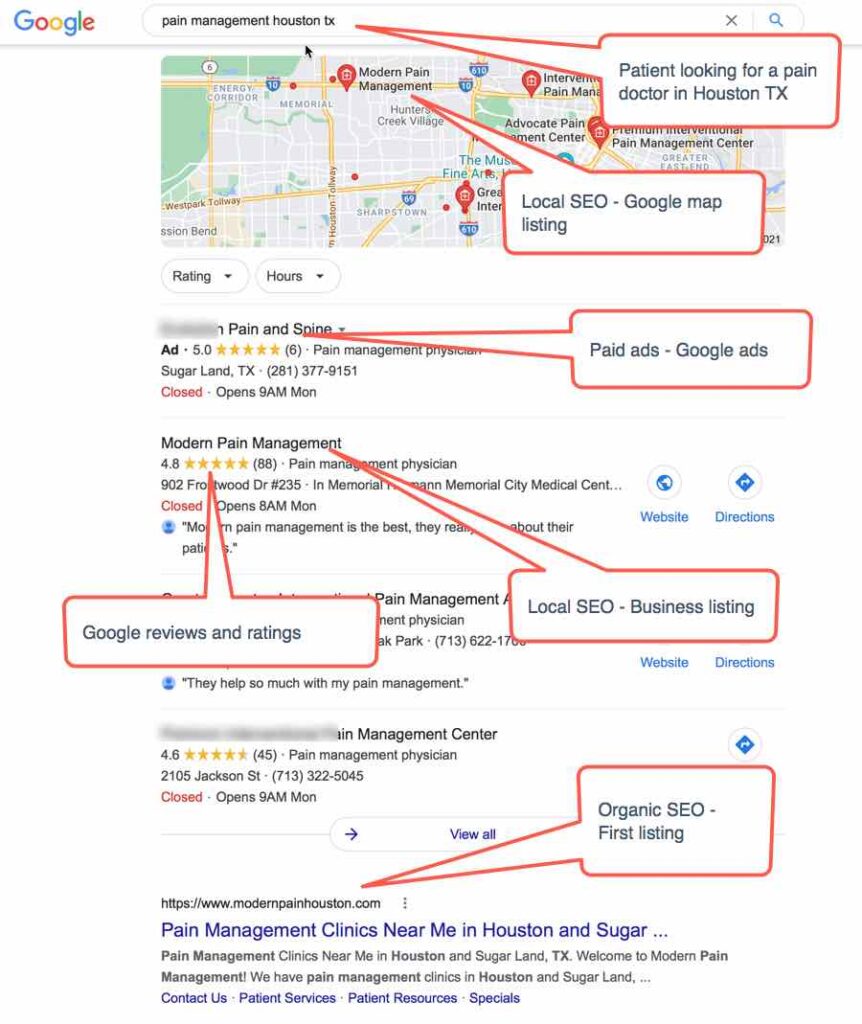 Example 4: High quality content results in higher SEO rankings and higher conversion rates.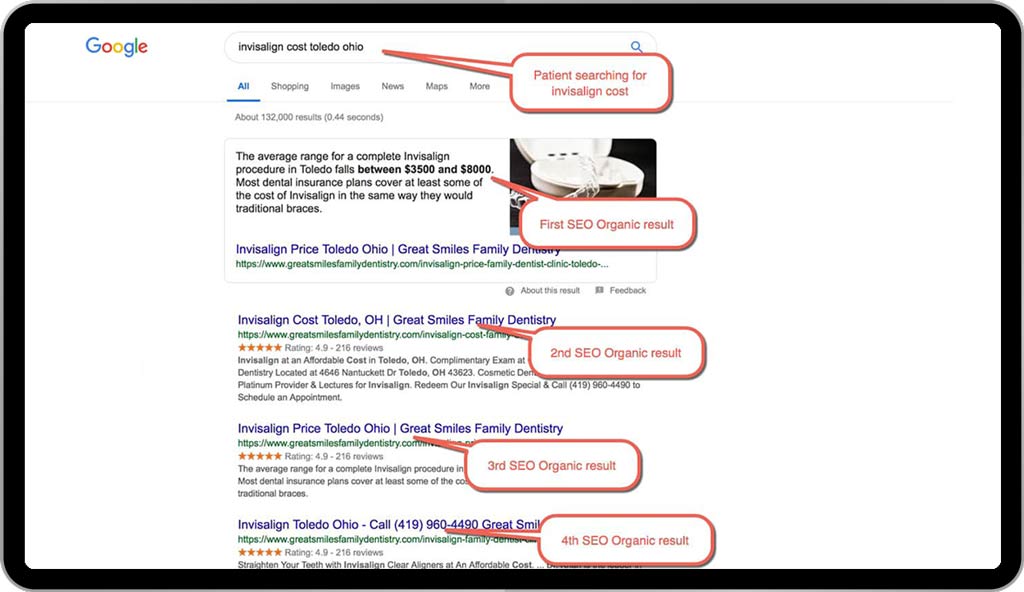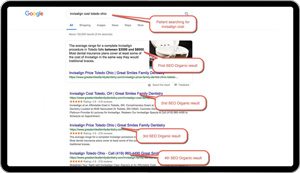 Example 5: High quality content engages a patient and answers their questions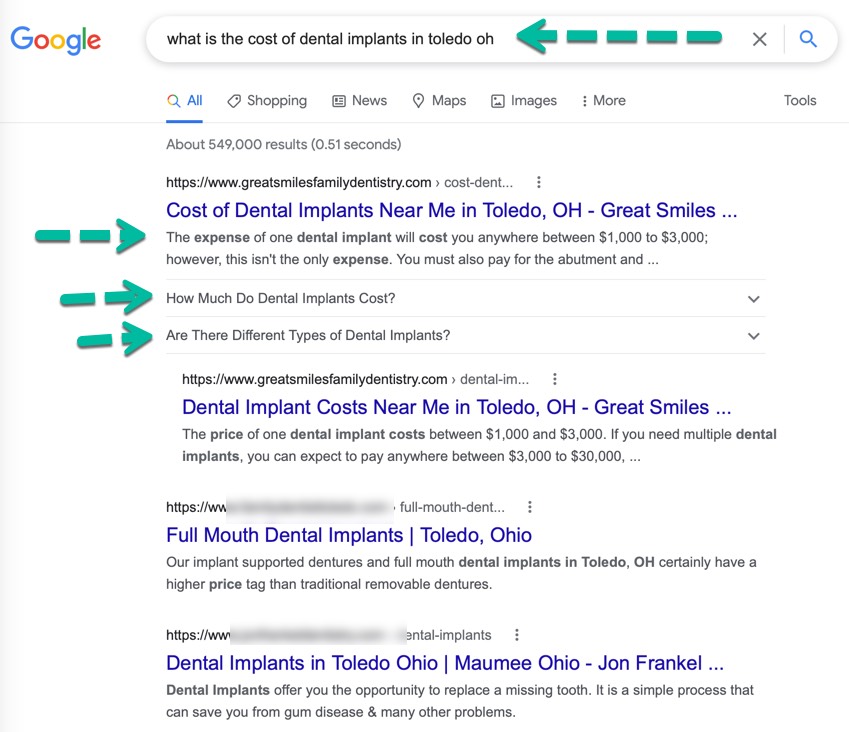 What Is Medical Marketing Content & Why Is It Important?
1) Text, words and sentences – useful information for the reader.
2) Images with relevant tags and links
3) Videos, diagrams, and other visual aids that support the main headings, sub headings and actual paragraph text.
This information is consumed by your prospect and existing patients in the form of Website pages, Blogs, Facebook Posts, Email Newsletters, Images on Instagram, Feeds on Twitter, SMS text messages on mobile devices. Hence your medical marketing content should be interesting, attractive, useful, and provide value to your prospect patient or an existing patient. Unique quality content on your own website is the single most important factor for higher SEO rankings for doctors and medical practices.
PatientGain.com platform contains 6 different apps and services that help you with content marketing.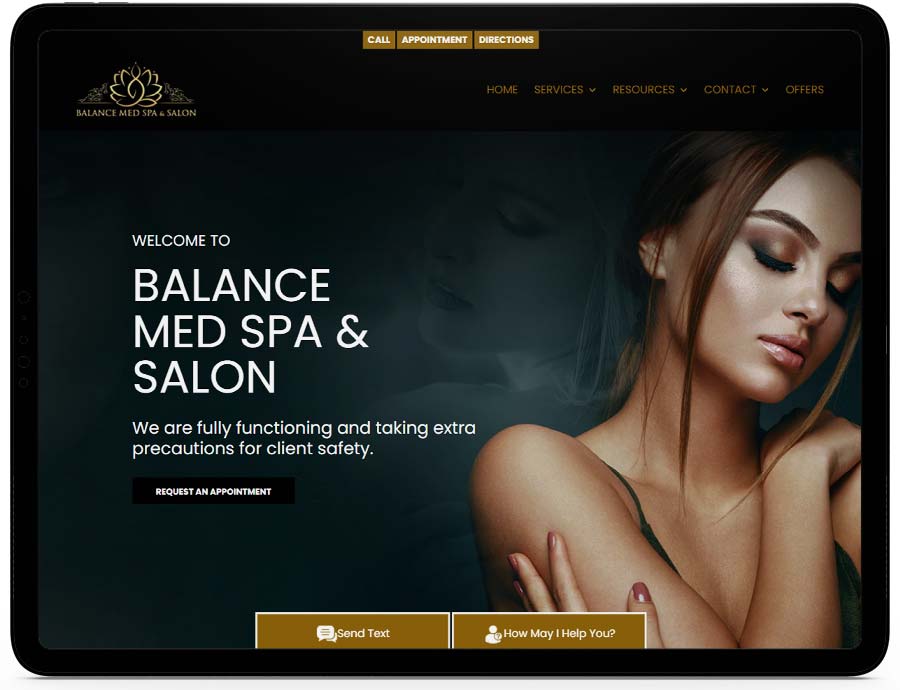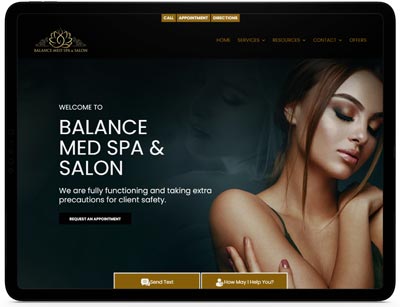 Start with End in mind. In the Heading 1- use the Main Specific Keyword as the main anchor key word.
Heading 2 should have supporting information related to the Main Specific Keyword
Start with a short paragraph. Address the reader with "you" active words. Relate to the reader. Get the reader's attention.
Use an image or video next. If you use a video, keep it short and to the point. make sure video is embedded and does not take the user away from the page.
Rest of the page should have examples and testimonials mixed with pictures and additional useful and supporting information related to Main Specific Keyword
Call to action can be anywhere on your page. A contact form or link to a take a specific action is an excellent strategy.
Why A.C.L. Strategy for Your Medical Marketing Website?
Every page on your website should be created with A.C.L. Strategy. (Attention, Care, Love.)
Attention : Does the page gets the patient's Attention? If a patient is looking for "DOT Physical Exams" do you have useful information on your page?
Care : Does the page provide useful information for the Search Engines? Carefully crafted page has 18 important factors. Search engines love pages with unique, quality content – content must have high relevancy score.
Love : Is the page written with LOVE and focus – to provide useful information for the reader? Does it have quality text, relevant pictures, beautiful branded images and links to useful videos?
SEO for Medical Practices Using Unique Content
Adding unique quality content to your website with proper headings and tags is very important. In this figure below – you can see that each page of a website is audited by PatientGain.com's staff and software to provide rankings for unique content. This step is setting up a new website is crucial to achieving excellent rankings. Anything less than 96% unique should be rejected.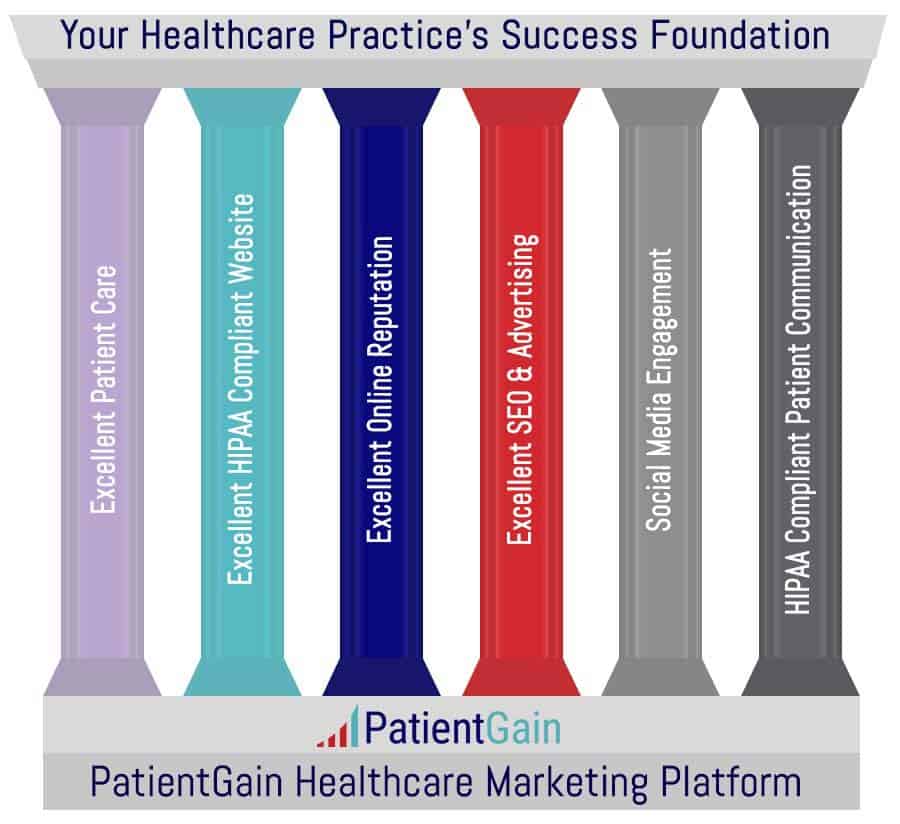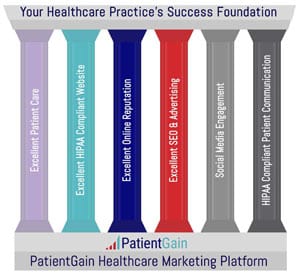 Content Marketing for Doctors & Medical Practices
Medical Marketing Platform from PatientGain.com creates new content for your clinic to send out each month, sets up your social media campaigns, and automates your email and content marketing strategies.