Fast Loading Medical & Dental Websites = More Patients
Website design of your medical practice is very important. No less is how quickly your website loads.
Example and metrics for a fast loading website on a mobile device. Speed index is 2.5 seconds, first contentful paint is 1.3 seconds and largest contentful paint is 1.8 seconds. This website uses WordPress version from PatientGain and have dozens of best practices and optimizations built into it.

Why you need fast loading healthcare website?
Pages that loaded in less than 3 seconds had a highest conversion rate, top tier. We measured mobile patients only, as majority of the patients visit your medical and dental websites from a iPhone or Android phone.
Pages that load in 3.1 to 4.0 seconds conversion rate dropped by 6 % from the top tier
Pages that load in 4.1 to 5.0 seconds conversion rate dropped by 19 % from the top tier
Pages that load in 5.1 to 6.0 seconds conversion rate dropped by 34 % from the top tier
Pages that load in 6.1 to 9.0 seconds conversion rate dropped by 61 % from the top tier
Pages that load in 9.1 to 12.0 seconds conversion rate dropped by 84 % from the top tier
More than 12 seconds, we did not calculate
For example, this site loads in 11 to 12 seconds on a mobile device. Hence the conversion, user experience and SEO will not be good. So even if you are driving a lot of traffic from your Google ads, Facebook, Instagram, TikToc ads to this type of website, you will still have sub-optimal results.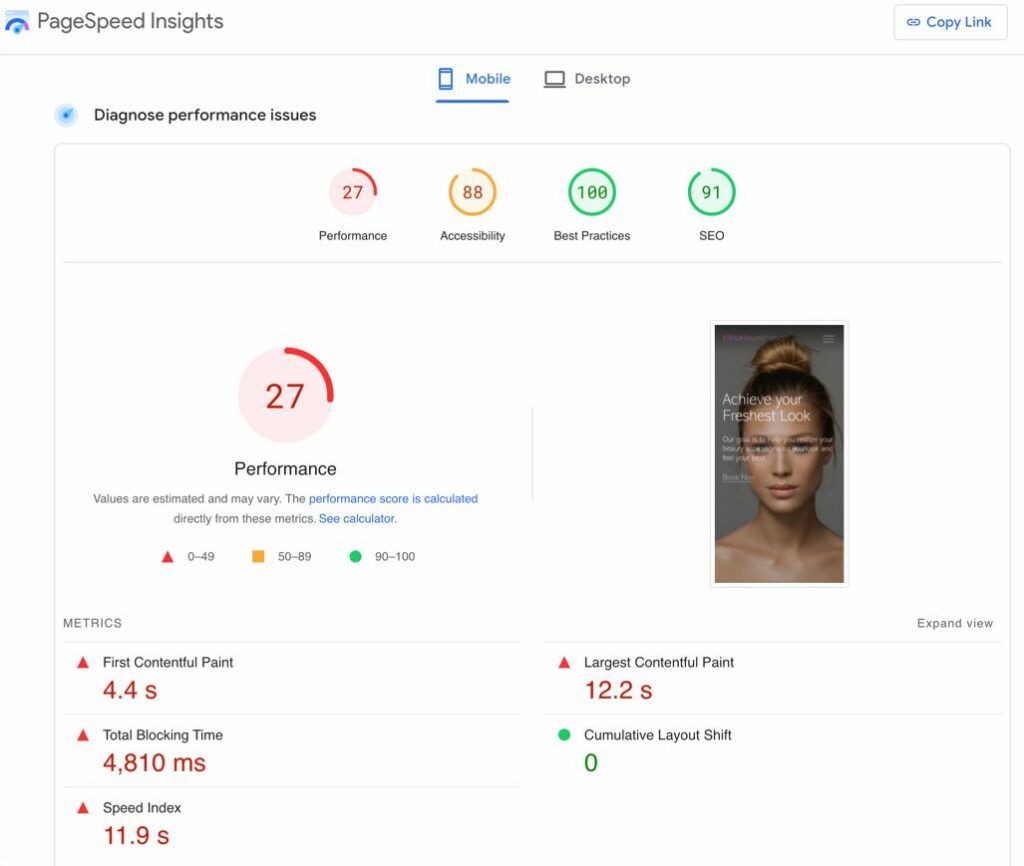 Here is an example of a fast loading and high performing website: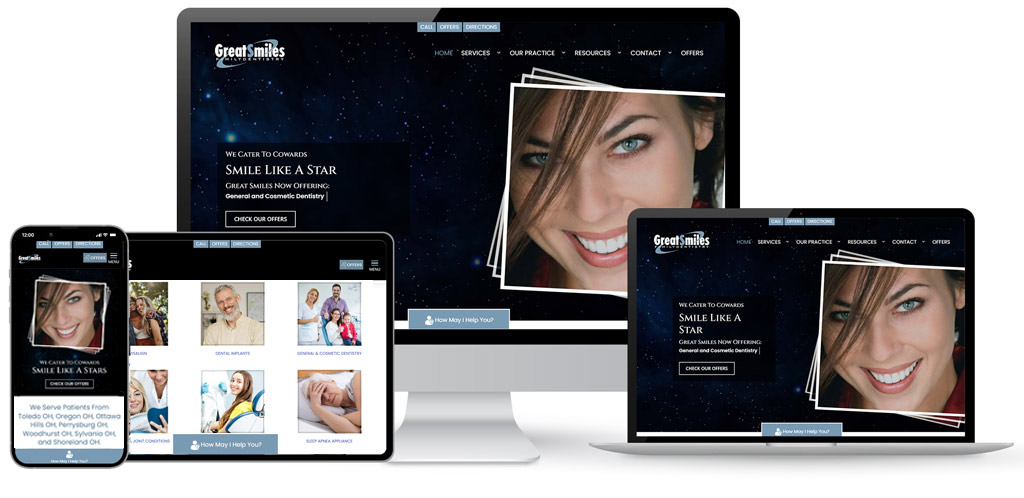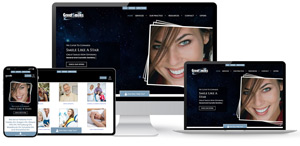 This is a common question asked by doctors and medical practice managers: How do I make my website load faster?
First, Why would you want to have a fast loading website for your medical practice? There are 2 main reasons.
User experience. 82 percent of patients who visit your medical website do it from a mobile device. This data is from the US and Canada only. If your website takes too long to load, they will not wait. Our conversion data shows that you have 14 to 15 seconds for a potential to take an action on your website and "engage". So a mobile website must load in the first 3 seconds.
Google's SEO algorithms now read your mobile site first. So your mobile version of the website is actually more important than the full desktop version. Even if you use responsive design, behind the scenes the algorithm of the responsive design template takes care of the details. Basically in the code of the template of your responsive design there are 3 main versions of your website. 1. Desktop version 2. iPad version 3. Mobile version. Depending on the type of device used by the patient, the information is displayed differently. Even within each device, there is different code executed. For example iPhone SE (latest version) has a 4.7 inch screen and iPhone Pro is bigger – and so on. Each size has its own display issues and preferences. This is handled by the code of the responsive design. And this is where opportunity lies to make your mobile websites faster. For example we highly recommend having images smaller than 30K size for mobile devices. Large images take a longer time to load and make your website slower.
Your mobile website should load fast.
The google tool to measure your website performance is :
https://web.dev/measure/
Enter your website URL, and run it multiple times (for example 4 to 6 times), spread out during several minutes.
Then take the average.
All of the four areas should be in green.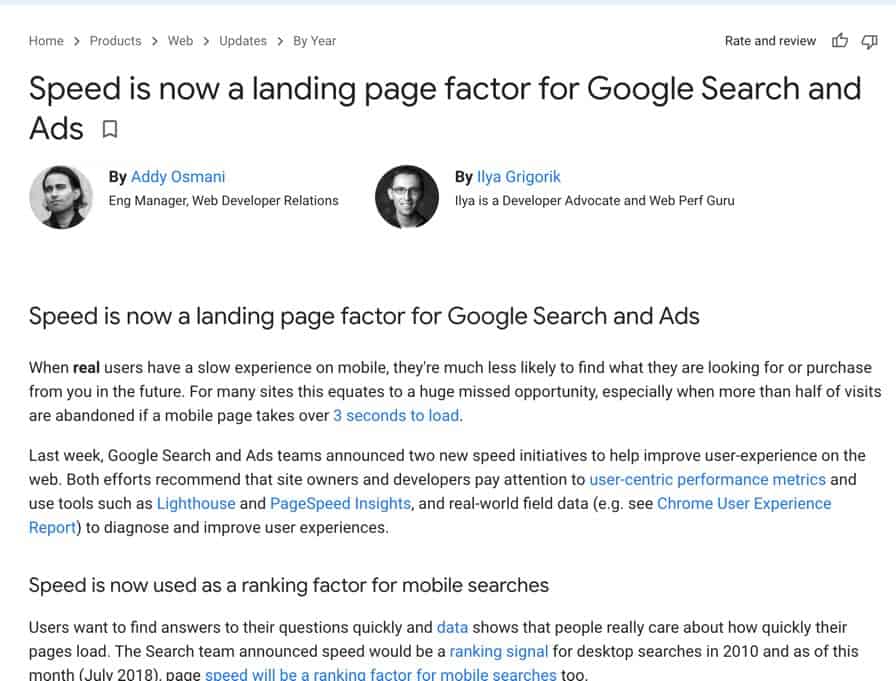 Example of improvements using PatientGain
Before switching over to PatientGain GOLD service.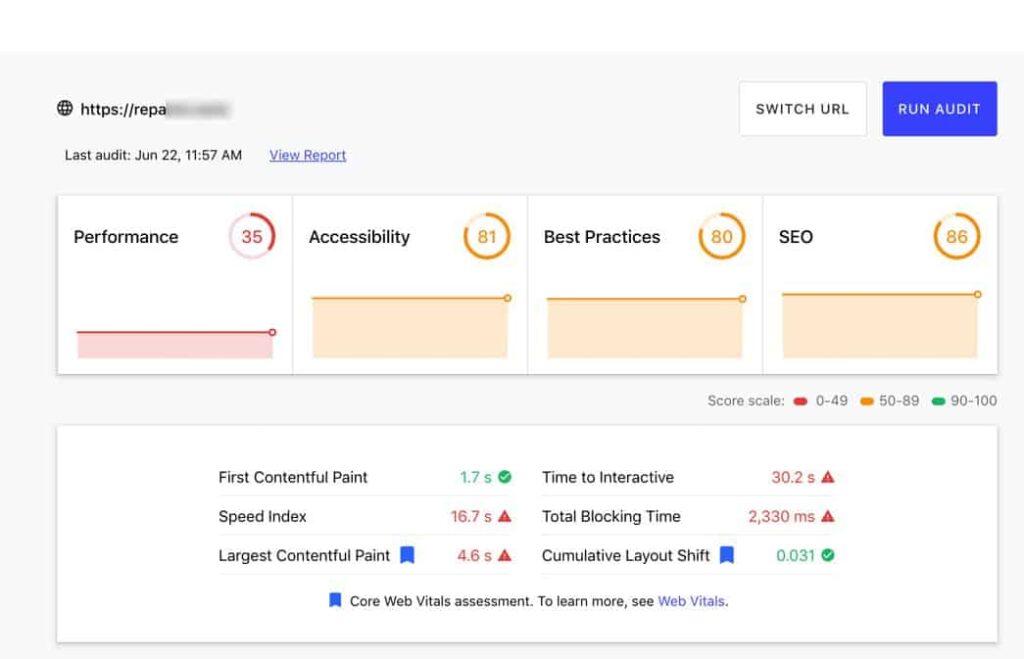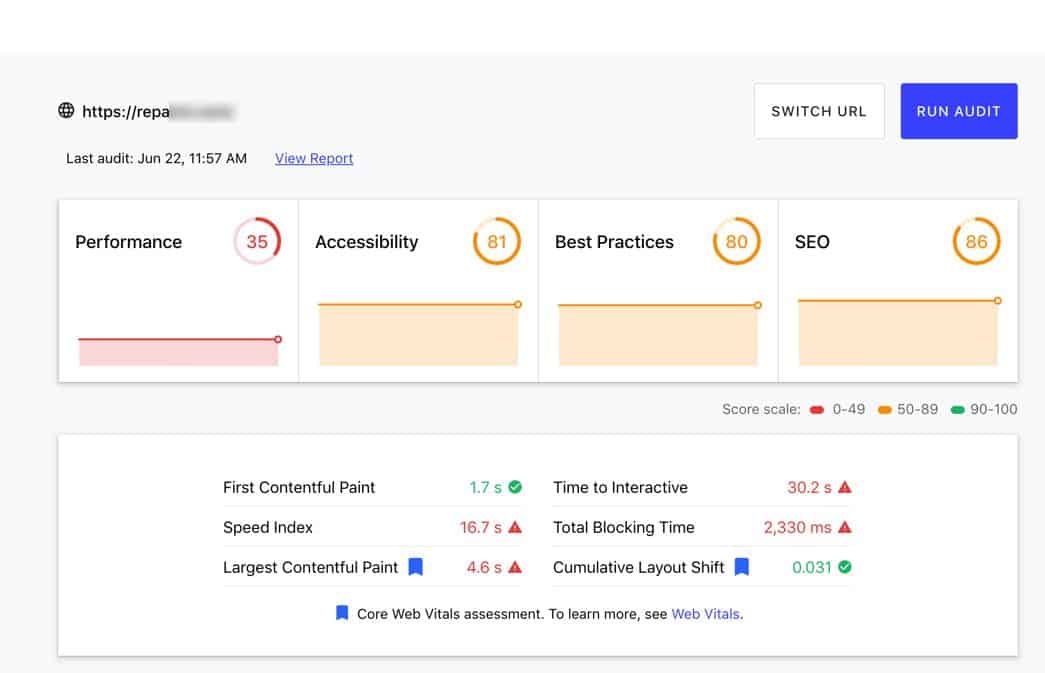 After switching over to PatientGain GOLD service.
When you run tests on https://web.dev/measure/ , enter your website URL, and run it 4-6 times. Then take an average. Remember that this is a tool provided by Google, as a simulator that is close to what Google's actual search algorithms' see. So our view is that it is a very good way of evaluating a website.

PatientGain highly recommends medical websites on WordPress. Fast loading medical site included in GOLD service . In 2022, WordPress now powers more than 41% of all websites.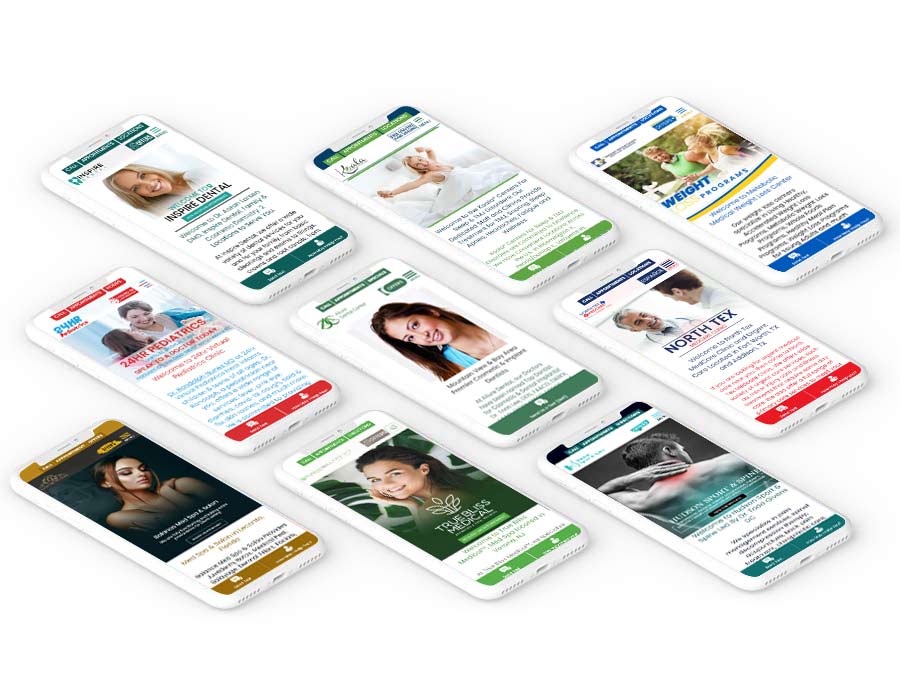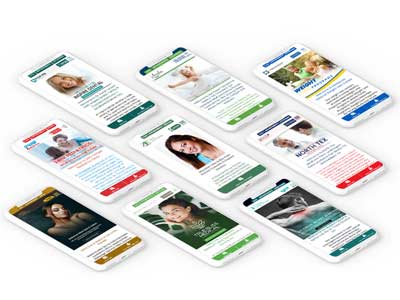 What makes fast loading websites?
13 Steps to make your medical website fast.
Software version: If you use WordPress – start with latest stable version of WordPress
Template: Use lightweight template. The more fancy the template, more likely it has complex code, and hence your pages will load slowly
Hosting Network: Extremely fast network, Example: Google Premium Network. Avoid using cheap hosting services. Use specialized hosting service.
Protocol: HTTP/2, QUIC, HTTP/3
Server: Very fast servers, Litespeed Enterprise, Google Cloud Platform (GCP). Google Cloud's compute-optimized C2 VMs. These are some of the fastest servers.
PHP: Fast PHP processing, PHP LSAPI ProcessGroup
CDN: Fast CDN, Example: Google Cloud CDN
DNS: Fast DNS providers, Example: Google Cloud DNS
Scalability: As you receive more traffic, the system should scale
Disk: SSD – A solid-state drive (SSD) is a newer, faster type of device that stores data on instantly-accessible memory chips
CPU: Google Cloud N2 instances (Example)
Round trips : This is also very important (Template should not make unnecessary round trips). PatientGain's team tests multiple WordPress templates and we select fast loading templates.
Optimized Images: Use smaller images for mobile sites – WordPress offers this setting. Google also reads your mobile site first for SEO rankings. Google also measures how fast your mobile site loads.
Read more about HIPAA compliant WordPress websites for doctors.
Read more about examples of WordPress websites for doctors.
PatientGain.com is a proven healthcare marketing solution, includes apps, websites, SEO, HIPAA compliance and account management.
Example 1: Bad Example of a Slow Loading Website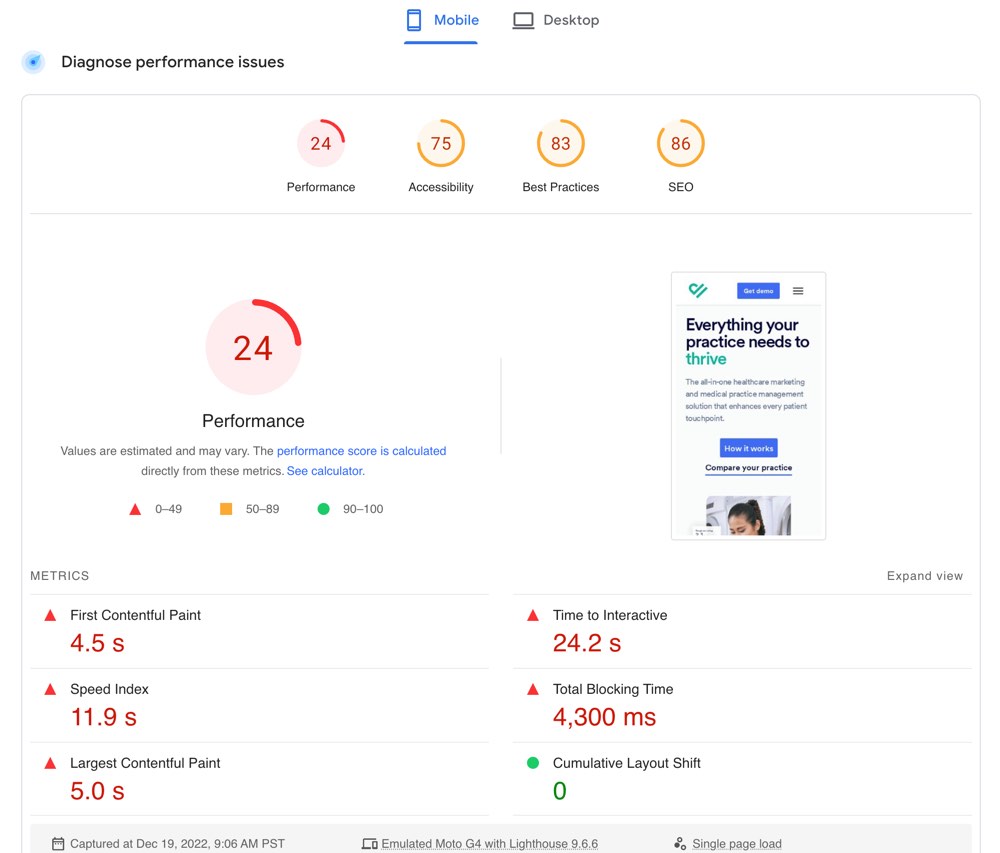 The GOLD service from PatientGain is used by telemedicine physicians, dentists, surgeons, pediatrics, medical spas, pain management, functional medicine, primary & urgent care, cardiologists, podiatrists, addiction medicine, regenerative, wellness, therapy, OBGYN, integrative medicine, dentists, dermatologists, IVF & reproductive, pharma, bio-tech & many other medical practices.