Medical Lead Management CRM – HIPAA Compliant
PatientGain.com has a variety of specialized apps that can be used to capture and manage the leads from your medical website, and with HIPAA compliance. As a medical or dental practice, your objective is to improve your patient acquisition and reduce the cost of each new patient acquisition. PatientGain's apps allow you to capture, track and manage 100% of the inquiries and leads. Comprehensive marketing platform PLATINUM service streamlines all steps to acquire and retain patients for your medical and dental practice.
Leads Management App for Doctors and Dentist included in GOLD and PLATINUM service


PatientGain's Leads funnel app provide complete all in one solution to manage your prospect client and patient's data from one single place. With advanced features like leads category, ability to assign leads to different users and much more, leads funnel app makes it easier for users to keep track of the new incoming leads and also the past leads. Easily text and Email them. Send a payment link, and more.
Lead management medical CRM is included and integrated with social media, websites, Email and Texting/SMS.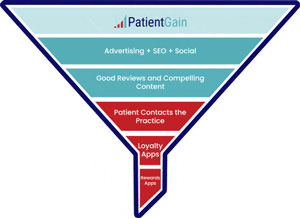 If you run a medical practice, you can not just sit back and hope people walk in through your front door. So you need to start a marketing plan and then suddenly you'll be inundated with patients? Not exactly. Nearly 3/4th of marketing leads are wasted because the staff or doctors at a medical practice do not follow up with a patient who inquires them for their services. Why does this happen? It is because a medical practice does not have proper lead management and capture solution in place. PatientGain.com has a variety of apps that can capture information from leads and present them in an organized way on your dashboard. From there, you or your staff can follow up with them quickly so they can capture that lead and convert them into loyal, returning patients.
Medical Website Lead Management and Capture Apps
Most important question: Where do leads come from? Patients contact you using:
1) Phone (This is still the no 1 way patients contact you, so call tracking is indispensable)
2) Texting/SMS (Instant Messaging from your website, in the form of a text/SMS – No 2 way patients contact you)
3) ChatBot (Automated ChatBot should be HIPAA compliant and mobile optimized)
4) Appointment request (There are 4 different ways an appointment app can be configured to increase conversions)
5) Redeem or Click on Buy-Now promotion (Extremely important for self-pay options)
6) Contact form (This is a common way for a patient to send you a request from your website, but it must be HIPAA compliant)
7) Sign up for your monthly newsletter (Very effective to capture Emails)
Your website should make it very easy for your patients to contact you and ask questions. If you have a multi-channel engagement apps, you will receive more patient inquiries, hence more patients. Patients are then automatically added to a "Leads Funnel", which is a HIPAA compliant patient marketing database.
No 1. IntelliBot App from PatientGain
Is your front staff plagued to answer the same questions over and over again from patients? Our IntelliBot can provide quick answers to the most common questions so your team can concentrate on patients with greater need. We will work with you to develop a list of questions and answers that most patients end up calling in with and asking for answers. Our Intellibot will give immediate answers needed by potential patients, pushing them to make an appointment. If there is a question the bot can not answer, we will capture their information so you can quickly follow up with them!
No 2. Promotions App
Have a new service or a service that isn't being utilized by the community as much as you would like? Try giving it a push with our promotions app. It can be embedded onto your website and your Facebook Business Page to keep current and potential patients updated! One change from our dashboard will push changes to both the site and your social media channel. Make updates easier with the promotions app from PatientGain.com.
No 3. Sweepstakes App
Who doesn't love a good sweepstake? Retire the fishbowl where people put their business cards in or slips of paper with their names on it. Run sweepstakes through your website with this app. When people enter, we will capture their information securely so you can market to them after the sweepstake has ended—no more trying to figure out what someone wrote and then manually typing it into a database. If they want to win, they will have to give you the correct information!
No 4. Call Tracking App
Phone calls into your medical practice are one of the most fruitful ways to convert people into regular patients. Capturing leads from phone calls is going to be one of your top priorities when running your business. Instead of logging into the phone company's website day in and day out checking phone records, we can log and track your calls through the dashboard. We will be able to show you when they called, from what number, and how long they spoke with your staff. You can follow up with them later if you felt the phone call was too short to see if you can capture them as a regular patient. Our call tracking app also can track multiple numbers if you use different phone numbers for various campaigns. They will all be in one spot for you to monitor and follow up on in the dashboard.
No 5. Deal Conversion App
Are you offering a special deal on some of your services? Our Deal App will require them to submit some information before that deal becomes unlocked to them. This information will be securely stored in your dashboard to follow up with them later if they do not come in for any of your services. You can also use this app to judge how effective the deal you are offering is for your target audience. If no one signs up for a deal or signs up, but doesn't show up, it is time to reevaluate what you are offering.
No 6. Texting/SMS App
If your medical practice is especially busy, you or your staff may not have time to check PatientGain.com's dashboard for new messages. We can set up text alerts to be sent to specific members of your team who are tasked with following up with individual leads. Don't let hours or even days elapse after an inquiry has been placed. A quick text alert will let someone quickly acknowledge and engage with the marketing lead. Our alerts, which are HIPPA Compliant, will direct the staff member or doctors to check the dashboard for further information.
No 7. Online Appointments App
Gone are the days of calling to make an appointment. If you do not present your patients with an ability to create their appointments easily, you are a step behind your competitors. Our online appointment system captures all the vital data you need to be entered into your patient management system. We can create a secure, HIPAA Compliant connect to your system to upload patient data into your schedule. Our app will capture all the vital details you need for your staff to follow up if needed. Instead of flipping through a paper patient calendar trying to schedule patients, let us make the job of your front desk staff easier!
No .8 Survey App
Did your patient leave happy? Find out for sure by sending them a survey. Our powerful, yet simple to use survey app will give you feedback on how well your medical practice is doing. This follow up touchpoint with a patient shows them that you are concerned that they had the best experience possible. If it was negative, you can immediately follow up with them to try to correct any of the issues they had. If positive, you can prompt them to leave a review for you, further promoting your medical practice and improving your rankings online.
No .9 Live Chat App
Live chat is a powerful tool to capture leads and convert them into patients. Assuming you have the workforce to manage a live chat, you can provide personalized answers to patients who need assistance right away. Live Chat allows you to capture these leads immediately and go the extra mile to convert them into regular patients. If no one is available to chat with a patient, our app allows that person to leave their contact information so you can get in touch with them as soon as possible.
In order to run an effective medical practice, you need top-notch medical lead management and conversion. The apps available from PatientGain.com allows you to manage this vital aspect of your business. Call today and let us show you how these apps could work on your website and how others use them to generate business.