Intelligent Medical ChatBot For Doctors  & Dentists (Intelli*Doctor Medical Bot App)
PatientGain's Intelli*Doctor ChatBot App Costs $149 to $400 Per mon. For Medical Marketing. No Setup Costs. No Implementation Costs. Hundreds of Successful Customers. Used By Telemedicine Physicians, Surgeons, Pediatrics, MedSpas, Pain Management, Functional Medicine, Primary & Urgent Care, Cardiologists, Podiatrists, Addiction Medicine, Regenerative, Wellness, Therapy, OBGYN, Integrative Medicine, Dentists, Dermatologists, IVF & Reproductive, Pharma, Bio-Tech & Many Other Medical Practices.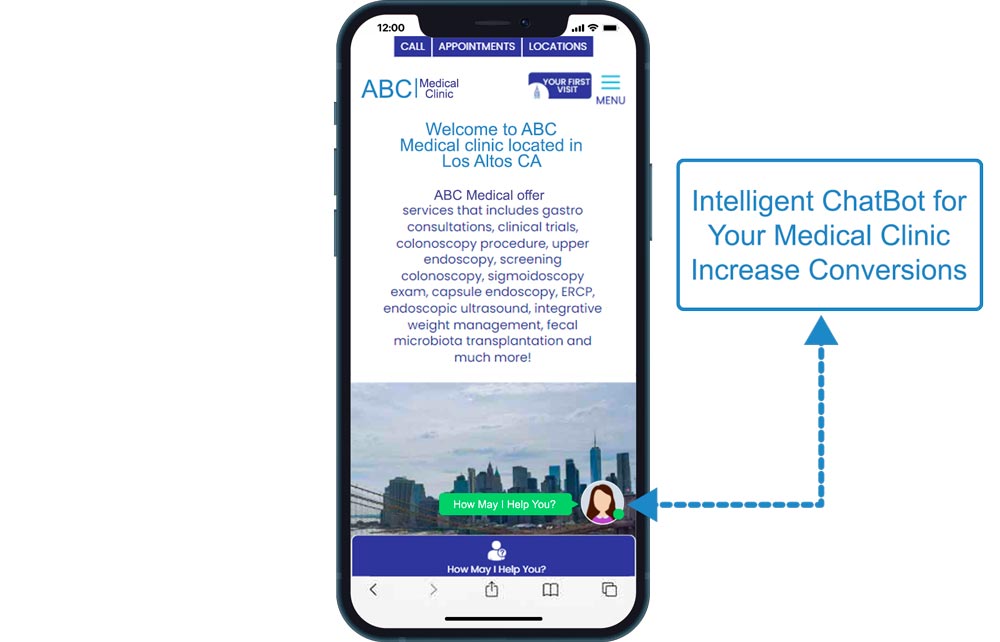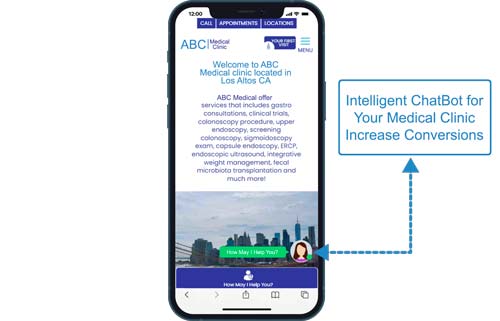 Generally in the medical industry there are 2 types of medical bot apps
1. Medical Marketing ChatBots
Designed to convert a visiting patient (on your website) to a paying patient. These are called Medical Marketing ChatBots. They are not designed to diagnose any specific medical conditions. They have 2 important roles.
A) A) Existing patients – direct them to specific information. Like how to reach the office after hours. Access to patient portal, insurance Q & A, services offered
B) New potential patient – as a potential patient lands on your website, you have 15 seconds to engage them. So the medical marketing ChatBot should "walk" the potential patient through specific questions and steps so they can eventually become your patient.
2. Medical Symptom ChatBots (Custom)
Health chatbots ask patients a series of questions – so the ChatBot can understand basic information, the condition of a patient – this is very much like the front desk staff in a clinic, who would ask 1) Do you have a fever?2) Are you in pain? Etc. So to understand their symptoms and then the ChatBot sends the data to doctor, who can provide diagnoses and prescribe medicine in real time. This type of software is complex, takes hundreds of thousands $$ to build. Then you have to test it, refine it and deploy it, and constantly change/update it. It also has legal ramifications.
Complete Medical Marketing Automation Solution (Intelli*Doctor FastTrack II)   $399/Mon
1. ChatBot apps are HIPAA compliant
2. ChatBot apps are integrated with conversion tracking software
3. ChatBot apps are integrated with HIPAA compliant CRM. This CRM saves all relevant information, and creates lists based on demographics, source and many other factors
4. ChatBot apps are integrated with Texting/SMS alerts app
5. ChatBot apps are integrated with Email Marketing
6. ChatBot apps are integrated with 2-Way patient communication app
7. Google, Facebook, Instagram advertising setup included. Actual advertising costs are extra.
Pricing Details
Single provider $149/mon – Single provider
Multiple providers from $199/mon – With Texting
Multiple providers from $399/mon – With CRM, Texting, Email marketing
Platforms from $499/mon – With CRM, Texting, Email marketing
What type of questions can be added into the ChatBot?
The medical marketing ChatBot is programmed to provide general information about your services, location, hours etc
No medical information is asked or provided.
Its designed to "collect" information from the patient and its gets added to the secure HIPAA compliant CRM portal.
PatientGain's Medical Marketing ChatBot App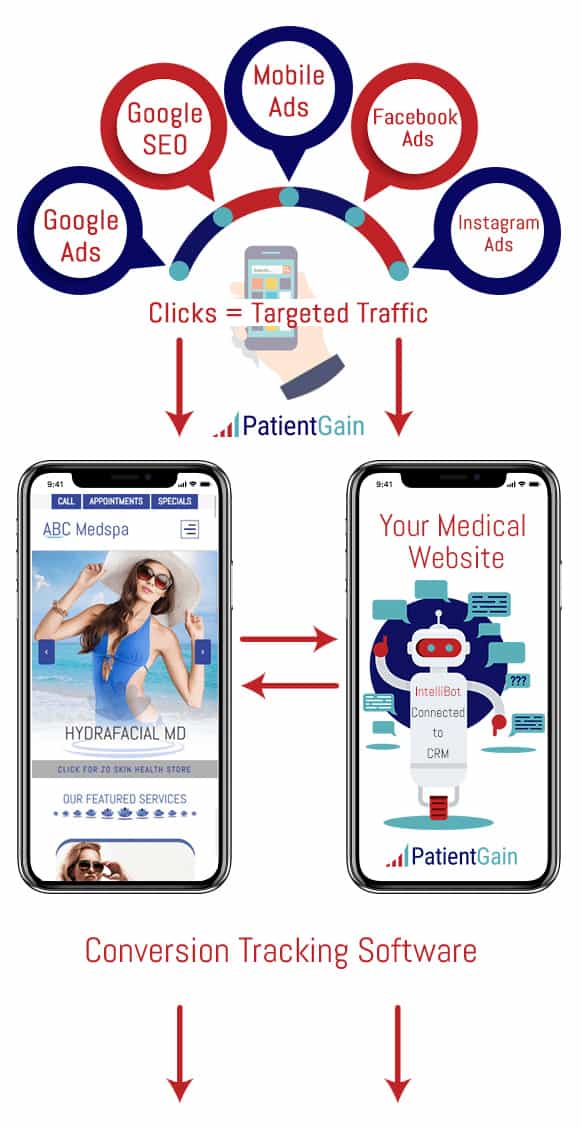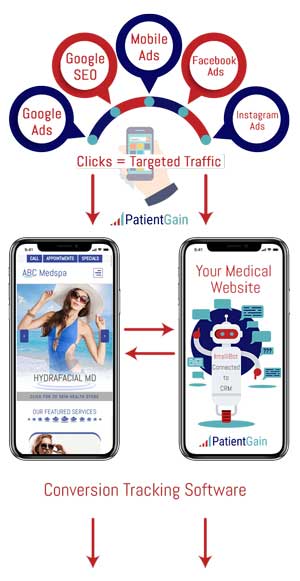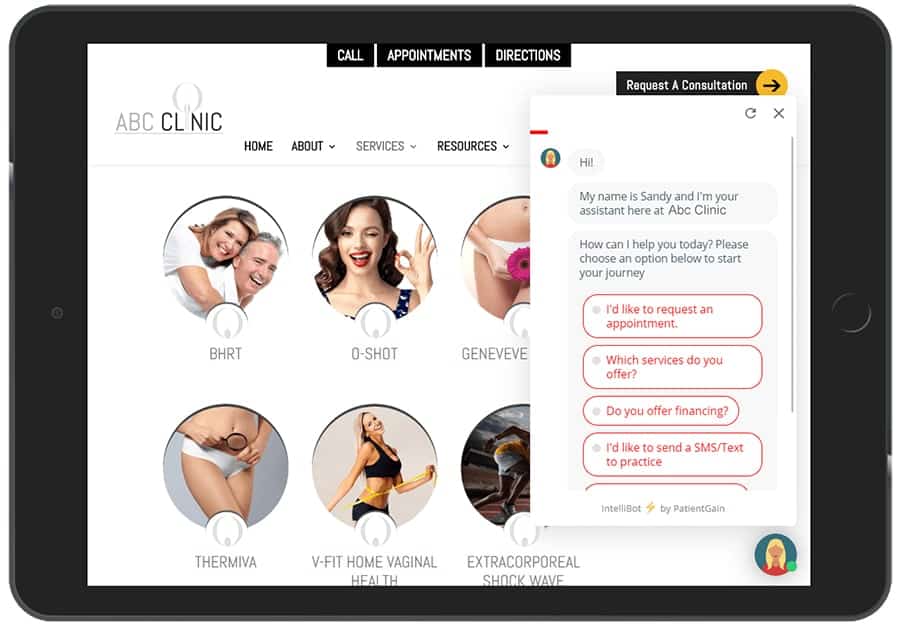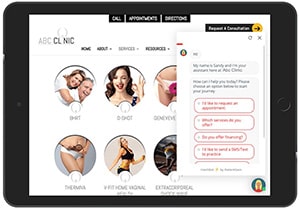 Simply, from the view of a doctor or a medical practice manager, a chatbot is nothing more than software based on AI algorithms (Artificial Intelligence) that will perform automatic tasks within given parameters. The "Chat" part of a Chatbot indicates that it is primarily designed to interact and chat with patients and potential patients. Since our chatbot works in the healthcare industry, it is a Medical Chatbot. A medical chatbot is designed to have a conversation or a discussion with a real human/patient. Depending on how the person responds or chats with the bot, it will return answers as programed into it. PatientGain's IntelliBot software is also integrated with a HIPAA compliant CRM, so your communications are stored in a HIPAA compliant database.
Medical digital marketing & artificial intelligence. Reinventing the way new patients meet their doctor.
Setup is included. NO YEARLY CONTRACTS.