HIPAA Compliant CRM Funnel For Medical Marketing
Patient Relationships are Moving Online – Medical Practices Need HIPAA Compliant CRM Database to Store Essential Data About Prospect Patients.
Medical practices need a simple-to-use Customer Relationship Manager (CRM). This CRM should not only store prospect and current patient information, but should be able to exchange information from your EMR and also provide the ability to store business contacts with parent-child relationships – like an Account and Multiple Contacts belonging to a certain Account.  The CRM should also have the ability to send Emails, SMS Texts,  Social Media messaging, and track communication and HIPAA compliance is expected from such a system.  PatientGain.com CRM offers this service . Our pricing starts at $99 per month. Please contact us.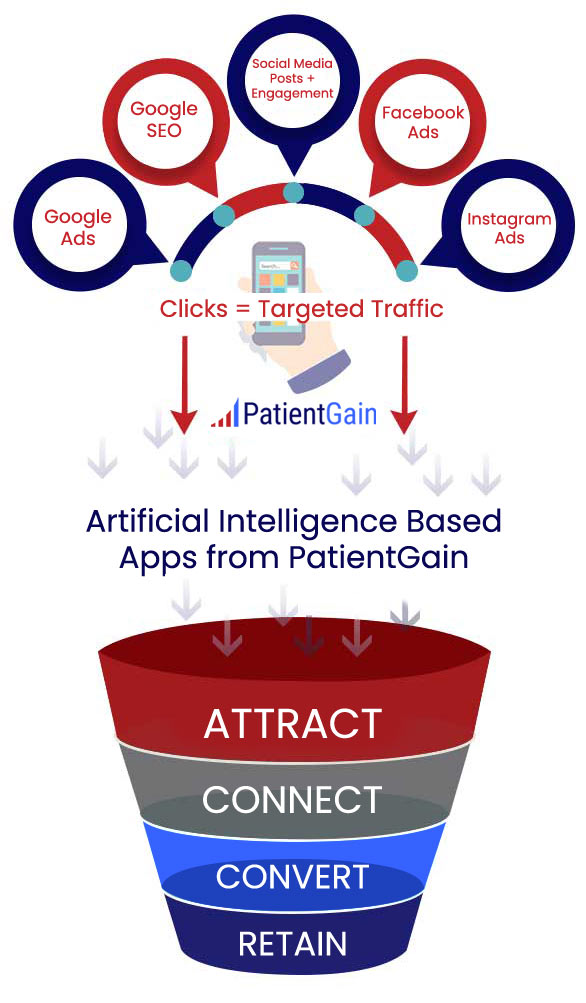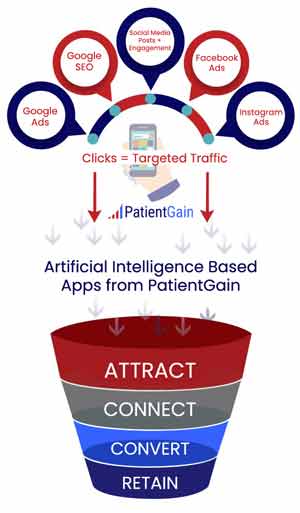 What is a Healthcare Patient CRM (Customer Relationship Manager) ?
As patients interact with your website, and Facebook business page, there is a lead-capture patient database behind your GOLD service provided website. It's a software used to store prospect patient information. Many times after a prospect patient has been converted to a patient, you would still want to keep the patient information, in addition to your EMR. EMR and Practice Management or Patient Billing/Revenue systems are not designed to market to patients.
What is Stored in Patient CRM?
Typical information stored is
Patient name (Lead name)
Email
Phone
Cell phone (for texting)
Source of lead – Like Facebook, Google Ads, Texting app, Newsletter
Date of lead added
Date of last contact
Type of patient – Inquiry related to : 1. Promotion 2. Botox service, Hip surgery etc
Status of life-cycle – like Prospect, Seen at Clinic, Interested but not seen, unhappy patient, happy with service ( will provide a review or a referral), Insurance or self pay
Responsible person for follow up. Name, email of the person in your office, who is responsible for following up.
Next steps for follow up with the patient
Referral sources of the prospect patient
Send thank you to"referral source" ?
Store demographic data ? (for marketing purposes – Non medical data)
Is PatientGain Patient CRM HIPAA Compliant?
Yes.
For every interactive medical marketing website there should be a patient database. As you use the service, more and more patients interact with your Facebook, website, texting/SMS apps, Email marketing apps, Help apps, the CRM stores information securely and per HIPAA guidelines. There is business intelligence data, user behavior information stored. This is used to send Emails and other useful information to potential and existing patient contacts. This database is called CRM – Customer Relationship Manager.
HIPAA Compliant Medical Marketing Platform & CRM
Many medical practice owners and business managers often struggle with setting up a CRM system. PatientGain.com has solved your problem.
PatientGain.com medical marketing platform is designed for business owners, not techies. There is no programming required for applications. PatientGain.com CRM apps can be embedded in existing websites or PatientGain.com Conversion websites and mobilesites can be used. We have created and tested (A/B Tested) several designs, templates, Call-To-Action, Landing Pages, Promotions, Referral Apps, Google Local-Listings, PPC Campaigns, and Lead Capture Pages for successful conversion for Urgent Care centers.
All PatientGain.com CRM, Contact Manager, applications, website, search optimizations, and email marketing work together. No need to assemble dozens of apps and waste your time trying to figure out the best practices. We have done it for you, no assembly required.
Medical Marketing Needs a HIPAA Compliant CRM and Application Platform. Healthcare CRM systems in the United States are designed to be HIPAA compliant, with secure collaboration to support healthcare requirements.
Clinic owners, practice managers, and doctors are often forced to work with multiple applications and incompatible online tools to help drive their business. There's a lot to keep track of: website management, social media, online advertising, patient lead management, generating positive reviews, email marketing, patient communication, online payments, and much more… it can all be difficult to juggle. What's more, where do you find the time to manage your efforts online while running your clinic effectively and treating your patients? If you do not have a central database, you will constantly struggling with multiple apps, HIPAA compliance, and overlapping redundant information and costs.
Medical Marketing Platform and CRM Saves $18K Per Year.
PatientGain.com data shows you will save 21 to 44 hours a month ( on average 32 hours a month) by using an Integrated Comprehensive Medical Practice Marketing system from PatientGain.com. At $47/hour , your average opportunity cost, this is savings of $1527 per month, or $18K per year, per clinic. This does not include improvement in increased patient acquisition and patient referrals and patient engagement.