Digital Patient Engagement Platform & Apps For Dentists and Physicians. 20+ Apps are included in the GOLD and PLATINUM service.
A patient engagement platform (PEP) is a part of medical software which addresses engaging with your patients using digital technologies and providing value to your patients so they select your practice as the provider of choice.
A patient engagement platform (PEP) focuses on:
1) Improve patient's experience as they communicate with your practice
2) Patients feel connected and cared for
3) Improve patient satisfaction scores
4) Grow market‐share indirectly through happy‐patients
5) Improve care team's efficiency
6) Improve patient and provider communication and coordination
7) Reduce staff time
8) Automate data collection
PatientGain has several digital applications that allow dental & medical practices and doctors to "push" or "publish"  useful information to patients. Patients can interact  with the medical practices using their smartphone, tablet or computer.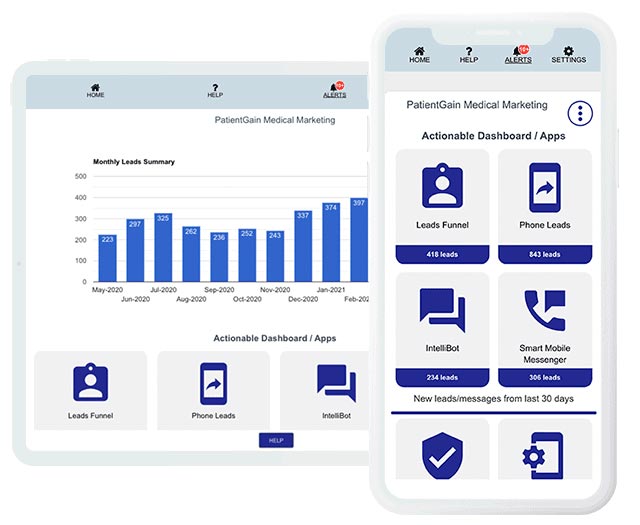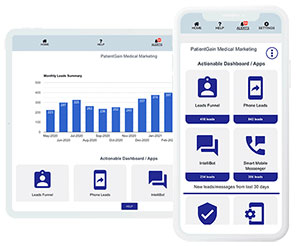 Patient Engagement Platform: Examples of Apps
1. Texting/SMS – Text from mobile or desktop – Allowing patients to send you texts directly from your website.
2. Email – Email from mobile or desktop
3. Secure web access – HIPAA compliant access for all of your staff
4. Social media – Engage with patients on Facebook, Instagram and Google
5. Patient Intake – Register patients, insurance information, and more
6. Patient Appointments – Request or book appointments, both modules included
7. EMR Integration – Does your EMR have an API? or Google FHIR
Fast Healthcare Interoperability Resources (FHIR) is a healthcare standard for representing and exchanging electronic medical information ? There is no cost for the EMR connector.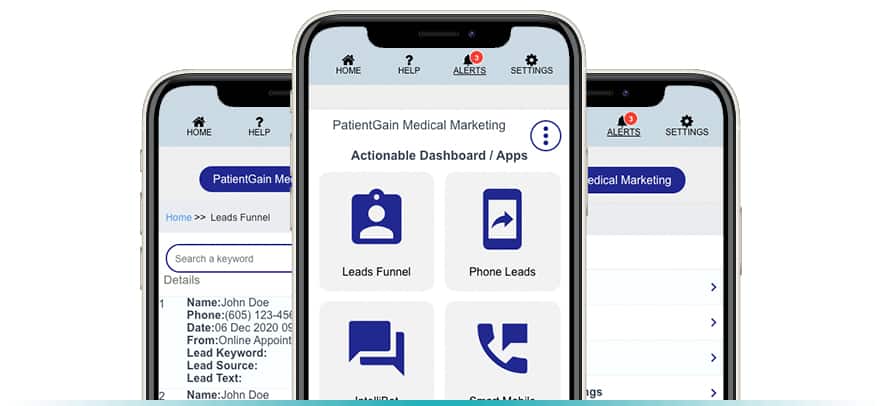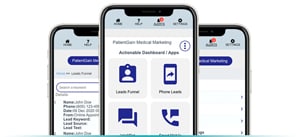 Common questions asked by dental and medical practice managers
1: What Is Patient Engagement?
Answer: In dental healthcare, patient engagement is usually seen when patients actively engage in their own healthcare needs. They will gather information about their symptoms, conditions or illnesses impacting oral health, treatment options and make informed decisions. Patient engagement can be very beneficial for a dental practice if it develops into a partnership between the patient and their dental practice. A dental practice can encourage and promote this interaction to help patients manage their care and make better decisions.
While patients collect and research information about their oral health care, dentists can play an active role in helping them. A dentist can be an excellent resource for patients wanting information, education about treatments, additional resources about various conditions, and encouraging healthy habits. A pillar of good dental patient engagement is communication between patients and a dental practice.
2: What are patient engagement activities?
Answer: When patients interact with their providers, they want value in that relationship. A dental practice needs to recognize that patients today are much more motivated about their health, and that needs to be encouraged to build patient loyalty. The increase usage and development of technology have played a role in increasing patient engagement. It is far easier today to promote communication between a patient and a dental practice than ever before. Patients have 24-hour access to resources online and will actively look for healthcare information and educate themselves, so providers need to meet that demand. If a dental practice can provide a more patient-centric experience, it will give practices an advantage over its competitors.
3: Educating Patients About Their Oral Healthcare
Answer: Dentists should assume that their patients may not fully understand their oral health, their needs, or how to improve it. They are not as well educated in dental health care as a dentist, so any education material provided needs to be in plain, non-medical language so patients can understand and comprehend what they are reading. Using language they know should be kept in mind when sharing the results of tests with patients as well. A dental practice should deploy a patient portal so patients can review their medical information lab results and send secure messages to their dentists for questions and other requests. Using these high-tech patient engagement activities will keep patients involved in their healthcare, making it easier for a dental practice to keep their patients healthy!
4: Use Charts, Imagines, and Other Visuals in Patient Communications
Answer: It is widely accepted that visual aids, in any setting, can help convey information. The same is true with a dental practice. When dentists engage with patients or consume knowledge, they should use visual aids. A resource utilizing only text can have a difficult time keeping a patient's attention. Breaking up that text with visual aids or transferring most of that information into a visual aid can boost patient engagement. Find ways to include pictures, graphics, diagrams, images, and videos in the material shared with a patient. Visual aids often play a crucial role in decision making, especially when a family member is approaching another to encourage them to go forward with a decision in their oral health care. Dental practices can be proactive in this manner and create pre-written presentations to have available to send home with patients or their family members. Carefully written presentations with charts, images, and other information can help families make an informed decision.
5: Engagement With Patients Is More Likely To Be Digital
Answer: As with other areas of dental medical marketing, patient engagement is more likely to be digital than traditional. There are various ways and channels a dental practice can use to engage with its current and potential patients in the digital space. Some of the most popular ways include:
Mobile App – A dental practice can develop a mobile app for smartphones that allows easy, secure, and HIPAA-compliant communication between a dental practice and a patient. Depending on how much money a practice wants to invest in this engagement activity, the app can be simply for communication or more robust with a patient's dental records easily accessible.
Online Educational Videos – A dental practice can develop and post educational videos to be shared with patients. These videos should be 1 to 5 minutes long and stay on a single topic. Good quality picture, sound, and light are needed, or a video can come off as unprofessional.
Symptoms Tracker – Many websites and mobile applications have a quiz or survey that allows patients to self-evaluate if they have symptoms of a condition or illness that needs medical attention. This patient activity can lead to many more new leads from patients who did not think they needed a dentist.
Smart Devices – Just as there are smartwatches, there are also smart toothbrushes. Some devices have companion apps that give feedback on brushing. This data can be reviewed with a patient and dentist to improve oral health care.
Two Way Texting – Text messages are increasingly popular among the population. Dentists can use texting in a HIPAA-compliant way to allow patients to communicate with him easily. Text messages have a higher open and response rate than emails. Text messages can also be used for marketing messages, appointment reminders, and review requests.
6: What is the goal of patient engagement?
Answer: When done right, patient engagement provides many benefits to both patient and provider:
Improves outcomes of a patient's care
Boosts a patients' satisfaction with their experience
Cuts costs for patients, providers, and our entire health system
Rewards providers through better patient retention, more referrals, and better reimbursements
7: What is a patient engagement framework?
Answer: A patient engagement framework is various stages of engagement in a dental practice that can interact with a patient. Below is a framework that many dental practices will use.
Information
Patients start with this point of initial engagement. The information here is general, usually giving a list of services and information about the physicians. They will be able to review the various tests and treatments available. Other general information, such as dental wellness and prevention guides, are available for download and reading. A patient can also review dental practice policies, such as HIPAA notices and patient privacy policies.
Engagement
Next, a patient will get deeper in being engaged in their care. At this point of the patient engagement framework, a patient may explore a self-diagnosis quiz or submit questions to the practice to be answered. Current patients may be contacted with reminders for annual visits or upcoming appointments during this stage. They could also be sent a monthly email newsletter with educational material. ​
Empowerment
At this stage of patient engagement, the goal is to retain patients and continue a practice's interaction with them. Here, a patient is involved with their oral healthcare plan and treatments. Secure messaging between a patient and a dental practice will be used for regular communication or when a patient is seeking help. Some dental practices will use a patient portal to allow patient access to their electronic health records. Here, patients can review their health records, tests, images, and other things related to their oral health.
This engagement stage also allows patients to give information back to dental practices. Feedback, care experience surveys, and online review requests are common. Dental practices will use this information to improve their services to their patients.
Partnering With Patients
At this point in the patient engagement framework, a patient feels like a true partner in their oral healthcare with their dental provider. A dental practice has collected enough data from a patient to be alerted when a patient needs care, attention, or some other intervention. Patients will coordinate their care with dentists and other health providers to ensure everyone is on the same page. In some cases, at-home monitoring may be needed for some oral health conditions. In these cases, data is shared with dentists and other decision-makers in a patient healthcare team. At this stage, there is much more collaboration between care professionals and patients to ensure patients are well taken care of.
Support of Online Community
In the last stage of the patient engagement framework, the quality of care and analytics are essential. This data is analyzed to provide better care and is compared against other healthcare providers. Regular online communication between dentists and patients is likely, with, in some cases, virtual visits being available so patients can speak with their providers. At this point, patients will often involve their family, friends, caregivers, and others in their overall healthcare plan.
8: What is considered good patient engagement?
Maintain Good Engagement With Patients
Patient engagement is a two-way street. As much as a patient engages with a dental practice, it should also engage with a patient. A dental practice should provide patients with information that will help decision-making and push them to take action in their oral healthcare. A dental practice also needs to build trust with a patient, or engagement will be hard to obtain. Building trust means a dental practice needs to listen to their concerns, suggestions, and feedback. If they do not feel like they are being heard, they will see little point in engaging with a dental practice.
Reducing Follow Up Visits With After Visit Care
Dental practices want their patients to have good oral healthcare. Frequent unneeded visits to a dental practice are probably not the best thing for a patient. Giving them interactive educational tools to manage their care at home can help. A simple follow-up call goes a long way in helping to keep a patient on track with their oral health routines. If appropriate, try to send a patient home with detailed follow-up instructions after major dental procedures, so they have information to refer to at home.
Patient Education
An educated patient is going to make rational healthcare decisions. However, a dentist is unlikely to provide every patient with an educational session or moment when they come in for an appointment. There is too much to do, and the experience will not be the same for every patient. A dental practice should educate its patients through videos and other handouts to take home. This allows a dental practice to give patients consistent, reliable, and updated information. Patients can also take this material and read or watch it on their own time, without any pressure of having to remember what the dentist was saying.
Improve Patient Safety Through Engagement
Some dental conditions are chronic and require constant monitoring and maintenance. Providing patients with tips and instructions to maintain their wellness will help prevent adverse outcomes. Easy-to-read instructions regarding medications or the use of at-home equipment will ensure there are no mistakes, improving the overall health. The more informed a patient is, the less likely they are to suffer problems at home and the more likely they will be able to identify symptoms that require the attention of a dentist.
Improved Net Provider Score and Review Scores
An excellent way to judge if a dental practice has good patient engagement is to look at the NPS or a net provider score over time. Generally speaking, the more engaged patients are with their dental care, the more positive feelings they will have with their overall experience. NPS scores are an excellent way to see which dentists and other staff members have the best engagement with their patients and which ones may need improvement. Net provider scores are regarded across several industries as a great way to evaluate how well a company is doing with their consumers or, in this case, patients.
Dental practices that do not collect this data should also look at the overall scores in their reviews. While it does not provide as much data as an NPS score, looking at average reviews every month will give a dental practice a clear picture of how well they are doing. Higher overall review scores could indicate better patient engagement. A good indicator of patient engagement in online reviews is an increase in overall reviews. If one month has a significant increase in patient reviews but relatively the same number of patients, then overall patient engagement has likely improved.
The experts at PatientGain.com are available to help you create a high-performance healthcare website. Contact us today, and let us show you what we have done for other practices across the country!
Effective healthcare today involves more than just in-clinic patient treatment; it requires continual and proactive communication covering a broad spectrum of patient-specific issues.
For many healthcare practices, their attempts to become more integrally connected with patients are often obstructed by a lack of appropriate and effective online communication tools and applications. PatientGain.com provides clinics across the US with powerful software, running on secure compliant servers located in USA, that makes delivering numerous types of Healthcare communications a simple and automated process. From sending between-visit wellness surveys, to automated appointment reminders, and effective outreach communications, PatientGain.com's sophisticated Healthcare Communication Platform contains dozens of ways for you to improve interaction with patients. With a proprietary platform custom created to assist Healthcare practices effectively communicate with their patients, PatientGain.com is the preferred Healthcare to patient communication software.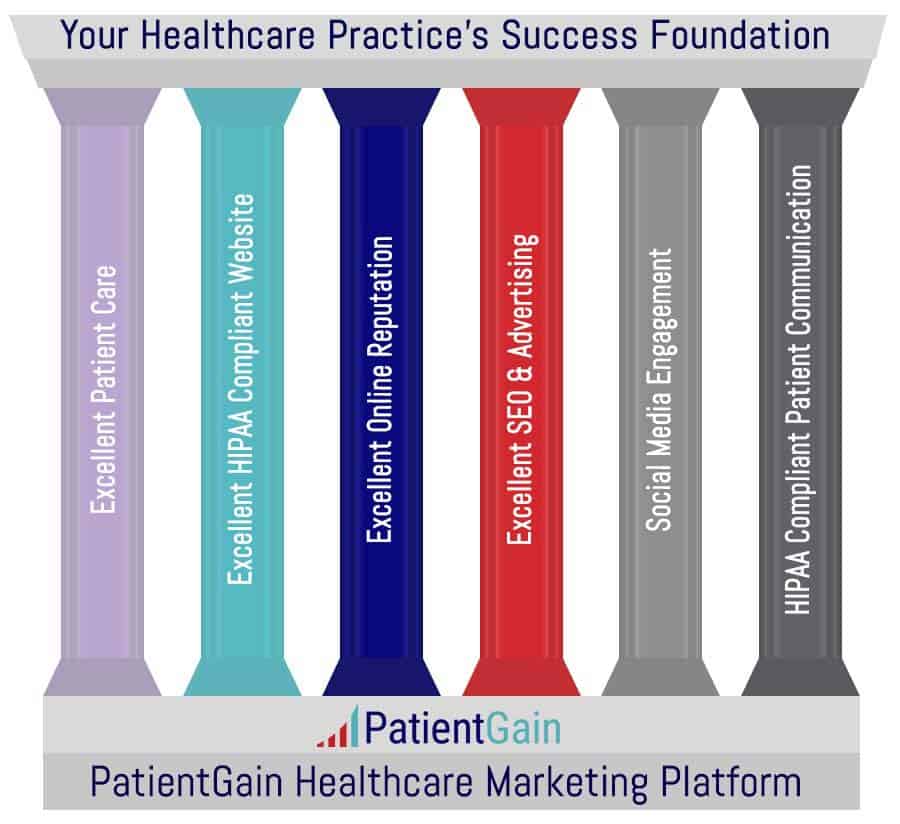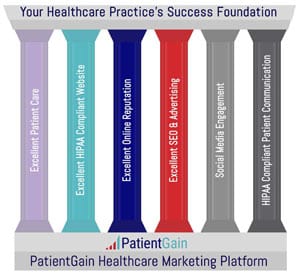 Digital Patient Engagement Platform & Apps
A patient engagement platform (PEP) has several digital applications that allow dental & medical practices and doctors to "push" or "publish" useful information to patients. Patients can interact with the medical practices using their smartphone, tablet or computer.