How to Hire a Good Medical Marketing Company
There are 2600 medical marketing companies in in US and Canada, who provide an essential service to 988,000 medical physicians and providers. But which one?
Marketing your medical practice can be a daunting task. While some doctors successfully handle their marketing efforts in-house, most will need a professional medical marketing company to truly grow. As a doctor or business owner, there are a dozen things to handle every day that might make marketing a secondary concern. A "set and forget" mentality isn't a long term solution to your marketing efforts. A marketing company can make changes as the needs arise, not every three months when an owner gets around to checking metrics. Is every medical marketing company the same? Not at all. Some medical marketing companies are one size fits all while others will customize their services to your needs. Some medical marketing companies specialize only in healthcare marketing, while others help market businesses in many different industries. The selection of a medical marketing company needs to be done with as much thought as would hiring a doctor for your medical clinic.
In summary: A good medical marketing company should provide
1) Service that suits your practice's marketing needs
2) Should provide quality service that earns your trust
3) Focuses on long term growth of your practice, while still delivering short term immediate results
4) Service should provide you options, at reasonable rates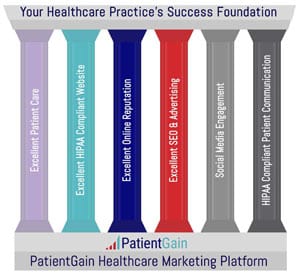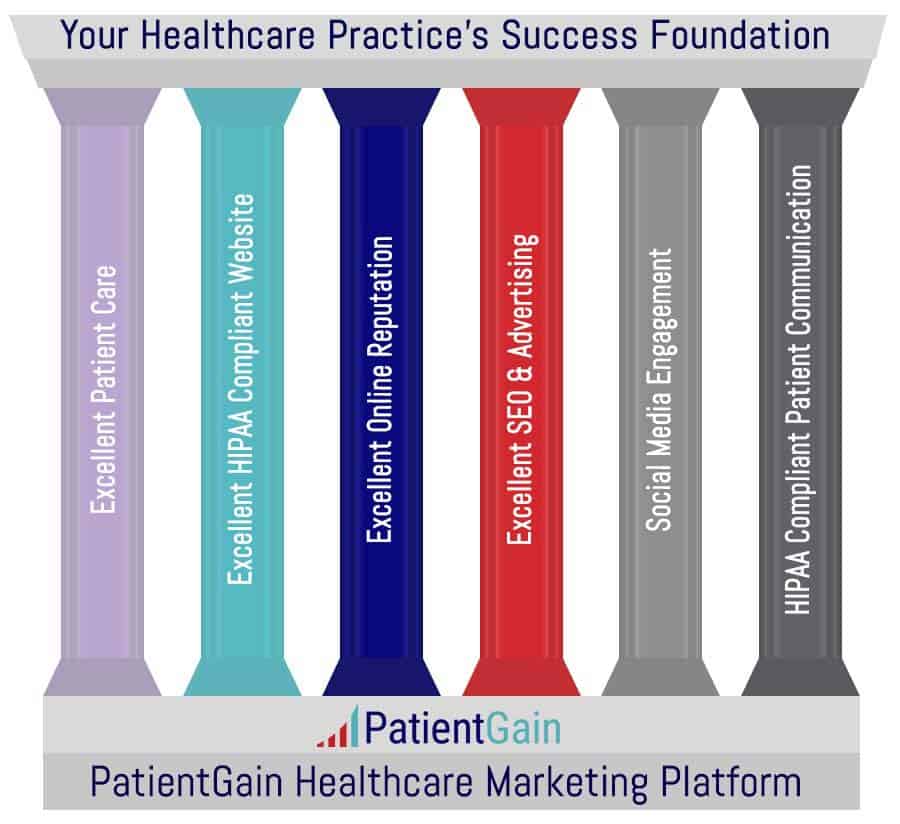 How do I determine which medical marketing company to hire to promote my medical practice?
The amount of money you spend hiring a medical marketing company will not be a small part of your overall operating budget, so this is a significant decision. If you have little or no experience in marketing, it can be challenging to determine the differences between companies. You will want to hire a company that understands the healthcare space your company occupies and will be responsive to your needs. Much like diagnosing an illness or an injury, it is best to ask questions to help you select the right company for your medical practice.
What are the long term goals of your medical practice?
Do you have measurable goals for your medical practice in the next 12 months? Do you have an idea where you would like your patient count to be in the next five years? When determining which medical marketing company is best for your medical practice, you need to know where you want to take your business. Different companies will be better equipped to handle your goals. One company may be more cost-effective at maintaining patient count than another company, but the other may do a better job if your goal is to increase patient count by 20% a year.
You want to avoid hiring a medical marketing company, before you set your goals only to realize they are ill-equipped to achieve those goals. Sure, you can fire that company, but you'll lose time and money that could be instead used to grow your medical practice. Make the process go smoother, set your goals first, and begin your search for a medical marketing company.
Is there someone working for your medical practice that can be the liaison between your business and a medical marketing company?
Some medical marketing companies offer a "white glove" service. They are available practically 24 hours a day to meet your medical marketing needs. They have someone dedicated to your account, ready to answer your questions. When you say "jump," they say, "We'll have the jump page ready for your website in the next 48 hours." Of course, these companies can be quite expensive. It can be more cost-effective to assign someone at your medical practice to work with the medical marketing company to coordinate efforts.
Unless you invest in a "white glove" service, your medical marketing company is not going to be as intimately familiar with your branding as someone working in your medical practice. Assigning a person to work with the medical marketing company can make their marketing efforts much more effective. An owner who micromanages their business and wants to be involved in every decision can bog down the entire marketing process. Unless that owner makes marketing the default number one priority, marketing decisions can be pushed aside by daily issues that become the center of their attention. It is often better for an owner to entrust marketing efforts with someone and regularly meet with them to set and measure goals.
Why couldn't I just assign someone who works for me to handling marketing efforts internally?
Marketing is a full-time job, and not something a medical assistant or front desk medical receptionist can effectively do on the side. You could hire someone to be your in-house marketing specialist, but it is costly to hire someone who can accomplish all of these tasks:
• Content writing
• Web design and website performance like speed
• Online advertising management
• Social media posting
• Search engine optimization
• Reputation management
• Web development
• Online app development
Even if you manage to hire someone with all of those skills at a reasonable price, you still do not have a wealth of knowledge and research that comes with a marketing company. Handling marketing in-house may work well for a very small medical practice, but if you want to grow your business, a medical marketing company is often the best choice. With that said, if someone at your medical practice has experience in any of these areas or at least knows the "language" of medical marketing, they will be very effective when working with your choice to promote your business.
How much are you willing to spend on your marketing efforts?
A common misbelief is that it is cheaper to have someone work in-house on marketing your medical practice than hiring a company. Effective marketing of your business is often too big for one person to do alone. This results in a marketing plan that may be highly effective in some areas but incomplete in others. It is more cost-effective to hire a medical marketing company for a complete medical marketing effort than having someone do it in-house on their own. For example, at your medical practice, you've paid to have an Electronic Medical Records system and a Consumer Relationship Management system in place to run your business. Do you want to spend additional money on advanced graphic design programs? Movie making software? Do you have the person who knows the ins and outs of the marketing software you need to produce high-quality materials? More than likely, you do not, and why spend money on software when it can not be used to it's fullest potential?
A medical marketing company will not only have all the software it needs to market your company available to it, but also the specialists who know how to get the most out of that software. Hands down, a medical marketing company will have the expertise, tools, and personnel available to effectively promote your medical practice.
As an owner, how hands-on do you want to be with your medical marketing efforts?
An excellent medical marketing company can provide reports to you as often as you want them for the most part. Their dashboards will have analytics that updates daily that give you a good idea about how your efforts are going. They can also schedule weekly or monthly calls with the owner to review any stats and goals and answer any questions they may have. Just because data is being displayed, doesn't mean it's being read correctly. Medical marketing companies are more than happy to explain to owners the data they see, how it compares to others, and what needs to be done to improve it. Owners often delegate this to the marketing liaison they designate to work with the medical marketing company, only getting on calls when significant decisions need to be made.
Is it possible to get an hourly or daily update regarding marketing efforts? Yes, it is possible, but you often need to pay more for this sort of "white glove" service. Hourly reports of marketing efforts may be appealing, but making hourly or daily changes to your marketing plan is often a terrible idea. You may get results, but it will be impossible to determine what changes caused these results. Daily phone calls with medical marketing companies are often not very useful in terms of time or information. Weekly calls are helpful if you assign a liaison to work with the medical marketing company, and monthly calls are great for owners if they choose to be involved.
The selection of a medical marketing company is a big decision for a medical practice. Resist the urge to do everything in-house and hire experts to help grow your business. Call the specialists at PatientGain.com today and let us work with you to help you reach your goals and beat out your competitors!
PatientGain's service is called GOLD service – It typically costs $799 to $1299 per month. Learn more here.