Medical PPC (Pay-Per-Click) Advertising Experts in California. PPC Campaigns Laser Focused on New Patient Generation.
Increase Patient Visitation By Using Google PPC Pay Per Click Advertising For Dental & Medical Practices. Facebook, Instagram Advertising & 100+ Additional Online Properties. Pricing starts at $299 per month, plus 15% of the total advertising spend.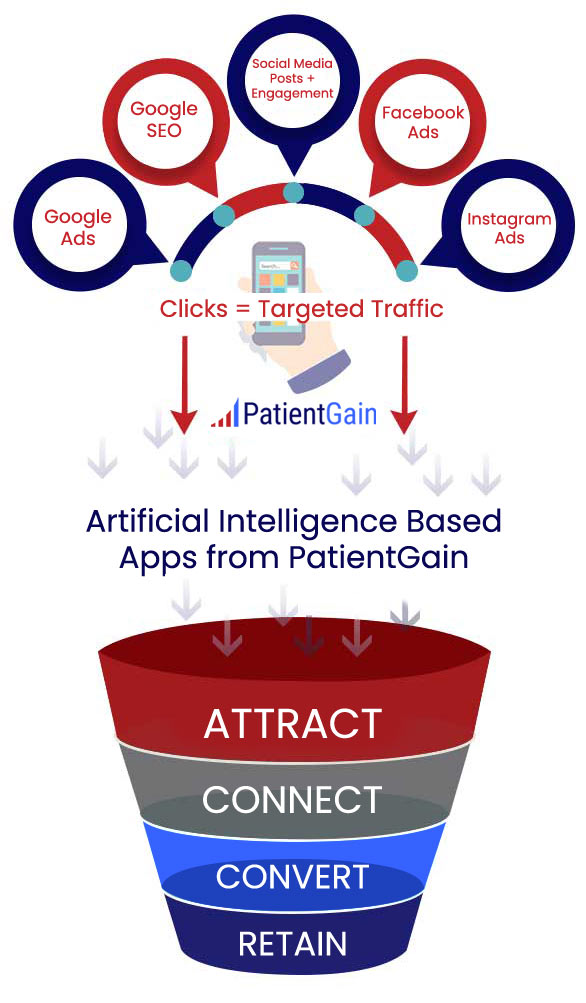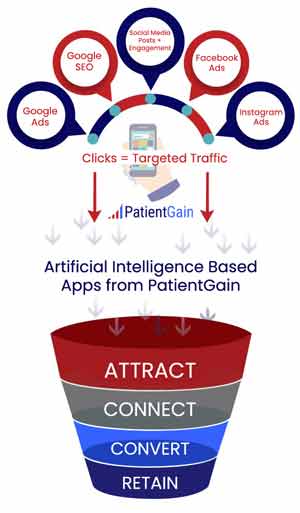 Key features of PatientGain managed PPC advertising for doctors and dental practices.
1. No Keyword Markups – You do not pay marked up prices on keywords
2. No Setup Fees – Simple contracts
3. Flexible Budgets – You can change budget anytime you like
4. Simple 15% Flat Fee Pricing – You can advertise on Google PPC, social media, Youtube and many other sites
Example 1: If your monthly advertising budget is $1000 / mon, we charge $150.
Example 2: If your monthly advertising budget is $2000 / mon, we charge $300.
Example 3: If your monthly advertising budget is $3000 / mon, we charge $450.
Example 4: If your monthly advertising budget is $10000 / mon, we charge $1500.
Example 5: If your monthly advertising budget is $20000 / mon, we charge $2400 (12% on 20K and above)
Example 6: If your monthly advertising budget is $50000 / mon, we charge $5000 (10% on 50K and above)
PPC advertising for dentists and doctors, and SEO (also known as Search Engine Optimization) for dental (dental SEO) and medical clinics (medical SEO) should not be confused with "Online Advertising", they are related but separate strategies for patient acquisition. For detailed SEO for doctors page, learn more. For detailed SEO for dentists page, learn more.
Common question asked is Google PPC Advertising right for my clinic? The answer is YES. We have hundreds of examples to share with you. In a sample recent review of 162 medical clinics, we found that if a medical clinic is running PPC Advertising, 98 percent of these clinics have increased their patient count over a period when they were not using PPC Advertising. Online advertising and marketing expert is Neil Patel, here is a very good page to read to understand how paid advertising works. Medical and dental advertising is a variation of general online advertising. The following information applies to dentists, telemedicine physicians, surgeons, pediatrics, medspas, pain management, functional medicine, primary & urgent care, cardiologists, podiatrists, addiction medicine, regenerative, wellness, therapy, obgyn, integrative medicine, dentists, dermatologists, IVF & reproductive, pharma, bio-tech & many other medical practices.
However, providers cannot advertise if it is misleading & aggressive and without factual and accurate information per AMA.
Most Dentists & Doctors Ask Us: Do I Need to Advertise?
The quick answer is yes, if you want to compete online with your competitors.
Use case and data from an actual PPC campaign
Using PatientGain's leads funnel app, you can see data from Nov to Feb, from a total of 320 leads, 117 leads originated from Google's PPC ads.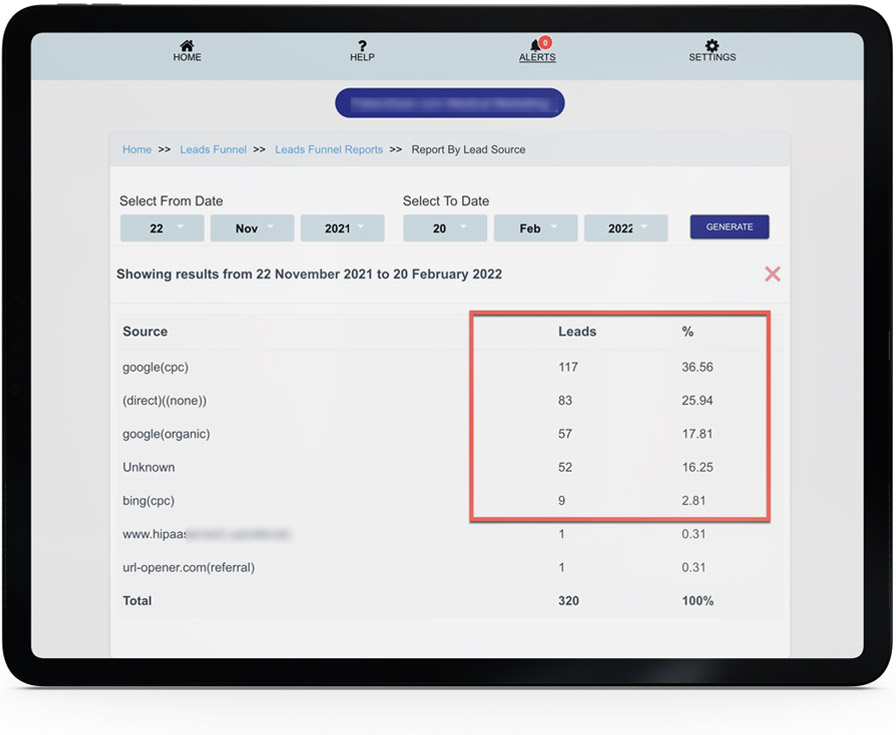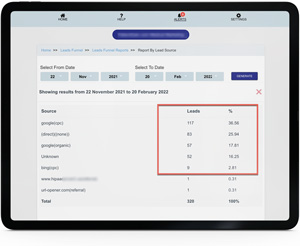 Another very common question is asked "How PatientGain.com's approach to online advertising helps our customers get better results?" Lets review the image below. You will see attention to detail and technical know-how how online advertising works and domain knowledge about healthcare and major trends like Mobile Advertising & Marketing for Doctors and Medical Practices.
PPC Ads using Google create an excellent ROI for 98 percent of doctors. Our professional service starts at $299 per month for a single location medical practice. Contact us for details of the service and volume discounts.
Example 1: PPC Ad for a medical practice located in Texas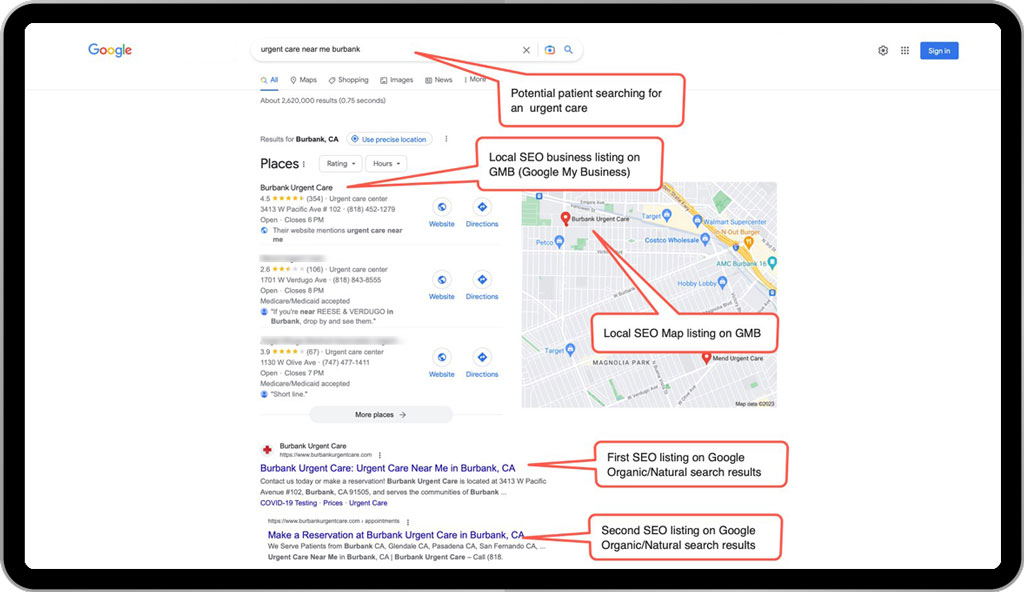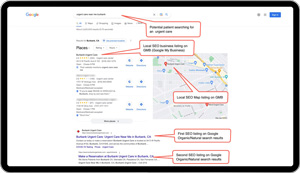 Example 2: PPC Ad for a dental practice located in Texas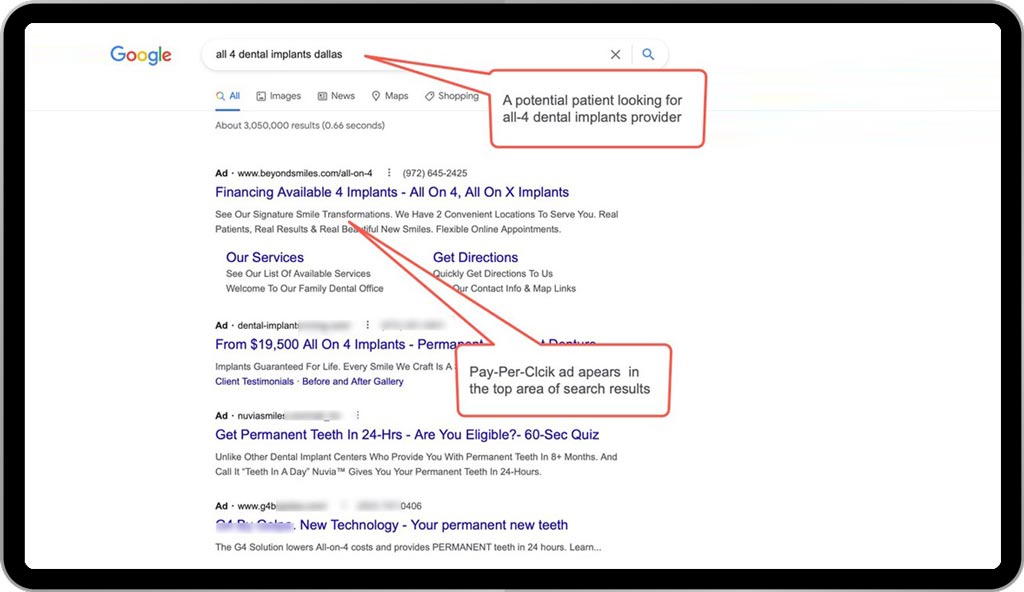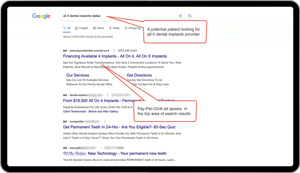 Let's review a real example below – Impact of online advertising for dentists & doctors:
Detailed Analysis of Online Advertising for Doctors:
In this case, PatientGain.com's customer for 3 years had excellent SEO results, excellent maps listings, excellent online reviews. Competition had been growing steadily. Patient volume, on average 63 patients per day – but facing stiff competition from 2 new clinics. PatientGain.com project manager had been encouraging the customer to start PPC ads on Google – but customer declined. Finally one day they started noticing ads for their new competitors. By launching an aggressive PPC advertising campaign, the customer experienced an increase of 18 percent in the first 2 weeks. Measured month over month compared to previous years, overall increase was 23 percent. The additional cost of PPC advertising by off set by increased number of patients and higher volume of higher margin procedures. PatientGain.com recommends Google Adwords PPC for majority of its customers for an excellent ROI.
Whether you're running your own campaign, or if you're currently using a consultant or another company to manage your campaigns, we believe PatientGain.com's campaigns can improve your clinic's patient visitation. In short, our ability to give you better results through advertising comes from a few factors: AdWords Expertise, Healthcare Industry Knowledge, and Exceptional Campaign Performance.
PatientGain.com platform's success not only comes from the powerful apps and software, but also from our team who are experts in healthcare marketing through years of experience. All of our customers' campaigns are managed by our dedicated PPC team, all of whom have multiple Google AdWords certifications. Through our team's expertise, and our campaign's stellar performance.
Just like dentists, physicians, all advertising campaigns are not created the same. Different physicians and doctors treating the same condition, can produce different outcomes. Same is true with advertising campaigns, vast majority of the time our campaigns are going to produce better ROI for you, as compared with the same budget, being spent by another company.
Results: PPC advertising on Google is a very good source for patient acquistion.
As a company whose sole focus is healthcare, who also works with some of the biggest industry leaders to run their online marketing strategies, we have knowledge and data intelligence that almost no other companies do. Through simultaneously managing hundreds of campaigns across the U.S., and working with medical practices who operate 10, 20, 30 and over 100 locations, we're able to make all our campaigns perform better. Intelligence we gain from one campaign are applied to the strategies for all our campaigns, so in effect each campaign we run is the sum of the thousands of campaigns we have run over our history as a company. We also work more closely with our customers, as we are reviewing your campaigns and results with you monthly, in order to make sure our campaigns are as optimized as possible. Search advertising produces the best ROI for doctors, dentists, and dozens of other practices.
High quality focus on website, content, speed of landing pages and PPC ads knowledge produces best results. For example, we found that our campaigns are consistently performing better than that of other online marketing companies similar to us. Our Quality Scores (a measurement of Ad / Keyword quality that helps determine Cost Per Click) were 17% higher on average than our competitors, and our Click-Through Rates were 33% higher as well. Both of these metrics are some of the most vital measures of campaign quality and effectiveness, as their values both directly improve your campaigns performance in search results and lower your campaigns cost per click. As we can show through a practical example below, when customers switch over to our advertising, they are able to get a more efficient and productive campaign that produces better results.
How Much Should You Pay For Professional Adwords PPC Management For Medical and Dental practice?
Google AdWords certified companies charge $300 to $1000/mon for a typical $2000 to $4000 budget. In addition there may be setup and other fees – Not Recommended.
There are many very good companies providing excellent PPC Management Services all across USA & Canada. As a medical professional, doctor, physician or an administrator of a medical practice, you know that there are 2 main types of advertising & markeing.
PPC Certifications For Google Adwords are Difficult
It is not easy to be a certified professional. For example let's review the following chart below from Google Adwords Certification. It is easy to be tempted to hire "general" PPC practitioner based on pricing alone. But we would not recommend it. Every day PatientGain.com receives inquiries from doctors, surgeons, medical practices and many other healthcare professionals, seeking to improve their campaigns. Majority of the time we are amazed at lack of attention to details to PPC campaigns. This is one area, you should not try to save $100 to $200 per month. Go with the leader who understands three import aspects:
Detailed domain knowledge about healthcare
Certified PPC Staff – Adwords certifications
Website conversion technology with HIPAA compliance
Published Pricing From Good PPC Companies
The example 1 below outlines typical pricing from good companies. These companies have certified staff and support to help you.
Other Considerations for PPC Management Pricing For Doctors
You should also consider setup fees and length of the contract. We recommend no setup fees and no long term contracts.
Some companies charge you a percentage of the fee. For example here is a typical setup : We recommend you pay less than these and get better service.
Example 1 – Small practice with $1000-$1500 per month advertising budget
Setup fee $700
Monthly fee $350 / month
Contract 12 months
Certifications Google Adwords Certified / But Not Healthcare Focused
Example 2 – Medium practice with $3000-$5000 per month advertising budget
Setup fee $1000
Monthly fee $800 / month 20% of $4000 ad spend
Contract 12 months
Certifications Google Adwords Certified / Healthcare Focused
Example 3 – Medium+ practice with $7000-$10000 per month advertising budget
Setup fee $2000
Monthly fee $1800 / month 20% of $9000 ad spend
Contract 12 months
Certifications Google Adwords Certified / Healthcare Focused
4 Things to Avoid With PPC Management Companies
Long Contracts
Setup Fees
Markup on Keywords
Hidden Charges
These are prices being paid by most medical practices for good companies. Please contact us for more questions – PatientGain.com's pricing is different. Online Advertising for doctors is all we do.
PatientGain.com is a proven new patient marketing solution, includes apps, websites, SEO, HIPAA compliance and account management.