Social Media Marketing for Dentists and Doctors
Cost of Social Media Marketing for Dentists and Doctors As Compared to Search Engine Advertising Can Be Summarized as $29 VS $14 Per Conversion. As marketing for medical or dental practices is concerned, our main strategy is to drive traffic to our own websites, to specific pages, rather than leaving a prospect on social media page. Building your Facebook presence is great, but when you bring someone to your website, you control the medium, and this gives you the best chance of converting on your goals.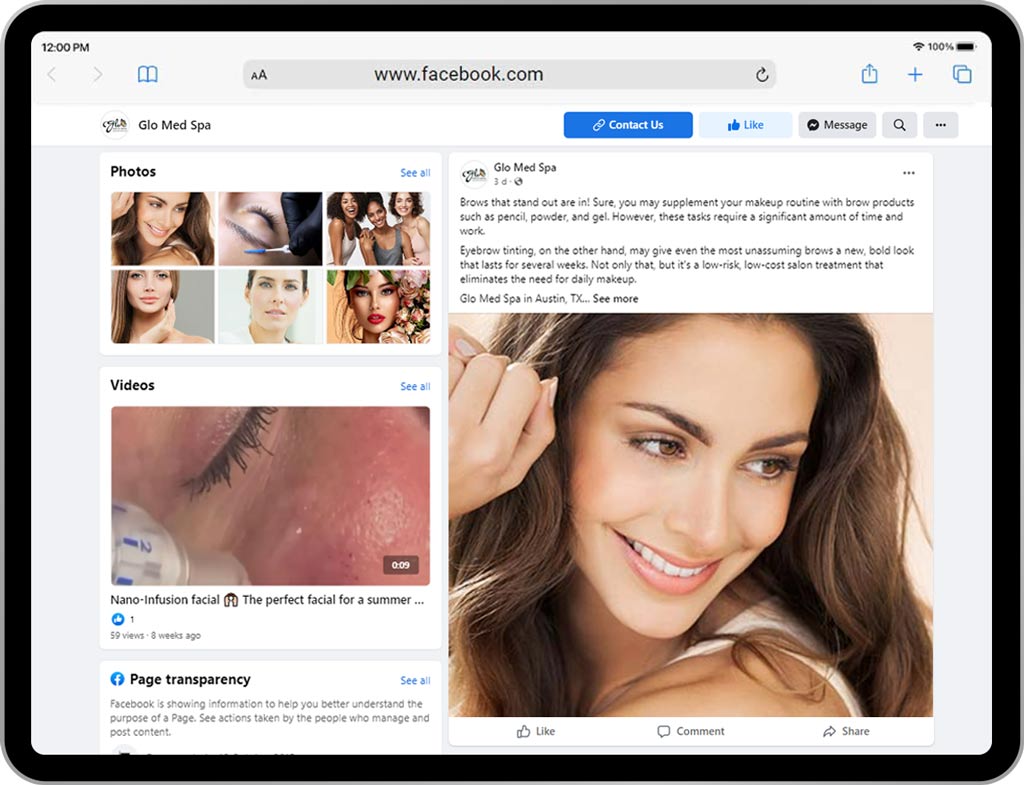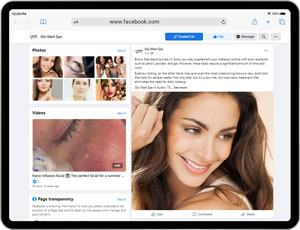 As social media and specifically Facebook becomes more important for users all over the world, businesses need to do more on Facebook. How do you stand out from thousands of other businesses who are advertising and working to get the attention and "Likes" of targeted users? The first step in answering this question is to look at the leaders in your space and your industry to see what they are doing on Social Media, and more specifically, on Facebook. PatientGain.com's Facebook apps platform provides you with a competitive advantage. Here are 4 major ways to get more "eyes" on the social media. More people should "follow", "friend" & "like" you on different social media platforms. Starting with Facebook is recommended, as majority of of your patients are on Facebook, compared to other platforms. Also note that most people who spend a good amount of time on Social Media have more time than money, so generally leads generated from social media have less quality.
Example below: Facebook ads are displayed to target audience in multiple formats.
Example Newsfeed on home page
Newsfeed on mobile device
Right hand side of the page
Log-out experience page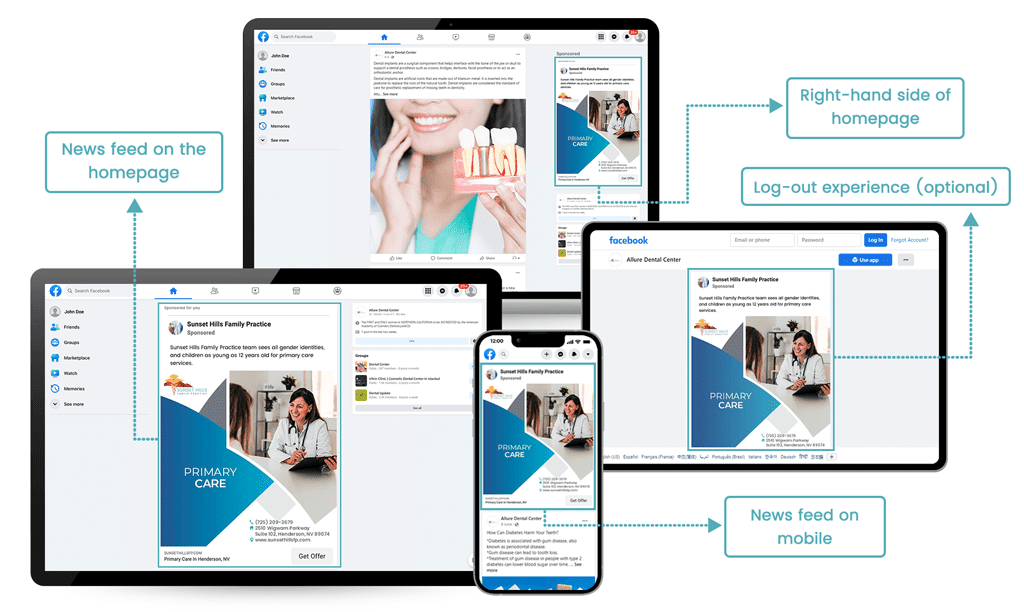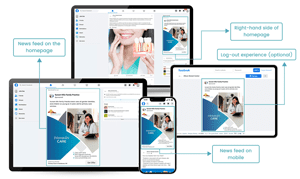 Which social media sites are used mostly by patients?
Social media sites most commonly used can be divided by your target audience.
30 years and older : YouTube and Facebook
Under 30 years : Instagram, Tiktok, SnapChat
So if you are a medical spa, and trying to target women 35 to 65 years old who may be interested in Botox treatment or anti-aging treatments, it makes sense to focus on Facebook ads. See more data on social media usage here.
As marketers, our main goal is generally to drive traffic to our own websites. Building your Facebook presence is great, but when you bring someone to your website, you control the medium, and this gives you the best chance of converting on your goals.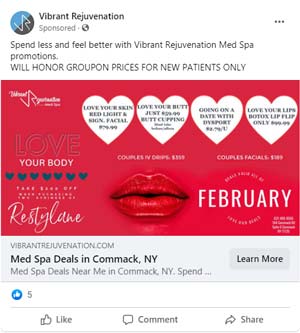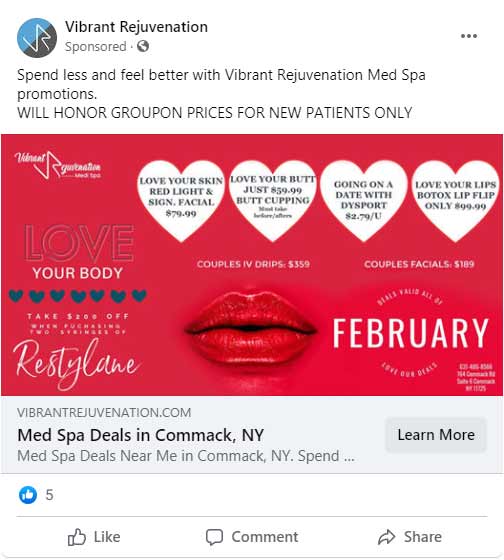 4 Key Steps For Social Media Success
Using your time, skill and content, add content to your Facebook business page. If you are on Instagram, add more visual content.
Using your offline marketing, mention the Facebook business page address – For example if you have a print campaign, add your Facebook business page address. Provide a link on your website to your Facebook business page.
Run ads on Facebook to promote your services, your events and you can even "boost" your posts. However, our data shows that boosting has far lower ROI than Facebook advertising. Note that Facebook advertising has become complex and it is not as simple as "creating an ad and setting audience targeting". In order to achieve good results, you have to "manage" your campaign.
Posting on Facebook and Google posts with content related to your services. Every time you post on Facebook or on Google, ask this first : What do you want the patient to do? So Call to action is very important.
All of these steps build your "Engagement on Social Media". This takes time and a lot of effort and money. There are hundreds of your competitors who are trying to do the same thing. This effort, money and time is same as building your SEO for Google search engine. It takes longer on Social Media, due to nature of social media.
Facebook Medical Marketing
There are hundreds of Social Media sites. But Facebook, YouTube and Instagram have the most impact on your healthcare marketing.
Let's examine how Facebook is evolving for business owners.The Business Pages on Facebook are becoming more and more akin to a "business website", with increasing ability to reach and interact with your audience. More and more, businesses are growing past using Facebook as only a communication channel, and leverage their pages as a professional advertising and marketing tool. However, the base features in Facebook don't cover many of the areas needed to use Business Pages as an effective tool for generating business. Your Facebook business page needs specific attention and requires constant checking, as well as analytics and intelligent features, that convert "likes" to leads, capture lead info, actively convert leads to prospects, and then bring them in as paying customers/patients.
PatientGain.com's Facebook Posting App
Let's say, for example, you own a clinic. With PatientGain.com, you're able to run a targeted advertising campaign that drives traffic to your Facebook business page or your website. Here, potential patients can sign up for your company newsletter, redeem promotions and specials, or book an appointment with your clinic. After they sign up for content or set up an appointment, auto-responders send context-based follow-up communications, confirming appointments or sending out requested content. Meanwhile, PatientGain.com's automated software takes their captured information and automatically adds them to your HIPAA compliant CRM, and updates any other relevant applications, such as your email campaign manager, appointment scheduler, and so on. This all happens seamlessly and automatically as your leads are captured, conversion takes place, and your CRM is updated. There is no lead leakage, and there are no spreadsheets to manage!
5 Steps for Facebook Success for Doctors & Medical Practices
Use Social Media Apps To Acquire New Patients and Engage & Service Existing Patients
Social Media Marketing is another very important aspect of your marketing. Your potential and existing are hanging around on Facebook. You have to make it easy for them to do business with you. Here are 5 steps.
5 Steps for Facebook Success for Doctors & Medical Practices
Create Facebook Business Page for your medical practice.
Optimize FacebookBusiness Page for your medical practice.
Add apps to your FacebookBusiness Page for your medical practice. For example, add Contact Us app, add Appointment Requests app, add Promotions app.
Add content to your FacebookBusiness Page for your medical practice
Advertise your Facebook Business Page for your medical practice on Facebook – There are multiple ways to promote your FacebookBusiness Page for your medical practice. You can hire a professional ( recommended ) or do it yourself. Professionals who are certified advertising professionals will produce better results for you.
Many healthcare practices need additional help and they want to build a large following on social media. So they may need to hire a dedicated social media expert.
What does a healthcare social media expert do for your practice?
Although some medical practices and healthcare businesses have long tried to ignore it, social media is here to stay and needs to be taken seriously by owners. Anyone who does not incorporate social media into their digital medical marketing plan gives an unneeded advantage to competitors in the area who have embraced his marketing area. While social media could be handled in-house by a staff member, it can be much more effective if a healthcare social media expert takes charge, much like other areas of marketing. A healthcare social media expert is someone who knows the ins and outs of social media platforms and the best practices when posting healthcare-related content. Below are some things a healthcare practice can expect from a social media expert.
A healthcare social media expert will create unique, engaging, and helpful posts across social media profiles.
When someone thinks of social media, they often think about "posts" or "content posting." The goal of any social media platform is to allow a person or a business to post content that is interesting to their followers to comment on or share. A social media expert takes a central role in creating this content for a healthcare practice and posting it on its profile. The content needs to be engaging, helpful, informative, and something the followers of a social media channel want to see. While different social media channels will have various options for their users, the three main types of posts people will see are:
Text Posts – These are the most straightforward social media posts containing text. Generally, they do not get much engagement, but they can still be beneficial when posting important messages.
Example – "Due to a power outage, we will be closing at 2 pm today."
Example – "We will be close on Christmas Eve and Christmas next week!"
Picture or Video Posts – Picture and video posts often get more engagement on social media channels because they are more likely to catch someone's attention. The pictures and videos attached to a post need to be relevant to the post's content and relevant to the healthcare practice. Posts with high-quality images or videos often perform better and get shared by others. Depending on the social media platform, there may be posting limits to the number of pictures to be uploaded or the length of videos.
Example – An infographic showing wind chill temperatures and how long it takes for exposed skin to get frostbite.
Example – A video from a medical practice introducing a new doctor who has just joined.
Link Posts – Another popular post type provides a link for followers to explore. This link could be to a health-related story, a local news story of interest to the community, or a recent blog post. If the link is from a well-designed website, it should provide a little preview picture that will automatically populate. A good social media expert will vet the links to ensure they are relevant to the healthcare practice and from reliable sources.
Example – A link from a local newspaper highlighting a current community health concern, like the flu.
Example – A link from a TV Station with a video that features one of the practice's providers talking about a health concern.
Many healthcare practices that are inexperienced with social media may not know how often they should post on their social media channel or how often they should promote themselves. Some think a single post a week is more than enough, while others want their website promoted twice a day, seven days a week. A healthcare business should try to post regularly, so their social media channel does not look abandoned, but they should not post every hour on the hour. Posting twice a day, three to five times a week, should be a good goal for a social media expert. The truth is after something is posted, it is usually gets pushed down by posts from other people, or business that patients follow. Frequent posting gives patients a chance to look at the content before being pushed down by others. The self-promotion of a health care practice should be limited. All in all, only about 10% of posts should promote a healthcare practice. Too much self-promotion and visitors will soon ignore or unsubscribe from the channel.
Monitor Follower Engagement
One of the unique things about social media is engagement from followers and others. Just about every social media platform allows followers and others to comment, share, or reply to content posted by a healthcare practice. This engagement is very advantageous for a healthcare practice as the more engagement a post receives, the more likely it will be seen by other people. Posts with high engagement tell a social media platform that it is content that may interest others.
Comments on posts need to be monitored and overseen. The world of commenting on posts or the comment section of posts can be like the Wild West. While many comments will be from pleasant people, healthcare professionals need to monitor social media engagement for negative interactions. Rude, lewd, spam, and outright false medical information can be posted, leading to arguments in the comment section. Social media experts should have no qualms about banning people or kicking them out if they bother others who want to learn more or engage with others.
Most of the positive engagement a healthcare practice will see on their social media channels is general praise or people asking questions. When someone thanks or promotes the quality of a healthcare practice in the comments section, a healthcare practice should take time to thank them for their kind words and invite them to use their services again. Anyone who asks a question should do their best to answer but it remain within HIPAA privacy guidelines.
Example – "Dr. Taylor was amazing when treating my injury last week." Reply – "We were glad to help! Dr. Taylor hopes you are feeling better."
Example – "What a really interesting article about health while playing sports!" Reply – "Thanks, we thought people might like it. Sports physicals are available for children and adults seven days a week."
Example – "The New World Order runs this doctor's office. It should be avoided so the government doesn't track you!" Reply – Delete comment, ban the user.
Check Social Media Profile For Messages
Many social media platforms allow followers and users to send private messages to healthcare practices. This can be an excellent opportunity for health practices to engage with visitors and convert them into appointments and patients. With that said, these private messages are not considered HIPAA compliant. They should not be regarded as a secure way to have two-way messaging between a practice and current or potential patients. Even if it is unsolicited, personal health information should not be saved and instead deleted. Messaging is great to answer simple questions or provide more information about a service offered at a healthcare practice. Some healthcare practices will turn this feature off if they do not have the staff to monitor it properly. Private messaging is not very useful if it takes days and days to get a reply.
Example – "Where can I find the appointment link to schedule an appointment for a flu shot?" Reply – "Here you go! (Appointment link) We look forward to serving you."
Example – "Does your practice take Blue Cross Blue Shield PPO?" Reply – "We take some versions of Blue Cross Blue Shield PPO, please call our front desk, and our staff can look it up for you and let you know what benefits are available."
Example – "Have had a rash on my inner thigh for four days? What can I buy at the pharmacy to make it go away?" Reply – "Unfortunately, we can not discuss any medical issues with current or potential patients on this social media page due according to HIPAA Privacy Guidelines. Please call and make an appointment with one of our providers for assistance."
Social Media Advertising
Social media channels often have robust, user-friendly adverting platforms where a practice can promote posts or links to an audience. While the potential audience that can be promoted to is smaller than search engine marketing with Google AdWords, the target audience is more finely tuned. Social media advertising can be narrowed to towns and zip codes like paid ad results. An advertiser can also select an audience by age, gender, and interests to make that target audience even smaller. While the audience is smaller, they are also much more likely to be interested in whatever is advertised and click on it.
All social media advertising platforms have a robust reporting dashboard to let healthcare practices know how many people viewed an ad, clicked on links, shared the post, or even commented. A savvy social media expert will use this information to fine tune future campaigns so they can get even more bang for their buck in advertising. Reporting can also show other stakeholders the value of social media advertising.
As for what should be advertised on social media, many healthcare practices will post a call to action to visit their website for more information. Some will boost posts to reach more people or an upcoming event, like an open house. If budgets are limited, generally, the best use of that money is to promote a service and encourage people to make an appointment.
Example – "Rapid COVID-19 Testing is available for the holidays. Click here to make an appointment!"
Example – "Our annual open house is next Wednesday. Click on the event below to learn more and let us know you plan to attend!"
Engage with thought leaders or become a thought leader
Social media gives healthcare practices the chance to show off their expertise to the community. This can be done by engaging with others in the local or healthcare community. There are many opportunities to engage in online discussions on various social media platforms where experts and providers can share their views or opinions on diverse healthcare topics. Whiles this discussion may not be for everyone, it could be beneficial in networking with others and creating opportunities for healthcare practice. Not all providers or healthcare owners are that great when it comes to social media, so a social media experts can assist them when engaging in these conversations.
Example – Let providers and owners know when future opportunities are coming where they can engage in a discussion.
Example – Sit with them and either provide technical assistance, write for them, or find good questions to answer from questions provided by an audience.
Example –Set up a Livestream through a social media channel to give a live talk about a healthcare topic or answer questions from a live stream audience.
Evaluate new social media properties.
Facebook, Twitter, Instagram, and Google Business pages are the most popular social media channels that many healthcare businesses use today to stay connected with their patients. However, other social media channels might be helpful for a healthcare practice that is not currently being used. Some that may be useful depending on the nature of the practice include:
Pinterest – This social media channel is a very visual channel that could be useful to medical spas looking to showcase treatments and services
TikTok – If providers are camera-friendly and not shy, they could start a small health series of videos 1 to 3 minutes long. TikTok also has a live streaming feature they may find to be helpful.
Snapchat – Healthcare practices with every creative staff members can create videos to be viewed and shared. Be mindful that videos should be appropriate, on-brand, and of decent quality to share.
There also may be social media properties in the future that may be worth looking at and evaluating. Before it began to lose some steam and received some competition from Twitter, Clubhouse (an audio-only social media channel) became very popular among some communities. Some doctors used Clubhouse to engage in a free-flowing conversation with people or held a small symposium with other doctors about current health topics, like COVID-19. A good social media expert will look for opportunities to promote a healthcare practice. Not all new social media channels will last, but they can take advantage of a brief burst of popularity for marketing purposes.
At PatientGain.com, we have social media experts ready to help your healthcare business manage the ins and outs of social media. Contact us.