How to build social following for your medical practice
Many providers and practice managers believe that social media following can turn their medical practice into a thriving business. While this will generally increase patient engagement, and brand awareness, this does not automatically translate into high number of new patients.
Don't get stuck on followers. Focus on quality leads.
Your brand might think about social media as building a community — because at one time it was possible to reach many of your followers. Now, social platform algorithms have limited how much brand content users see in the feed. Meaning, even if you had a million followers tomorrow, only a handful would be able to see your post.
Your social media marketing objectives need to shift. Instead of focusing on followers, medical practices should view social media as accomplishing two primary objectives.
The first and foremost objective medical practices should have for social should be educating and engaging with potential patients. Start by understanding the key questions patients want answered, which will generally take the form of content about conditions, treatments and FAQs. So posting about your services and benefits of your services is the key. You do not need to post about "SPECIALS" and "OFFERS" all the time. Patients are just like you. They do not want to be "sold". Simply provide useful information.
Understand that social media companies exist to make money. They will never provide you access to millions of potential patients without any payment. So you must have an advertising budget for your social media strategy.
There are many ways to advertise on social media platforms.
Boosting your posts – This is a simple task, however we see minimal impact on patient acquisition by boosting a post.
Targeted advertising – This used to be fairly simple task, but not anymore. While setting up a Facebook and Instagram ads campaign, we counted over 67 settings for a medical marketing campaign. You also will need to create graphic design for the visual layout of the ad., Then you will need to think about "capturing the lead". We do not recommend storing any lead information in any social media platform, this is due to HIPAA compliance. We recommend capturing leads into a HIPAA compliant funnel app. Learn more advertising on digital mediums.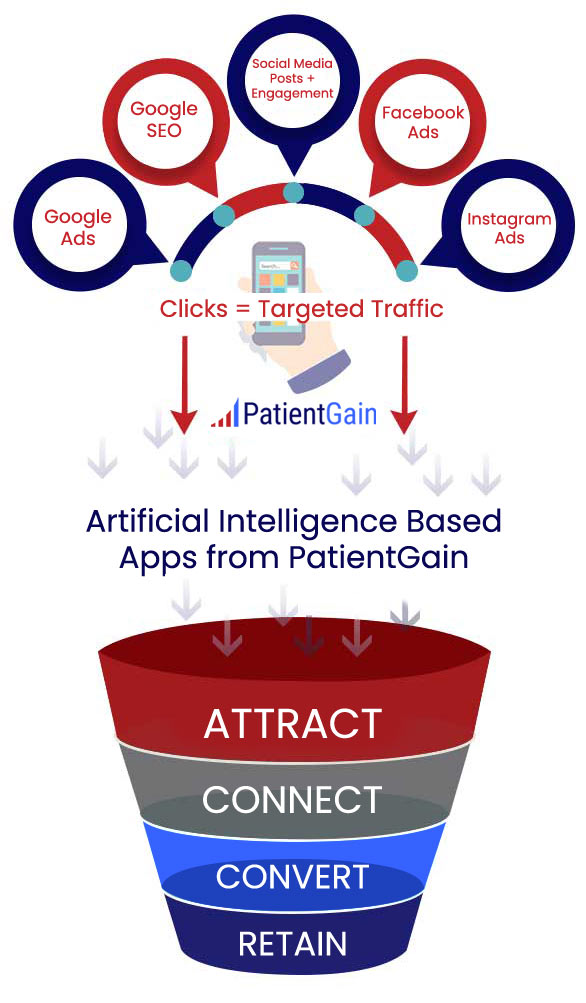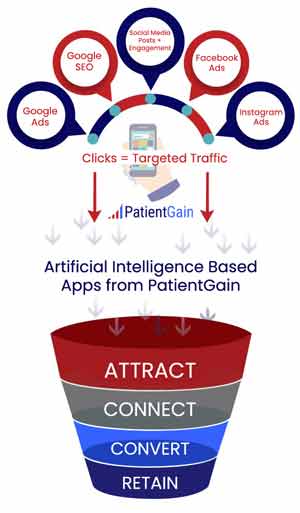 Social media management platform Sprout Social has a wealth of resources on social media use, as well as demographic data on the major social networks, which we cite in this section.
Social Media Demographics: Age
While social media use began among the younger population, this reality is changing as existing social media users age and as older people initiate social media accounts for the first time. For example, 62% of people who are 65 and older are now on Facebook. However, only 20% of this age group use LinkedIn, only 10% use Twitter, and only 8% use Instagram. If you're trying to reach out to an older audience, Facebook might be a great option, while Twitter and Instagram may not be. A full two-thirds of all LinkedIn users are under 50 years old (34% between 18 and 29 and 33% between 30-49). On Twitter, 59% of users are under 50, but skewing a bit younger than LinkedIn, with 36% between ages 18-29 years old and 23% between 30 and 49 years old.
Social Media Demographics: Income Level
Interestingly, Facebook is the only platform where the lowest earning bracket has the highest representation. 84% of adults who earn less than $30,000 per year use Facebook. 77% of those earning over $75,000 per year are on the platform. Instagram use does not appear to be affected by income. For instance, 38% of adults who earn less than $30,000 per year are on Instagram, and 37% of those earning more than $75,000 per year are too. LinkedIn and Twitter use, however, is highest amongst those who earn the most. For those who earn more than $75,000 per year, 45% use LinkedIn, while lower percentages of those earning less money are on this platform. Similarly, 30% of adults earning more than $75,000 per year use Twitter, with fewer people in lower income brackets on the platform.
Also note that as of 2022, TikTok has over taken Google as the most visited website in the world. And TikTok is also an important social media for healthcare providers.
Social Media Demographics: Education
LinkedIn is primarily used for professional purposes, and so it has a lot of users in the early and middle stages of their careers. It is the only platform where education level is significantly predictive of use. Of all college graduates, 50% are on LinkedIn, where only 12% of those who have earned a high school diploma or less use LinkedIn.
Developing a strategy that leverages different social media platforms to ensure that you are reaching your target audience is the best way to make use of your resources. Looking to what other medical practices, both large and small, are doing can be useful when putting together your strategy and your content. Many of the big players in healthcare are on both Facebook and Twitter, including Mayo Clinic, WebMD, Healthline, MedLine Plus, FamilyDoctor.org and the Veterans Health Administration to name a few. Each of these groups have other social media accounts as well, but their engagement on other platforms varies.
Developing a Social Media Strategy: General Principles & Guidance
One of the hardest things for organizations to recognize is the need for long-term consistency in the use of their social media. Results take time, so it's important to have staff dedicated to managing social content on a regular and long-term basis.
Analysis of success needs to be ongoing as well and requires establishing clear objectives. For instance, are you using social media to attract new patients, to increase patient satisfaction, to promote community health, to educate your patients, or for some other reason? It is likely that you have multiple goals, and you need to develop a strategy that allows you to track how specific strategies impact each of those goals so that your strategies can be optimized.
1. Make Social Media Someone's Job
Identifying a social media champion in your practice is one way to ensure success, whereas hiring someone external is an option as well. Regardless of what works best, it is important that someone is accountable for social media strategy, content development and analysis. For medical practices, it works best to have someone with medical training develop the content so that it is of high quality. Communications expertise is helpful as well, as it is critical to craft content that your audience can digest and that has the impact you want it to have.
It's also advisable that the person managing your social media strategy be savvy and active on the networks you choose. Each social network is a unique online community with its own ethos and culture. Understanding and adapting your content and engagement to each channel will help drive engagement, as you'll be seen to "get" the people who use that network. Someone who's already active and successful on a channel will be better equipped to succeed for your practice.
2. Stay Actively Engaged to Build Following
One of the biggest challenges that you should think about as you are developing your strategy is gaining a following. It is best to build an organic following, and this takes time. Though it is not rare for people to purchase followers — and it may be tempting to do so as a "quick fix" — there are few benefits to doing so, as inorganic followers are not likely to engage authentically with your content or to promote your specific goals. Additionally, as people become more social media savvy — and as social networks continue cracking down on these practices — they can identify accounts that have purchased their followers, which can reduce your credibility.
To gain an organic following, you must provide content that is of value to the audience you are trying to attract. In healthcare, this type of content usually comes in the form of useful health information. Covering timely topics is one of the best ways to gain a following in healthcare.
3. Use a Social Media Management Tool to Manage Your Efforts
The best way to monitor engagement is to do so personally because it is the only way to respond constructively to those who have taken time to engage with you. Most social networks also offer their own analytics to help you see how well your posts are doing, but the information is often limited to consolidating the basic stats (such as likes and follows) that are already publicly displayed on the network.
For more robust analysis of your efforts, social media management tools can help you more efficiently engage on social media platforms on a regular basis. However, as with gaining a following, it is important when using management tools that you keep your engagement authentic. For instance, there are tools that will allow you to automatically comment on certain types of posts. However, if you have not actually read the post, it is unlikely that an automated comment will be thoughtful or useful.
These tools usually provide some analytics to help you determine the best times to post based on audience engagement, the types of content that are the most likely to lead to engagement, and often a way to track other social media accounts to see what they're having success with. Identify a few top healthcare accounts (you can usually go to their website to see which ones they're using) and see what aspects of what they do you can incorporate into your strategy. On social media, "follow the leader" is great way to get started.
Another benefit of using a social media management tool is that they enable you to create your posts whenever it's convenient and schedule them for posting later. This is handy if your social media champion manages it part time in addition to their other tasks. Setting aside an hour in their day to see what's happening on your social channels and scheduling the full day's posts is great way to efficiently manage your social media efforts.
Many of these tools like Hootsuite, Buffer and others offer free plans or trials so you can try them out and see which works best for you.
HIPAA & Legal Concerns
There are a lot of warnings in healthcare about social media use, most of which focus on HIPAA rules and both ethical and legal concerns regarding the sharing of patient information. However, the benefits of participating in social media do not require exposing any PHI or engaging in the types of information sharing that can run you afoul of privacy laws. Thus, those types of concerns can be avoided by developing content strategies that involve distributing valuable general medical information that does not pertain to individual patients. For instance, covering the latest medical research that is relevant to your practice and distributing information on news in your medical field can help you achieve both professional development and business-related goals while attracting patients and improving health literacy.
Key take away, do not capture leads in social media.