How to Improve Conversion Rates of Your Dental and Medical Website
When designing your medical (dental, physical therapy etc) website, you need to keep conversion rates in mind. You might undoubtedly be familiar with the term "conversion rates" if you have worked with online ads before, but how do conversation rates apply to websites?
What is the average conversion rate for medical websites?
Answer: Average is 4.2 %. However, if your medical website's conversion rate is more than 5%, you are doing good. 5% to 10% very good. Over 10% is exceptional.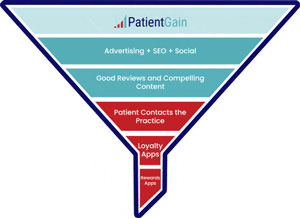 When designing your medical website, you need to keep conversion rates in mind. You might undoubtedly be familiar with the term "conversion rates" if you have worked with online ads before, but how do conversation rates apply to websites? When talking about conversation rates as it applies to websites, means having as a percentage as possible who visit your website accomplish a task. More likely than not, this task and your goal will be for them to make an appointment at your clinic. When designing a website, you are also figuring out the best ways to convert visitors to patients. Conversions and web design go hand in hand and are two faces of the same coin. They can not and should not be separated.
Example of conversion optimization and measurement of Conversion Rate Optimization (CRO)
This example is based on a real customer's dashboard, who is using PLATINUM service.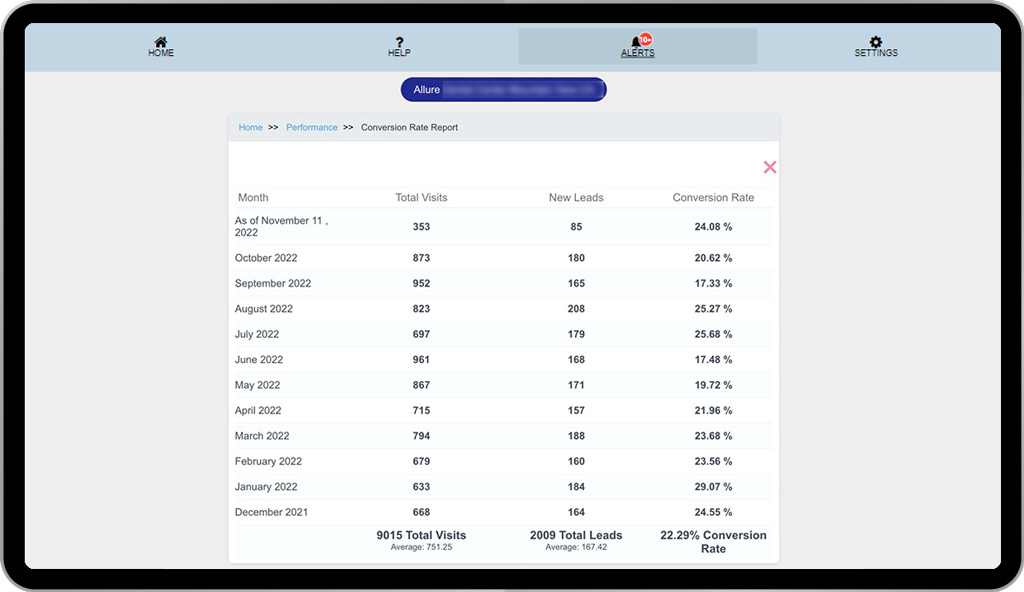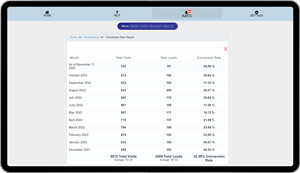 Below are some commonly used ideas and strategies that medical clinics use to improve their websites' conversion rates. The experts at PatientGain.com can help you implement these marketing techniques to boost your conversion rates.
Table of Contents: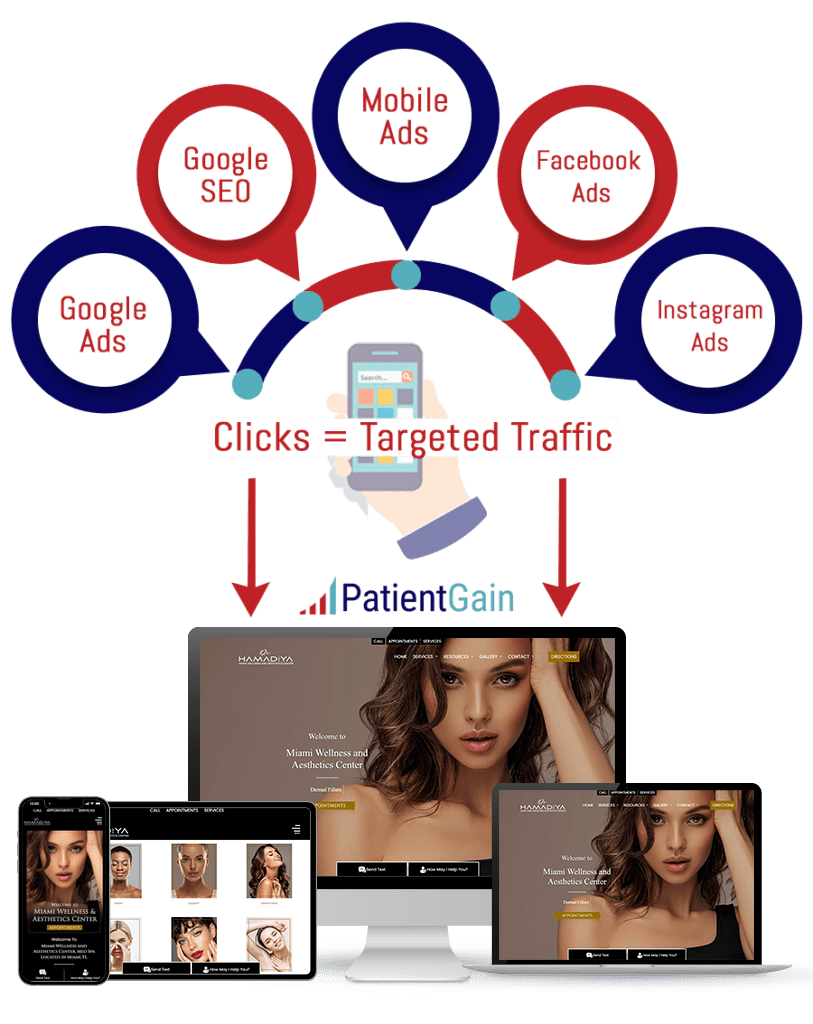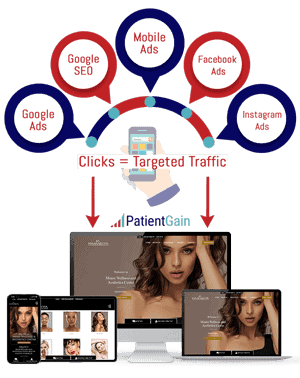 1. Gaining Positive Reviews & Using Patient Testimonials
A majority of patients looking to choose a medical clinic for their healthcare solution are going to, at some point, read online reviews by your current and former patients. Whether or not you want your business to get reviews does not matter. There are plenty of sites online where your business will be listed and start to attract reviews. To control it, you need to monitor these online listings. The vast majority of your reviews will be posted on Google, Yelp, and Facebook. With that in mind, you need to claim or create listings on these websites so you can reply to them and have access to a whole host of other features. Regardless if they are positive or negative, you need to reply to each one. If positive, thank them. If negative, ask them to call so you can talk about their experience or supply an explanation for their dissatisfaction. Negative reviews are rarely removed and impossible to avoid. The best way to combat them is to vastly outnumber them with positive reviews. How do you get a positive review? Most of the time, all you have to do is ask! Make it as easy as possible, involving as few clicks as needed to leave a review.
Once you have a collection of positive reviews about your medical clinic, it is time to use those and other testimonials to promote it! You should have a part of your website dedicated to showcasing the best reviews from recent patients. The best reviews are ones that specifically mention a service you offer or staff that helped them. If possible, try to group a few that talks about the most popular services you offer. Testimonials are similar but a little different than reviews. With reviews, you can post a patient's review as long as you hide their name, and the review does not reveal any personal health information (PHI). You will then remain HIPAA compliant. With testimonials, a patient is identified and gives a short narration of their medical issue and their treatment. If appropriate, before and after pictures or videos can be a powerful statement. Keep in mind you need written consent from a patient to add their story to your website, or you may be violating their privacy.
2. Place Call To Actions On Your Website
Also known as CTAs, a call to action is a clear, eye-catching message to website visitors on what they should do next. More often than not, this is a "button" that is clicked on that takes someone to another part of a website to complete a task. A call to action button should be a figurative exclamation point at the end of some content or one of the first things a patient sees. With that said, you do not want a page full of call to action buttons. If you put too many on a webpage, they begin to lose their impact and will only serve to confuse a patient visiting your website. Some of the most common call to action messages medical clinics use on their website include:
• Learn more
• Make an appointment
• Call
• Send a message
• Check your symptoms
The message you place on your call to action button is essential. Equally as important is the size, color, and placement of that button. It would be best if you chose qualities that are in line with your brand but also do not blend into the rest of your website. It can be tricky to select something that sticks out but is not out of place. You want a size that is noticeable but not comically large. The colors you pick should not be jarring but contrast the colors around it to stick out. Finally, your placement of a call to action button should be somewhere natural. You want to find a place where a website visitor's eyes will naturally go to be discovered.
3. Offer A Way To Communicate With A Medical Clinic Through Your Website (Texting and ChatBot)
While a phone call is certainly always an option, not every potential patient may be in the position to call. Also, your phones may not be available throughout the day. Your front staff may be busy, or a patient may only be able to call after you have closed for the day. With that in mind, it is essential to provide other ways for a patient to contact your medical clinic. The more ways you can communicate with a patient quickly and easily, the higher your conversion rates will be for your website.
Generally, it is discouraged for you to have an email address on your website. First, this will likely lead to it being spammed, filling up your mailbox with unwanted emails. Second, and more importantly, chances are if someone sends you an email to your inbox, it will not be in a HIPPA secured system. As a medical practice, you must protect all patient data, even if that data is sent to you. Keeping that data in your email inbox in a non HIPAA compliant system puts you at risk. To avoid that, have a way for patients to submit messages to your clinic stored in a HIPAA compliant way.
Another great way to communicate with patients is through two-way texting. Just about everyone has a cellphone today that has texting capabilities. Having patients able to text a medical clinic from their phone as they look at their website will drive up your engagement and conversion rates. Again, as with the messaging mentioned above, you need to remain HIPAA compliant when communicating with patients via two-way texting. You cannot use a cell phone since text messages that arrive there are not encrypted or secured on the phone. All texts you receive must be stored on a HIPAA compliant server, and you must be mindful of what information you send back to the person since their phone is likely not to be a secured device either. However, if you can become HIPAA compliant using two-way text, you will quickly see its benefits.
4. Keep Online Forms Short
The longer it takes to fill out something, the more likely someone will abandon the entire process. If possible, make your forms as short as possible and online. Only include the most important fields and use dropdown menus so a patient can select their issue, not scan a huge list of ailments you treat. If your medical practice has several "departments" or specialists, you can quickly put together shorter forms for each one rather than one long one that everyone has to use.
Having your forms online can save a lot of time at your medical clinic. It saves the patient time from sitting in a waiting room, filling out paperwork, and your staff from inputting that information into your patient management system. It avoids mistakes when someone can not read someone else's handwriting and gives instant access to doctors about a patient before they even arrive. The most critical part of online forms and you may notice a theme here, is that they are secured and HIPAA compliant. You are responsible for any data entered into your website regardless of who it is from or if it is fake. So, anything sent to you must be stored on secured servers.
5. Post Staff Bios To Establish Expertise
Potential patients to your medical practice are going to want to know who is treating them. With that in mind, consider putting up a page of staff and doctor bios. Putting names with faces will make it easier for them to choose your clinic as their healthcare choice. In addition, you establish your medical practice's expertise in an area by showing where your staff went to school, got their education, and areas they are certified in. Do not make a mistake other medical practices do by not updating this page. You do not want to come across your staff page only to find every person there no longer works at your practice. Update it frequently with new hires, remove bios of those who have moved on, and if someone achieves something, put it on there for people to read.
Some business owners are hesitant to put the names of their staff on their website. They are afraid that competitors may try to woo them away and recruit them. In today's age of social media profiles and online resumes, it is not hard to figure out who is working at a medical practice. If your staff is looking to move on to a better paying job, they are already going to have a resume online. If they are perfectly content with where they are, they won't be stolen from your practice—the benefits of putting your staff bios online and establishing their expertise far outweigh the cons. From a search engine optimization perspective, this page will be very unique compared to your competitors and helps with your overall organic results.
6. Use A Chatbot To Engage With Website Visitors
A medical engagement chatbot is a great way to boost the conversion rate of your website. A chatbot is just a program designed to engage with a website visitor and mimic human conversation. Most chatbots engage visitors when they start exploring a website and offer to help them find what they are looking for or accomplish a task. While it may seem like they are chatting with a real person, the responses and answers a chatbot gives are preprogrammed into it. If the conversation ends up being on a not covered topic, a chatbot will take a message and forward it to someone who will follow up with it. Some of the most common things a chatbot will help with include:
• Finding service pages.
• Making an appointment.
• Directions
• Hours of operation
• Contact information
• Taking a message
The best thing about a medical engagement chatbot is that it is available 365 days a year, 24 hours a day. If you are closed over the weekend, overnight, or if your staff is too busy to pick up a phone, a chatbot can assist a patient. With that said, a chatbot is only as good as the questions and answers it is programmed to handle. To be truly effective, program the most common questions your staff answers via email or phone. This should help divert some phone calls and emails away from them and to the chatbot. This will then free up your staff to handle more complicated problems quickly. While you will not' eliminate all phone calls with common questions, you should see a decrease in them. A chatbot can also be changed and updated with new questions and answers as things change to improve its efficiency. For example, many chatbots used by clients of PatientGain.com updated their chatbots with COVID-19 related information.
The experts at PatientGain.com can help you increase the conversion rate of your medical website. We have implemented all of the strategies mentioned above and others with our clients. All have seen an improvement in their conversion rates, and we can help your business also! Call today and set up an appointment with one of our experts and show you what we can do for your medical practice!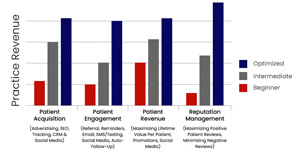 How to Improve Conversion Rates of Your Healthcare Website
When designing your medical (dental, physical therapy etc) website, you need to keep conversion rates in mind. You might undoubtedly be familiar with the term "conversion rates" if you have worked with online ads before, but how do conversation rates apply to websites?