Build Your Brand By Medical Advertising On Instagram For Medical & Dental Practices
Facebook, Instagram Advertising for Dental & Medical Practices. Creating compelling Instagram posts and ads on the platform can be tricky. Only posting a message about a promotion with a picture of words is generally not effective. So you should consider advertising on Instagram.
Instagram is becoming an increasingly popular platform for medical clinics and doctors to connect with their current patients and reach potential new patients. Although officially a part of Facebook, it operates somewhat independently from the massive social media company. With that said, the two are somewhat integrated, allowing you to connect your Instagram account with your medical clinic's Facebook Page. Instagram is becoming more popular with younger demographics and is a very engaging visual medium for connecting with others.
Creating compelling Instagram posts and ads on the platform can be tricky. Only posting a message about a promotion with a picture of words is generally not effective. The image you select to promote needs to capture the audience's attention and compel them to engage with your medical clinic. Below are some great tips to follow to get the most out of your Instagram Advertising.
Example no 1:
Example of an ad on Instagram for a med spa promoting "underarm laser hair removal"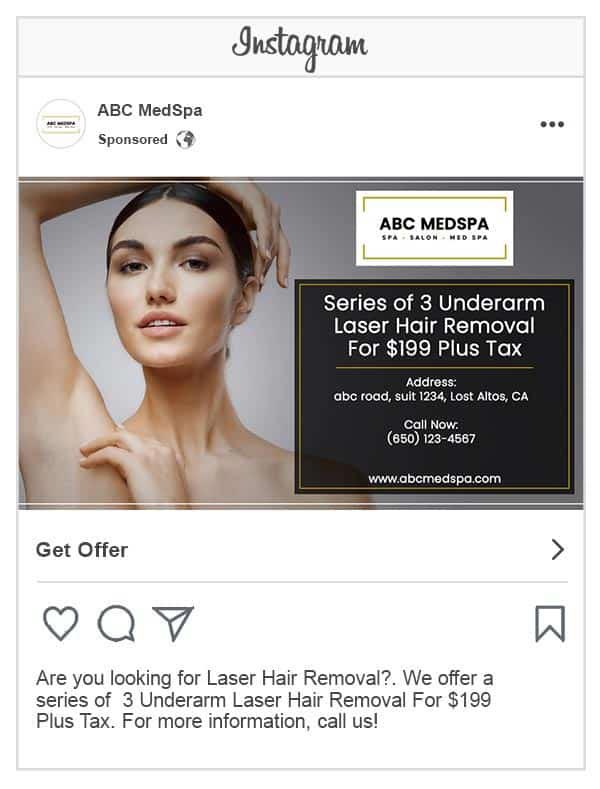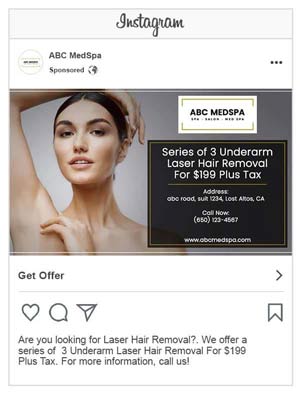 Example no 2:
Example of an ad on Instagram for a med spa promoting "Mother's day special"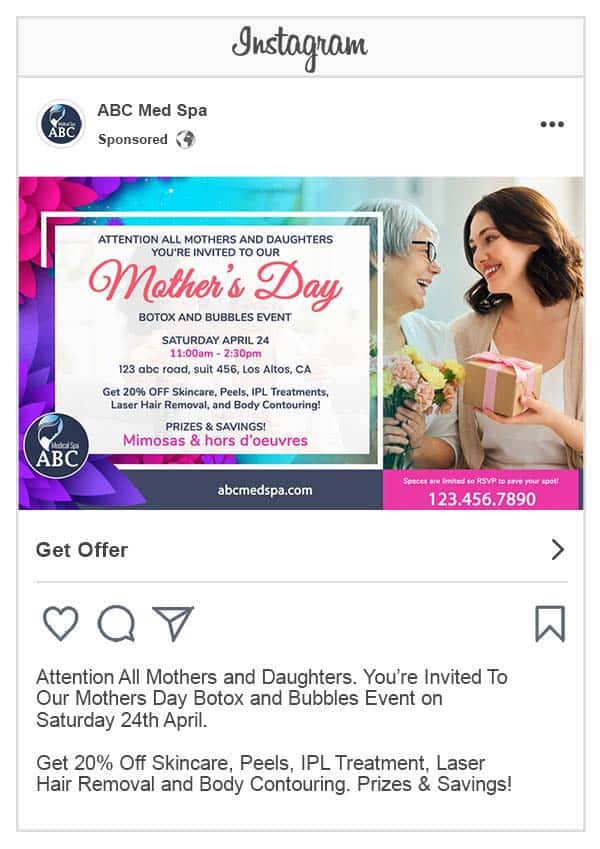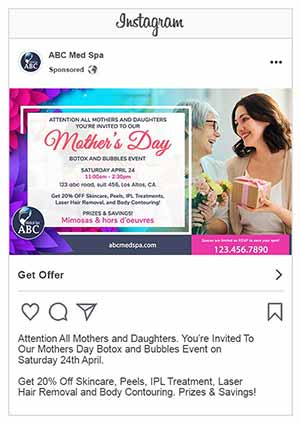 Example no 3:
Example of an ad on Instagram for an orthopedic practice promoting "Workers compensation services". This ad is targeted to business owners, managers, practice managers.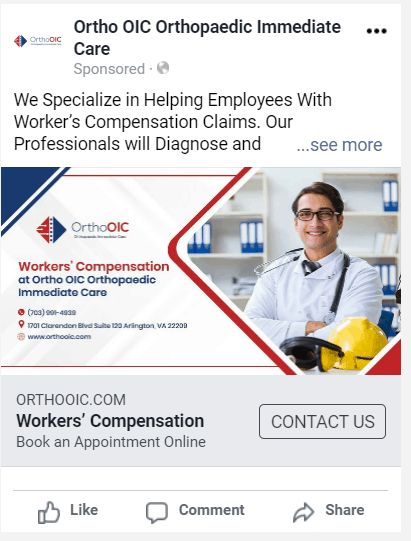 Instagram's Zoom Feature
This feature allows users to use their fingers to zoom in on a picture you've posted. If you put some effort into your image selection, you can get users to explore a photo in detail to find little hidden messages, Easter Eggs, or other features in a picture that generally wouldn't be seen. Medical clinics have had fun with this feature, and it often results in high engagement if used properly. Some have taken pictures of their staff during holidays in various spots in a large picture, having patients zoom into find little details. These pictures often work best when a high-res image is used. Be careful not to have any patient information accidentally exposed that can be zoomed in on.
Select Your Best Content To Advertise
If your medical clinic is frequently on Instagram, you probably have a lot of content to pick from. Do not promote every single thing, but rather the most engaging images you have. Which images should you select? Chances are the images that received the most organic engagement, (not just the ones your employees liked) will also work well for your Instagram Advertising campaign. Will every single picture with high engagement numbers do great in your marketing campaign, probably not. Many factors go into a successful campaign, but selecting photographs that have already done well in the past is an excellent place to start. You can also create original content for advertising, but you should still use past successful content as a guide to what will connect best with your target audience.
Refine Your Targeting
Unlike a search engine ad, you can refine your targeting to select a particular target audience. Two tools that are available to you are Remarketing & Custom and Lookalike Audiences.
Remarketing – To utilize the remarketing aspect of the Instagram advertising platform, you need to install a Facebook Pixel onto your website. This pixel will track anyone who visits your site, who also has a Facebook and Instagram account. When they revisit Instagram, they'll be targeted for your ads because the platform knows they have already visited your website within a set amount of time. Remarketing has a high conversion rate as your ads are not the first time someone has seen your brand. Advertising to them after they have already visited your website is beneficial.
Custom and Lookalike Audiences: If you have an extensive database of patients, you can create a "Lookalike Audience." Instagram will take the names and contact information of your patients, find them within their system, and use them as a model to find new people who resemble their demographic traits. If your target audience can be matched with others in the Instagram system with similar characteristics, your ads are much more likely to be successful. Some of the things a Lookalike Audience will match up include:
• Interests
• Behaviors
• Employment backgrounds
• Demographics
Your Ads Shouldn't Be "Hard Sells" To Your Patients.
Instagram ads that are blatant ads are generally a big turn off to Instagram users. They will scroll right past something that screams, "Sale! Sale! Sale!" An obvious service or product promo is going to be ignored. If you can make your ad look like a natural, organic post within Instagram, it is much more likely to be viewed and engaged with on their end. The best ads will use images of your medical practice. You want to avoid the impression that you are continually trying to "sell" something to your patients. Your Instagram channel, in general, should contain more than just examples of services or product promotions. Introduce your community to employees who work at your clinic and share fun stories for people to engage with.
Call To Action
Also known as a CTA, a call to action is a firm suggestion of what the user should do next. A call to action can increase the engagement and conversion of your ad and help you gain new patients. Some great Call To Action phrases include:
• Book Now
• Make An Appointment
• Learn More
• Call Now
• Reserve Your Spot
• Sign Up For More Info
• Subscribe
These call to actions can go a long way to helping your ads perform better and accomplish your goals. Tell your target audience what the next step is if they want to continue. It may sound silly, but if someone is told what they can do next, they are more likely they will to follow through with it.
Use Videos On Instagram
Instagram isn't just for pictures. You can use videos to engage with your target audience. Since it is more common to see photos than videos, your video ads will stand out in a user's Instagram feed. Videos generate much more engagement than static images, and call to action buttons also convert better. Take time to create a high-quality video for your Instagram ads, so it stands out. Other medical practices have also found success by asking patients to submit video testimonials of the service they received at their locations. Videos can also be posted on Instagram accounts organically to engage with others. Some doctors post a weekly or daily "Health Tip" with a video to engage with their patients.
Use A Image Carousel
When Instagram first launched, you could only post one image at a time. Today, you can use an image carousel. Here, you select multiple photos to publish online. A user will then use their finger to scroll through the pictures left to right, like a carousel. It is available to you for organic posts and your Instagram Ads. You can use a carousel to show a patient's journey through a service, the day and the life of a medical assistant, or any other "story" you want to tell with a series of pictures. Avoid having every photo be about a service or a product. Use this feature to tell a story, not sell something to a target audience.
Need help advertising using Instagram's robust ad platform? Come to the experts at PatientGain.com. We have experienced marketers who can help you with your Instagram Advertising. We'll work with you one on one create a great marketing plan for your medical clinic. Call today and make an appointment with our team!