6 Top Marketing Strategies For Dentists $799/mon Used By Top Dentists. Marketing and Advertising Apps Included in GOLD Service For Dentists
Promoting a dental practice with digital marketing has proven to be very useful in bringing in new patients and maintaining a practice's current patient base. Unlike other healthcare fields, embracing the concepts and tactics used in digital marketing is not universal among dentists.
6 Top Marketing Strategies For Dentists
Promoting a dental practice with digital marketing has proven to be very useful in bringing in new patients and maintaining a practice's current patient base. Unlike other healthcare fields, embracing the concepts and tactics used in digital marketing is not universal among dentists. Some rely on word of mouth or on traditional advertising techniques to gain new patients. While these areas can be essential components of your overall marketing plan, you make it easier for other dentists to compete with you if you ignore digital marketing. The experts at PaitientGain.com have worked with many businesses in the healthcare industry, including dentists. We can help you integrate the best practices for a dentist to market their business to help you grow and put your competitors at a disadvantage.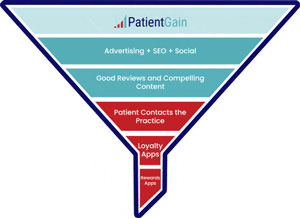 Creating the perfect digital marketing plan for your dentistry may seem overwhelming at first. There are many moving parts and many ways to approach this challenge. However, if you properly plan your digital marketing strategy, you can see significant increases in new patients and web traffic. Below are some popular ways to market your dental practice. They have shown to be effective in the past. Try approaching these ideas one at a time until you get comfortable with them before moving to the next. Many dentists give up on digital marketing when they become overwhelmed.
Strategy 1: Content Marketing – Create Great Content For Your Website
Content marketing is one of the most effective ways to boost your overall search results. Organic rankings are free, so the more times you can rank in the top three results for your target keywords, the better. To rank higher in search results, a search engine must determine you are the right website for someone's search query. Many factors go into this, but one of them is the content of your website. For example, if you want patients to come in who need root canals, but those words never appear on your website, it will be hard to rank for that target word. Even if you have those words on a page, there needs to be some substance to that page.
You are going to be competing with other dentists in the area. The more words you have on your website, the more likely someone will stick around and read it. If you have only 200 words about a dental service while a competitor has 1,000 words, chances are potential patients will stay there longer. To a search engine, if someone spends 2 minutes on a website and comes back for more search results, that website was not an excellent choice to give them. If they spend 10 minutes on that website and never come back for more search results, that was a great website.
The more engaging, useful, and informative content you have, the more relevant and authoritative a search engine will see you. Content marketing is also not a "one and done" proposition. Truly effective content marketing should see you always adding, updating, and refining content. You do not want to update every single page on your website in one week. You should look to update, expand, add, and refine content throughout the year. This will show search engines that your website is keeping up to date and will boost your organic rankings. Adding additional content may be difficult once you have all of your service pages written out. Consider writing a blog once a month or once every two weeks covering a dental health topic. This will add new content to your website, add to your relevancy, and make for great content to share across your social media channels.
Example of a very good content for a dental practice located in Toledo OH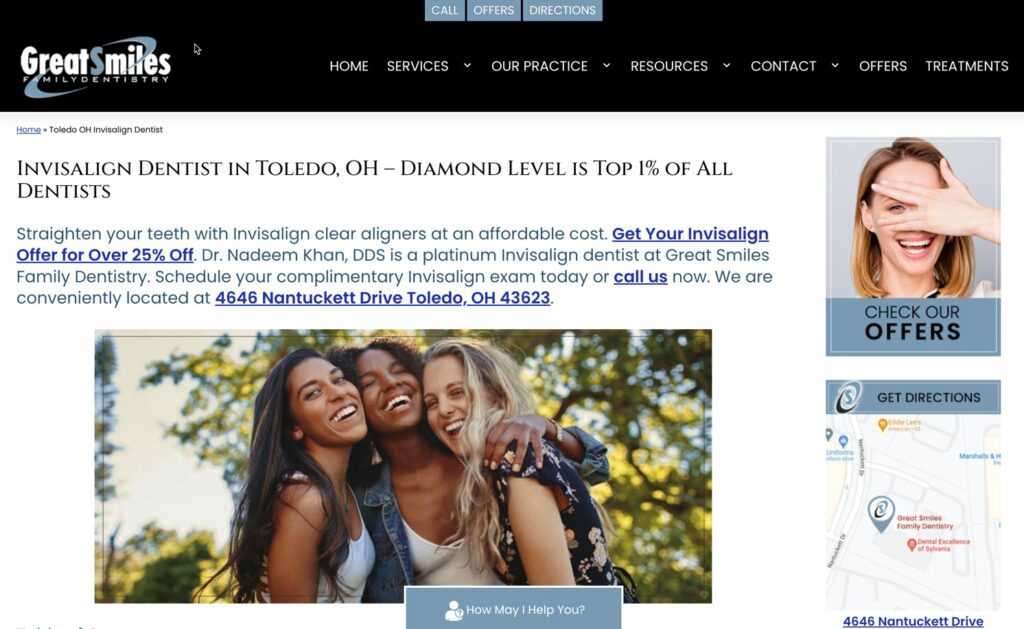 Strategy 2: Improve Your Site's SEO (Search Engine Optimization)
Search Engine Optimization, or SEO, is the process of making a search engine understand what your website is about by making sure the right target keywords are used. Both SEO Marketing and Content Marketing work together to help your organic rankings. While content marketing is about putting content out there to be consumed, SEO Marketing makes sure the correct target keywords and phrases are included. So, if you offered root canals, you would want the words root canal to appear on your home page. You would also like the most common keywords and questions to appear on the root canal service page. If you can use the same words, phrases, and questions a potential patient would use when searching for services, you will be in a great position to start to rank high in search results.
Example of a very good SEO (Search Engine Optimization) for a dental practice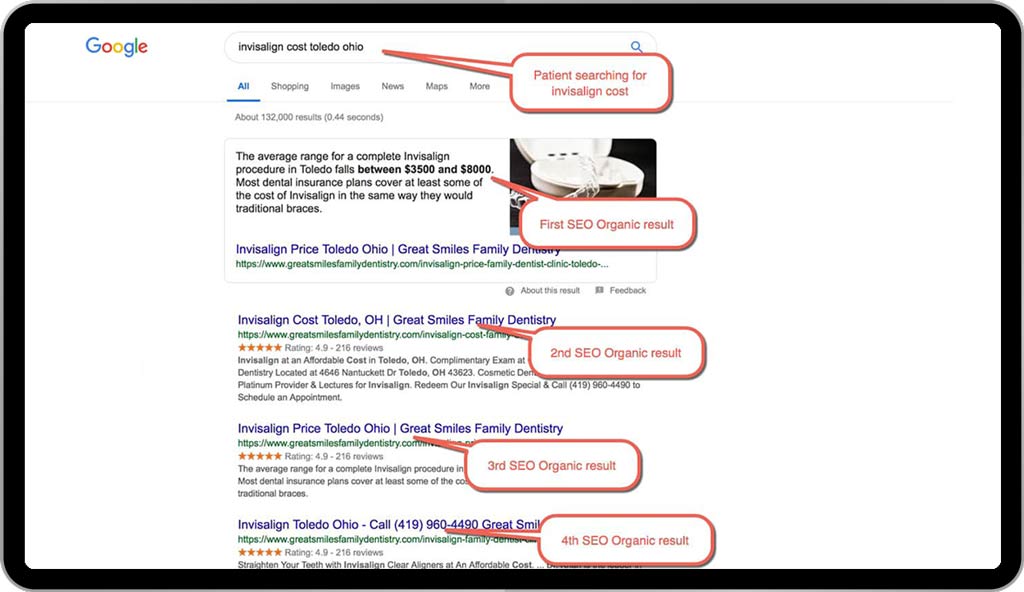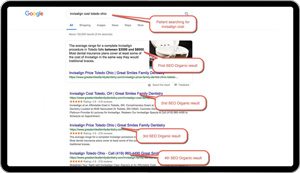 Strategy 3: Social Media Needs To Be A Part Of Your Strategy
Many healthcare professionals use social media to connect with current and potential patients, and so should you! Different demographics use each of the major social media channels. Determine which demographic is your target audience and concentrate most of your efforts there at first before expanding to other social media channels. Maintaining a presence on multiple social media channels can be challenging. Still, it can be made easier if you use a service that allows you to post to multiple channels at once. Two of the most popular services are Hootsuite and Buffer.
As for the content, you should post on your social media channels and avoid making every post about your dentistry. If you are always trying to "sell" something, your followers will ignore you or even unfollow your accounts altogether. At most, 10% to 20% of your content should be about your dentistry. What should the other 80% be about? Between posts talking about the services you offer, post stories from the local community, and local and national health stories. To get real traction in terms of engagement on your social media, try to post news, pictures, and videos from your practice. Information about your facility and the people who work there often get excellent reactions and engagement. Instead of showing website pages of the services you offer, show the people who will help patients maintain their dental health.
Finally, take advantage of the ad platforms that many of these social media channels have available. While you will not reach as many people as you would search engine ads, you can refine your target audience, so your ads only show those most likely to need your dental services. You can target not only by location but also by gender, age, and interests. This gives you a narrow but receptive audience for your social media ads.
As for what social media sites you should establish a presence on and post regularly, they include:
• Facebook
• Instagram
• Twitter
• Google Business Page
Some dental practices have found success in using these social media channels:
• Snapchat
• Pinterest
• TikTok
Strategy 4: Email Marketing
At one time, email marketing was king of digital marketing. Over time, however, more and more people get promotional emails. Email providers, like Gmail, Hotmail, and Yahoo, have introduced filters to keep those promotional emails out of inboxes and placed into promotional folders. While harder to catch someone's attention in their inbox, email marketing can still be useful if done correctly. You likely will have an extensive repository of emails addresses to work with. Each time someone comes to your dental practice for the first time, you will collect all of their contact information. Today, that personal information will include their email address in most cases.
Many dentists (and other healthcare professionals) make the mistake that they need to send out multiple emails throughout the week. Email marketing should not be treated as social media marketing. You do not need to send messages to patients about every little thing that is going on at your practice. You do not need to remind them of your hours of operation unless they are changing for the holidays or some other reason. If you email too much, your patients will unsubscribe or mark your emails as spam. Too many spam notifications, and you will be blacklisted from email services, sending emails directly to someone's spam folder.
You are trying to send out monthly newsletters as a way to engage with your patients. Your newsletter should have essential updates from your medical practice, highlight some dental news, and perhaps a story or two about your staff or a patient. You want the newsletter to be useful and full of dental health information, so a patient will want to read it and maybe even forward it to a friend or family member. Include a call to action with links to your website for people to learn more or to make appointments. Use an email marketing system so you can track open and click rates to judge how effective your dental email campaigns are.
Strategy 5: Manage the online reputation of your dentistry
Before a new patient visits your dental practice, they will consume as much information about your location as possible, including relevant online reviews. A negative online reputation can practically kill a dental practice. No matter how hard you try, you are sure to get some patients who will be upset with your services and be motivated enough to write about them online. As long as these reviews are legitimate and do not violate terms of service, there is no way to get them removed. However, there are two ways you can address them.
First, you should always respond to a negative review with a public response. Apologize for their negative experience, and if appropriate, explain what happened as long as it does not violate any HIPAA regulations. For example, if your building suffered a water main break and no one called the patient to tell them their appointment was canceled, then that is perfectly okay to post. If it is something that may violate HIPPA regulations, you need to state that and ask them to call your clinic. Occasionally, you may have no idea who is leaving a review and cannot determine who it is. In these cases, you should be honest and state that you do not know who this is and ask them to call your dentistry. Sometimes people may leave reviews under different names or may leave a review at the wrong location. So why respond to negative reviews, even if they are wrong? You can sometimes get these reviewers to change their review or remove them if they are mistaken. Regardless, you will show others reading reviews that you take feedback seriously.
Second, you should actively ask for reviews from your patients. Ask for feedback from patients and if they had a positive experience, send them a review link. Ideally, while you may have some bad reviews, they should be significantly outnumbered by your positive reviews. Again, you should always reply to reviews thanking them for their feedback. If they leave comments, try to personalize your thank you notes back to them while maintaining HIPAA privacy regulations.
Strategy 6: Your Dental Website Should Be User Friendly & Work On Mobile Devices
Mobile traffic to healthcare websites is often the majority of traffic that visits. More likely, your dental practice gets most of its traffic from mobile devices, like phones and tablets. With that in mind, your website needs to be optimized for mobile visits. Every single function available to patients on the desktop version of your website needs to be available on the mobile version. Regardless of where your website is viewed, it needs to be easy to navigate and load quickly.
Your navigation bar should have the top services easily clickable and directly linked to an appointment system you are using. The most essential things on your website should take the least number of clicks to get to for a patient. If you have a website with many pages it will not help list every page in a navigation bar and is impractical. Instead, group these pages and create a landing page for patients to explore these dental services further. However, you should keep your top services or site destinations only a click away from the home page.
Fast site loading speed is essential for conversations as well as your organic rankings. Every second a website takes to load; a potential patient clicks the back button and looks at your competitors. Google will be able to detect this, and it will impact your overall organic rankings. To maintain good site speed, your pictures need to optimize, and any videos hosted elsewhere. Finally, and this is something many dentists do not do, you need to frequently test your site speed to make sure nothing has started to slow it down. Specific codes, plugins, and even pictures may "break," causing a dramatic slowdown in site speed. Frequent testing will help you avoid this.
Call the experts at PatientGain.com today and let us show you what we can do for your dental practice. We have helped dentists grow their practice and can help you too!