How To Keep Your Dental Website Design Patient-Centric
Key simple steps to improve the conversions of your dental website and keep the design patient-centric
A dental practice's website will be the first thing the vast majority of current and potential patients will visit during their healthcare journey. It is often the most effective marketing tool a dental practice has available to promote its business. Dentists, however, make the mistake of using their website to dump as much information as possible onto visitors in hopes of proving to them that they are the right choice. While valuable and engaging content about dental services is essential to convert website visitors into patients, dentists need to ensure their website is patient-centric. It needs to be designed and presented with the patient in mind. Below are some features and attributes a dental website should have to remain patient-centric.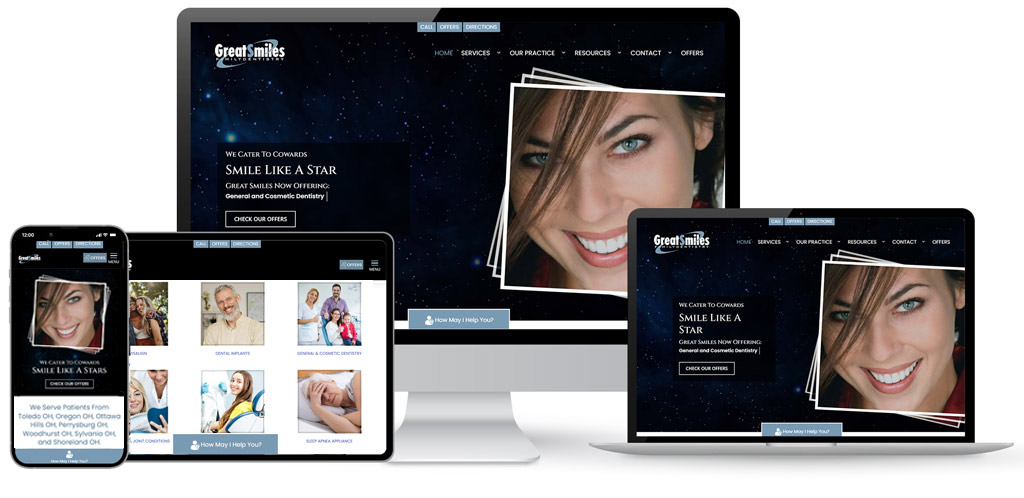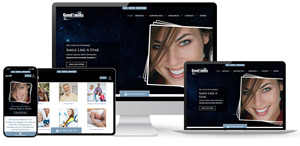 Step 1: "Call" Button On Every Page
The majority of a dental practice's website is going to come from mobile devices. Unlike most computers, these mobile devices can immediately call a dental practice to make an appointment or follow up with some questions. Giving patients the ability to reach a dental practice should be as easy as possible for them. Without having a "mobile mindset" on how a website is presented to a patient, dentists may feel having a simple contact page with a phone number or a phone number listed in the top header is good enough. For desktop computers, this would probably suffice. A visitor would pull out their phone and dial the number they read on a monitor.
For mobile phone users, extra steps are involved. They would either have to write down the number on a piece of paper or highlight, copy, and then past the number into their phone app. Either one of these methods requires several steps, and there is a chance someone might give up after each step and return to search results. Instead, embed a "Call" button with the dental practice's phone number on the top of every page. A nonintrusive button will then be available no matter where the visitor is on the site for them to use to contact the dental practice. Most, if not all, smartphones will recognize a phone number and automatically prompt the user to call it. This method saves time and requires fewer clicks and actions from the patient to get in touch with the facility.
Step 2: Using An App To Post Specials & Offers
Patients, regardless if they are looking for dental care or buying groceries, they are always looking for offers & specials. A dental practice that offers offers & specials will naturally have a competitive edge over its rivals, who do not offer any specials. Website visitors will linger longer on a site and will almost always explore available offers & specials when presented to them. While not all dental practices can offer specials, if they can, they should be displayed prominently on their website. As with the "Call" button that appears at the top of every page, a "offers & Specials" button should also appear next to it and on every page. When a current or potential patient is exploring a site and finds what they are looking for, presenting specials is a great way to secure a website conversion into an appointment.
Offering offers & specials can be tricky for a dental practice because they need to be monitored. Offers & specials usually do not have an open ended expiration date. Otherwise, they would not be special. Just by adding an expiration date 10 days from today, will create a sense of urgency. Our data shows with 7 to 10 days of expiration will increate conversion by 22 percentage. They also need to be published promptly so people can take advantage of them. Specials also need to be removed after they are no longer valid or after a promotional period has ended. If they stay up, patients may sign up or download the special only to find out they can not use them. This will lead to some negative experiences and even some 1-star reviews. This app is offered by PatientGain's Specials and promotions app.
The best way to tackle this issue is to use a Specials App. This app will allow a dental owner to create, edit, and end specials from a dashboard and see these changes appear instantly on a website. A Special Apps also lets a dental practice set the start and end dates for any promotions. This allows them to not worry about when to turn it on and when to turn it off. Finally, a specials app can be used to collect helpful patient information for marketing purposes. For example, while it is possible just to let people print out a special to use later, some dental practices require them to "sign up" for it. The current or potential patient will leave contact information to access the special. For a dental practice, it is helpful to know whether existing or potential patients are accessing the special, and the contact information left can be used to customize marketing campaigns.
Step 3: A Directions Button On Every Page
As discussed, the two buttons that dental practice should consider putting at the top of a page are the call and specials buttons. On smartphones, there is usually room for one more button. If a dental practice puts more than three on them, they can become a little challenging to select. The third button that should join "Call" and "Special" is the "Directions" button. Once an appointment is made, at some point, the patient will then have to make their way over to the dental practice's facility for a treatment or service. If it is the first time they have visited, they will want to look at the directions. Even if they are a regular patient, they may want to brush up on how to get there from time to time.
As you may have guessed, the directions page should have the address of the dental practice on it. This address should be linked so that if someone clicks on it, it immediately brings up a map for them to explore. On desktop computers, this means a new window with a map and address plugged in so they can explore the surroundings. For mobile devices, this link will pull up the users' preferred mapping app on their phones. The goal is to let them see where a dental practice is located and then enter their address (or let the device detect where they are) to follow directions.
A directions page should also embed a map into their site so it will display for the person. Most of the significant mapping websites, like Google Maps, let users embed maps into websites. This allows visitors to explore the area without opening a new page or app and lets them stay on the site. As a bonus, it also often helps local SEO to have these maps embedded into a site.
Finally, a dental practice should write out directions on how to get to a dental practice from multiple directions. They should spell out the road they will take, landmarks a patient will pass, and name other businesses they will see when they arrive at a dental practice's location. If available, they should also include instructions for public transit. They should name the bus lines, rail lines, subway lines, and their respective stops followed by walking directions. While not all dental practices are served by public transit, those available should post these on their page. This not only will make a practice more accessible to a target community, but it will help local SEO also!
Step 4: Use A Medical Engagement Chatbot
Chatbots are becoming very popular on websites, regardless of their industry. First adopted by retail websites, health care websites (including dentists) have found them immensely useful. A well-programmed chatbot will help cut down on calls and messages to the front desk, allowing the staff to focus on more complicated patient issues. A chatbot will intercept many (although not all) questions and help requests from website visitors, turning possible website bounces into website conversions.
A chatbot is just a simple program designed to engage website users to help them answer questions or accomplish simple tasks. When trying to determine the best questions or tasks to program into a chatbot, the best place to start is to ask the front desk staff. They are often the first people to have interactions with patients and are likely the most frequent. They will list out the most frequent questions they get asked and the most frequent simple tasks they have to help patients with over the phone or email. This will give a dental practice a good starting point when developing the rest of their list of questions and answers for a chatbot. For any task or questions a chatbot can not field, it will take a website visitor's contact information and inquiry. From there, it will store it on a HIPAA-compliant server so staff can address it later.
Finally, one of the most significant advantages of a chatbot is how customizable it is for dental practices. If a new health question starts popping up, it can be incorporated into the chatbot's list of questions. It can also be updated quickly. For example, when COVID-19 caused the quick implementation of lockdowns and safety protocols, chatbots were updated promptly with patients' most common questions and current information.
Step 5: Publish the Bios of Staff On A Website
The more connected a patient feels with a dental practice, the more likely they will stay loyal to the brand. With that in mind, a dental practice should consider publishing the bios of the providers and staff that serve and treat patients. Some owners may be concerned that by posting the biographies of their employees, competitors will try to swoop in and steal them away. While it is certainly a valid concern that a dental practice wants to protect its employees from being poached, it is as easy as ever to figure out who works for a dental practice. If a staff member is looking to grow in their career or network with others, they likely have a public profile on sites like LinkedIn, listing where they work. Any competitors could track down a way to contact a staff member if they wanted to make them an offer. There are more benefits to publishing a profile than risks.
One of the most significant benefits is letting patients connect with those that treat them. For new patients, putting a face with the name of the person who is treating them is reassuring. Some patients do extensive research about those who are treating them and will want to research the credentials and education of those providers. Listing to them allows patients to complete their research and feel confident about their choice. Staff bios are also a chance for employees to highlight some of their accomplishments. In addition to listing their education and certifications, a dental practice could link any recent stories about them so visitors can learn even more about the staff. Some of these stories may be related to dental health, and others could be their accomplishments, like winning a marathon or completing research. Staff bios, however, need to be kept up to date. If someone leaves a practice, their information should be taken down. A dental practice does not want a staff bio page where 50% of the people listed no longer work there.
As a bonus, staff bios are often great for SEO and content marketing. Many staff bios will include target medical keywords that will perform well in search engines from an SEO perspective. For content marketing, staff bios are among the most unique content a search engine will come across. Both of these traits will help push a dental practice's organic rankings higher!
Step 6: Publish A Monthly Blog Post
While it may seem like a chore to write a blog every month, there is a lot of value in doing one. Patients like to do their research, so a well-written blog may help convince them that a dental practice is knowledgeable enough to assist them with their dental needs. A blog is also another opportunity to let a dental practice show off its abilities. Some dental practices use this opportunity to let their providers show off by writing a blog to talk about a dental health issue once a year or more. If enough staff and providers work there, everyone should only have to write once a year to cover each month. The subjects for blog posts should, if possible, be influenced by patients based on what they want to know more about. Consider sending them a survey once a year to help determine the topics to be talked about in a blog.
Finally, as with staff bios, blogs are great unique content that will help push up organic rankings. They also make great things to share on social media, email campaigns, or even in text campaigns. While it may be tempting to do a weekly blog instead of a monthly blog, a dental practice is well advised to start with monthly blogs. It is much easier to come up with 12 topics in a year as opposed to 52 topics. The experts at PatientGain.com are ready to help a dental practice design a patient-centric website. Call our experts today and let them show you what we have done for other dental clients across the country. Our team is looking forward to working with you!
The design of a dental website is a big decision for a dental practice. While one certainly does not desire a cheap-looking website, you also do not want to break the marketing budget with an entirely too expensive website. There are many medical website design companies out there, but not all of them a perfect for all dental practices. Below are some aspects you should consider before deciding on the cost for the creation of a dental practice's website.
How much does a typical website for a dental practice cost?
Websites are like automobiles, there are a variety of different prices for them, and there is a variety in terms of quality. A website design company that offers different templates from a client to choose from can cost up to $2,000 with additional monthly fees to maintain it. If a dental practice wanted a custom-designed site, it could be well over $10,000 depending on the website's size, the features a dental practice wants, the overall size of work that must be done. Again there are generally monthly fees associated with maintaining the site. Some website design companies offer meager marketing addons for an additional fee.
At PatientGain.com, our Gold service at $799 a month does not require any initial setup fee or cost for the design of your dental practice's website. In addition to creating your excellent website, our gold package also offers various marketing services like SEO work, reputation management, social media support, surveys, medical engagement chatbot, email marketing, and review request app. When you want bang for your buck with your website design and marketing, PatientGain.com has been the top choice of dental practices across the country.
How does a dental practice determine the budget for its website?
The website of a dental practice is a critical part of their digital medical marketing plan. It will generally impact many other marketing campaigns due to the fact the goal is often sending people to the website for more information or to make an appointment. Some dental practices use templates to get a decent enough website up and running and use the money saved for digital promotions. Other dental practices will instead drop big money for a fancy custom website. Still, others with limited website design knowledge may opt to build one themselves from a website self-publishing service. Each one may be the right choice for some dental practices, but not all of them are the right choice for ever dental practice.
The first impression is critical when a potential patient visits a dental practice's website for the first time. It needs to load quickly and grab their attention within seconds. If it fails to do both things, that website visitor is likely to click the back button and go back to their search results for another choice. A website needs to be well designed inside and out to convert website visitors into regular patients! Since this aspect of your digital marketing plan is so important, a dental practice should consider a dental website an investment, not a typical business cost. An investment is long-term and will hopefully produce revenue as time goes on. A regular business cost is like a ream of paper or ink for the printer. Both are important for a business, but neither is an investment.
If you look at a website as an investment, the amount of money you spend initially will make a bit more sense. The more money you invest in something, the more return you should expect. However, this is not a constant ratio; there is a point where you might invest the same amount of money, and yet you will not have the same return. Your ROI, or return on investment, will begin to flatten. The key is to find that sweet spot.
Example of a intelligent dashboard of a dental website (PatientGain's GOLD service)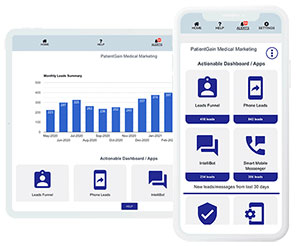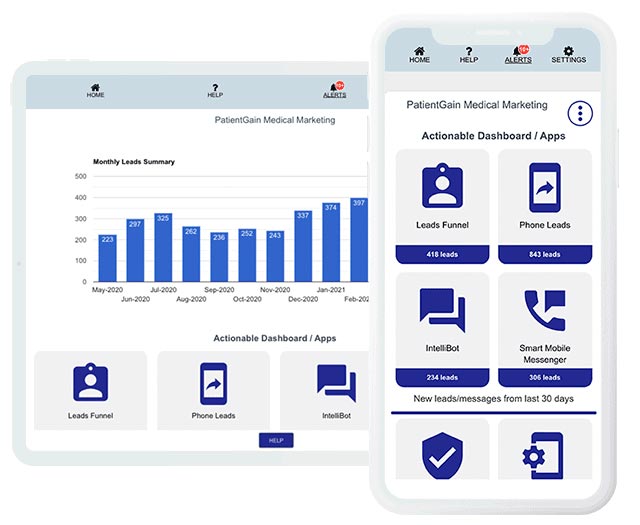 What are some different choices dental practices have to pick from when designing a website?
If creating a website for the first time for a dental practice, an owner will likely be presented with a few options. Each one has advantages and disadvantages associated with them. Again, some may be right for some dental practices in some situations. There is no cookie-cutter solution to designing a dental website that works for every dental practice.
Do It Yourself Website
Among the least expensive websites out there are do-it-yourself website builder services. There is a variety of them, some even being advertised by celebrities on TV. Some have some great utility, and a dental practice could put together a decent-looking website in a pinch. Support of these websites is limited, but there is often an online community and videos showing people how to install certain features.
On the plus side, it generally costs the least amount of money. You also have complete control over the look and content of the website. The drawback to a do-it-yourself website is that no one can solve complex problems quickly, and there is not an IT department you can assign a task to complete for the website. Any technical aspects of website building, like SEO work, are left unattended unless focused on by the person in charge of building the site. A dental practice is pretty much on its own and at the mercy of the knowledge limit of the person who is managing the website.
Semi-Custom Template
A step up from a do-it-yourself website is to hire a design company with various templates for a dental practice to choose from for their site. The dental practice will provide design company logos, brand information, content and select the colors they want. From there, the design company will build out their website and provide support for a monthly fee. Any need changes will be submitted to them, and they will handle most of the upkeep for the website.
The advantage of a semi-custom template from a web design company is that it is quick to get a professional-looking website up and running. It is also built by website designers who know exactly what they are doing. They will be able to handle many of the behind-the-scenes issues that pop up when creating websites. They often can solve the technical problems that are holding a website back. Unfortunately, there is not too much in the way of variety when it comes to semi-custom templates. If you review a website design company's portfolio, you will begin to see many websites that look the same. If your competitors use the same design company, this could be a problem.
Highly Customized Website
While the most expensive, a highly customized website can give a dental practice everything it wants, so it gets the website they want to see. A website design company producing this website will also handle all of the technical SEO needs of the website to ensure it gets the best organic ranking possible. Monthly maintenance and improvements will ensure a website continues to use best practices as they change in the industry over time. A website like this will stand out amongst a dental practice's competitors. It will look and function better than a do-it-yourself website, and it will look like no other website your competitors have.
While more expensive than the two previous versions, you will get the most bang for your buck with this investment in your dental website. PatientGain.com, unlike some other medical website design companies, also offers a variety of marketing services as part of its monthly fee. This marketing service package compliments the website built for a dental practice and is designed to enhance its effectiveness. If you want to give your dental website the best chance for success, a highly customized website should be your top priority.
When choosing a website provider to design and build a website for you, several things to consider. Below are several areas that dental practices should examine before making their final decision.
All of these features are included in PatientGain's GOLD service:
Has the website provider designed a website that works for your brand and dental practice? Many website providers have only a handful of basic templates and just change the colors and logos when building a website. If you want your website to stand out from the rest, it should not look or function like your competitors. To use an analogy, you want a different car, not the same car with another paint job.
Is the dental website designed for your dental practice attractive? The aesthetics of a website is as essential as the functionality. Clashing colors, dated graphics, and an obsolete layout of the content are going to put you at a disadvantage. A website needs to be visibly appealing to any current or potential patient that visits it. What is popular in terms of a "look" for a website will change over time.
Does your website promote patient conversion? A dental website should not be a static entity that sits there giving information. There should be various calls to action telling current and potential patients what they should do next. Many effective dental websites encourage patients to call, make an appointment, message a dental practice through the website, or text a dental practice.
Does a website provide useful, unique, and authoritative content to those who visit? To rank high in organic rankings, content needs to be all of these things mentioned above. This content also needs to have some meat on it in terms of content length. Good SEO rankings also take into account how long a patient spends on a website. 500 to 1,000 words for a service page on a dental website is a good start.
Is a website mobile-friendly? Many website design companies will build a perfectly functional website on a desktop computer but fail to perform on a mobile device. The majority of the traffic a dental website will see will come from mobile devices. Every function available on a desktop computer needs to be available if the website is viewed on a phone or a tablet. The mobile version of the website also needs to be visibly appealing.
Does your dental website load within 4 seconds or less on all devices? A critical component to SEO and user experience is site speed. Every second it takes for a site to load, more website visitors will abandon their journey and move on to a competitor's website. Load speed on mobile devices impacts conversion rates and mobile SEO significantly. The speed of a dental website needs to be check frequently. Just because it ran fast one month means it will continue to be speedy throughout the year.
Is a website HIPAA Compliant? HIPAA is very important to any healthcare business operating a website. A dental practice is responsible for every bit of personal health information it receives from a patient. All information submitted to a dental practice through the website needs to be done on an SSL secured site and securely sent to encrypted servers. Ignoring the HIPAA guidelines could result in fines and expensive remediation plans.
Does a dental website maintain good technical SEO values? Technical SEO, a subset of website SEO, involves optimizing all behind-the-seen factors that impact website search engine optimization. Website designers usually make these technical SEO improvements as they can be tricky. Good technical SEO will improve alt-tags on pictures, optimize pictures for the web, H1 tag, and ensure various codes are not interfering with each other.
Has A/B testing been used to test and improve the design of a website? A/B testing involves serving up two versions of a website to website visitors. Both versions are very similar, except there is one difference that is being tested. After a certain amount of time and data has been collected, it is analyzed to see which design is better. Design changes are usually small, like the location of a "click here" button or the color of the links being highlighted in content. Usually, a conversion goal is set to see which version is better. Sometimes the original version works better, and other times it is the change. It also is not uncommon to have no difference whatsoever.
Call the experts at PatientGain.com today and let us how you how we have designed websites for dentists across the united states. We will show you some of the different websites we have put together for dental practices and how we've turned what they wanted into reality. Call our team today!