Benefits Of Dental SEO
The return on investment (ROI) is high for dental SEO. While paid search ads will undoubtedly bring you instant results, you will get far more bang for your buck long term when you invest in dental SEO
As a dentist, you need a website for your dental practice. Having a dental practice website has been accepted as being a vital requirement for success for over half a decade. If you do not have an online presence, you will have no chance of being competitive with your fellow dentists in the area. A website will be the thing that practically every potential patient will see, and every current patient will refer to when looking for information. To maintain good organic rankings amongst your best keywords, you need to invest some time and money into dental SEO. The long-term benefits are great if you do it correctly. All of your serious competitors already are working on their dental SEO and so should you. Dental SEO needs to be part of your complete marketing plan.
Overall, dental SEO will increase your traffic are among the things that improve your reputation, boost your visibility, and add credibility to your business. The return on investment (ROI) is high for dental SEO. While paid search ads will undoubtedly bring you instant results, you will get far more bang for your buck long term when you invest in dental SEO. Dental practices, large and small, benefit significantly from any owner who takes this area of medical marketing seriously. When improving dental SEO, an owner of a dental practice should also consider making some content marketing decisions. Dental SEO can significantly enhance the effectiveness of content marketing and vice versa. It is not relatively complicated to execute both a dental SEO plan and start a content marketing plan simultaneously. When talking to our experts at PatientGain.com, ask about how we can help you accomplish this.
Why do dentists need dental SEO?
For dentists to grow their practice, they need to be continually looking for new patients. To get new patients, you need your dental website to appear among search engines' first results when people are searching for dentists. Rarely will someone look beyond the first page of results, and it is preferable to be in the top three results. If a dental practice's website languishes in a spot off of the first page, it will be difficult, if not impossible, for you to compete with your competitors.
Dental SEO is also meant to help you find patients looking for specific services you offer at your dental practice. Sure, you want to rank well for "Dentists near me" and "Dentists near (city)," but many people are also searching for specific services. Dental SEO can help you rank high for things like "Dentists who do root canals" or "Dentists who provide teeth whitening services." These longer phrases denoting specific services are a rich source of new patients. Adjusting your Dental SEO so that you rank well for these searches will ultimately help you grow your business. There are many different keywords you can focus on as a dentist, depending on the services you offer. The key is to picking the keywords and phrases that are most relevant to your dental practice
What is Dental SEO?
Dental SEO helps a search engine better understand what a dental practice does and its services for desktop and mobile results. Search engines are continuously crawling the internet looking at websites and understanding what they are all about. This allows them to provide the best user experience for the people using them for their online search needs by providing them the best, most relevant result. The more a search engine understands the services your dentistry offers, the better job it will do connecting potential patients in your area to your dental practice.
Effective Dental SEO will make sure the right target keywords and phrases are used throughout your content. Much like sprinkles in an ice cream sundae, you do not want to overload your website with keywords. Trying to cram every single keyword into every single paragraph of every single page is too much. Search engines will recognize this "Keyword Packing" attempt and will often penalize those websites for this underhanded technique. Instead, good dental SEO will sprinkle these keywords and phrases throughout your website on pages where they make sense to appear. For example, your root canal service page will have keywords related to root canals. These keywords will not appear on a page that talks about yearly cleaning and fluoride treatments; they will have their own set of keywords related to that service. All in all, Dental SEO gives a clear picture to search engines about your business and, in turn, leads to more relevant results that include your website.
How do you pick a company to handle a dental practice's dental SEO for their website?
While you could do your dental SEO on your own, you will likely experience better success by hiring an expert to handle it. Dental SEO requires continuous attention to ensure it is remaining effective, and a competitor is not getting a foothold on your most prized keywords. When picking an agency to handle this, you should base your choice on a few things.
First, you should judge an agency on their results. Ask to see a sample of their current clients and how successful they have been at improving their dental SEO. You should take notes and check on your own to see how well they rank organically. Agencies are very good at putting on a show, but you should do your due diligence and check rankings independently. Ask to see a handful of clients in different areas, and be sure to ask them what the challenges they faced when working with them. They should be able to articulate the problems the websites had before they came on board to help.
Second, agencies should tell you what they are doing to help your dental SEO. Granted, some do have some methods they've developed over the years, and they will keep that to themselves. However, they should tell you some of the things they are doing, why they are doing them, and the results they expect to see. If an agency says, "Trust us, we are working on it," that is generally a red flag.
At PatientGain.com, we are more than happy to show you some of our clients and how we've helped them with their dental SEO. When we work on your dental practice's website, we'll point out the improvements we've made and show you how we expect it to help. We don't mind giving you some background information to help you figure out what we are doing. The more you understand what we are doing for your website, the better our working relationship will be!
How can dental SEO improve the visibility of a dental practice's website?
A search engine like Google or Bing is not in business to make business owners happy about their organic search results. A business is only their concern when they are paying for ad placements. A search engine is only concerned about someone's user experience on the other end of the computer when entering in words to conduct a web search. Yes, they want web results to appear quickly, but they also want every one of those results to be relevant to their users. Understanding how search engines work will help you better design your website and handle its dental SEO.
A search engine's goal is to provide on-page results and so users can click on something to explore. In a perfect world, they do not come back and check out other results. A search engine presents them with a set of choices, of which one was the perfect choice for them. The key to this is understanding what a person is searching for and providing them with relevant, authoritative, and informative results. This is where dental SEO comes into play and how it will apply to your dental practice's website.
Dental SEO helps search engines better understand what your website is about. Once applied, you should expect to see your website rise in organic rankings on the keywords and phrases you are targeting. Soon enough, if everything goes to plan, you should see your website be a top result in your target keywords and phrases. Keep in mind that being a top choice depends on very many different factors. There may be limited relevance and authority your website possesses. For example, if you are a small independent dental practice down the street from a national franchise location that has been there for the better part of a decade, your goal to be #1 may be unreasonable. Even when you reach the top spots in organic results, you must maintain your dental SEO to keep it. Otherwise, competitors will make adjustments to take bites out of your ranking and creep up on your top organic results.
Very good example of a dental SEO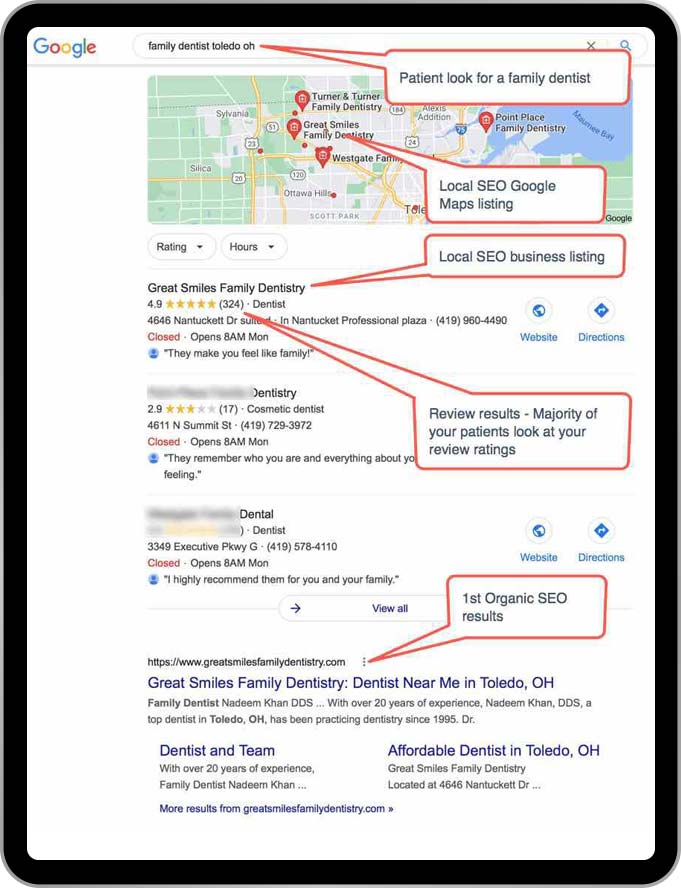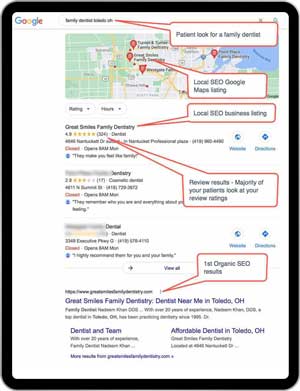 Should my Dental SEO concentrate on a few keywords or longer phrases?
An excellent dental SEO plan should concentrate on both to be successful. There is an advantage to keeping both short, broad keywords in mind and longer, more specific phrases. In the world of search engine optimization, these are known as short-tail keywords and long-tail keywords. Those phrases may be a little confusing, so here are two dental flavored examples:
Short tail keyword – Dental clinic
Long-tail keyword – Dental clinic open on weekends
As you can see, a short tail keyword is broad, while long-tail keywords are more specific. Yes, both have the words "dental hygienist" in them, but the longer tail keyword has more context to it and, therefore, could provide a different set of organic results.
As a dental practice, you need to identify the short-tail keywords you want to concentrate on and the longer tail keywords that apply to your location. Short tail keywords tend to be expensive, and there is a lot of competition for them. Long-tail keywords can be just as expensive, but they are times where they are a little cheaper because not every dentist may be concentrating their SEO work on them. Many people search using both kinds of keywords, so the more your website is prepared from an SEO perspective, the more likely you will get those potential patients to your website.
Generally speaking, short tail keywords may appear on practically every page, while long-tail keywords are usually more page-specific. While there is always an exception to the rules, if you abide by these guidelines, you should develop a good list of keywords to focus on. First, think of the most general words that apply to your dental practice. Then, visit each page of your website and find a phrase or two that describes the most important things on that page. From there, you should have a healthy flushed out list of words to design your dental SEO plan around. Again, do not try to cram every single possible SEO keyword into every page or paragraph. This will hurt your overall rankings and will also likely make the content unreadable to the potential patient.
How long does it take for dental SEO to work and show results?
4 Months to 1 Year (according to Google)
It takes 4 months to 1 year to start seeing benefits of medical SEO and improvements in rankings. Watch this video from Google.
This question is perhaps the most important, and it is also the most difficult to answer. Unlike paid search engine advertising, there is no hard start or stop when a website appears in organic results. With paid advertising, you can expect to see your ad shortly if you've written a good, relevant ad and have the budget to back it up. The time it takes for dental SEO to impact organic results takes longer.
Companies who say they can get you results in days or weeks are not telling the truth. They may be able to manipulate results for a few days, but that will not be sustainable, and you might even be penalized if a search engine suspects you are cheating in getting your rankings. There are many ways to boost organic results quickly, but they are doomed to hurt your website in the long term. Generally speaking, you can expect quality SEO work to begin to show results in about four to six months in most cases. From time to time, results may take as long as 12 months to appear. These kinds of delays are often the result of competitors updating their websites to make SEO improvements or significant search engine algorithm changes. Unfortunately, competitors and search engines do not announce changes or modifications most of the time, so constant monitoring is needed to ensure you are getting the results you want.
The expert team at PatientGain.com is standing by, ready to help your dental practice achieve its Dental SEO goals. We have years of experience in assisting dentists to gain and maintain high organic rankings for their websites. Let us show you what we have done for other locations and get started in helping you grow your dental practice. We look forward to working hand in hand with you to help your site rise in organic rankings.
To learn more about Dental SEO Expert Marketing, contact us.