Medical Marketing Plan For Medical Practices and Providers
A marketing plan for any healthcare practice practice should be based on 6 foundations. All of these aspects are important. 1) It all starts with you providing an excellent patient care to your patients 2) Your website is a reflection of what you offer and how you take care of your patients 3) Your reputation in the community and also online is equally important 4) You patients find you is also known as SEO (Search Engine Optimization) and potentially advertising on Google and social media 5) Social media engagement 6) Digital communication with automation (HIPAA compliant) .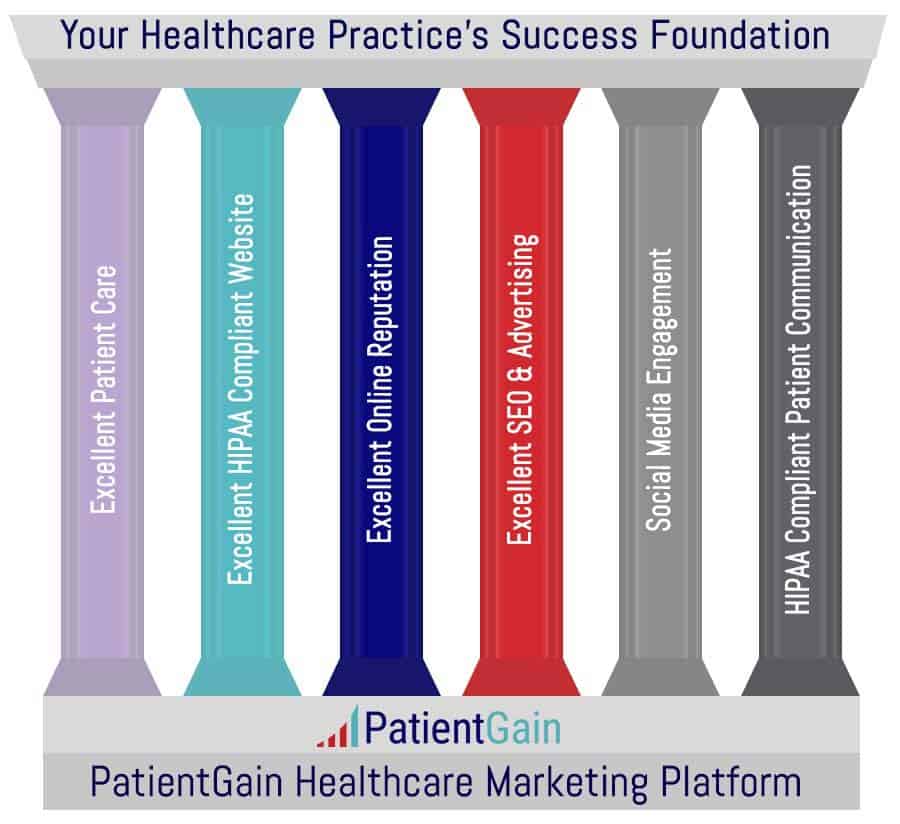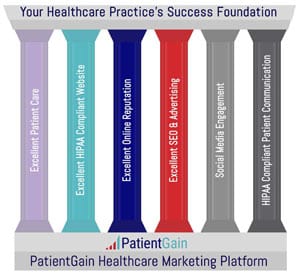 Use Case: Zero to 40+ patients a day. 32 percent operating margins.
Doctor Williams has previously worked in the ER, doctor Williams thought that owning his own clinic would be a logical and profitable next step. It seemed like a relatively painless transition, from paid healthcare employee to healthcare business owner but Doctor Williams was not fully prepared for this bold step.
Having located a suitable facility in which to locate doctor Williams' clinic, the realities and complexity of owning and opening his own facility became quickly apparent. Beyond the facility builds out, he needed to focus on the sequential steps to both treating patients and just as importantly, getting paid. Doctor Williams needed staff to work in his new clinic and embarked upon a recruiting program to secure the requisite front office and back office staff. As Doctor Williams was acting as both medical director and physician lead, he saved cost by utilizing additional mid-level providers. In order to not over staff, he hired front office staff that are also MA's, capable of also assisting in the back office.
In order to not drown in after-hours administrative work, doctor Williams also recruited an experienced and highly capable clinic office manager. Although there is a broad range of healthcare insurance companies or payers utilized by the public, he initially focused on 6 primary payers including medicare and embarked on the complex credentialing process.
Completing the first credentialing application was the most time consuming, the others required similar information thereafter. It became obvious that Doctor Williams would see patients for a couple of months without receiving reimbursements.
Next steps, acquire patients. This turned out to be a complex and somewhat mystifying process, Doctor Williams is a physician, not a salesperson.
In speaking to some colleagues who ventured down this same path, building a clinic does not mean that patients will necessarily come. Doctor Williams' clinic has a great street visibility but he knows that this not nearly sufficient. Doctor Williams needed to draw from a larger radius. Doctor Williams considered conventional media, billboards, print, direct mail for medical advertising for his practice, but they were very expensive and required long contracts. Having a significant internet presence appeared to be the best way to go but this approach has its own complexity and industry specific nuances.  This is when Doctor Williams found PatientGain.com's GOLD solution, while searching on Google for "Advertising for Doctors" .
Launching a Website, Social Media, Email Marketing.
With Doctor Williams new clinic nearing build out completion and an anticipated Grand Opening date just a couple of months away, he needed to focus on promotion as well as staffing, credentialing etc. Many would ask why so far in advance of actually opening? As a significant web and online presence is the number 1 method of attracting patients to a retail clinic, particularly a new facility with no repeat patient visits, Doctor Williams needed to have his new website up and recognized by the key search engines well in advance of opening the clinic.
A website is not enough, you will also need to have social media working and I want a highly visible presence on whatever social media sites or venues that patients are using. Ideally, you would want social media to direct potential patients to my website and then convert them to actual patient visits. Like most clinic owner/operators, most physicians have only a consumer perspective on social media, Facebook etc. You will need need to work with a medical marketing company that understands social media from a business perspective, which social media, what presence look like, what should be posted on the site, how much content, frequency of updating etc.
Once open, you would want to reinforce relationship with patients via effective outgoing email campaigns; again, this is not an expertise that most physicians have. You would want to effectively communicate with what should be an ever expanding universe of patients and potential patients your community. Having worked hard to attract them in the first place, you would like to stay in their healthcare focus so as to be the preferred facility next time they have a need for your clinic services.
This all sounds logical put putting this into practice is yet another formidable challenge. How to aggregate a contact list, what to say or when to send a campaign, how best to manage the expanding database, how to send out emails that work, how to track all of this and lastly, how to accomplish all of this with minimal labor expenditure?
There are so many moving parts to this, it's all a little overwhelming but to ignore any aspect of online and e-campaign promotion will cost you patient visits and potentially endanger the viability of your facility investment. As a physician operator, you clearly need help, expertise in disciplines that are far from your core competency.
Now the basics are covered – Go over advertising – and being competitive online
Building a "system" of Apps that promote and acquire patients for your clinic on an auto pilot.
As you open your clinic, and feel that clinic is doing acceptably well for only having opened a short while but as you may still be significantly subsidizing monthly cash flow, you will need to accelerate the process of patient acquisition. As a physician, you may view that online searches from a patient's perspective that no one clicks on paid ads on top of Google searches or on Facebook ads. This is however not the reality. Majority of the patients click on ads. And physicians who advertise on Google and other mediums acquire more patients than physicians who dont' advertise.
As a practice, you are a destination – seeking arrivals by patients seeking your kind of clinic services and within a viable operational radius of your medical practice facility. The most coveted online search positions are at the top of any search and understandably, the search engines reserve those positions for businesses that provide revenue to the search engines in the form of key word advertising. In your case, key words are literally, the typical words or configuration of words that the majority of potential patients would type into the search engine to locate clinics like yours and they are within an acceptable distance from the inquirer.
As much as you would prefer not to expend funds on advertising, online advertising promotion is an absolute necessity to achieve profitable patient volumes. Online advertising is unquestionably the most important form of promotion, it is the only method of connecting with patients that have self-identified by their online search, that they are imminently in need of a clinic like yours.
As a medical practice, you would logically want to be found by those patients needing your services and found by them ahead of your competition. With professional help, you're able to best understand which key words are the most volatile, how those words are best expressed in an online advertising environment and geographically where best to target your advertising dollars. As retail healthcare clinics are a unique business, it is also critical that the professional assistance that you need to maximize the benefits and results of your online promotion be extremely familiar with your specific type of medical practice. You do not want to entrust your budget and advertising results to anyone but an expert in medical marketing. You also need to be prepared to expend sufficient online advertising funds to ensure your favorable search position is maintained throughout the day and regardless of competitive spend.
With your online presence, website and social media in-place, you are reasonably assured of having your website found, this is however not sufficient and realistic. Having expended time, effort and funds landing potential patients on your website, you will also need a sophisticated suite of apps to maximize the potential of communicating with and converting online visitors into real paying patients. The vast majority of clinic websites have in reality, very little functionality. They traditionally provide a combination of text and visual information. As unique as I would like to believe your clinic is, the reality is that your patient services are closely emulated by a host of competitive clinics, all say the same things about or facilities and service offerings. You need your website and online participation to deliver more. This is typically done by adding applications (HIPAA Compliant apps for medical practices), behind your medical website.
The vast majority of websites not only don't deliver real world functionality but also provide almost no real matrics to help analyze the performance of the Return On Investment (ROI) for your medical marketing. Basic Google analytics are not sufficient; they are just comparative data points well after the fact. You would want your website to work much harder for you, to analyze who is looking at it and in real time and then perform specific, meaningful functions in response. You will need the website HIPAA compliant apps to communicate with online patient visitors and in a reasonably personal way. You may want to be able to focus on specific service offerings or special promotions and know with whom those promotions are most resonating. Patients should to be able to leave you positive reviews and to be able to easily access the positive reviews left by others and facilitate this and more seamlessly. This is the term "functionality" means, it's much more than text and pictures, it's integrated smart HIPAA compliant apps working in concert to deliver real patients to your clinic.
Like all your competitors, you are extremely busy. Your staff are severely taxed dealing with the everyday workload of a growing clinical practice. Expending inordinate amounts of time, constantly manipulating your online presence is just not going to happen, another medical clinic reality. The sophisticated system of functional hipaa compliant apps previously detailed needs to work almost autonomously, on virtual auto pilot. The delivery of online performance cannot be dependent upon my continual involvement and that is yet another reason that you should strongly favor a fully integrated medical marketing system from a sole vendor, a specialist in online deliverables, fully familiar with healthcare clinics.
Patient Engagement : Using Technology to Engage Patients
As you operate and grow your healthcare medical practice, and you are finally reasonably profitable, and have surpassed break even point, you can sleep at night but not rest. You now have to re-attract past patients instead of relying solely on acquiring new, first time patients. Consider how best to engage with your patient community both effectively and efficiently. How do you stay front of of them. How do you advise patients when you have seasonal specials, new service lines, retain the services of a notable new Provider etc. You need to leverage all of this ongoing to outmaneuver the competition.
Through a combination of sophisticated online apps and my EMR, you have amassed an exponentially growing database of both past patients and potential new patients who have at minimum, interacted with you online. As your time is extremely limited, again you look to technology to provide you with a virtually automated process through which to engage with patients past and future. Patient engagement starts with their setting an online appointment with my practice, or sending me an SMS/text from the website, or conveniently making an online payment.
Your online appointment app provides an opportunity for a patient to not only identify who they are and the day and time they wish to visit with my practice, it provides an opportunity for the patient to identify the principal reason for the visit. As you don't spend your day viewing my website, you need the engagement system to send you real time SMS/Texts and email alerts when an appointment has been scheduled, providing you with not only a "heads up" but also an opportunity to respond back to the patient with a confirming email or a SMS/text.
After a patient has visited your practice, you will need to assist the patient in taking a proactive stance in their own well-being. Again, online technology provides you with an efficient, easy way of communicating with the patient not only with general, seasonally appropriate healthcare newsletters but also with information that is specific to them as a unique, clinical concern.
Your growing patient base is increasingly mobile and mobile savvy, email communication needs to be augmented with SMS text and messaging functionality. It is your responsibility to communicate with your patient base in a manner that is convenient to them, you cannot afford patient attrition if you intend to grow your practice. Medical marketing using mobile is extremely important part of your marketing plan.
HIPAA concerns are omnipresent as you increasingly provide more meaningful and patient specific information to your patients. The recent increase in substantial fines for clinics and healthcare practitioners who violate HIPAA is of great concern. Having your patient engagement communications secured on HIPAA certified servers and hosted by a company well versed in healthcare information protection is vital to you. Small, local vendors just have no experience or appreciation for the significance of this but it would be my practice that would be in violation should a breach occur. HIPAA compliant apps for medical marketing are essential part of your medical marketing strategy.
As with the rest of your online technology, you want to deal with a sophisticated, single source vendor. Not only will this provide me with a diverse array of integrated HIPAA compliant apps that perform in sync with each other and are compatible, but if you need advice, require adjustments, system upgrades etc., I have but one number to call.
4 Components of a Marketing Plan for a Medical Practice
Traditionally, marketing experts tell us that there are 4 key components of your Medical Marketing Plan.
The Product or Service – This will be service offerings for your medical practice. For example if you an Urgent Care clinic, do you offer service to patients based on 12 major categories. Examples will be Onsite X-ray, DOT Physical exams, Lab-test results, Ports Physicals, Simple Fracture treatment, Travel medicine, Immunizations etc. If you are MedSpa / Esthetic based practice, you may want to define your product/service strategy based on competition and availability of your staff's credentials. For example if you want to offer "CoolSculpting", you will need to make an investment in purchasing this technology and then training of your staff.
The Price of the Service – In many cases, this is driven by the insurance company payouts to you. But there are certain procedures that are not covered by the insurance payments. There are additional strategies available to you here. Each patient can be divided into 3 main categories.

PPO or Full Insurance – These insurance plans pay fixed amount for each procedure for in-network vs out-of-network procedures.
Self-Pay Patients – Patient pays directly to the provider – you have leverage to provide better service than your competitors and charge more.
High-Deductible plans – In this case, as an example, patients typically have to pay initial $4000-$10000 out of their pockets. After ta patient has spent these amounts on deductibles, copayments, and coinsurance, then the medical insurance plan pays 100% of the costs of covered benefits. Many patients consider that first $4000-$10000 as something that have to "shop" for prices, hence you have an opportunity to apply your own marketing strategy on how to attract these patients to your practice.

The Place or Location of Service – For most parts, healthcare delivery system in USA and Canada is very local. Telemedicine can change this in the future, but for now patients typically go to a "local" provider. This is evidenced by 2000% plus increase in Google searches for "Urgent care near me" or "Sleep Apnea doctor near me" or hundreds of other variations based on mobile patients searching fro services "near" a patient. So your Place or Location matters.
The Promotion(marketing) or Advertising of Service – This is one area, where you have true leverage to dominate your medical field. Your medical plan must include the promotion of your service. There are generally 2 main sub-areas for promotion of medical services:

Offline Promotions – Traditional marketing – includes newspapers, yellow pages, billboards, referrals from peers, networking with other providers and suppliers.
Online Promotions – This refers to digital marketing and digital advertising to acquire more patients and retain existing patient base.