4 Good Examples of Medical SEO and Speech Based SEO
PatientGain.com has created several products and offerings to help you achieve great SEO – Search Engine Optimization for your medical practice. Focus is on results which means new patients, this means top Google rankings, with significant focus on mobile search results and mobile marketing. Google search engine is the most accurate search engine with the best algorithms for search results. Majority of the world searches on Google. According to Google, over 200 "signals" are used to rank medical websites. The most important factor is your own content. So for medical SEO for doctors, you must focus on Google first, and start with adding Unique, High Quality Content – This means Non-Copied, Non-Plagiarized Content.
Recent SEO algorithm changes from Google are focused even more on content.
There are three words to remember E A T for good medical SEO website.
E Stands for medical Expertise in the subject matter. For example if your website page is about Peripheral Artery Disease (PAD) – do you have useful information about the subject matter.
A Stands for medical Authority in the subject matter. This refers to the qualified, authoritative content and possibly the author of the website page.
T Stands for Trustworthy source or organization. This refers to the fact that is the website can be trusted. How good is the rest of the content on your website. For example if there is doctor's bio present on a medical website. Are there any other references to this doctor in other media outlets. Are there links pointing back to the bio of the doctor. There are many other factors that determine the trustworthiness.
SEO Success For Doctors Requires Proficiency in Four Important Areas:
1) Clinic Industry Knowledge and Content Writing Skills
2) Expertise in Search Engine Algorithms, Digital Best Practices, and Patient Behavior
3) A Dynamic Software Platform Designed to Adapt to Changes with Trends and Technology
4) World Class Support behind Your Technology System
Achieving top SEO rankings for medical practices and physicians is a process and not a simple one-time setup. It is time-intensive, requires deep knowledge about your own medical practice and Search Engine technology, costs both money and time to get real results, and it never stops for your medical practice.
Return On Investment (ROI) of Medical SEO and Speech Based SEO is Immense.
4 Good Examples of Medical SEO for Your Practice
Medical SEO Example 1 : Patient Searching for "invisalign cost toledo ohio"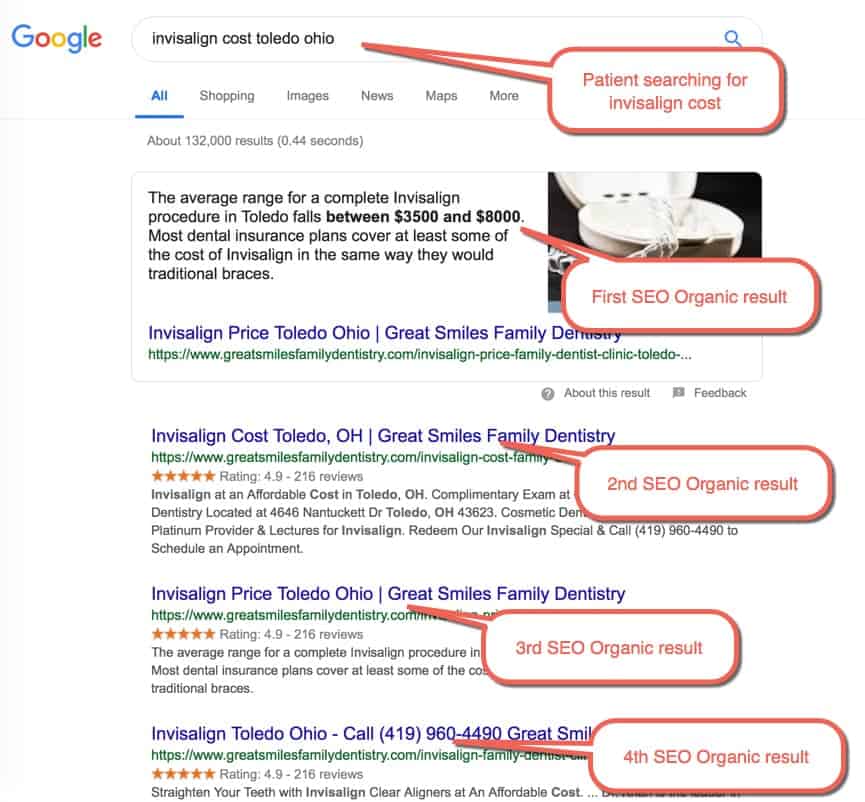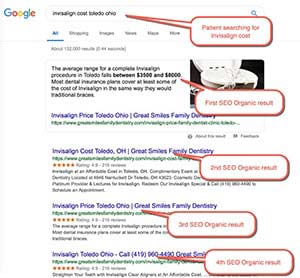 Medical SEO Example 2 : Patient Searching for "urgent care near me"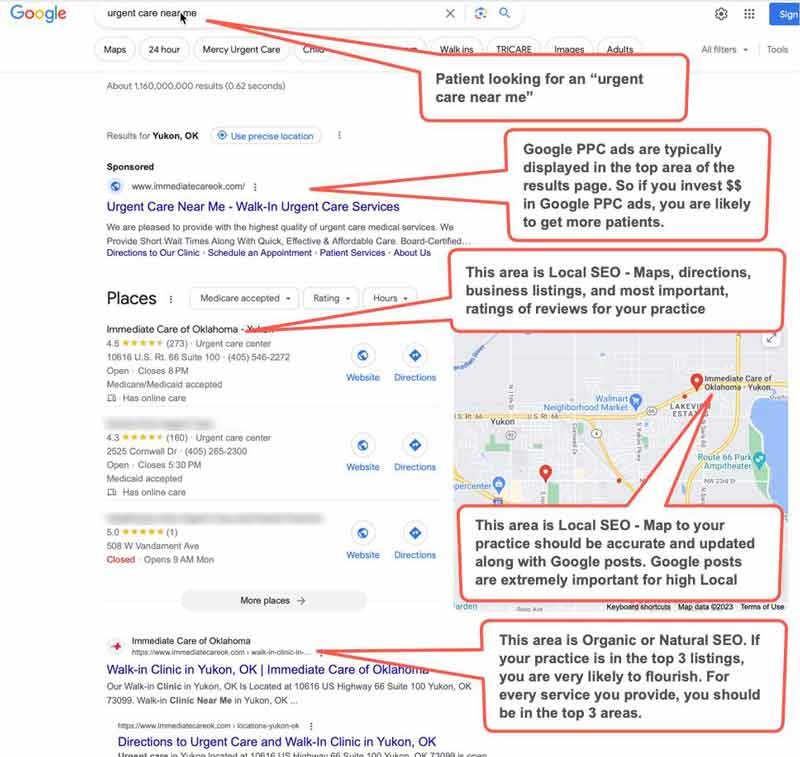 Medical SEO Example 3 : Patient Searching for "med spa lake zurich "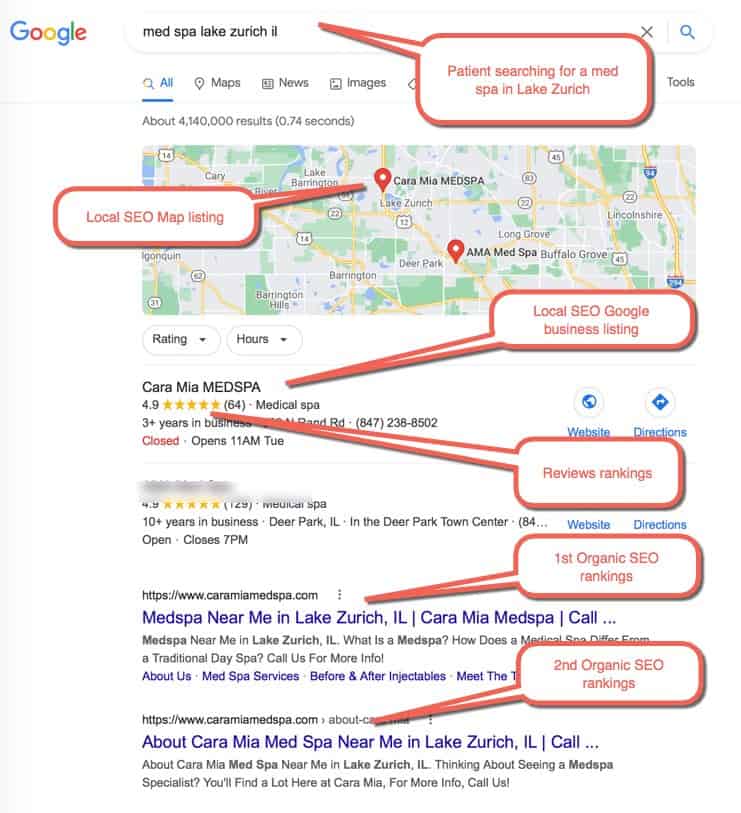 Medical SEO Example 4 : Patient Searching for "Urologist in smithfield NC"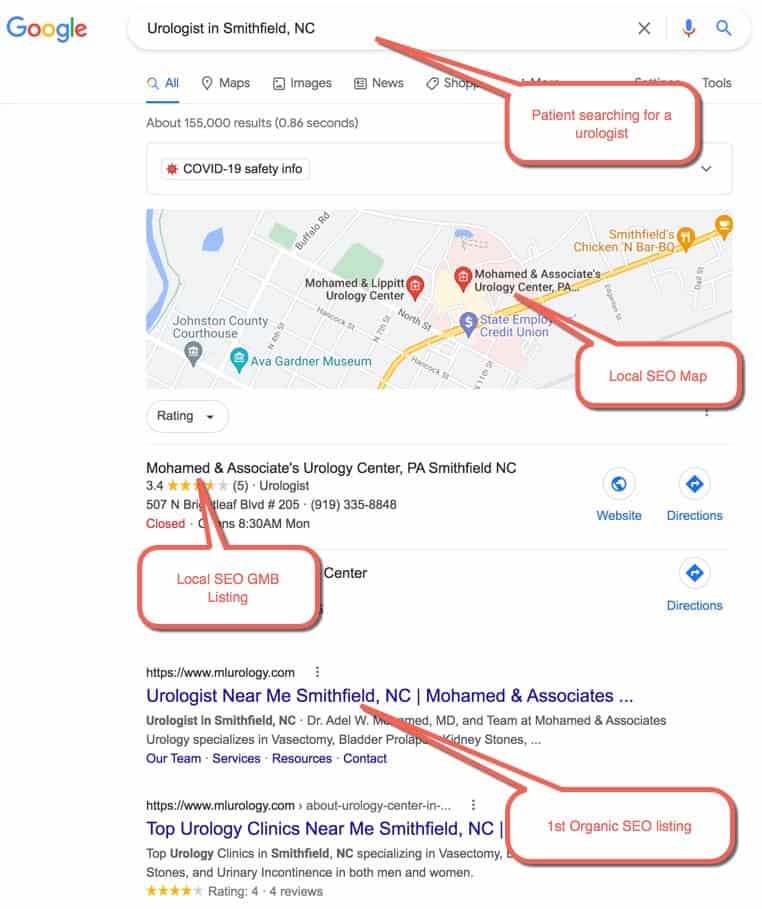 How quickly can I improve the SEO of my practice?
Every medical practice is different, so there is no tried and true answer to this question that will apply to every single location. Generally, we see results from our SEO work begin to appear within 1 to 4 months. Many factors can determine the time it takes for results. Your organic competition plays a significant role in this time span.
Additional factors include:
The physical location of your practice
Services you are offering
The user experience of your website
Links on your website and to your website
Mobile experience
Load speed
Website structure
Quality of content
Use these as guidelines, not as an accurate forecast. Most of our customers will see results fast than these, however, it is never a good idea to sugar-coat and provide less than a conservative estimate.
If you want same week results, you should consider online advertising for doctors. Both of these approaches and strategies compliment each other, they do not replace each other. Long term online success for your medical practice is based on excellent SEO rankings for your practice. It will take time and money, and it is not easy, anything else is very likely a sales pitch. Investing in medical SEO for your medical practice is very likely the best investment you will make in your medical practice. However, it is complex and is not easy. Here are some examples of ROI for Medical Marketing.