Dental Digital Marketing Company PatientGain Offers Service $999/mon For Modern Dental Practices. No Setup Fees. Awesome Customer Happiness.
The best dental digital marketing company is the one that suits your needs, earns your trust and provides quality service at a reasonable rates. To compete for new dental patients, you need much more than a nice looking website. You need a complete dental marketing solution based on modern advertising and marketing trends.
GOLD and PLATINUM Service is fully integrated new patient marketing solution with Google SEO optimized website. Costs $799/mon – $1299/mon With Superior Customer Happiness.  Service includes: 1) Conversion & SEO Focused A/B Tested Website 2) Quality Content, 3) Your Custom Branding 4) Apps. 5) Social Media Posting 6) Email Marketing 7)Texting/SMS  8)Awesome Customer Service 9) HIPAA Compliant CRM & Modern Features.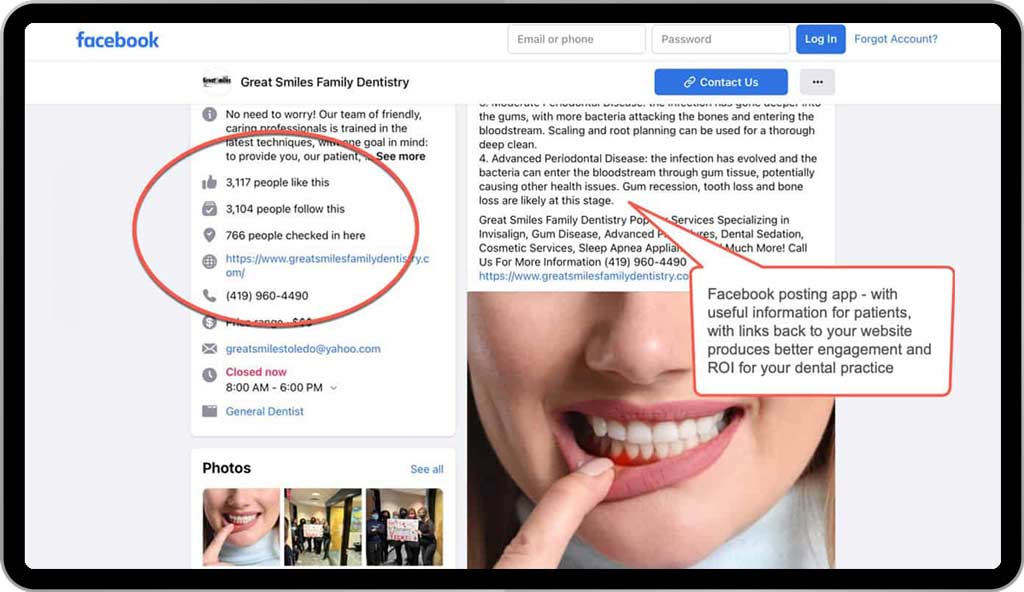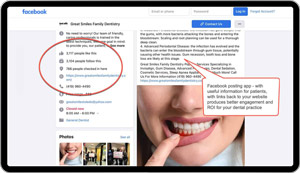 4 Key reasons why modern dental practices select PatientGain
1. Our service suits your needs. Our services range from simple to use apps, to proven GOLD and PLATINUM monthly service, to custom services
2. We earn your trust. Every day, our teams are focused on improving your digital marketing. We provide real-time dashboards, so you can see the performance of your digital marketing anytime you like on mobile, desktop and tablets, in real time. There are no hidden monthly "reports".
3. Quality service at reasonable rates. Our GOLD service costs $799/mon and has no upfront fees. This is the most common service used by dental professionals.
4. Return on investment (ROI) for your dental digital marketing is clear, and real-time dashboards are available to you on your desktop, iPad and on your mobile phone. See examples below.
Example 1 : Specialty dentist in extremely competitive area. In August, 832 patients visited dental website. (see data below).
Out of 832, total of 224 new patients contacted using, texting, phone calls, appointments and Chat*bot. This means a conversion rate of 26.92 % . PatientGain's software tracks new patients and this data is for new patient leads only. Existing patient contacts are subtracted from the new patient data.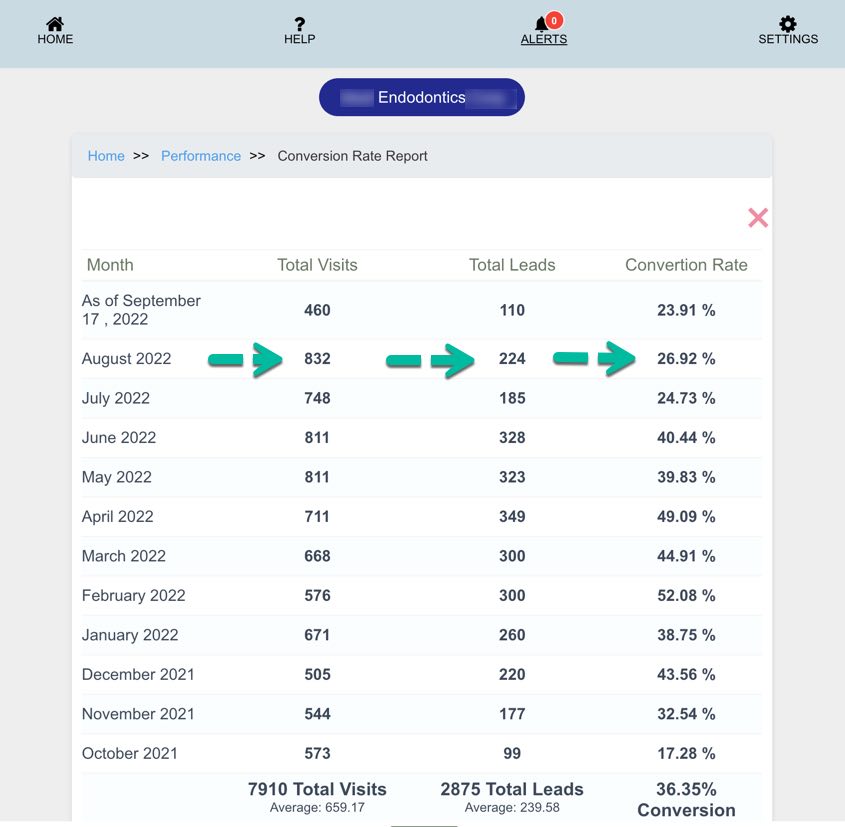 PatientGain.com is a results based dental marketing company. When you setup initial sales / intro meeting with us, we do not try to sell you anything. In fact we do not discuss contract details. We send you all the details so you can review them. As you start your service, we assign 2 primary staff members to your account. We earn your trust every day. We follow up on your requests and provide prompt answers to your questions. Our pricing is not the highest nor it is lowest. We provide quality service at reasonable rates. We provide services for 1) Endodontist – Root Canal Specialist 2) Oral and Maxillofacial Surgeon 3) Orthodontist – Alignment Specialist 4) Pediatric Dentist 5) Periodontist – Gum Specialist 6) Prosthodontist – Replacement Specialists.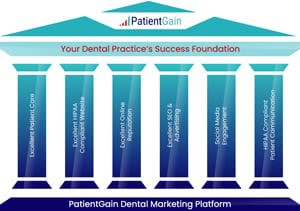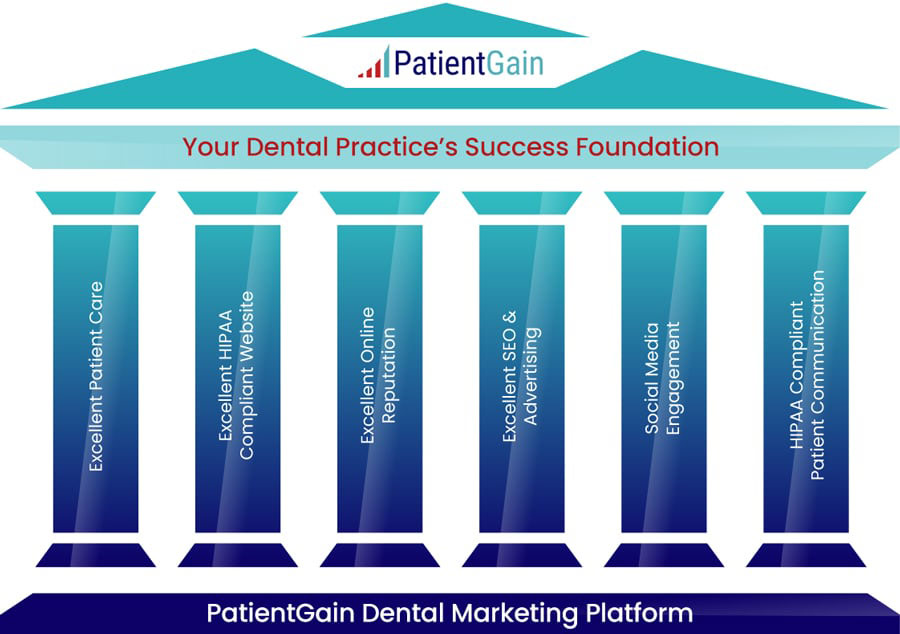 Case study : Medium-high competition area.
This practice has been in existence for 6 years. They have gone through 3 marketing companies.
Month 2 of GOLD service – 154 new patient inquires.

Month 14 of GOLD service – 368 new patient inquires.

Month 25 of GOLD service – 973 new patient inquires.

What are typical costs related to digital success for dental practices
For a healthcare business to be successful, it needs to spend money for various costs. "You have to spend money to make money" is not only a clever saying but a very practical outlook on expenses a business will incur. A linchpin in the success of a healthcare business will be its digital presence. As such, there are various areas that a business should budget for to ensure they are appropriately funded to be successful.
1. Website Setup
Of the areas of expenses listed below, this one will probably be the only "one-time charge." While some marketing companies may not charge this one-time setup fee, they may ask for a six or twelve-month contract with an early cancellation fee to ensure they recuperate the costs associated with setting up a website. The design and launch of a healthcare website is a time-consuming process and requires a lot of skilled specialists to ensure it launches correctly and looks professional.
Some owners may think that it is cheaper to update a website than launch a new website. This is not always the case, and updating a current website can be just as expensive as creating a new one. It boils down to how much is being updated. If a few brand colors, content, and menu order is being updated, that is not something that requires massive time and effort. However, if a site is being completely redesigned with a new layout, URL, content, colors, navigation, and a new website platform, that is just as intense as launching a new site. Sometimes, a complete redesign is needed. This is especially true for any healthcare website that has lagged in updating its design or security features. Just as you would see on a home remodeling show, sometimes the best thing is to tear it down and start over again.
Typical Cost – $5,000 for a professional website – However it is included in the monthly GOLD and PLATINUM service.
2. Monthly Marketing Activities
Marketing is a continuous process, especially with online or digital marketing. A variety of activities needs to be completed every month to maintain a strong marketing position in various areas. These often needs to be attended to by someone to ensure they are being executed correctly and see if they are effective. Below are examples of some monthly marketing activities:
Email Marketing – A monthly or bi-monthly email newsletter is a great way to remain connected with current patients. Content needs to be developed, proofread, and sent to the patient database. Any unsubscribe requests not handled by the email marketing system need to be processed.
Social Media Posting – Facebook, Twitter, Instagram, and a Google Business Profile are excellent social media properties to remain engaged with patients and share information. However, they are useless if a healthcare practice does not publish any posts. Posts need to be written, proofread, and shared. Links to any articles need to be vetted to ensure reliable and knowledgeable voices wrote the content.
Content Updating – Content marketing, a great marketing tactic to improve organic rankings, must be completed every month. A good content marketing plan will have a few pages every month updated, refined, or added to the site to maintain good organic rankings.
Typical Cost – $1,000 a month for each of these areas. – However it is included in the monthly GOLD and PLATINUM service.
3. Monthly Cost of Apps & Services
Unless the healthcare practice owner is a very experienced programmer, it will need to use third-party apps and services for many of its marketing requirements. These apps and services require a monthly fee. Some may want to buy them outright to avoid a monthly fee; however, that can result in services or apps becoming outdated and breaking down. Some examples of monthly apps or services include:
Medical Engagement Chatbots – These programs mimic human conversation and attempt to assist site visitors with common questions or tasks. They try to reduce the call volume to the front desk to help with these simple requests. Anything they can not assist with is submitted to a secure dashboard for staff to answer later. They are also available 24 hours a day, every day of the year.
Two-Way Texting – Texting is a preferred mode of communication for people today and has a much higher open rate. Texting between two phones, however, is not HIPAA compliant. Special texting applications or services is needed to maintain compliance.
Email Marketing – Email marketing apps allow a practice to create a newsletter and send it out to a patient database without sending out individual emails. An email marketing service will also automatically process any unsubscribe requests and provide analytics on email campaign performance.
Online Appointments App – Giving patients the ability to schedule their appointments will increase website conversation. An appointment app must be HIPAA compliant and securely transmit data to a patient management database. Good appointment apps will also have a built-in reminder system to send out reminders to patients.
Offers or Specials App – Quickly deploying or removing special offers can avoid confusion and a bad patient experience. These apps can also track how well specials perform and take contact information for staff to follow up with later.
HIPAA Compliant Patient Messaging – When patients do not want to call a healthcare practice, it is great to give them the ability to submit a message to the business. This message will be sent over a secure connection and stored on a HIPAA-compliant dashboard for staff to review and reply when they can.
Social Media Scheduler – Rather than logging in and out of several different social media platforms every day to post something profiles, a social media scheduler allows you to post across social media profiles from a single login. It also allows a marketer to schedule posts in advance and look at analytics to ensure they perform well.
Survey or Quiz App – This lead-generating app will give a quick quiz or survey to a site visitor to determine if a treatment or service is right for them at a healthcare practice. The quiz will automatically score itself and provide the site visitor with the opportunity to submit their information for a follow-up.
Online Payments App – Giving patients the ability to pay their bills online will allow a healthcare business to get their money faster to pay their bills. Many patients are comfortable with online payments and the security it has. A healthcare business needs its online payment app to be secure and process payments as quickly as possible.
Typical Cost – $200 to $800 a month depending on the app. – However it is included in the monthly GOLD and PLATINUM service.
4. Monthly SEO Updates
Another area of a healthcare website that needs monitoring and maintenance is SEO or search engine optimization. SEO helps a search engine better understand the context of a healthcare website and what keywords are associated with it. Good SEO work will ensure that a site has these keywords spread out on relevant pages throughout the entire site. Keywords should not be plastered on every content page. Otherwise, it may hurt organic rankings. "Keyword Stuffing" can be detected by search engines these days, and organic penalties can be applied.
Monthly SEO updates are needed because search engine optimization is constantly changing. New popular keywords may pop up and be used more frequently by a target audience. Formerly popular keywords may fall out of favor or have received a negative connotation and need to be removed. Monthly maintenance is needed to ensure the keywords are performing as intended. For example, if a keyword sees a dramatic fall in clicks one month, then something is wrong and needs to be fixed.
Another factor that impacts SEO is search engine algorithms. Just as a healthcare website is constantly updating its website to perform better, so are search engine companies. The algorithm used to determine search results is also continually being tweaked. Many times, a healthcare practice will not ever know something has been updated. Other times, they will see volatile swings in organic rankings. Updates in the algorithms for search engines needed to be monitored. Unfortunately, search engines do not always announce when they change or update them. Sometimes, they do, and sometimes they do not. Generally, they will notify a change when it is huge. For example, when Google decided to start penalizing sites that were not mobile-friendly years ago, they announced it and gave sites six months to prepare their sites for the change.
Typical Cost – $800 a month for SEO maintenance and content improvements – However it is included in the monthly GOLD and PLATINUM service.
5. Support From Expert Marketing Professionals
Unless a healthcare practice decides to hire an in-house marketing professional to work for them, a healthcare business will need support from expert marketing professionals. If they insist on doing everything in-house, they will likely be a bit more inefficient in their efforts to market their healthcare business effectively. The area of marketing is so vast and ever-changing that support from marketing professionals is needed to maintain an advantage.
A way for a marketing professional to provide support is to do marketing activities for a healthcare business. With input from the owner and other stakeholders, a marketing professional can put together a digital marketing plan and execute it. For example, they can write up the monthly email newsletter, review it with a business, and then prepare to send it out. They can make minor SEO improvements or improve content to help with organic rankings throughout the month. A marketing professional can also evaluate new third-party apps or services and present them to the owners as possible new ways to reach their target audience. How much time a marketing professional spends working for a healthcare business will depend on how much they want to pay. Some marketing professionals are hourly, while others charge a flat fee for a month worth of work.
Another area a marketing professional can assist with is providing technical assistance to those handling marketing within a healthcare business. As they are more experienced in this area, they can help troubleshoot common problems but may be unfamiliar to others. A marketing professional can show someone handling an aspect of marketing at a healthcare business the ins and outs of a marketing strategy. For example, they can show the person in charge of posting on Facebook all the different things that can be done with a Facebook Business page and point to examples at other healthcare businesses. Another example would be a professional looking through a Google AdWords account to figure out why some keywords are performing, and others have seemingly been rejected. Employing a marketing professional to provide technical assistance can save healthcare business time, money, and frustration!
Typical Cost – $50 to $100 per hour or $400 to $600 per month for contracted services – However it is included in the monthly GOLD and PLATINUM service.
6. Digital Advertising
Finally, a healthcare business will need to engage in some paid advertising. When first starting, paid advertising will be critical as time is required to develop organic rankings. Even with good organic rankings, paid advertising plays a significant role to bolster the number of clicks a website receives. Once organic rankings are high enough, abandoning paid advertising cedes valuable marketing real estate to competitors, so it is not recommended. Below are some typical areas of marketing a healthcare business will engage in.
Pay Per Click Marketing – Search engines will produce several results, such as organic results. However, the first thing a user will see at the top of their search results will be paid results. A keyword's paid results depend on several factors, including relevancy and how much the business is willing to pay for that spot. Also known as PPC, a business will only pay for the clicks its ads receive. Most PPC advertising takes place on Google, but some healthcare businesses will also engage in PPC advertising on Bing. Generally, campaigns are targeted by areas or zip codes.
Social Media Advertising – Major social media sites all have well-developed advertising platforms. Healthcare businesses have found the most success when advertising on Facebook and Instagram. Some have seen limited success in some situations with promotions on Pinterest, TikTok, and Snapchat. Advertising on social media channels allows you to refine targeting parameters more than advertising in search results. Not only can a target audience be determined by location or zip code, but it can also be narrowed down by gender, age, and interests. While the audience is smaller, they will be more likely to convert!
Display Advertising – Display advertising does not work for all healthcare practices. Unlike PPC ads, which only charges a business when an ad is clicked on, display advertising charges by the number of times an ad is shown, however display ads on many networks like Google, can be setup based on clicks. Usually, it is a set cost per thousand impressions or times displayed. Display ads do allow a healthcare business to be a little more creative. There is usually a banner size where a picture, graphic, or animation that can be inserted to get a website visitor's attention. Generally, these ads appear on other websites, like blogs or news sites. These ads and social media ads generally produce less returns for dental practices, compared to Google PPC ads.
Typical Cost: $1,000 to $7,000 a month depending on the healthcare practice and local competition.
As you can see it is not a simple task to market your dental practice. PatientGain offers 2 subscription based monthly services to add value to your new dental patient acquisition and engagement, with no upfront costs.
The experts at PatientGain.com can help your healthcare business's digital marketing efforts. Our Platinum Level service can give you these services at a fraction of the cost compared to engaging multiple different companies to provide these individual services. Contact our experienced team today, and let us show you what we have done for other healthcare businesses across the country.