Benefits of SEO for Urgent Care Centers
Running an urgent center is much like being a substitute teacher in the classroom. The night before, you probably don't have a firm idea what the next day will bring. When you arrive, you deal with problems as they come to you as best as possible. Unlike a substitute teacher, owners of urgent care centers need to make sure potential patients know they can receive treatment at their medical facility. As a result, they need to make sure their SEO for their urgent care center is on target and top-notch. Ignoring this critical part of a marketing strategy will make it difficult to maintain and grow your current patient count.
PatientGain is an expert marketing and SEO company for urgent care centers. We have successfully executed thousands of campaigns to help urgent care clinics all across the US.
As a result of this growing industry, competition has become intense in some areas. As more urgent care centers open, it is becoming increasingly difficult for these businesses to find the right people who need their services. Making sure your urgent care center's website has a robust search engine optimization, or SEO, the strategy is vital to maintain and grow your patient count. There are 4 important areas for SEO of your urgent care.
Speech Based SEO – New Emerging Area – As more patients are "speaking" to devices.
Paid Advertising or PPC Advertising for Doctors
What is Urgent Care SEO?
SEO is short for Search Engine Optimization. Successful SEO for an urgent care website will refine it so that search engines better understand the services you are offering. A search engine like Google's overriding goal is to provide its users with the most relevant choices as quickly as possible. By applying SEO strategies to your website, you'll become more and more relevant to your top keywords, making it more likely you'll be presented as a top result. SEO is not like putting a sign on the front of your facility. You will not see effects overnight in most cases, and it is a slow build towards your goals.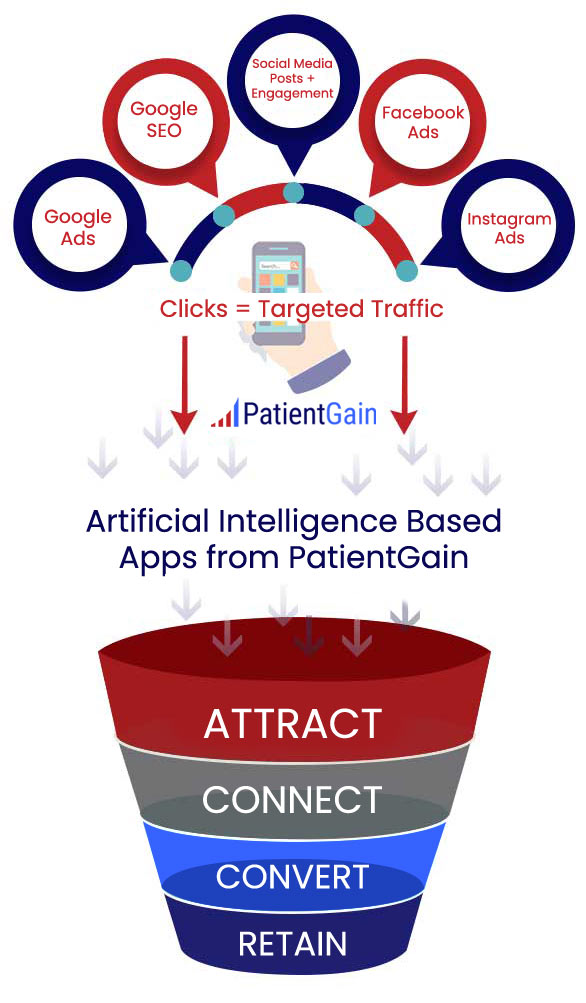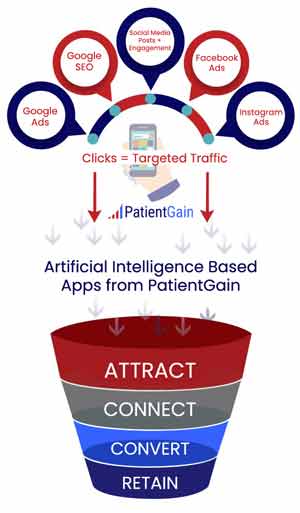 Increase the rankings for your keywords
There are some natural keywords you will rank very well for unless you have launched your website recently, and it is brand new. "Urgent Care" and "Urgent Care Near Me" are keywords that facilities generally do very well with once their website has been given time to mature and be crawled by search engines. If you are sitting at a computer in your facility this very moment and are not ranking when you type in those keywords, this is your starting point. It would be best if you started with your most active keywords and then work your way down other top keywords.
Once these keywords are producing results, you are satisfied with, concentrate on other keywords. Start with your services and begin to monitor where you rank. Ideally, it would help if you were a top choice for each of your services. Some services are not generally associated with Urgent Care Centers, so those will be more challenging to tackle. However, if you apply SEO strategies to these keywords for these services, you should start to see some improvement.
Some other challenges that urgent care centers often face include:
A competitor that specializes in a specific service you offer
Distance between your facility and a potential patient if there are closer choices available
The content on your service page is cut and pasted from somewhere else.
How can I increase the rankings of my keywords? Are there other benefits?
The best way to improve the rankings of your keywords is to post unique content that is of decent length. A few sentences, no matter how unique they might be, will not get the job done. Granted, you do not want to write a novella about the services you offer. Aim for at least 500 words when writing about your service, and mention the keywords associated with it frequently but do not pack them in there. Google will penalize you if you "stuff" content with keywords. If you can write a trustworthy, informative, and accurate 1,000 words about a service you offer, you are in good shape.
One of the most significant side benefits of applying SEO tactics to your urgent care website is that you will keep your content up to date. Some Urgent Care Centers will post a page and then never look at it again for several years. Reviewing content periodically to ensure everything is still accurate and adding additional content not only helps your rankings but keeps everything current.
SEO work now will pay benefits down the line. SEO results are not immediate, but they take time.
Working on the SEO of your urgent care center's website is like an investment. You will not see any difference in the following days, but over time you will build higher rankings with continued SEO work. Continually refining the content on your websites will give you a strong base to work from for future updates and also if you add any new services.
Patience are critical in the SEO process. Updating your content every week will not give it time to get traction in search engines, making updates rather useless. Once you've updated content, keep it for several months to see if any changes take place. If you are adding new content, do it incrementally. Adding 100 pages of new material in a single day, as strange as this may seem, is less effective than adding a couple every week. Granted, if these pages are vital for the function of your business, then add them. But, if you are adding more content, writing blog entries, or updating individual pages, try to spread those out over time. You will build more strength if there is constant, small updates to your website.
Higher Rankings Means More Traffic and Lower PPC Advertising Costs
The more relevant your website is to your target keywords, the more likely you will be presented as a top choice when people are looking for an urgent care center. Ideally, your website should be so relevant, it will appear on Google Maps in the search results. Appearing on Google Maps can be tricky and is determined by not only your website's relevance, but also its reviews and distance from the person searching for your services. By making your website more relevant, you only increase your chances of making an appearance on Google Maps.
Another benefit of making your website more relevant to users is with your PPC marketing efforts. While not always the case, often, it is cheaper to bid on keywords if your website is more relevant to the targeted keyword. You'll overall PPC Marketing budget will be more efficient, and you will get more bang for your buck with improved website SEO. In addition, if your SEO is pushing you higher up in organic rankings, some users may skip your ad all together and click directly on the search result.
Urgent Care SEO Examples
Example no 1 : Patient searching for an urgent care in Maui, Hawaii.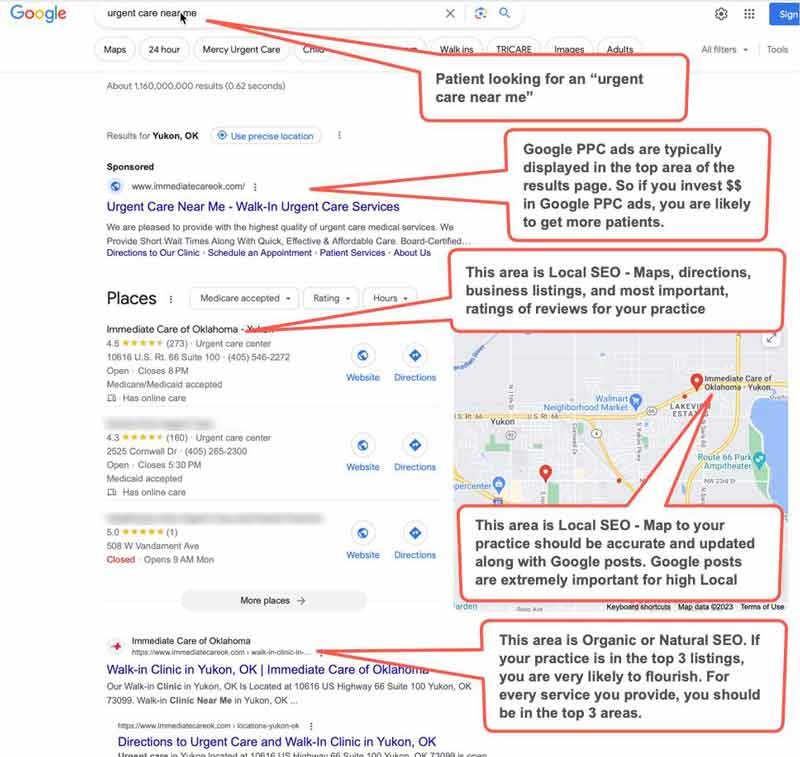 Example no 2 : Patient searching for an urgent care in OKC in Oklahoma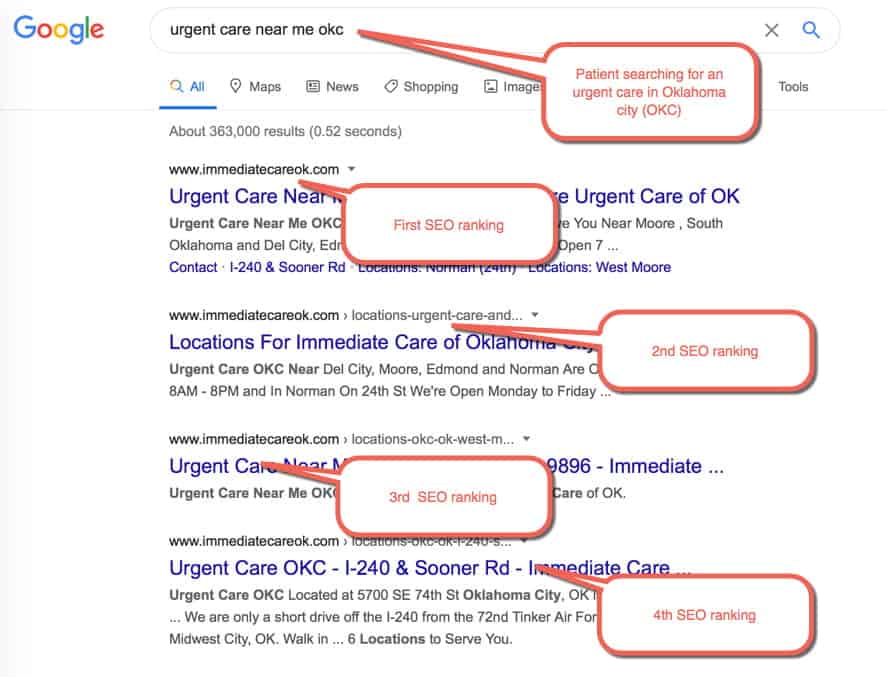 Urgent Care SEO Guide & Steps
Medical SEO is not a simple task. It is complex and time consuming. Here is a short-cut summary.
Step 1 : Create a mobile friendly website. If you use newer versions of WordPress software, this is included in the template setup. Website should load fast, less than 3 seconds. Avoid using heavy images, it is the number 1 cause for slow loading websites. Your website's top menu should have information for at least 6 key areas. About Us page, Services page, Resources page, Phone number & directions, Contact Us page, Call-To-Action (CTA Areas), and don't forget Home button. Your urgent care website should also load very fast. In fact Google now ranks speed of the website as one of the major factors for SEO rankings.
Step 2 : Start adding content under each of the areas. For example, for services page list all your services. each service should have a separate landing page for each service. Use original non-plagiarized content.
Step 3 : Structure of each page should be optimized, this area is also known as technical SEO. Each page should have a heading 1, possibly heading 2, and then paragraph text. heading 1 should be used for keywords and main subject of the page. heading 2 should support heading 1, paragraph text should provide details of the service. At least one image or a video should be added to each page. Add tags and meta data for each image.
Step 4 : Add professional quality images. So your website looks unique. Generic images purchased from image banks, and added to your website will make your website look generic. Custom images should be used to "brand" your website.
Step 5 : Contact forms should be used, using HIPAA in mind. Avoid mail-to forms.
Step 6 : Display testimonials or reviews from customers on the home page.
Step 7 : Add social media or other widgets to build your social presence also.
Step 8 : Add google analytics code. If you use WordPress (which we recommend) this step is very easy.
Step 9 : Submit the pages to Google search engine. Yahoo and Bing are also helpful.
Step 10 : Start building the content of your website. This is the foundation of your SEO success. Adding your website domain to other websites is called link-building, this is also an important part of your strategy.
Step 11 : Unfortunately it takes time and a lot of effort to start seeing results from SEO. But results and ROI from SEO efforts are worth it.
Why should I care about the medical SEO for my urgent care center?
When someone needs immediate care for a non-life threatening illness or injury, they know to head to an urgent care center. If they don't have a preferred location, are new to the area, or maybe have never visited one before, they are going to look for one on the internet. Patients search on their computers or their mobile device, and the vast majority of people are going to search using Google or Bing. Many searches will use a phrase like "Urgent Care Philadelphia," or "Walk-In Clinic Shillington." Other searches will be broader like "Urgent Care Near Me" or "Walk-in Clinic" near me. They will review the results and then make their decision.
While search results will often present potential patients with thousands of choices, many people will not look beyond the first page of results. Some won't even look past results that will appear on Google Maps or Bing Maps. If they need immediate care, they don't have time to research dozens and dozens of choices. With that in mind, you need to be near or at the top of search results for keywords that best describe your business. You need to be easy to find online so people who aren't familiar with your business but need your urgent care center's services can find you.
Additional Marketing Tips For Urgent Care Clinics
No 1. Run a Pay Per Click Campaign
Also known as a PPC Campaign, these are paid search results that appear above organic search results. While paying to be at the top of the page does not directly affect your website rankings, it will drive more traffic to your site. If your paid link is proving to be a relevant choice for people searching that keyword in your area, your website will start to look more and more authoritative to search engines. Another bonus of having paid ads is that you can still get in front of potential patients even if your organic rankings aren't where you want them to be yet.
Google AdWords and Bing Ads are the two more popular PPC platforms. You will get the most bang for your buck if you spend time there developing a well crafted PPC campaign. Put together carefully worded PPC ads and start to see a steady flow of new patients.
No 2. Optimize your website for location-based keywords
Your website should have the keywords you want your patients to use to find you. So if you are offering "x-ray services outside of West Chester," you should have that exact phrase several times on your website and definitely on your home page. You will want to have both basic phrases that are short and other "long tail" keywords that contain more than just a couple of words.
Including the name of the town your urgent care center is located is vital to ensure people in your area find you. You should also consider listing nearby towns, areas, or local landmarks in your content. For example, if there is a major shopping center nearby or if you are located near it, definitely include those details.
Avoid stuffing as many keywords as possible into your content. If you place too many keywords in your content, making it nonsensical and hard to read, you will hurt your search results, not help them. Keywords should flow naturally into your content and be on different pages that are relevant to the topic of that page. Your most important keywords should be on your home page, while others should have pages dedicated to them in terms of content.
No 3. Add Quality Content Regularly
If there is one thing a search engine loves to see, it is a website that is continuously updating and adding new pages. Unless you plan on adding new services to your urgent care center, the best way to do this is to start and maintain a blog. There's no need to be a best selling author to write a blog post, just continue to post regularly unique content covering a range of topics.
As an urgent care center, there are a plethora of topics for you to cover. You can write about things like:
Your services and how patients could benefit from them
Current seasonal health concerns like the flu or allergies
Tips on staying healthy
Other topics your patients want to learn more about.
No 4. Service pages should have unique content
Urgent care centers often offer similar services at their clinics. Make sure that your page has content that is unique to your website and tries not to match any content on other competitors sites. It will be challenging to have a webpage describing a service that is 100% unique. There are only so many ways for you to say, "Please call our front desk if you have a question." However, you should strive to have that page be as unique as possible. Keep in mind you should also try to make sure none of your pages repeat content either. Ensure your pages are unique from each other.
No 5. Create and maintain social media channels.
Social media channels, like Twitter or Facebook, won't directly affect your overall rankings. However, they are important sites to link back to your site, and by posting links on these channels, you will drive more traffic to your website and could be linked elsewhere. This additional traffic will affect your SEO rankings. Social media channels are also opportunities for happy patients to talk about your clinic and tell others about the excellent service they received there. Social media is an excellent opportunity to get reviews about your business, which all plays a roll in SEO Rankings.
Conclusion
Overall, SEO for your urgent care center should be a top priority. It will not be a "one and done" proposition, and you should consciously be making an effort to update your website consistently. The long-term benefits will be worth the constant attention. SEO for Urgent Care Centers is vital in the highly competitive healthcare industry. Unless you are the only urgent care center for miles and miles around, this should be one of your top concerns. Lockdown a good search engine optimization strategy and follow through with it. If you continue to update your SEO plan, you will stay a step ahead of your competitors!
GOLD Service from PatientGain.com includes SEO optimization for your Urgent Care Center.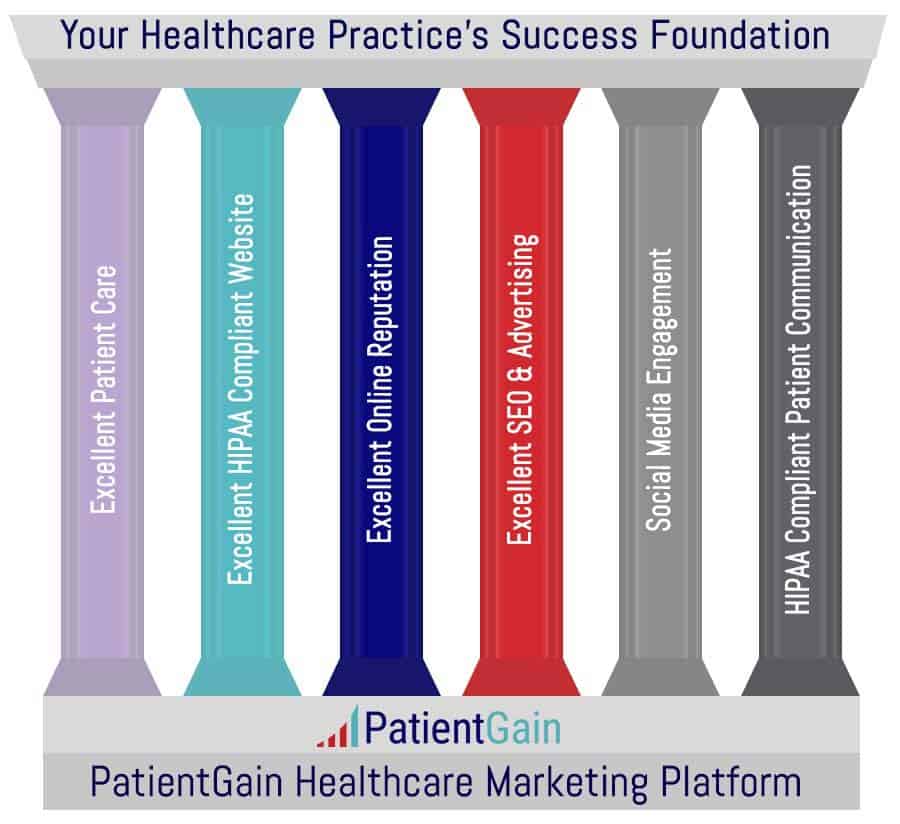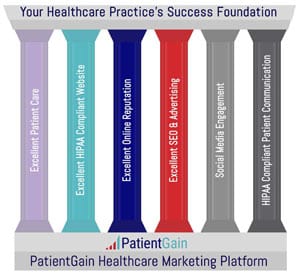 Benefits of SEO for Urgent Care Centers
Running an urgent center is much like being a substitute teacher in the classroom. The night before, you probably don't have a firm idea what the next day will bring. When you arrive, you deal with problems as they come to you as best as possible.