Urgent Care Advertising
82 percent of the new patients looking for urgent care services are driven to your medical practice based some sort of online advertising, online SEO or other online medium.
It's a given that you must advertise online to be successful these days. Online SEO, search advertising, display advertising, social media advertising and remarketing are constantly changing. Urgent care walk in & primary care clinics need to use the latest trends and strategies in online advertising. Simple online advertising for urgent care walk-in & primary care clinics – used by top clinics in usa. Typical patient acquisition costs $8 to $27 per new patient in most us areas. Search Engine Optimizations (SEO) and Online Advertising are related and but 2 separate subjects. They are both extremely important and relevant to your success. Equally important is Online Reputation for doctors and medical practices. So you must have a complete strategy to be successful.
Urgent care patient acquisition costs
Patient acquisition costs can be anywhere from $8 to $27 per new patient in most US areas. If you are located in an area with a lot of competition, your costs will be higher. Also competing on the internet for more patients requires that every Urgent Care center must consider three key areas for online success. Each one of these areas are addressed by the PatientGain.com platform and we have developed specific online applications for each area to help you become successful.
Case study: Urgent care single location
One of our customers, a medical clinic in a very competitive market was running their PPC advertising with a local company in Michigan, when they first started using PatientGain.com. After using PatientGain.com advertising platform, the first month, they saw some drastic results at their clinic now that their Google AdWords Campaigns were being managed by PatientGain.com's PPC platform. While using a local advertising company, they had an average cost per click of $5.86, and were spending around $1,600 – $1,800 a month on advertising. After switching over to PatientGain.com, they now had an average cost per click of $3.85, which increased the number of clicks they got per month by 166% with the same $1,600 budget. Their campaign also saw increased CTR and Quality Score ratings, and within days they saw the difference at the clinic, as more and more patients were reporting they found the clinic on Google. After analyzing where their patients were coming from a few months after making the switch, they found they were seeing 17 to 22 more patients per month who reported they found the clinic through Google. With a more effective and efficient campaign designed and managed by PatientGain.com, they increased the number of patients they saw with the exact same advertising budget.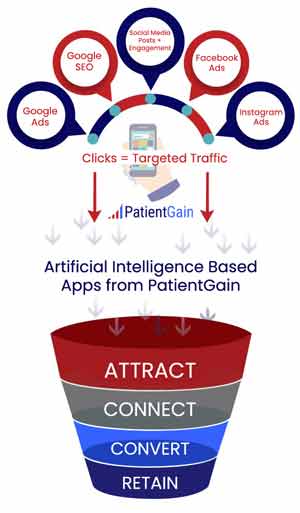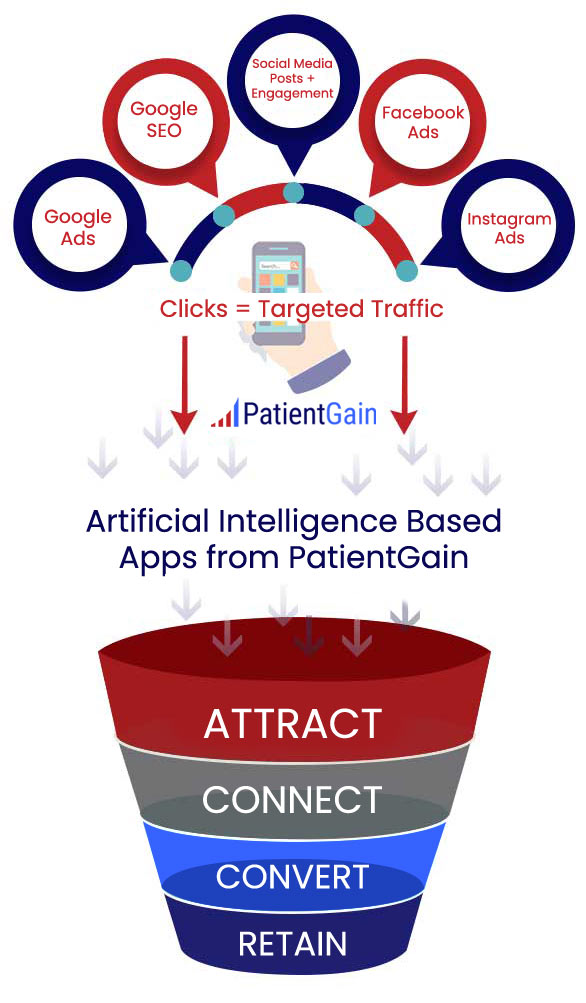 Costs to Open an Urgent Care are $440K to $1.2M. Invest in Marketing Wisely
The largest misconception when starting an Urgent Care is the field of dreams analogy "If I build it they (patients) will come". Many business owners look at the demographics data, competitive landscape – as it exists at the moment, not as would be if 3 new clinics opened within 10 mile radius. Some business owners are still waiting for the "progressive and steady patient increase" to happen after opening, with minimal patient increases until they ran out of funds – very tragic. Learn more about opening a new urgent care center in USA.
4 Important Areas to Consider For Urgent Care Advertsing
1. Targeted Advertising For Urgent Care Centers
PatientGain.com offers Pay-Per-Click (PPC) Advertising on Google, Yahoo, and Bing, as well as Remarketing and Facebook advertising campaigns. When optimized effectively, these advertising campaigns create an excellent boost to lead and patient generation. PPC advertising allows your clinic to effectively target quality leads while they are actively looking for services you offer. PatientGain.com has great experience in running PPC campaigns. Read more about PPC advertising for doctors.
2. Optimized Business Presence For Urgent Care Centers
a. Cultivated Online Reviews/Reputation
b. Organic Rankings & Local SEO
c. Conversion site optimized for search engines, w/ intelligent apps
d. Need to draw your leads & traffic to an effective conversion site; not only need to display yourself well to generate leads, but you have to effectively convert them once they find you.
3. Social Media For Urgent Care Centers
a. Facebook, Google+, Yelp, and more
b. Apps to add lead capture to your social media, integrated with your backend
c. Improves your lead generation, tracking, and conversion
d. Turn your Social Media into a more professional business tool
4. Traditional Non-Digital Advertsing For Urgent Care Centers
Don't overlook traditional advertising. This includes billboards, print media, placing an ad in local movie theatre to drive patients to your clinic. This type of marketing is on the decline, as more and more patients are online now.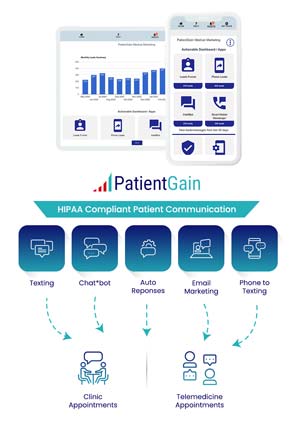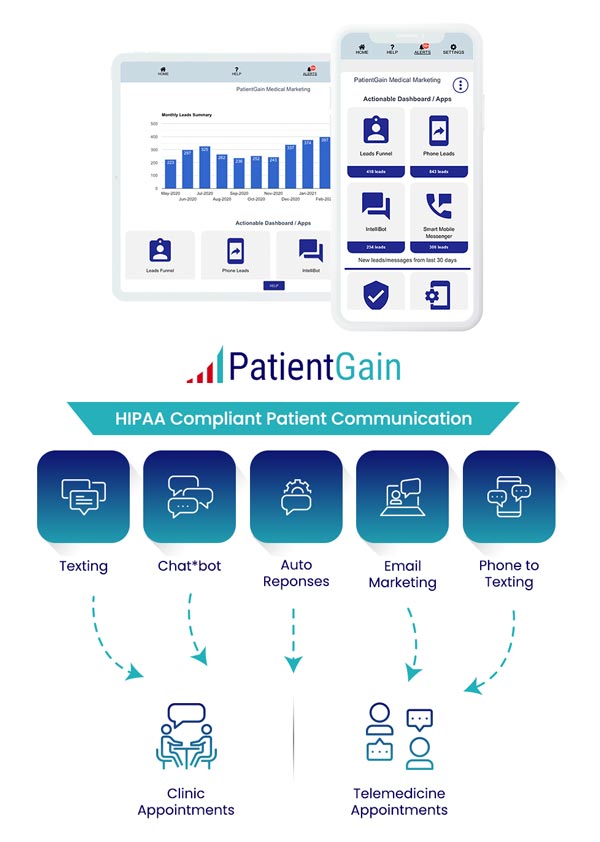 As a clinic owner or an administrator, you need much more than a pretty non-HIPAA Compliant website. In order to increase your clinic's patient count, you need intelligent software behind your website, and a strategy that's proven to be successful for top healthcare clinics across the US. PatientGain.com apps are hosted in the cloud on world class high performance servers in the USA. PHI data is stored in accordance with HIPAA Laws. There is no software to install or contracts.
PatientGain.com GOLD Service includes a free/no-cost HIPAA compliant and Google Optimized WordPress Responsive website. We have dozens of designs for your Urgent Care & Walk-In Clinic.
Hundreds of Urgent Care and Walk-In Clinics are using the same software & websites to stay competitive and increase patient counts. Click here to see some example sites.
Facebook VS Google Advertising For Doctors
Facebook advertising can be very effective, just like Google search advertising. However, overall Google search ads perform much better than Facebook display ads. The ROI is greater for advertising for doctors on Google search. Lets go over an example below.
The time frame is 1 month, 30 days. The budget spent is almost the same on Google Search and Facebook Ads for this medical practice.
Google CPC resulted in 2241 total visits, with 5078 page views, on average 2.27 page views per visit. During this time there were 78 conversions and 13 new sales. Each sale is approx $5000 for this medical clinic.
Facebook CPC resulted in 2036 total visits, with 2593 page views, on average 1.27 page views per visit. During this time there were 16 conversions and 4 new sales. Each sale is approx $5000 for this medical clinic.
Based on this and similar data, we know that Facebook ads work, however ROI from Google search ads is much higher.