Repeat Clients, Rewards, Loyalty and Referrals For MedSpas and Aesthetics Practice. Done For You. Cost $499/mon. Free Setup.
Many medical spas employ loyalty marketing and referrals marketing to retain clients and patients in their business. Loyalty marketing is a great way to increase the value of a med spa's conversions and can effectively maintain a patient count. A med spa and aesthetics practice can benefit from understanding how this marketing strategy works and how to use it effectively. There are more than 19,911 medical, health, and wellness spas in the United States, a med spa needs every tool available to succeed. PatientGain sets up the rewards and referrals app for you. You simply need make sure you respond to the leads and check your mobile phone for alerts.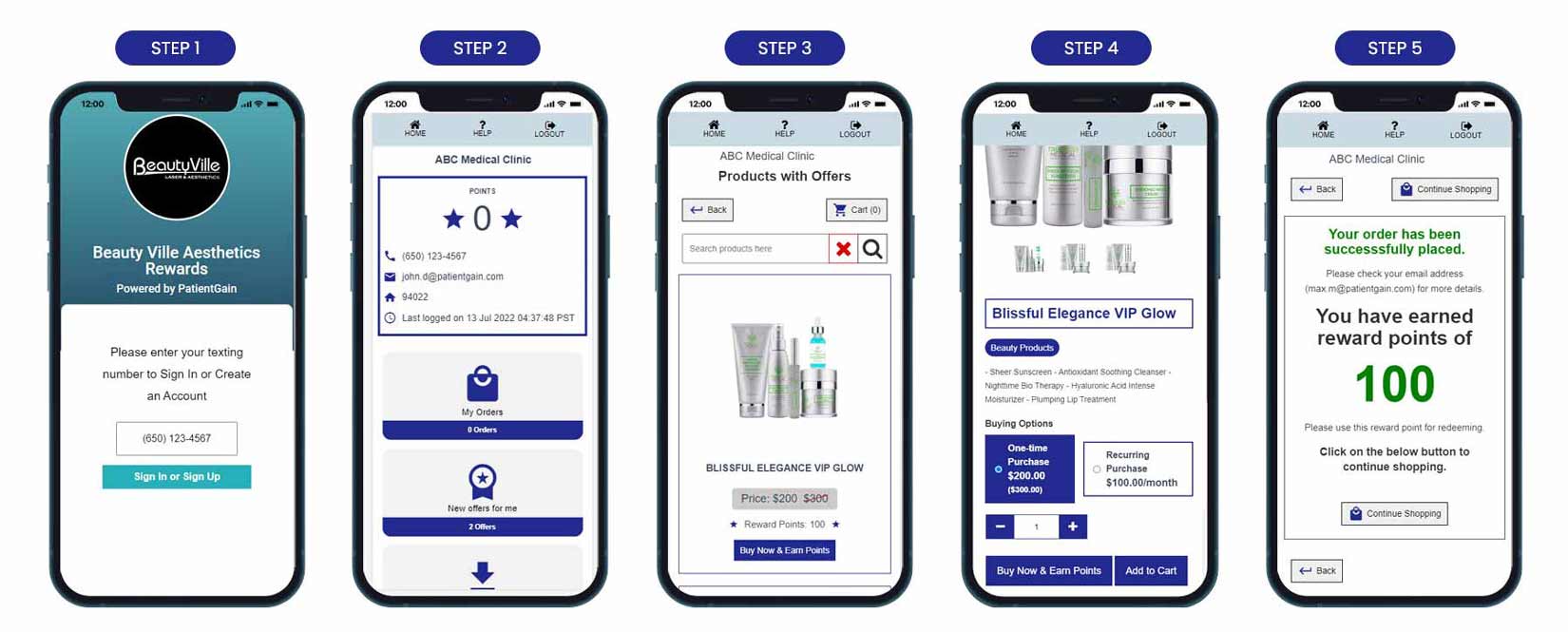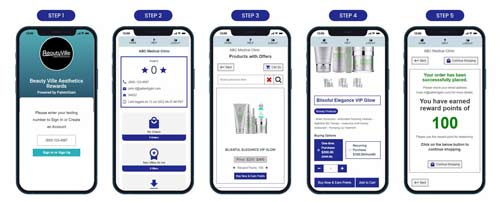 Medical Spa Loyalty Program Benefits
Most clients/patients will tell you that they "love" you service. And they want to "refer" more of their friends and family members to your medspa or aesthetics practice.
What is loyalty marketing for a med spa?
Sometimes considered both a digital and a traditional marketing strategy, loyalty marketing is a tactic that encourages current patients and clients to come back again for services at a medical spa. Often, this involves enticing them to make purchases to build up points, credit, or some other value for them to redeem for further services. One of the most popular and earliest examples of "Loyalty Marketing" is a coffee punch card where someone would get a free coffee after purchasing a certain number of coffees and had their card punched.
What is referral marketing for a med spa?
Referral marketing is word-of-mouth marketing that encourages customers to recommend your business to their friends and family. Treatments like HydraFacials and laser hair removal services are especially well-suited for referral marketing because people can see the results themselves. PatientGain sets up the landing page with conversion pop-ups, tracking of the redeemed promotions. Our app can even collect upfront and our app can also send the appointment request. Clients can pay by credit card, Buy-Now-Pay-Later or payment plan.
What are the benefits of loyalty marketing for med spas?
As mentioned above, loyalty marketing produces more business from clients and patients. Acquiring new patients at a med spa can be expensive, so the more that can be done to encourage additional purchases and retain their business, the better! Once a patient has established loyalty at a med spa, it becomes easier and less expensive to advertise to them in future campaigns.
A new patient must be aware of a med spa's brand and be enticed to visit its website. On the site, they must then be convinced to explore the website and that this medical spa is better than the rest. A part of that process involves having a well-developed site that makes it easier for them to navigate and find the information they want to help them make their decision. All of that takes time and money.
A returning patient is much easier to market and, therefore, is much cheaper! They already know the brand of the medical spa, are familiar with the services they offer, and have explored the website before. Loyalty marketing, at this point, needs to educate them about new services or make a pitch that they need to have a service again. They already have first-hand experience with the medical spa. From there, it only takes a little incentivization to convince them to use a service again or try a new one.
Medical spas, of course, cannot survive only on existing patients. They constantly need a steady flow of new patients to grow their business. However, they can help pad their bottom line and take some pressure off of getting a bunch of new patients every month by encouraging some loyal patients to come back again and again. The acquisition cost for patients comes down each time they come back for services at a medical spa.
Another benefit to loyalty marketing for medical spas is that it is much easier to promote services to an existing patient. With a positive prior visit and experience at a medical spa, less effort is needed to convince them to come back for more services. Repeat patients potentially could spend 67% more than first-time patients to a med spa.
How can a medical spa use loyalty marketing to grow its brand?
Before a medical spa implements an effective loyalty marketing campaign, they need to know why patients are loyal in the first place. To determine why they are staying loyal to a medical spa's brand and coming back, a business needs to get feedback from those loyal patients. Once the "why" is determined, a loyalty marketing plan has a place to start. There are a few ways to get feedback from patients:
Monitor Social Media Channels For Feedback
As part of an effective medical spa marketing plan, a medical spa should have multiple social media channels. These channels are not only helpful in promoting the services at a med spa but also in listening for feedback from patients. Not every patient will take the time to mention, tag, or leave some comment on a medical spa's social media channel. However, the ones that do will have valuable feedback to offer. Chances are something that they like is enough to take the time to leave a comment about it, like a massage, a facial, or another service that is popular with other patients. This type of feedback can help a medical spa develop a loyalty program that will reward patients with the services they are most likely to come back again and use. Also, the person who left the comment on social media is highly likely to sign up for a loyalty and rewards program and should be engaged by a medical spa.
Social media channels can also be a source of negative feedback. A med spa needs to monitor and respond to these complaints in these cases. If they are left unattended and outright ignored, it may be harder to convince patients to return to a medical spa. If a med spa does not seem to "care" about their services, it will be challenging to develop a sense of loyalty in a patient, and a competitor will have an easier time luring them away to their business. Addressing things quickly may win a patient back over for them to come back again. Loyalty can be built in patients if a med spa goes above and beyond to correct a mistake or negative experience.
Send Patient Satisfaction Surveys
Rather than wait for feedback from patients who are motivated to leave feedback on social media channels, many med apps are proactive by sending patient satisfaction surveys. Generally, a med spa is likely to get more data from satisfaction surveys than simply by monitoring social media channels. It is a very easy, straightforward way to collect patient data and feedback. A crucial aspect of sending a survey is when to send it. Some med spas like to send a survey immediately after service, and others want to send them several days afterward. A med spa should test the timing of their surveys with their patient base to see which one gets the highest number of responses.
Patients should find surveys to be easy and quick to complete. The more questions a patient has to answer, the more likely they will abandon the survey altogether, preventing a med spa from getting any useful information. Ideally, it should be just a single-question survey with the option for patients to give more information if they desire. Med Spas generally send satisfaction surveys through email or text. Providing a physical comment card does not have a high conversion rate, and mailing one is somewhat cost-prohibitive. Many med spas use email surveys use text for the following vital way to get feedback: Online Reviews.
Ask Patients For An Online Review
Asking patients for an online review is not only a great way to get feedback, but building a robust online reputation benefits many areas of a med spa marketing plan. Unlike satisfaction surveys, online reviews are posted publicly and can help potential patients choose a med spa for their needs. (Patient satisfaction surveys are a little easier to connect to patients and services for analysis, and some people may not be comfortable posting something online.) Even a few negative reviews will add some legitimacy to a med spa. First-time patients may feel something is a miss if there is nothing negative about a med spa online.
When asking for online reviews, it is essential to respond to every review. For positive reviews, thank them for their compliments about the medical spa. For the occasional negative review, try to contact that patient and see if their issue can be rectified. Even if it can not be fixed, potential patients to a med spa will see and appreciate the attempt to make right what the reviewers felt was wrong. Finally, a med spa should avoid specifically incentivizing leaving a positive review. Offering money, discounts, and other things to get a 5-star review is illegal in some cases and is generally frowned upon by business listing sites like Google and Yelp. In fact, Yelp specifically prohibits this action in Section 7Bii of their terms of service. Offering incentives to come back to a medical spa is more than enough.
How do I build loyalty with patients at a med spa to help them become frequent patients?
Highlight Patients on Social Media
Med Spas may mistakenly think that its social media channels should exclusively be used to promote its services. Social media can be used to highlight a medical spa's best patients. They can be those who frequently visit, try out a new service or just those the staff enjoys spending the most time with when they visit for an appointment. Showcasing these patients, with their permission, is a great way to build a brand for a medical spa, and patients will appreciate the public appreciation of their business. This can help build patient loyalty, and, as a bonus, many will share those posts on social media to their social media feeds, which will increase the reach of that content. Major social media channels like Facebook, Instagram, and Twitter are often the best places to highlight these patients.
Additionally, as medical spas monitor their feeds for feedback, they should not be afraid to share content, posts, and pictures patients post to their followers on their profiles to highlight a visit. Content generated by people, also known as user-generated content (UGC), is often promoted and prioritized by social media channels as opposed to content generated by businesses. The more med spa patients post and comment about the business, the more social media channels will reward it by pushing that content further on the platform. Patients may like the attention, likes, and comments they get and be encouraged to post further pictures and content about their experiences.
Create a rewards program to incentivize patients to come back
A rewards program is a must-have when creating a loyalty rewards marketing campaign. Rewarding patients for frequent visits to a medical spa will make it harder for other brands to steal patients by offering newer or cheaper services. Rewards help give patients a reason to come back, again and again, to spend more money at a medical spa. Creating a rewards program does not have to be difficult, but it must be carefully planned, so patients feel and see its value.
Your clients/patients can be rewarded by letting them earn one point (or more or less) for every dollar they spend. Once they reach a certain number of points, they can use them toward gifts, services or products. You will need to determine the amount of rewards you are willing to offer. For example, if someone spends $400, they may earn 400 points, or any number of points associated by with service or product. For example :
Example 1: Service A (you have high margins) – Service pricing is $600, You can assign 600 points
Example 2: Service B (you have lower margins) – Service pricing is $800, You can assign 200 points
Example 3: Product C (you have very low margins) – Product pricing is $80, You can assign 10 points
First, a rewards program should have tiers tied to how much a patient spends at a medical spa and how often they visit. Different rewards should be attached to those tiers, with rewards becoming better with each tier. For example, if there is a Bronze, Silver, and Gold Tier, but the reward is the same for each one, those tiers do not mean anything. Each higher tier should be tied to a rolling benchmark, such as the number of visits or money spent in the last 12 months. Ideally, a patient should be able to look and check the status of their "level" whenever they want.
Another way to promote loyalty or incentivize visits is to send special promotions to those participating in a rewards program. Special Birthday Promotions can be set up automatically through email marketing systems to send these specials to patients during their birthday months. (Be sure to give them a month to use a discount or special, or it will be a waste of a promotion.) Medical spas can also create personalized recommendations based on a patient's purchase history and offer them special rates or discounts in other marketing campaigns.
The essential aspect of a reward loyalty program is to make a patient feel like a medical spa appreciates their business and wants to see them regularly. Sending out deals, exclusive promotions, or giving them a gift when they come in for a service can help build that loyalty for a medical spa.
Start A Referral Program For Loyal Patients
A rewards program can be just one of two ways for patients to earn free or discounted services at a med spa. A patient referral program is another excellent way to incentivize patients to spread the word about a med spa. As great as marketing campaigns and online reviews are at acquiring new patients, a word-of-mouth recommendation from a friend or family member still holds significant weight. Over 60% of people trust word-of-mouth recommendations. Giving an incentive for patients to make those referrals and recommendations by rewarding them for their efforts to bring new patients to a medical spa. It encourages that behavior and is a win-win for all that are involved.
Some medical spas will have a referral program in their reward tier system. For example, instead of having a set of rewards for referrals and a different set of rewards based on how much they spend, there is one set of tiers of rewards for everyone. A patient could earn 1 point for every $10 spent at a med spa, while every referral is worth 10 points. This makes it easier for a patient to keep track of their rewards and also makes it easier for a medical spa to keep track of what rewards patients qualify for at their facility.
Loyalty Rewards Marketing Helps A Med Spa Show They Value Their Patients
The overall goal of loyalty rewards marketing for a medical spa is acknowledging the patients for their business and showing your appreciation for their support. It encourages them to remain loyal to the brand and continue to bring their business to the medical spa. Once a patient is made into a loyal brand supporter, it will be difficult for another brand to steal them away for similar services.
The experts at PatientGain.com are available to help you create a high-performance loyalty rewards marketing plan for your medical spa. Contact us today and let us show you what we have done for other practices across the country!