Importance of Medical Practice Online Reviews
$299/mon App For Medical Practice Online Reviews – 5 Star Reviews. Why online reviews are vital to your medical practice
Online reviews can make or break a medical practice. While you may have a thick skin when it comes to other people's opinions, enough negative reviews can severely impact your medical marketing campaigns' success. Your online reviews and reputation need to be attended to. Otherwise, you will find yourself working harder to get more patients through your front door. If you do nothing, you are likely to have a high percentage of negative reviews. People who are upset with a service, regardless if it is their doctor or mechanic, are very motivated to complain online.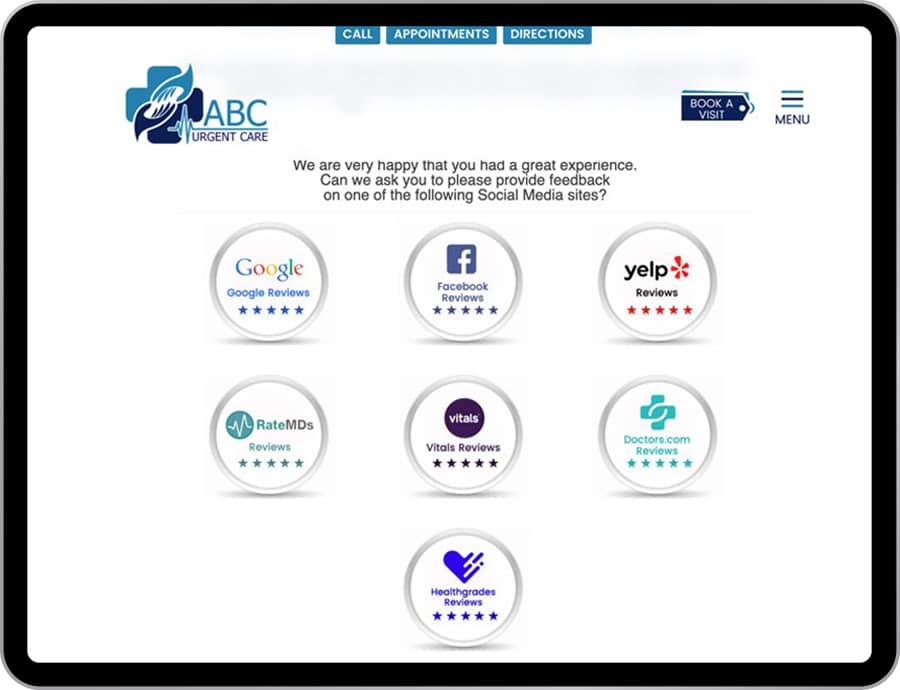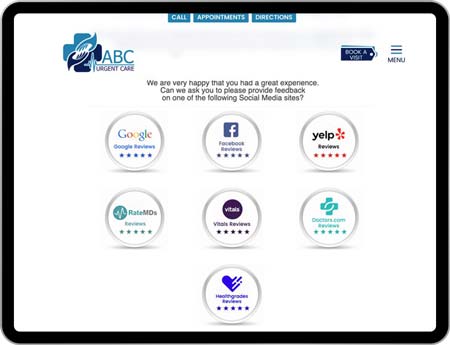 Today it is easier than ever to post comments online about a business. By putting some effort into this area, you will build a vast reservoir of positive reviews that will counteract the occasional negative evaluation from an unhappy patient. To start, you need to claim or create your online listing on:
• Google
• Yelp
• Bing
• Facebook
• Foursquare
These social media channels and directories are where your reviews will reside. Why do you want to have a large selection of positive reviews? Below are some excellent reasons to have great reviews associated with your medical practice.
Reviews Make A First Impression
While a personal recommendation from a friend or family is compelling, the vast majority of the public will trust a collection of online reviews just as much! If your medical practice has review after review showering your providers and staff with praise, this puts you in a fantastic position to convert them into a returning patient. Take the very best reviews and highlight them by putting them on your website. Refresh them every so often, so there are new positive reviews on your site for patients to read as they explore your services.
Online Reviews Boost Your SEO Value & Organic Rankings
While the exact algorithm of search engines is a closely guarded secret, most agree that reviews are among the leading factors in organic rankings. It also plays a role in map results when people use a mapping app to conduct searches. Patients are much more likely to click on a website with dozens of five-star reviews as opposed to a medical site with a handful of positive and negative reviews. A collection of reviews with public responses from the business owner also encourages patients to engage more with a website, driving up clicks and page visits. Finally, by refreshing the reviews on your website, you are putting new unique content on your site regularly. All of these factors help boost your medical practice's organic rank.
Make Improvements To Your Medical Clinic With Patient Feedback
A good medical practice will take feedback from patients to heart and use it to improve their overall business. Are there complaints about how uncomfortable the chairs are? Maybe it is time for some new waiting room furniture. Are there frequent comments about the smell of the bathroom? Perhaps you should hire a weekly cleaning crew. A good business owner will review all feedback and see if any changes can be made to improve customer experience.
Make a point to review feedback and see if any patterns develop regularly. If one doctor is praised continuously in feedback, it may be time to reward their extra hard work with a bonus. If a staff member if frequently mentioned as rude, then it is time to correct that behavior. Look to see if any patients praise a service or find a service that was missing something. You can't talk to every single patient that enters your clinic and make them tell you what they like and didn't like about their visit. Use the reviews you receive to make your clinic better!
Respond To Every Review To Show Your Practice Takes Feedback Seriously
For a potential patient exploring their health care options, it can be off-putting to see a series of negative and positive reviews but no response from the owner. Without a reply, it is tough for someone to tell if any reviews are seen. If someone takes the time to leave you a review, you should respond to them. Even if it is just a simple "thank you," it is an indication that the review has been seen. For negative reviews, try to engage with them to understand their experience better. You may be able to turn that 1 star into a 5-star review. If not, patients will see you tried your best to address their issues. Try your best to respond to all reviews as quickly as possible. Many places timestamp reviews and responses. Responding to reviews within 24 hours will make your medical practice look very attentive when it comes to feedback. Checking every three months will send a message that you do not care much about patients' opinions about your services.
How do you get good reviews? Ask!
Many medical practices struggle with getting good reviews. It is not that hard; all you have to do is ask for feedback from patients. The trick is to try to redirect upset patients to speak with you first before they leave a negative review. If you can talk to these patients first, then you might be able to rectify their issue. Their irritation is often due to miscommunication, such as your staff forgetting to call with test results or they left without feeling they had a chance to ask any questions. Many medical practices ask patients to rate their service from 1 to 10. Those who give a seven or higher are redirected to leave a review. If someone leaves a 1 through 6, they are sent to a form to send the owner feedback. Other locations will use "Yes," "Maybe," or "No," and direct patients based on their response.