Medical SEO Expert Services
How Much Should You Pay For Expert Professional Medical SEO Services: Search Engine Optimization, Content Creation, HIPAA Compliance, Lead Capture Apps Management – For Healthcare Clinics, Physicians & Dentists?
PatientGain is an expert marketing and SEO company for doctors and medical practices. We have successfully executed thousands of campaigns to help hundreds of practices all across the US.
Here is some useful information about other companies:
Experienced medical SEO experts charge $350 to $2000/mon for a typical small to medium sized medical practice in USA & Canada. This typically covers the services only – Not the software and conversion tracking secure storage of patient leads (HIPAA). This SEO service for physicians is included in the GOLD service from PatientGain. Medical SEO Services For Doctors Cost $699 per month. Applies To Dentists, Surgeons & Healthcare Practices.
There are many very good companies providing excellent Search Engine Optimization a.k.a SEO Management Services all across USA & Canada. Google is the source of your new patients for 78 percentage of the time. So Google should be the focus of your SEO strategy.
4 Things to Avoid With Medical SEO Management Companies
Long Contracts
Setup Fees
Non-standard SEO practices
Lack of Account Reviews and Data-Based Accountability
Medical SEO Services Can be Divided Into 6 Main Areas:
Google Local SEO Results
Google Maps Results
Google Reviews Results
SEM – Search Engine Marketing – A.K.A PPC Ads – Top Area for Google Ads. Although this is Paid Ads, but many doctors consider this a part of SEO
Speech based SEO is an emerging area – More and more patients are "speaking" to devices rather than typing into the devices.
Experienced Medical SEO Professionals Produce Better Results For Your Medical SEO Campaign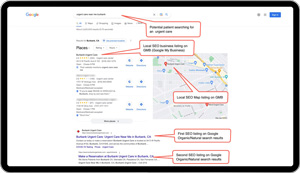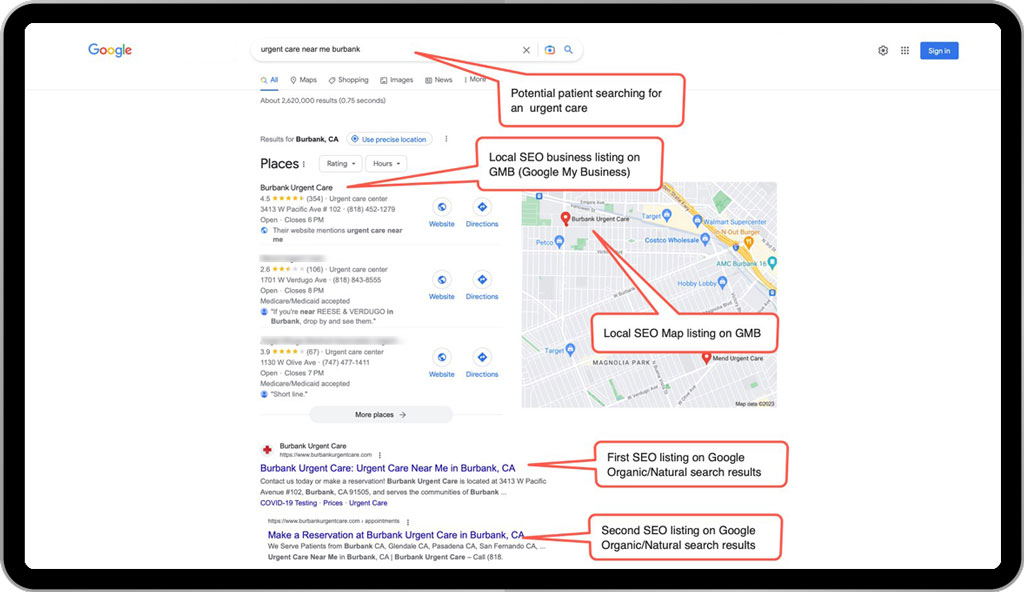 It is easy to be tempted to hire "general" SEO practitioner based on pricing alone. But we would not recommend it. Every day PatientGain.com receives inquiries from doctors, surgeons, medical practices and many other healthcare professionals, seeking to improve their Medical SEO Rankings. Majority of the time we are amazed at lack of attention to details to SEO campaigns. This is one area, you should not try to save few hundred dollars per month. Go with the leader who understands three import aspects:
Detailed domain knowledge about healthcare
Medical SEO Specialists – Check their OWN SEO rankings on Google like "Advertising for Doctors" – "Medical Marketing for Doctors"
Website conversion technology with HIPAA compliance
Other Considerations for Medical SEO Management Pricing For Doctors
You should also consider setup fees and length of the contract. We recommend no setup fees and no long term contracts. Some companies create fake links for Medical SEO rankings. We recommend you pay less than these and get better results.
4 Examples and prices from good medical SEO expert companies:
Example 1 – Small size practice with 1 location, 3 exam rooms, 2 providers, 4 services
Setup fee $1500
Monthly fee $350 / month
Contract 12 months
SEO focus – top 10 keywords
Example 2 – Small-to-Medium size practice with 2 locations, 8 exam rooms, 5 providers, 10 services
Setup fee $2000
Monthly fee $1000 / month
Contract 12 months
SEO focus – top 16 keywords
Example 3 – Medium size practice with 6 locations, 34 exam rooms, 22 providers, 60 services
Setup fee $3000
Monthly fee $3500 / month
Contract 12 months
SEO focus – top 60 keywords
Example 4 – Medium+ size practice with 19 locations, 58 exam rooms, 51 providers, 79 services
Setup fee $8000
Monthly fee $6800 / month
Contract 12 months
SEO focus – top 186 keywords
These are prices being paid by most medical practices for good companies. Please contact us for more questions – PatientGain.com's pricing is different. SEO for Medical Practices is all we do. You can even check on Google and search for "Online Advertising for Doctors" or "Advertising for Doctors" or "Medical Marketing for Doctors" and see the SEO Organic results.
To read more about how Medical SEO Works for Doctors
Case Study: Results From Online SEO For Primary Care Physician
Review of a real customer. Location is east coast – mid-level competition. Doctor Jones has been in practice for the last 13 years. Her focus has been Primary Care, Internal Medicine and general wellness with focus on Diabetic patients. However, since last 3 years, multiple clinics have opened within her 5 mile radius. In addition, two Urgent Care clinics have also impacted her business. In the past all she had to do was to advertise in local yellow pages, few referral practices and business had grown due to her excellent focus on patient care. Due to competition, her average patient count had steadily decreased from 30 patients a day to 22.
In this case, Doctor Jones had to focus on new patient acquisition. She search online for "online advertising for doctors" and found PatientGain.com as the first organic listing on Google. She signed up for PatientGain.com's GOLD Service for $699/mon. The results have been as follows:
Nov – Go live with new website, along with 20 apps embedded in the new Medical Marketing website. 135 phone calls received in the first month. 116 unique phone calls.
Dec – 434 phone calls received in the 2nd month. 388 unique phone calls.
Jan – 621 phone calls received in the 3rd month. 534 unique phone calls.
Feb – 518 phone calls received in the 4th month. 419 unique phone calls.
Mar – 599 phone calls received in the 5th month. 450 unique phone calls.
Apr – 697 phone calls received in the 6th month. 541 unique phone calls.
May – 801 phone calls received in the 7th month. 643 unique phone calls.
By the end of 7th month, Doctor Jones had achieved her target of 30 patients per day. Mission accomplished.