Facebook VS Google Advertising ROI For Doctors and Dentists
Facebook & Instagram advertising can be very effective, just like Google search advertising. However, overall Google search ads perform much better than Facebook and Instagram display ads. The ROI is greater for advertising for doctors on Google search. This data is consistent across multiple medical disciplines. Key difference we have found is that Facebook and Instagram (and other social media ads like SnapChat) are more effective at "awareness" and introducing a brand. Whereas, if your objective is get new patients in your dental or medical practice for procedures, Google search, PPC ads are more effective. However, if you have a medical spa or aesthetics practice, then social media can also be effective. All of this assumes the advertising team is knowledgeable and specialist in healthcare advertising and conversion tracking.
For example we analyzed campaigns from the last 2 years and found that while Facebook, IG ads are easier to setup, and cheaper based on "per action" meaning per click, eventually the return on investment is higher from Google ads.
| | | |
| --- | --- | --- |
| Average Return on Investment (ROI) | 10.50:1 ($10.50 for every $1) | 3.10:1 ($3.10 for every $1) |
ROI Results
Example of a Facebook ad :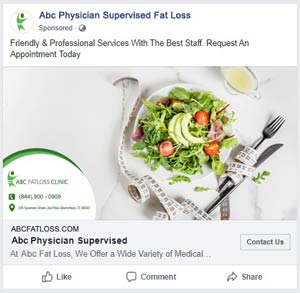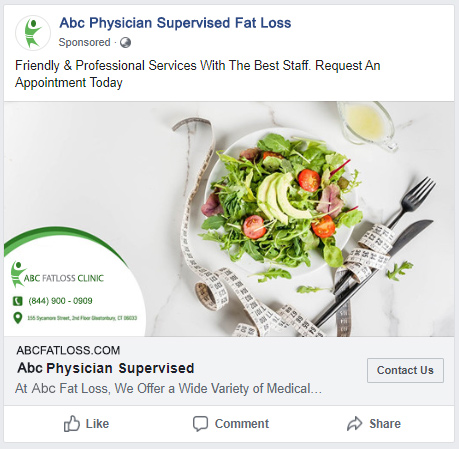 It's a given that you must advertise online to be successful these days. Online Search Advertising, Facebook Advertising, Display Advertising & Re-Marketing are constantly changing. Medical and dental practices need to use the latest trends and strategies in online advertising. Our tests were conducted using multiple campaigns and multiple type of clinics. For example MedSpa, elective services produced better ROI then non-elective services, but even then, Facebook advertising ROI is still less than Google's search PPC ads ROI. However we typically recommend a mix of Google and Facebook ads for most medical marketing, with most of the ads dollars going towards Google. This may change in the future, but as of right now, Google still produces best ROI for your medical practice.


Results of Advertising for Dentists and Doctors – Google VS Facebook (and Instagram)
The ROI is greater for advertising for doctors on Google PPC search compared to Facebook, Instagram display advertising. Lets go over an example below. Key difference is :
1) Google PPC Ads are based on user "Intent",
2) Facebook VS Instagram ads are based on user "Interest" and past history. Facebook and Instagram also use AI (

Artificial

Intelligence and

Data S

cience

)

to predict the conversion of each ad
Results: Our data from thousands of medical marketing campaigns, shows that "Intent" wins and is more accurate and produces better online advertising ROI for dentists, surgeons & healthcare practices.
For aesthetics and weight loss practices, Facebook and Instagram produce good results. However the total cost of per "action" has increased significantly in recent months. For example average cost per PPC click in the example below is $4.89 and average cost per "event" is $4.13 on Facebook and Instagram. However the number of actual conversions are less from Facebook and Instagram. We see more leads but less actual customers from Facebook and Instagram, for the same amount spent. This could be that most potential patients on social media have more time than money. In this case, if the average cost per Facebook and Instagram "event" is $2.94 on Facebook and Instagram, then both campaigns produce the same number of customers. Hence, if the cost is reasonable and much lower on Facebook and Instagram, then the Facebook and Instagram makes sense. If Facebook and Instagram ads cost 63 percent less than Google PPC ads, then they both perform at the same level, in this case. Remember that each campaign is different, and online competition for the same potential patient is constantly changing and is extremely dynamic. It also depends on who is managing your ads. We also see more bugs and inconsistent behavior of algorithms on Facebook and Instagram, compared to Google.
Example no 1:
On the example below – the number of leads are 159 VS 173 – However the actual conversion to paying patients is much less from Facebook and Instagram – As most of the leads do not show up for appointments, so the quality of leads is less from Facebook and Instagram.
Example no 2:
The time frame is 1 month, 30 days. The budget spent is almost the same on Google Search and Facebook Ads for this medical practice. This an esthetics practice with a mix of medical weight loss services.
Google CPC resulted in 2241 total visits, with 5078 page views, on average 2.27 page views per visit. During this time there were 78 conversions and 13 new sales. Each sale is approx $5000 for this medical clinic.
Facebook CPC resulted in 2036 total visits, with 2593 page views, on average 1.27 page views per visit. During this time there were 16 conversions and 4 new sales. Each sale is approx $5000 for this medical clinic.
Based on this and similar data from hundreds of medical practices, we know that Facebook (and Instagram) ads work, however ROI from Google search ads is much higher.
Use Social Media Apps To Acquire New Patients and Engage & Service Existing Patients
Social Media Marketing is another very important aspect of your marketing. Your potential and existing are hanging around on Facebook. You have to make it easy for them to do business with you. Here are 5 steps.
Example of an Instagram ad :