Key Tactics for Med Spa Marketing
Used by successful Med Spas in the US & Canada.
The Med Spa industry is becoming increasingly competitive. Successful Med Spas in the United States and Canada can ensure the success of their business if they properly market their med spa to their surrounding areas. Employing these marketing tactics for your med spa can help you stand out among your competitors. These tactics will help maintain and build your customer base.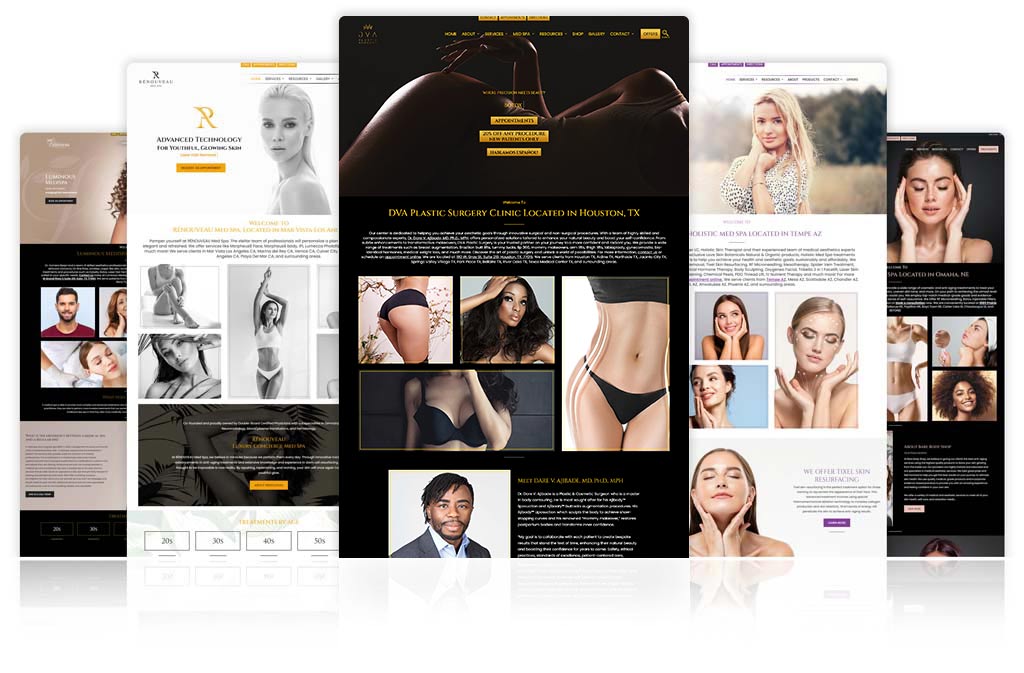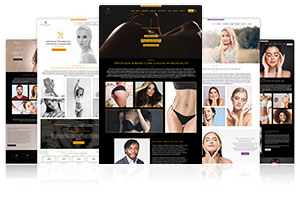 Rule No 1. Med Spa Marketing Starts With Your Mobile Website
Website Search Engine Optimization (SEO) For Medical Spa
Also known as SEO, this is a process of optimizing your website to make it more relevant for search engines. You should identify what words potential customers use when looking for your services. The SEO Optimization process usually includes making sure your website content, webpage titles, and even the URLs used to match your target keywords. Other aspects of website SEO involves making sure you have enough content on your website and getting other websites to backlink to your site.
Local SEO Optimization
Med Spas must not only keep tabs on the content on their website, but they also must manage their online listings. Local SEO Optimization is the process of claiming, managing, and keeping your business listings up to date. Chances are if you haven't completed this aspect of your Med Spa marketing, your business is already listed online. Many of these listings are either automatically generated or are submitted by your customers. Unfortunately, these listings can be plagued with mistakes with missing or out of date information. Claiming these profiles will help you correct these listings and fill them out to include your business hours and even the services you offer. Some of the essential profiles to claim include:
Google Business Listing
Yelp
Facebook Business Page
Foursquare
As a bonus, many of these listings often feed their information into very map services, like Google Maps.
Online Advertising – Google, Facebook, Instagram
Pay per click ads and other online advertising should be a big part of your med spa marketing plans. You will want to create separate campaigns for your med spa services. The keywords you think are essential for your SEO Optimization are often the same keywords you target for your PPC ads. The most cost-effective ads not only target the keywords you are targeting but also links to pages that provide a relevant result. For example, if you are running ads related to massages, the link to that ad should to your service page and not your home page.
Content Based Posts for Social Media
Social media posts are another aspect of your Med Spa marketing; you should keep in mind. While it is essential to mix up your posts with pictures of staff and your facility, include posts that are rich with content related to your med spa. The amount of content will depend on the social media channel you are posting on. While Facebook and Instagram allow you to post quite a bit, Twitter gives you only limited space. Regardless of the length, focus on your keywords, and use hashtags (#) to highlight the most important keywords.
Manage Your Online Reputation
One of the benefits of claiming your online listings is the ability to monitor and respond to reviews from your customers. Getting reviews on your Google Business Listing should be a top priority at your med spa. The more positive reviews you receive, the more relevant of a result you are to people searching for your services. You will also get some negative reviews from time to time. There is no way to avoid these. However, profiles that have a handful of negative reviews and a ton of positive reviews make it look more authentic to a potential customer. If a negative review does pop up, respond to it promptly and contact that customer to see if you can resolve the issue. The best negative review is one that turns into a positive review talking about how you went above and beyond to correct their problem.
Make Leaving A Review Simple Process
Getting positive reviews on your med spa's business listings, especially on Google, will be a crucial part of your success. Google Listings that have numerous reviews are often presented as more relevant results to people who are using Google to search for services. Not every single patient who visits your med spa will leave a review. For those who do leave a positive comment, you need to make the process as easy as possible. The more steps there are to finally leave a review, the more unlikely it will be that they will go forward and leave one. The fewer clicks there are, the more reviews you will ultimately receive. Many med spas ask their patients if they liked their services, giving patients a choice of "Yes," "Maybe," or "No." For those who say "Yes," they are automatically redirected to leave a Google Review. "Maybe" and "No" answers are directed to an internal feedback form that allows them to submit feedback privately rather than post it online.
Email Marketing with Content
Email marketing, while not as effective as it was in the past, remains an integral part of the marketing strategy for med spas. Email marketing is a relatively cost-effective way to inform your current patients about new services, pricing, or promotional events. You should avoid sending out multiple emails in a day and should try to limit it to only a few times a week. Too many emails and your current customers may start ignoring your message or, worse, label your email as spam. Too many spam labels and email providers will begin to automatically send your emails to the spam or junk folder, further reducing your open rate.
Some of the most common things to email out include:
New Services
Sales or Promotions
Holiday Hour Updates
Employee Highlights or Announcements
Content Marketing For Your Med Spa – Highlighting Your Services
Content Marketing can take quite a bit of time before you start seeing results. The idea behind this tactic is to create and publish content that is relevant to your target audience. In the cast of a Med Spa, it is creating content that talks about, educate, and highlights the services you offer. Many Med Spas accomplish this with publishing blog posts that highly their services at their facilities and inform current and potential patients the benefits of that service.
The overall goal of this tactic is to continuously put out authoritative sources for topics that line up with your target audience. The more content you put out there, the better it will be overall for your website's SEO.
Promotions Marketing For Your Medical Spa
Promotions are a great way to bring in old and new customers to your Med Spa. There are a variety of ways you can promote these specials. The key is to focus your promotion on something that interests many people but doesn't result in loss of revenue. You also should consider whether this promotion is available to everyone or just your current customers. Some popular promotions for Med Spas include:
Discounts on Med Spa Services
Discounts on Products
"Two for One" Sales
Gift Certificate Sales
Special Pricing For Regular Customers
Special Pricing For New Customers
Client Referrals Marketing and Rewards Based Marketing
Getting others to refer new patients to your Med Spa is a great, cost-effective way to market your business. However, this can be difficult to get started, and it may take time before you see some real results. The key to getting referrals is two-part. First, there must be some incentive for your current patient to refer to someone else. Generally, giving them some credit to future services is a great way to get them on board by referring your Med Spa to others. Second, your staff must go beyond these new customer's expectations the first time they visit your Med Spa. A negative first-time experience not only will cause that person never to return, but that negative experience will likely embarrass the referrer. No one will want to refer people to your Med Spa if they just end up having bad experiences.
Secure Online Appointments For Your Med Spa
Online appointments are vital to a properly functioning Med Spa. You surely have an appointment book at your front desk for most of your services. While in the past, people could call in and make appointments, it is crucial to have this feature online and directly through your website. Ideally, this should be a secure form, and it should be connected to a customer database. It is beneficial if when someone makes an appointment, a technician at your Med Spa can pull up their file with any notes and summaries of past treatments. This helps your staff personalize a customer's visit to your Med Spa, only making their experience better.
Use these tactics to increase the patient count at your med spa and beat your competitors! GOLD service is $799/mon and includes all these strategies.