Expert Digital Marketing For Doctors Pricing $699 to $1199/month
As a medical practice, you need to be online if you want your business to grow. Unless you operate your business where everyone lives on one street, and they can see your doctor sign from the town limits, you'll need a digital presence. If you are new to digital marketing, you can start with an introduction.
While traditional marketing strategies can still be useful in the right circumstances, digital marketing has taken the lead when promoting healthcare businesses. Acquiring high digital presence should be a key pillar in your overall marketing strategy. It is not hard to get your medical practice online. The challenge is doing it properly so your marketing money is most effective, check the GOLD service $699/mon and PLATINUM service $1199/mon designed for healthcare practices and based on success of hundreds of successful healthcare practices in USA.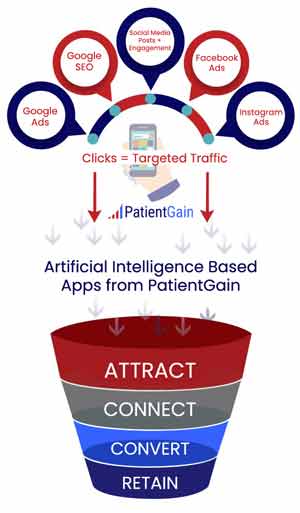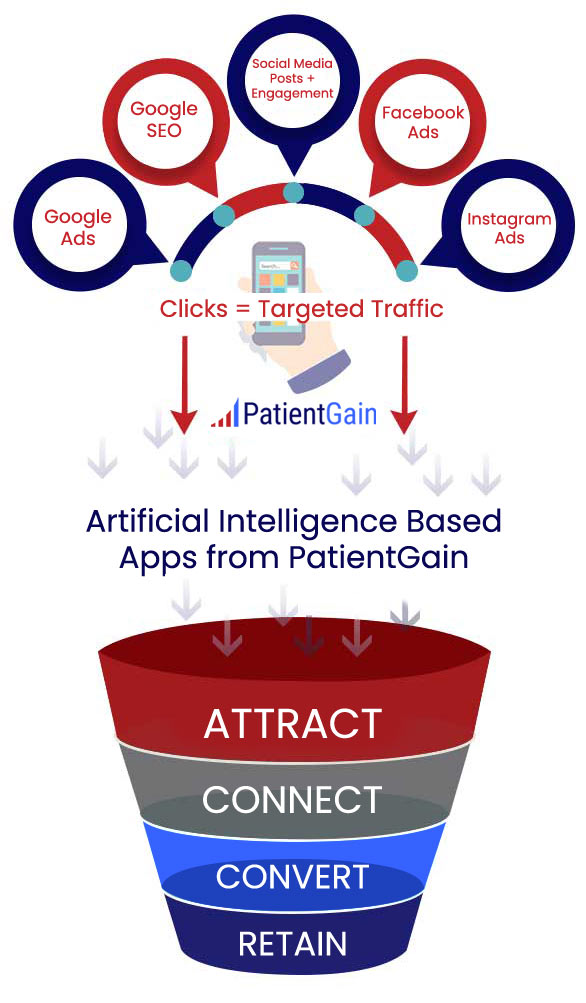 Key question asked by providers : What are some ways to get my medical practice online to be found by potential patients who need my services?
6. Take some risk ( calculated risk ). Business world requires taking some risk
7. The most profitable practices keep the patient experience as the focus of their practices.
8. The top performing practices understand that digital marketing is important, but they also focus on traditional marketing strategies. They are also "minglers" and also have at least one source that allows them to build a goodwill in the local community. For example one of PatientGain's top provider is an advocate for local blood bank. Another practice offers job openings to US veterans first.
By using modern medical practice marketing, patient acquisition costs can be anywhere from $8 to $27 per new patient in most US areas. New patient acquisition costs vary due to your specific medical practice discipline, local online competition, software used and online techniques embedded in your digital marketing strategy.
Most of the physicians believe that by simply having a nice looking wordpress website, with information about the clinic, services they provide and a contact information, they should start receiving inflow of patients. Truth is that this is minimum or basic steps for modern digital marketing. At Patientgain.com we receive inquiries from physicians and practice managers everyday, and we can see that majority of time, the discussion starts with the website. However, the truth is that there is a lot more than having a nice website. There are 2 basic concepts 1) Getting the right patient to your website. 2) Once the patient/client lands on your website, if they do not take any action, it has no or low value to your practice. If they take an action, like contacting you, calling you, sending a text, requesting an appointment etc – This is called "conversion action". So if 100 patients/clients visit your website this week, and 11 of them take an "action", this is called conversion. So your conversion rate will be 11%. What is a good conversion rate?
Marketing services for doctors
Physician marketing can be:
1. Offline Traditional Marketing
2. Internet or Digital Marketing
We highly recommend digital marketing for 99 percent of healthcare practices. Both of these approaches have merits and limitations, costs and ROI (Return On Investment) is not the same. Online advertising is a big part of digital marketing. It can be the most expensive part of your overall online marketing plan. The actual cost of advertising is always extra, with any service. Some clinics/doctors are very aggressive and spend $1000 per day (or more) and some spend $1000 a month on advertising. We also have few clinics/doctors who do not spend any money on advertising. Our data shows that proper advertising produces more patients for 99 percentage of the clinics/doctors.
Offline Traditional Marketing
13 Examples of offline advertising for physicians
1. Newspapers (see list of top newspapers in USA)
2. Yellow pages (see list of Yellow pages in USA)
3. Billboards : Out-of-home advertising – Out-of-home (OOH) advertising or outdoor advertising, also known as out-of-home media or outdoor media, is advertising that reaches the patients while they are outside their homes.3. Referrals from peers and other entities like hospitals.
4. Networking with other physicians – This has been traditional way to expand. For many specialties, this still works. Building a nice referral network of providers who do not compete with you, will always benefit you.
5. Printed flyers – This has worked for physicians since late 1800's. For example for a 5000 print run, 8.5 inch by 11 inch full color both sides, tri-folded on 100 lb gloss paper will cost you approx $492.48. Then delivery cost is extra. For example to mail this to 5000 residents close to your practice will be extra cost. Some techniques used for delivery are direct-mail, packaging inserts, point-of-sale display, leave behinds and sales helpers.
6. Business cards & event marketing – This approach has been very successful for physicians who offer a complex service. For example a medical practice that offers medical weight loss program. The practice may decide to offer a 2 step process. In the step 1, a free seminar is offered and promoted. And in steps 2 the attending patients are "sold" the package. Consider costs below: in this example you print 1000 flyers and distribute them to many places. Design setup $500, printing $172, distribution $500. Total costs $1172.
7. Indirect messaging / co-branding – Using this strategy, some physicians have seen very good results. For example, the manufacturer of CoolSculpting offered you a co-branding campaign. They pay a part of the marketing costs and you pay a part. The end result is that both parties benefit.
8. TV Ads – These ads work. Digital Ads for specific medical procedures are on the rise. However cost can be much higher that other mediums. Ultimately, the ROI from each medium determines the value.
9. Radio Ads – Physicians who use radio advertising to promote services over the radio, typically in 30 or 60 second spots. Radio can be more expensive than some newer advertising methods, but it is a very strong medium, reaching 93% of American adults weekly according to Nielsen data. With an adequate marketing budget, you can use radio to work for your medical practice. Radio advertising costs can range from $2000 to $5,000 per week depending on your location. You will also need to factor in the cost of producing the commercial, including copywriting, voice talent, and audio / visual editing, which is additional cost.
10. Magazines – Marketing and advertising in magazines has been effective to create awareness.
11. Car Wraps – Cost of full wrap is between $2,500 and $5,000. With proper messaging and exposure, compared to other outdoor advertising, your vinyl car wrap pays for itself within the first few months on the road! However this type of marketing is not for every medical practice.
12. Local movie theaters – This has been effective for many providers. However it is difficult to measure the net impact. Local movie theaters marketing costs $1000 to $4,000 per month depending on your location.
13. USPS Mail drops – Still the easiest way to be placed in your local patient's mail boxes, marketing costs $500 to $1,000 per mail drop per 10,000 residents, depending on your location. Learn more how United States Postal Service can help you advertise.
Internet or Digital Marketing
Online marketing, is also known as digital marketing services for physicians can be further divided into sub areas
Search or PPC ( Pay-Per-Click ) Marketing – Google, Yahoo and Bing are very common examples for this type of advertising. Some physicians equate this to Search Advertising. There are hundreds of variations within this category alone.
SEO – Search Engine Optimization – This refers to techniques and content placed of your website so search engines like Google can find you and rank you higher for specific keywords. Consumers (your patients) use mobile devices and computers to type in phrases like "pain management houston tx" and search engines display relevant listings. More and more patients are speaking to devices rather than typing text. This is call Speech Based SEO.
Local SEO Optimization – There are over 200 directories for medical practices. Most of them have no to marginal impact on your practice. The most important business listings are 1. Google Business Page 2. Facebook Business Page 3. Yelp Business Page. 4. Healthgrades and few other healthcare specific directories are also important. As a practice manager, you need to make sure that your listings are accurate and that you are posting on Google Business Page and Facebook Business Page regularly.
Speech Based SEO – New Emerging Area – As more patients are "speaking" to devices.
Display Advertising – Interest Based Advertising – there are many variations.
Video Advertising – Advertising on YouTube for doctors can be effective.
Social Media Advertising – Interest Based & Demographic Advertising. Can be visual, textual, video based.
Mobile Advertising – Based on mobile ads and user's location.
Geo-Targeted / Geo-Fenced Advertising – Used by Apps, Search, Social Media and Location Aware apps, among others.
Re-Marketing – Based on a User's Past History, Past Interests and Predicted Behavior.
Similar Competitive Interest Based Advertising
What is digital-first medical marketing?
Medical practices operate very differently than they did even a decade ago. The technology and systems available to them today were barely even conceived back then. Doctors who started their profession in the 1990s may feel like they are in a completely foreign world today compared to how they operated. Many of the things providers work with today have a "digital-first" perspective. In other words, the implementation of digital systems is practically a requirement for a medical practice to be successful. As medical practices have progressed, so has medical marketing. Medical marketing must also have a digital-first perspective to effectively get enough patients for a business to grow and succeed.
Patients also want a digital-first medical practice to serve their needs and actively look for one online. Below are some things to consider when creating a medical marketing plan for a medical practice. The experts at PatientGain.com can help you develop a digital-first medical marketing plan for your practice.
What are some things a digital-first patient wants from their medical practice?
Many patients are looking for an excellent digital experience when looking for healthcare. A bad experience will likely influence their opinion of a provider overall, making it unlikely that they will pursue future services there. A medical practice must provide an excellent digital experience for its patients. Although telemedicine did not start during the COVID-19 pandemic, it quickly accelerated its adoption and usage for wellness appointments and other health-related screenings. Digital-first choices like these need to be embraced by medical practice so they can compete with others. Although the COVID-19 pandemic will end one day soon, the digital trends spurned by it are likely to stay.
There are several things that patients look for when a digital-first approach is considered when they look for a medical practice for care. Generally, they want to see:
Convenience
Digital Communication
Protection and privacy of their personal health information
How does convenience influence the decision-making of a potential patient?
A patient with a digital-first approach will want several things when looking for a medical provider in terms of convenience. Overall, they want it easy to find the providers they need for their healthcare. Many patients today embrace the concept of online appointments and will want to be able to schedule them online. In fact, over 33% enjoy having this choice. After an appointment, they will also desire a way to pay their bills online instead of mailing a check-in. Finally, they will want to be able to review the billing, payment, and other medical protocols on the website so they can make an informed decision.
Many of these requirements for convenience will occur outside the medical practice's facility. A digital-first health experience can make the practice accessible online through digital systems. The "convenience factor" plays a massive role in the provider selection process for potential patients. Many patients will switch providers because they can be provided with more convenience and choices.
How can a medical practice make things more convenient for its patients?
The vast majority of current and potential patients will eventually come in contact with a medical practice's website. With that in mind, it is often the most effective place to improve the convenience for patients by making features available on it. However, patients will need to find it first before they reach that website. Implementing quality search engine optimization and content marketing campaigns on site is vital. These improvements will help boost the organic rankings of a website. A medical practice marketer needs to make sure the right target search keywords, including long-tail keywords and short-tail keywords, are in place throughout a website so that it appears in search results for their target audience. Content marketing is needed to ensure the content on a site is kept updated, fresh, unique, and authoritative. Search engines love these traits when it comes to content and often will push those sites as being more relevant for search results.
Another thing that patients find to be helpful and convenient is intelligent medical engagement chatbots. These robust programs help and encourage patients to use various "self-service" aspects of a website rather than relying on a staff member via phone or email to assist them. Many of the questions and issues a current or potential patient may have before making an appointment are similar. A chatbot can be programmed with the most common questions and their answers to assist patients on a site, allowing them to make a conversation without additional assistance.
Online scheduling has become an increasingly vital requirement for many medical websites. Forcing patients to wait until business hours to call and make an appointment is no longer wise. With so many other medical practices using online scheduling, a practice that does not risk their patients taking their business elsewhere. Online scheduling allows patients to make their appointment at any time of the day, no matter where they are. This digital-first technology is a must and should be implemented as soon as possible.
Finally, online payment of bills is a no-brainer for medical practices. A HIPAA-compliant payment processing system is a win-win for both a patient and a practice. First, it allows patients to pay their bills without finding an envelope, stamp, and write a check. For medical practices, they get their money faster, making funds available for business much quicker. They no longer have to send staff members to banks to cash checks or make cash deposits. Digital payment of patient bills also makes it easier for medical practices to keep their bookkeeping accurate.
How is digital communication a valuable convenience to offer patients looking for a digital-first medical practice?
Communication between a provider and their patient is critical for the health of the patient and their overall experience in a medical practice. Typically, a patient must travel to a medical practice for an appointment. This requires them to allow additional time for travel. Providing the ability to have appointments in a video or voice can be very attractive for patients looking for extra convenience. Patients also need help keeping their ever-busy schedules organized. A practice that will help them with appointment reminders will be greatly appreciated. Finally, communication is critical when patients give feedback to a practice, and a medical practice can send follow-up messages to patients after appointments. Patients greatly appreciate this kind of two-way communication and consider it good customer service, which over 50% say builds brand loyalty.
How can a medical practice ensure it has good digital communication for its patients?
Making digital communication available to patients may seem like a big haul, but it can be accomplished. A medical practice should think about the patient's journey and see how they can improve digital communication for a patient. For example, most patients will:
Search online and find a medical practice that meets their needs.
Book an appointment
After receiving confirmation for an appointment, wait until the day of the appointment.
Travel to the medical practice for the appointment.
Receive a bill for the services or treatments they received
Pay the bill or set up a payment plan.
If needed, a patient will receive the results of any medical tests conducted during the appointment.
The medical practice will follow up with a patient for additional appointments if needed. If so, the journey begins again.
Inadequate communication between a practice and a patient can cause them to abandon this journey altogether and seek out a new medical provider. Bad communication often leads to confusion and a poor overall experience. There are several ways to implement digital communication that will improve the overall experience for patients.
What are some digital-first solutions to digital communications that can be highlighted in medical marketing plans?
One of the most significant difficulties for patients getting the care they need is physically getting to a doctor to be seen. Video or voice appointments, known as telemedicine, can help expand the accessibility to patients. Video telemedicine needs to be made over a secure, HIPAA-compliant connection to ensure no rules are violated. Video and telephone medical appointments are not always available for every service that a patient may need. For example, if a patient needs a DOT Physical that requires testing and in-person assessment, a video appointment will not work. However, a telemedicine appointment to determine the symptoms of a sinus infection can save time and get patients the treatments they need faster.
Appointment reminders are a powerful digital communication tool that many medical practices can benefit from implementing. Patients today have schedules that are far busier than ever before. Handwritten appointment reminders are not as effective as they once were. A missed appointment impacts the health of a patient and the finances of a medical practice. Automated appointment reminders can help cut down those missed appointments. Reminders via email or text message (or both) are often the most effective methods to get reminders to patients. Missed appointments dropped by 88% according to a recent study looking at the use of appointment reminders.
Finally, medical practices can improve digital communication by providing a secure way for patients to contact providers. An encrypted, HIPAA-compliant message submission form is an excellent way for patients to send questions, concerns, and other private health information to a practice. These messages are stored on a HIPAA-compliant dashboard on a secure server to be addressed by the staff member assigned to them. Another popular way to give patients a way to communicate with a medical practice is to allow patients to engage in two-way texting. Again, these texts need to be sent to a HIPAA secure dashboard and not a random cell phone sitting on the front desk of a medical practice. Making it easier to communicate with providers is an added convenience that many patients seek in a digital-first medical practice.
How can a medical practice ensure patients' health information is secure and will remain private?
The vast majority of patients want to keep their medical information private and secure. Trust in doctors has remained high over the decades but has recently decreased. It can be reinforced by showing patients that not only does a medical practice take data privacy and security seriously but also has technology and protocols in place to maintain it. Security and privacy can not be fully advertised in marketing materials, showing every detail. Promoting exactly how something is kept secure will generally make it not secure in the long run. However, there are some policies that a medical practice should implement to boost the security of patient data and privacy.
What are some ways a medical practice can increase the security and privacy of patient's data?
A medical practice needs to have the security of their patient's data as top priority. Under HIPAA regulations, medical practices are responsible for every bit of data sent to their medical practice. Data not only needs to be secured when it is sent to a medical practice, but it also needs to be stored and, when needed, deleted securely.
A medical practice should have firewalls, antivirus software, and encryption software on their computers and websites. This level of security generally is not the expertise of doctors or even staff members. However, third-party website developers should be well versed in this area to make a HIPAA-compliant medical website. Most data breaches are not because software is defeated but because of humor errors. For example, if a medical practice forgets to pay its yearly fee for a secure website, that security can be turned off, resulting in a data breach.
A medical practice also should limit access to systems to staff who need to use them. They each should have their login with a secure password so their access can be documented and audited. Staff members should not write passwords down on post-it notes either and have them sitting next to their computer. A medical practice should also not force staff to regularly change their password, as this leads them to make less secure passwords so they can remember them easier. Finally, 2-factor authentication is often encouraged. This involves a staff member logging in and then being sent via text or email a one-time use passcode to enter in for access. 2 Factor authentication is often used by financial institutions and has recently been an option on social media and email accounts.
The experts at PatientGain.com are available to help you create a high-performance healthcare website that embraces digital-first technologies. Contact us today and let us show you what we have done for other practices across the country with our digital-first medical marketing plans!