Medical & Dental Website Applications $299/mon FastStart3 Package
Convert Your Medical Website to a Conversational Website. Easily Increase Conversion From Your Website
Medical website must have intelligence. If you do not have an intelligent medical website, you are very likely losing patients every day.
What is included in FastStart3
1. Medical Chat*Bot App installed on your website
2. 2-way texting/SMS app installed on your website, so your potential patients can text you
3. HIPAA compliant CRM to capture leads and save them for remarketing, and Email marketing and follow up
Bonus app for 3-pack bundle – Online advertising on Google, Facebook and Instagram
What is an intelligent medical website?
A website with certain apps built into the design of your website or added to your website is an intelligent medical website.
What is an example of a medical website app?
1. PatientGain's medical ChatBot is an example of a medical website app. It works for your practice 24 x 7. Its job is to "convert". Conversion in digital marketing means ability for an app or a website to cause the website visitor (patient) take an action.
2. Another example is a 2-way texting/SMS app installed on your website, so your potential patients can text you. As over 80 percentage of your visitors are on mobile devices, like iPhone and Android phones, they prefer to text you, rather than call you. This app increases conversion 5% to 8%.
What is an example of a successful conversion?
Here are 4 examples:
1. A potential patient clicking on "I am a new patient, I want to call the the medical practice"
2. A potential patient clicking on "Appointment" and requesting an appointment with your medical practice
3. A potential patient clicking on "Download patient portal" app
4. A potential patient clicking on "Directions" button of an Urgent care & Walk in clinic.
What is the 3rd app for 3-pack bundle?
3. Medical Marketing CRM
Best medical practices are now using Medical Marketing CRMs to gain competitive advantage. These marketing CRMs are connected and integrated with medical websites and intelligent patient engagement ChatBots.
As patients interact with your website, your email marketing, Texting/SMS, Facebook business page, you would want to store the information about each interaction in a database. This database is called a medical marketing CRM. It is an intelligent software that can also integrate with your EMR or EHR system securely, and leverage the hidden useful information in your EMR. So medical marketing CRM software is used to store prospect patient information and any interactions, before a patient becomes a patient. Many times, after a prospect patient has been converted to a patient, you would still want to keep the patient information, in addition to your EMR. EMR and Practice Management or Patient Billing/Revenue systems are not designed to market to patients. Lead capture and follow up is becoming important as patients require multiple touch points.
What is the bonus app for 3-pack bundle?
PatientGain's online advertising app is very effective. This app allows you to setup any budget. Your ads are set up on Google, Facebook and/or Instagram. Simple to use and easy to see results.
What is the cost of online advertising?
You can set any budget you like. We can also help you with target budget. This page is a good guide to see how much other clinics spend on advertising. You simply pay a 12 percent technology and optimization fee to PatientGain. Read more here about online advertising for doctors.
1. Medical Website ChatBot App
PatietGain's Intelli*Doctor ChatBot App has no setup or implementation costs.
Generally in the medical industry there are 2 types of chatbots.
1. Medical Marketing ChatBots
Designed to convert a visiting patient (on your website) to a paying patient. These are called Medical Marketing ChatBots. They are not designed to diagnose any specific medical conditions. They have 2 important roles.
A) A) Existing patients – direct them to specific information. Like how to reach the office after hours. Access to patient portal, insurance Q & A, services offered
B) New potential patient – as a potential patient lands on your website, you have 15 seconds to engage them. So the medical marketing ChatBot should "walk" the potential patient through specific questions and steps so they can eventually become your patient.
2. Medical Symptom ChatBots (Custom)
Health chatbots ask patients a series of questions – so the ChatBot can understand basic information, the condition of a patient – this is very much like the front desk staff in a clinic, who would ask 1) Do you have a fever? 2) Are you in pain? Etc. So to understand their symptoms and then the ChatBot sends the data to doctor, who can provide diagnoses and prescribe medicine in real time. This type of software is complex, takes hundreds of thousands $$ to build. Then you have to test it, refine it and deploy it, and constantly change/update it. It also has legal ramifications.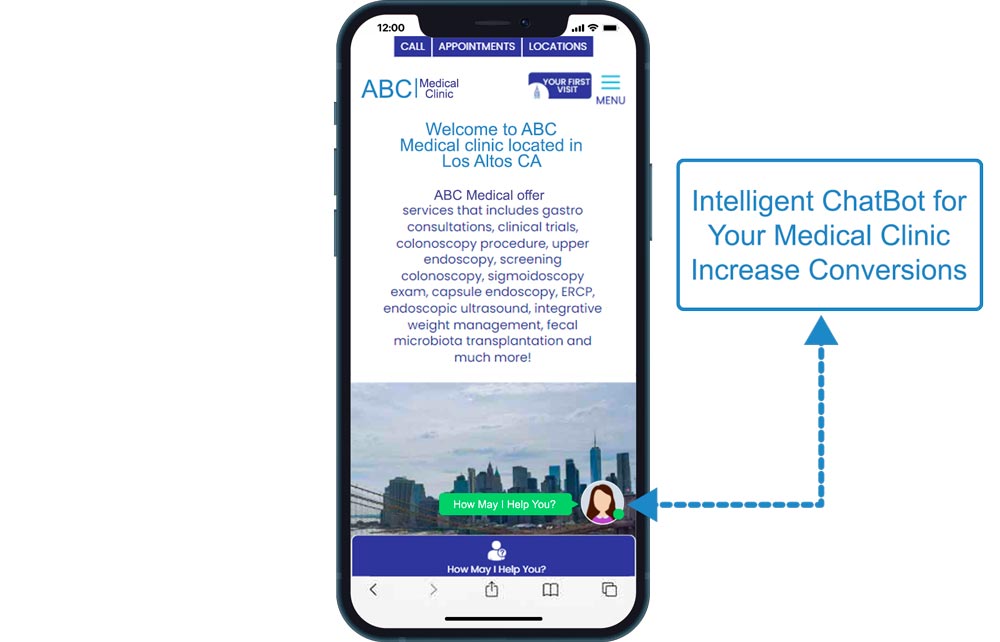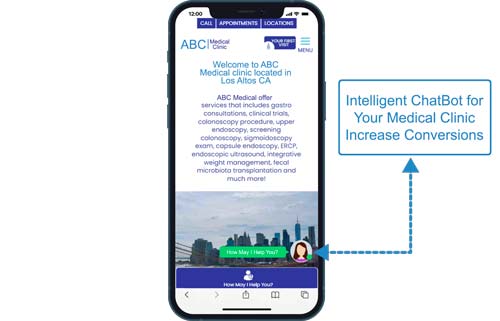 2. Medical Website 2-Way Texting/SMS App
Majority of the patients, approximately 82 percentage of patients, visit your medical website using mobile devices like iPhone and Android phones. 92% of mobile users prefer texting/SMS, than phone calls. PatientGain's 2-way texting/SMS apps gets added to your website. This app is connected to a HIPAA compliant CRM so you can easily capture leads and response to them also.
What is the SMM (Smart Mobile Messenger) app?
It is a way for potential patients to reach out to you from your website, (mobile or full site) using a "text message" through our PatientGain dashboard. This app allows patients to communicate with your practice through their mobile device (as 82% of people utilize their mobile devices when searching on the web)
What are the benefits of the SMM app?
There are many benefits to this app. The most notable benefit is that it allows convenient and immediate communication between your potential patients and your practice, increasing your conversions. This app also allows you to capture the information from the potential patient that is reaching out and save the information into your CRM (provided) dashboard so that you are then able to send them email marketing campaigns in the future, and ofcourse send them SMS/Text messages.
How will I access the SMS messages that come in?
You will be able to access and reply to the SMS messages that come in by logging into your secure dashboard and clicking on the "SMM Messaging" app on your home message center and then responding accordingly! This app is also available on your iPhone and Android phone as an app. No download required, simply login to HIPAA server2's secure webpage. See your messages in one place, send texts/sms directly from the mobile app.
What does the SMM app look like on my website?
Here is an example of what the SMS app will look like on your website. Until the patient clicks on the "Send Us a Text (SMS)" the fillable information form will be minimized at the bottom of the screen.


Medical & Dental Website Applications $299/mon FastStart3 Package
Convert Your Medical Website to a Conversational Website. Easily Increase Conversion From Your Website