Questions For Top Medical Website Design Companies in USA
Top medical website design companies in the USA & Canada provide an essential service to close to 988,000 medical physicians & providers in the USA & Canada. There are certain features you should look for in any modern healthcare website design company. There are key features you should look for.  There are also different pricing models.
The most important part of your website: Does it show up on Google search for your specific specialty?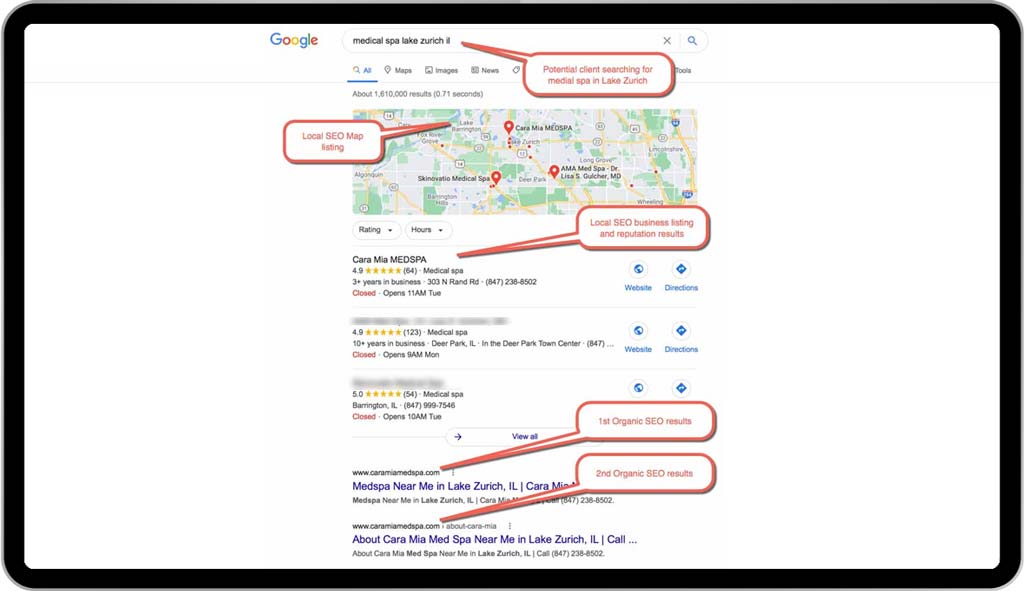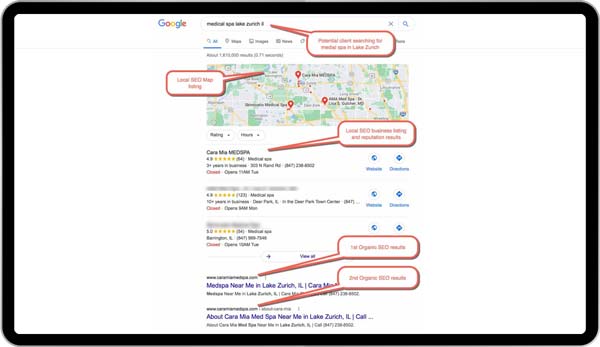 First, decide the purpose of your medical website? Here are 10 common reasons why physicians are willing to spend money on a medical website design. We recently asked 511 doctors in USA and Canada, why would you invest in medical website design or a redesign? Here is the list. 
1. Acquiring new patients
2. Engaging existing patients for repeat procedures
3. Providing existing patients useful information and apps so they can take care of their healthcare needs
4. Building a reputable presence in the community
5. Providing both medical information and practical information, like office hours, directions to patients
6. Building a brand
7. Referral source for other medical providers
8. Online appointments – Provide ease of use to patients
9. Community service (example – COVID-19 related information)
10. Online payments (example – ability for patients to pay their bills online)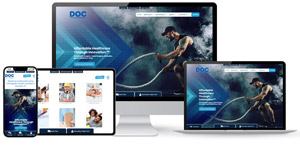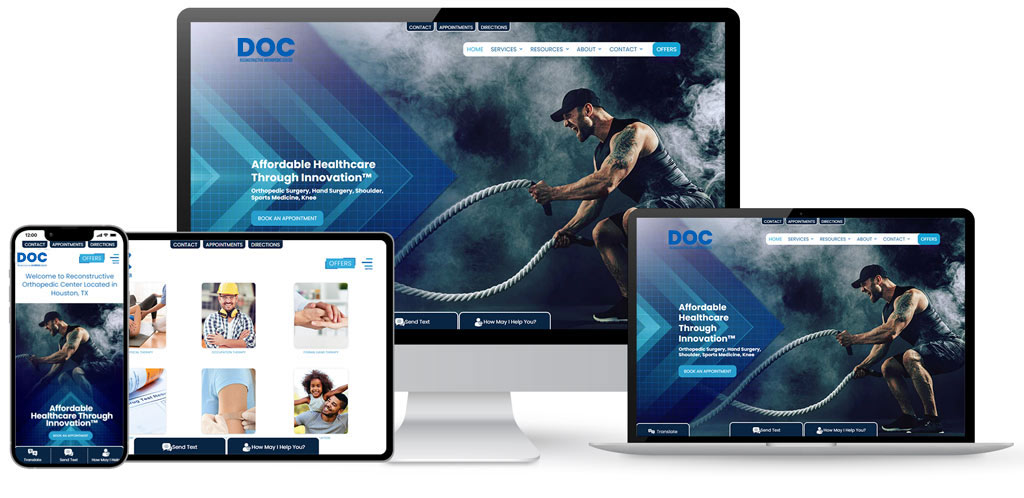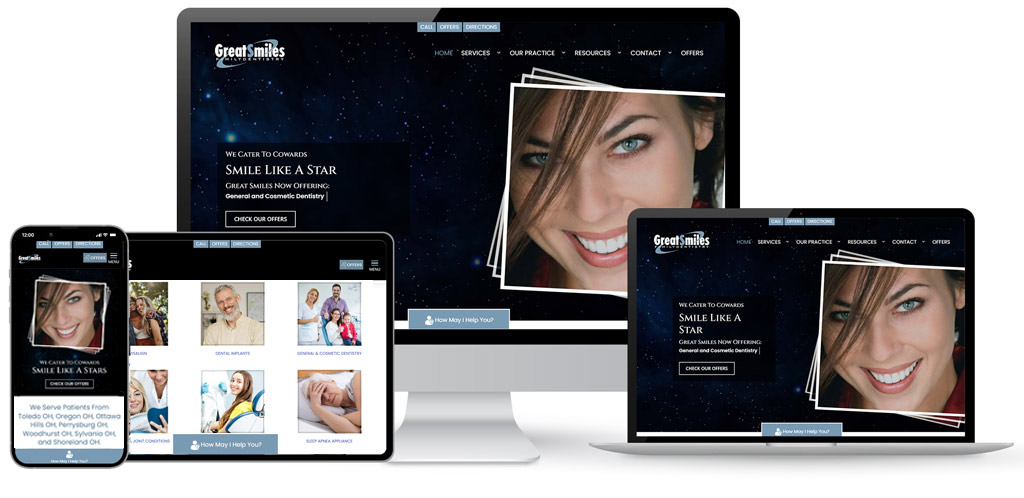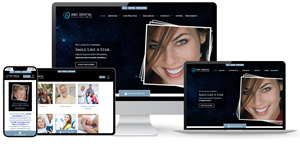 Ask Your Medical Website Design Company These Questions.
Question No 1. Is the medical website design based on A/B tested design?
A/B testing is a common practice among software based marketing applications – in our case it is Medical marketing Websites. It is a way to compare two versions of medical marketing websites to arrive at a conclusion, based on data, not based on opinion, which of the 2 designs performs better. The test continues with multiple cycles until law of diminishing returns starts influencing a specific test. This is an ongoing process and never stops in the world on medical marketing and data driven results. For example, in our testing we found that it makes a big difference, where specific buttons are placed on the home page or a landing page of a medical marketing website. It also makes a big difference what the user sees first, specifically on a mobile device. For example the layout and user experience was kept the same in specific A/B tests, the only thing that was changed was how the images were formatted, branded VS non-branded generic images. There is a difference in results, based on hundreds and thousands or iterations of tests performed.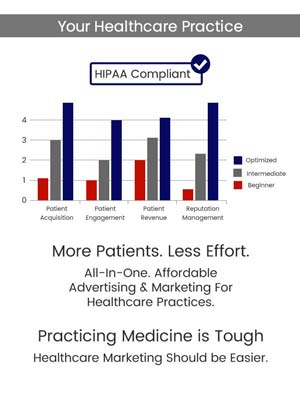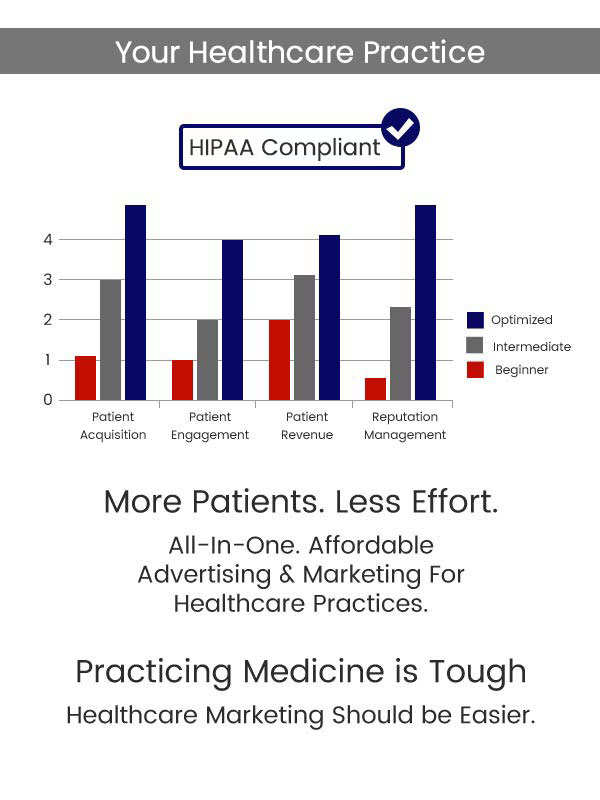 Question No 2. Is the medical website designed for immediate CTA (Call To Action) ?
Your medical marketing conversion website should have useful information for a patient visitor to easily contact you multiple ways. This includes 1. Click to Dial – Phone 2. Fill out an Appointment Request 3. Find Directions 4. Find Medical Services 5. Ability to Text/SMS the practice (74 percentage to 88 percentage of your patients visit your medical website using a mobile device) . 6. Intelligent ChatBot software designed to convert patients to book an appointment, get directions, check up on insurance coverage, send a Text/SMS, ask common questions, contact you or any other call-to-action. We recommend where every page of the website is a landing page. Since CTA (Call To Action) is present on every page, the overall conversion of this type of website increases.
Question No 3. Is the medical website design includes running on a secure servers and all communication is HIPAA compliant?
PatientGain.com's Healthcare platform not only improves your clinic's patient acquisition and engagement with intelligent apps, but also ensures your clinic's web presence is professional and effective. Although the power of PatientGain.com's solutions comes from our software powering your online marketing strategies, we also improve the cornerstone of your clinic's online strategy: your website. Any patient PHI information sent from your website should be considered carefully. If you are hosting your medical website with an ordinary hosting company that does not provide you with a BAA, then you should go through these steps. These are just some basic guidelines and not designed to be conclusive HIPAA compliance. By a "basic" website, we mean one that is setup at any web hosting provider (e.g. GoDaddy) and written using off the shelf software or by someone without training in website security best practices
Question No 4. Is the medical website design includes high quality content for services?
Your medical website design should include high quality content. Content should never be plagiarized. Content should be written by professional medical writers or physicians. This is a basic requirement for any successful medical SEO. Google search engine is the most accurate search engine with the best algorithms for search results. Majority of the world searches on Google. According to Google, over 200 "signals" are used to rank medical websites. The most important factor is your own content. So for medical SEO for doctors, you must focus on Google first, and start with adding Unique, High Quality Content – This means Non-Copied, Non-Plagiarized Content. Your content must be at least 96% unique.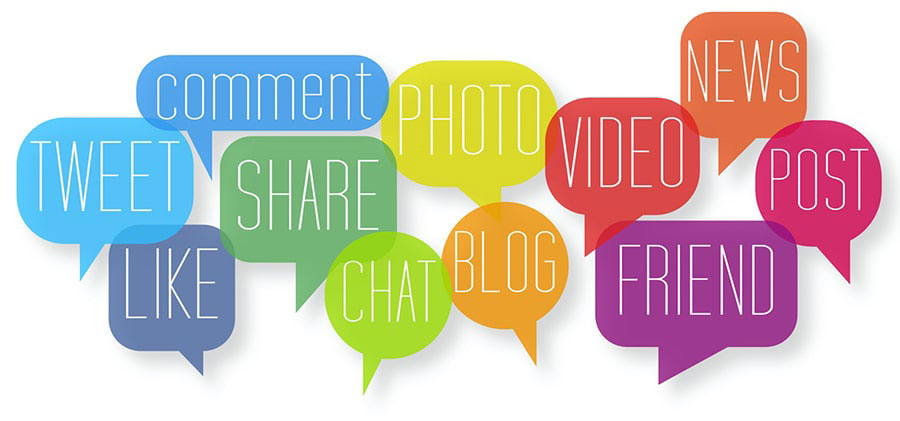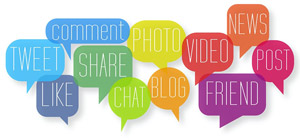 Question No 5. Is the medical website design includes laser focus on Medical SEO optimization?
92 Percentage of patients search for your medical services online. When they search, they either type or speak "search words" – Like "TMJ Doctor Near Me". If your website shows up in the top results, this is called "High SEO". This results in more patients, higher revenue and hence higher ROI. If your website is not in the first page of search results, you are not likely to get any patients looking at your website, and hence "finding" you. This is called "Low SEO".
A search engine wants to provide the most relevant information to a user. If someone is asking, "What is a dentist?" Google will present to them a simple paragraph describing this person, that might be more than enough to satisfy a user. Zero Click searches are more common on mobile devices and are very common in voice searches. Since voice search is becoming more and more important, optimizing your website to be in the Zero Position for this search result is vital. Often with voice searches, a user will not review additional results but just listen to the first thing a search engine lists.
Achieving top SEO rankings for medical practices and physicians is a process and not a simple one-time setup. It is time-intensive, requires deep knowledge about your own medical practice and Search Engine technology, costs both money and time to get real results, and it never stops for your medical practice. Your target audience is Search Engines and Potential Patients – They are both equally important.
2 Important aspects of your SEO strategy – 1) On-Page optimizations are related to making changes on your site to get better rankings in search engines. 2) Off-Page optimizations are also an important factor in SEO generation- this means how often and where your website is mentioned on other web properties. However, this should not be confused with "buying links" and paying someone to create "fake links" back to your website.
So what is the Secret Sauce for Online Success?
Start with Google – You must be No 1 or No 2 on Google for your most important search terms. You should focus on top 10 to 20 search terms initially, and then expand your strategy once you achieve top 20.
Question No 6. Is the medical website designed with tracking software so source of your leads is captured so you can easily measure the ROI of each advertising medium?
Your medical website design should include conversion tracking and better yet, HIPAA compliant conversion tracking. All conversion data should be saved in a CRM for an accurate measurement of ROI (return on investment) of your medical marketing.
Question No 7. Is the medical website designed with integrated apps for promotions and offers?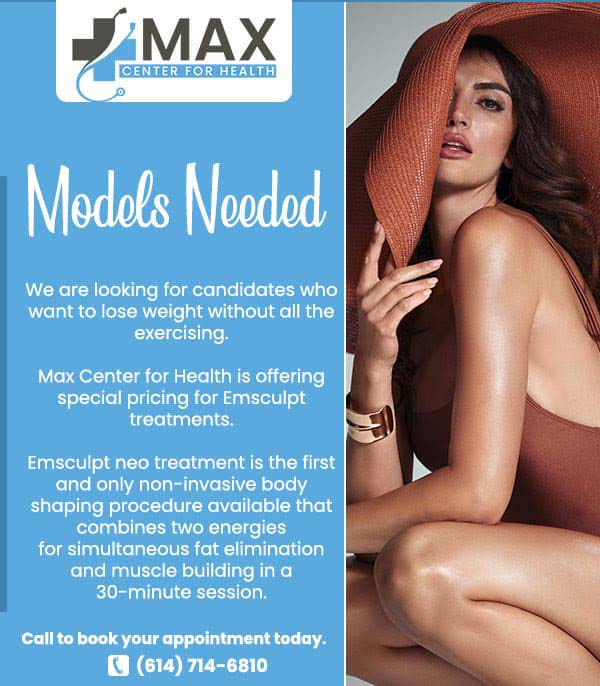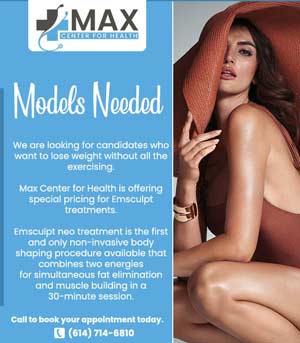 Every medical website design company should have a library of the most effective promotions for healthcare medical clinics. These promotions are used by the promotions app to attract potential patients and increase patient generation. PatientGain.com Promotions & Specials App provides tracking and conversion. Patient click behavior is tracked, and PatientGain.com's apps are designed to bring in new patients and drive recalls and referrals.
Question No 8. Is the medical website designed with tracking of phone calls?
Your medical website design should improve the operational efficiency of your medical clinic and optimize staffing for the front-desk. See when patients call you – why they call you – how long the calls last – how many calls are not answered and calls by existing patients VS new patients. Gain valuable insight into how your clinic runs. Is your advertising working? Is your staff engaging with prospects and existing patients? Are you missing out on calls from prospective patients?
Question No 9. Is the medical website designed with ability to respond automatically (Auto-Responders) should be built into your medical website?
Intelligent Auto-Responders based on context should be included in the design of the medical website. Imagine it's 4:30 am and your clinic is closed, but a patient sends a request for information – based on context, your intelligent auto-responders reply back with useful information to an existing patient or a prospect patient. Increase new patient conversion and existing patient engagement.
Question No 10. Is the medical website designed for mobile marketing?
74 percentage to 88 percentage of your patients visit your medical website using a mobile device. Is your medical website design focused on mobile users? does it not only change to an optimal mobile layout, offers Texting/SMS, fixed location based CTA's optimally placed for easy thumb navigation for right-handed and left-handed patient?
Question No 11. Is your medical website design "Future Proof"?
Smart medical website with artificial intelligence and HIPAA compliant CRM is the wave of the future. Included in the the GOLD service from PatientGain.com Your medical practice needs an intelligent website. Too often, doctors and owners of medical practices will have a custom-built "WordPress pretty" website. Yes, it may be visually appealing, and the aesthetics might be what you want. However, just because something looks pretty on your desktop computer doesn't mean it's a useful website for your current and potential patients.
Question No 12. Does medical website design includes a real-time dashboard?
Every website should have a live dashboard for lead capture. For medical practices, it should be HIPAA compliant. Your medical practice needs an intelligent website, connected to a live dashboard. There is a lot of data out there for dental practice owners to shift through from many different sources. It can all be overwhelming and challenging to decipher. As an owner of a dental practice, not every scrap of data is valuable, but the data could benefit other people on your staff. Data collected by various sources may be helpful to marketing, doctors, or those at the front desk. It needs to be organized so the correct information gets to the right people and is converted into valuable and actionable values.
The most critical data for each team working in a dental practice should be put in real-time dashboards. It will display essential data, goals, and metrics as they come in. Ideally, it updates automatically throughout the day without any intervention from anyone to "refresh" or "upload new data." Automatically updating data saves a tremendous amount of time and busy work for your staff. It gives team members the most critical, updated data to make the best decisions at that moment.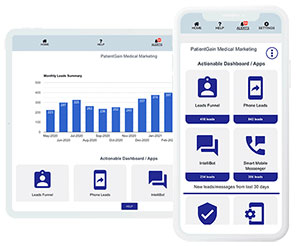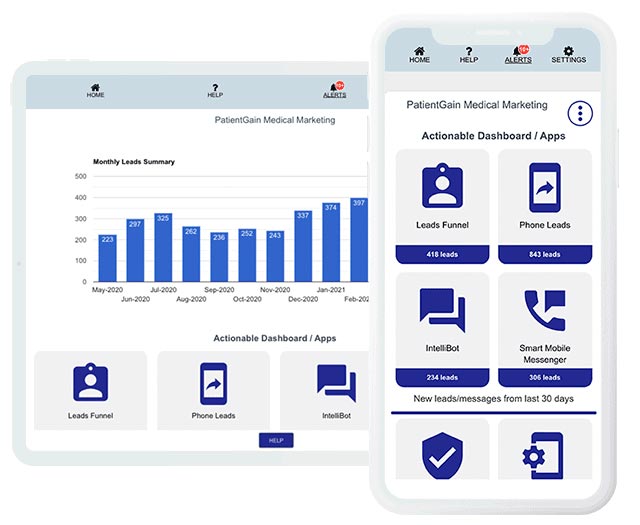 Question No 13. Is your medical website based on fast loading platform?
First, Why would you want to have a fast loading website for your medical practice? There are 2 main reasons.
User experience. Approximately 75 to 85 percentage of patients who visit your medical website, do it from a mobile device. This data is from US and Canada only. If your website takes too long to load, they will not wait. Our conversion data shows that you have 14 to 15 seconds for a potential to take an action on your website and "engage". So mobile website must load in first 3 seconds.
Google's SEO algorithms now read your mobile site first. So your mobile version of the website is actually more important than full desktop version. Even if you use responsive design, behind the scenes the algorithm of the responsive design template takes care of the details. Basically in the code of the template of your responsive design there are 3 main versions of your website. 1. Desktop version 2. iPad version 3. Mobile version. Depending of the type of device used by the patient, the information is displayed differently. Even within each device, there is different code executed. For example iPhone SE (latest version) is 4.7 inch screen and iPhone 8 Plus is bigger – and so on. Each size has its own display issues and preferences. This is handled by the code of the responsive design. And this is where opportunity lies t make your mobile websites faster. For example we highly recommend having images smaller than 30K size for mobile devices. Large images take a longer time to load and make your website slower.
PatientGain recommends top Google Cloud Platform for WordPress. Medical practice website hosting on GCP using wordpress is included with the GOLD service.