Enterprise Service is a HIPAA Compliant Healthcare Marketing & Advertising Service Starting at $5000/mon
Designed for hospitals and multi-location healthcare businesses. More than just smart software, includes setup, dashboards training, service and best practices to grow your business.
$5000/mon Service
All digital marketing and advertising services from PLATINUM service included for your healthcare business. Plus enterprise view of every location, based on digital performance. Plus a technical resource and a project manager included.
Most of medium to large healthcare enterprises suffer from fragmented strategies and apps spread over multiple technology providers. During HIPAA audit you may find out that there are "leaks" in the handling of patient data from apps to apps.
Majority of the medium to large healthcare businesses who have more than a single location have options now. They can use the same proven platform used by the top medical practices in the USA & Canada, without any setup costs. Let's face it, as you grow, you want to use a proven platform built with high growth foundation, HIPAA compliance, and best digital marketing and expert healthcare experience.
Key areas and issues faced by medium to large healthcare businesses
1. Reliable digital partner with expertise & brand-management
2. Technology platform – proven and available
3. Support & services to support growth of your medium to large healthcare businesses
4. SEO leadership and experience in the healthcare marketing
5. Digital advertising experience and data to support ROI based advertising
6. Social media apps and experience
7. Website scalable architecture and secure hosting
8. Reputation management for medical practices – apps & experience based on best practices
9. Email marketing and monthly strategy
10. Design and graphics support for brand-management
11. Content creation & support for social media posts
12. Professional account management; technical resource and a project manager assigned to your account
13. Ongoing training and support of your front-desk and other non-technical medical staff
14. Texting/SMS apps to increase patient acquisition and patient satisfaction (HIPAA compliant)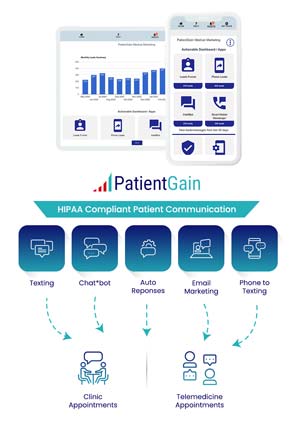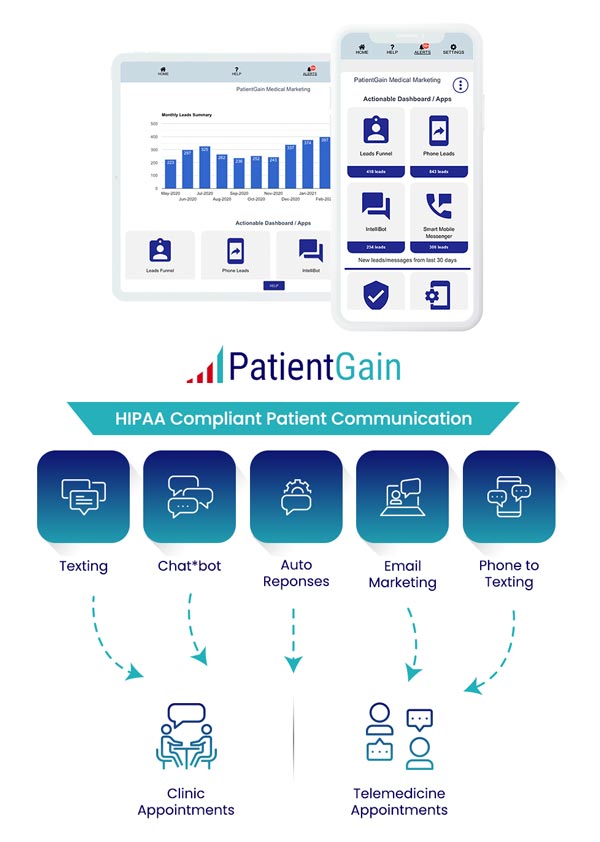 Click here and setup a time so we can show you examples. There is a discounted schedule of fees for multiple location medical practices.
PatientGain.com provides additional benefits for your healthcare practice.
Clinic owners, practice managers, dentists and doctors are often forced to work with multiple applications and incompatible online tools to help drive their business. There's a lot to keep track of: website management, social media, Facebook, online advertising, website lead management, generating positive reviews, minimizing negative reviews, monthly email marketing, call tracking, online payments and much more… it can all be difficult to juggle. What's more, where do you find the time to manage your efforts online while running your clinic effectively and treating your patients? www.patientgain.com data shows you will save 21 to 44 hours a month ( on average 32 hours a month) by using an Integrated Comprehensive Medical Practice Marketing system from PatientGain.com. At $47/hour, your average opportunity cost, this is savings of $1527 per month, or $18K per year, per clinic. This is in addition to improvement in increased patient acquisition and patient referrals and patient engagement.
PatientGain Services are Fully Integrated New Patient Marketing Solution With Google SEO Optimized Website. Used by Hundreds of Medical and Dental Practices in USA & Canada.
Conversion & SEO focused A/B tested WordPress website, quality content, your custom branding, apps, social media, communication apps, Email marketing, Texting/SMS, awesome customer service, HIPAA compliant CRM & modern features included in the service. We serve all types of healthcare practices.