Mental Health Marketing Expert Services $699
1 out 5 Americans live with a mental health condition. Marketing for Telehealth Mental Health Providers Costs $699/mon to $1199/mon. Thousands of Mental Health Professionals are Helping Patients Using Zoom Telehealth, and Other Technologies.
Typically mental health conditions cover mental health conditions such as schizophrenia, PTSD, bipolar, borderline personality disorder, ADHD, OCD, depression, anxiety, eating disorders, suicide, addiction and others. The concept of telehealth is much older than you may think. The roots of it are over 100 years old! Dr. Willem Eithoven, the inventor of the EKG, figured out a way to send medical data over telephone wires in the early 1900's. In the 1920s, magazines that predicted the future thought that one day that patients could get medical information by tuning into specific radio stations to listen to their doctor. The first actual use of telehealth as we know it today occurred in 1955 when a doctor established a closed-circuit TV connection with another facility over 100 miles away. Since that first connection, development has been slow. Still, it began to pick up new interest with the invention of the internet and the proliferation of smartphones connected to high-speed networks. Companies began to spring up, development in telehealth and offering those services to doctors and regional medical groups. In this process, the final speed bump was convincing insurance companies to pay for this service, which many resisted at first.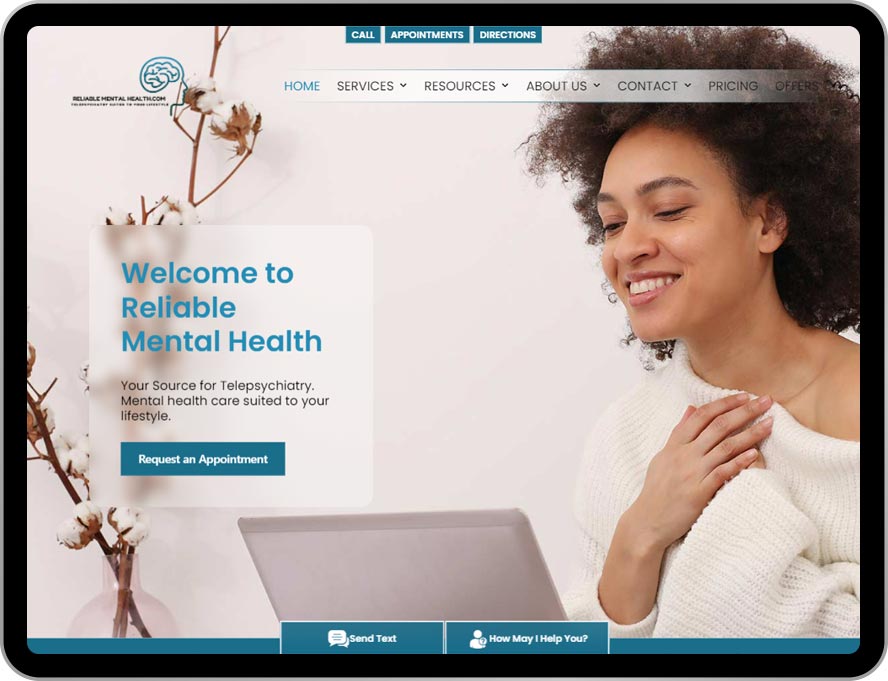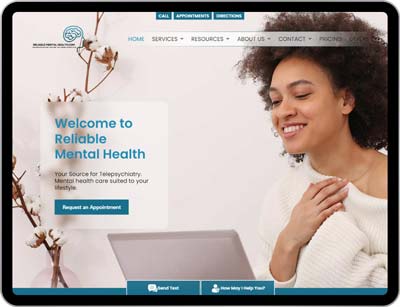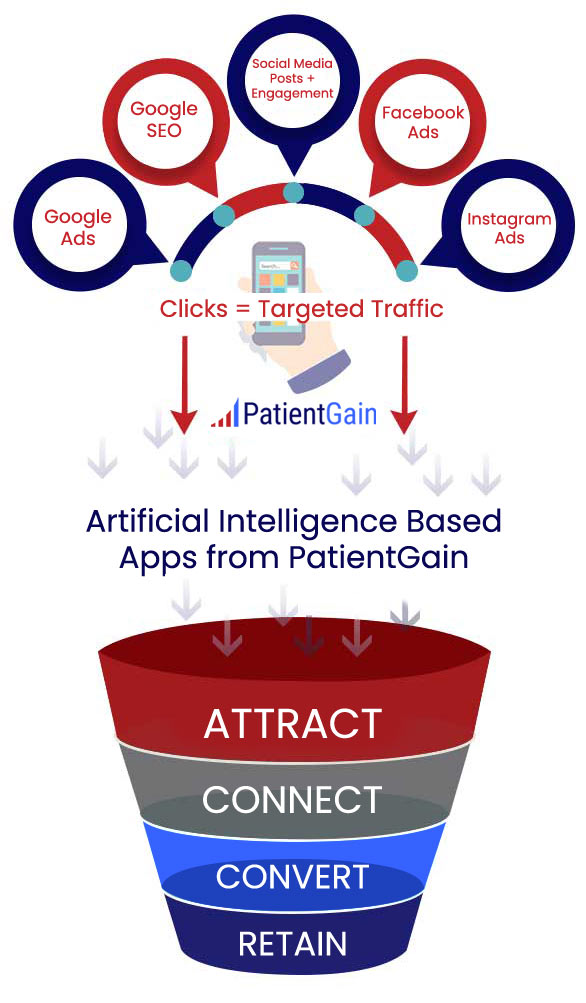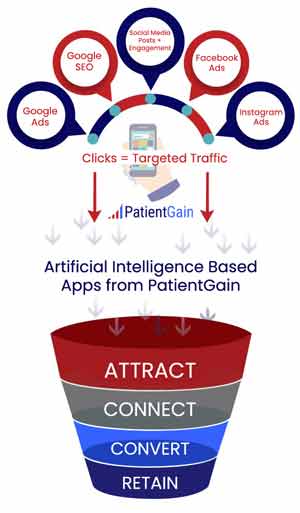 However, with the COVID-19 pandemic causing widespread lockdowns across the country, many insurances temporarily changed their policies to make telehealth possible for more customers. This has been an incredible benefit to those seeking mental health. During the pandemic, it allowed them to continue treatment for their mental health. Many articles have been written about how popular this has been with patients, and many insurances are likely to continue to promote telehealth. As a mental health provider, it is only to your advantage to promote and market telehealth for mental health sessions at your business. It will be difficult to play catch up if all of your competitors are already promoting this feature at their locations.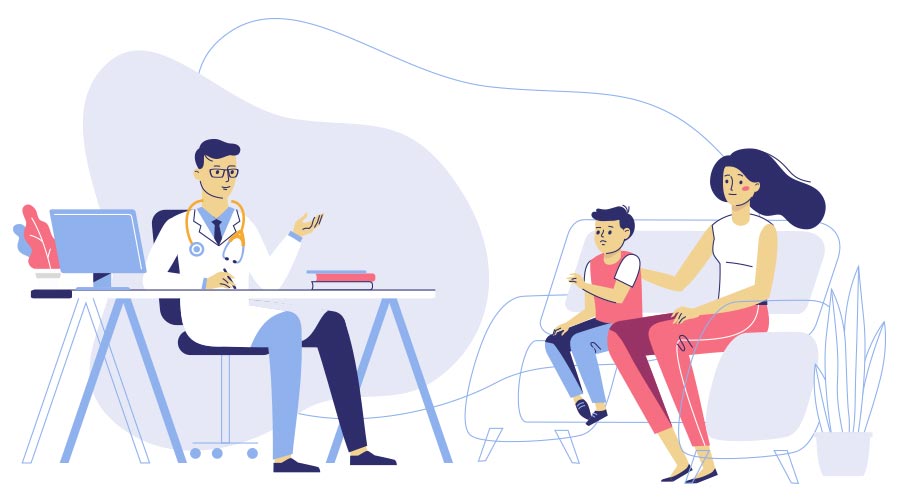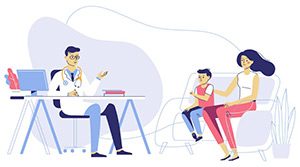 What are some ways a mental health facility can market telehealth for its current patients and potential patients?
Telehealth is undoubtedly going to be easier to market with current patients, but promoting it to potential patients can have some value as it becomes more common. Below are some digital and traditional ways to market telehealth for mental health providers:
Digital
Traditional
Direct Mail
Brochures
In-Office
1. Using a mental health provider's website to promote telehealth.
The website of a mental health provider is going to be critical in the promotion of telehealth. The majority of the promotional efforts practice uses will send a current or potential patient to the website for more information. With that in mind, the website of a practice needs to have a page dedicated to telehealth. Information about how to use it, what a patient needs to connect to a doctor, how it is secure way to talk, and the benefits of using it all must be spelled out. Several pages detailing each of these areas may be needed. The more content and information that can be provided to a patient, the better! A great piece of content to add to a website regarding telehealth is listing out what insurances are supporting telehealth and what questions a patient should ask their carrier if they want to receive telehealth treatment.
From a search engine optimization and content marketing perspective, having one or more pages dedicated to telehealth is also very helpful. Potential patients may be searching online specifically for a mental health provider that is offering telehealth. If a website does not have any content on the subject, how is a search engine to know that it is an appropriate choice for a potential patient in search results? Having one or more pages about telehealth, how it is used, and its benefits is a great way to rank higher in search results. It also will likely help a mental health practice rank higher in map search results. Granted, telehealth does not require directions, but being seen more often will help providers get more clicks.
2. Using Social Media to promote telehealth to current and potential patients.
Social media continues to be a great resource to connect with current and potential patients. Providers should use social media to announce the availability of telehealth periodically throughout the year. Promoting it every day will likely not produce good results and alienate followers. Since not all followers will see a posted item on social media feeds, promoting it once every week or two will probably be an excellent rate to aim for when posting. In terms of what to post, a mental health provider can post links for more information about telehealth and showing patients how to schedule a session. If possible, videos and pictures of telehealth in action will likely get more engagement than just text posts or links to more information. Just be careful that you do not share any health information of any patients to remain HIPPA compliant.
Another advantage to using social media is that their powerful advertising platforms are also accessible. The audience a mental health provider is advertising to on social media will not be as large as it would be with PPC ads. However, there are more targeting options available. As with PPC Ads, you can target an area by radius from a location or zip code. With social media ads, you can also often target by age, gender, and interests. These attributes will narrow down a target audience significantly, but those who remain, if used correctly, will be a valuable target audience.
Despite some social media having video call capabilities, these are not HIPAA compliant and should not be used for telehealth purposes. Only vendors showing they are HIPAA compliant should be used to provide telehealth services for mental health providers.
3. How should a mental health provider use email to promote telehealth to their patients?
Email marketing is a powerful way to promote telehealth to current patients of a mental health practice. When telehealth first becomes available, an entire email newsletter should probably be devoted to it. Inform patients about the benefits, how it works, and what insurances cover it. The email should be written with several topics describing several aspects of telehealth with links to the website for more information. Avoid copying and pasting tremendous amounts of content from the website to the email campaign. It will not be effective and likely will not be very useful. A couple of parts for patients to digest with follow-up links will be the way to go.
Once the initial email goes out advertising the availability of telehealth, avoid copying and sending that email again week in and week out. Patients will likely become annoyed and unsubscribe from future emails. However, that does not mean that mentions of telehealth need to be scrubbed from all future email communications. For further email campaigns, a small part mentioning telehealth being available should be included in all future emails. This part should not be at the top of the main subject of an email campaign, but it should be included in every email. As for the initial campaign, keep it, rewrite parts of it, and send it out one to two times a year to refresh patients' memories about this service is available.
4. How can direct mail marketing promote telehealth for a mental health provider?
Not everyone in a community may be super literate when it comes to technology and may not have spent the time searching or learning about telehealth. If that is the case, they are also unlikely to explore a mental health provider's website about the topic as well. Direct mail marketing allows you to reach them using a traditional marketing method to place the information in their hands. Another advantage of direct mail marketing, other than reaching parts of the target audience that may not have been contacted by digital marketing, is that direct mail can be targeted. Unlike other traditional marketing tactics, a mental health provider can determine which households and neighborhoods get mailed information. Depending on the volume and preparation beforehand, a practice may even get a discount from the United States Post Office.
A direct mail marketing piece needs to be well designed to catch the attention of a patient or potential patient, or it will end up right in the trash. Fortunately for advertisers, mail volume is not as high as it was in the past, giving them a better chance to get the attention of their target audience. A marketing piece needs to have a great call to action, website URL, address of the practice, and phone number. Try using bold colors and even different textured paper to get someone's attention. Since people will be touching this mailing piece, consider the tactile experience as well. Overall, the goal is to get this marking mail piece stuck on a corkboard or refrigerator to continue to advertise to a household.
5. How can brochures in a mental health provider's office help promote telemedicine?
When patients come to a mental health provider's location, they are unlikely to walk right in and into their provider's office for a session. More than likely, they will be waiting in the waiting area for their appointment. This waiting room should be stocked with a variety of brochures, including one on telehealth. The information in this brochure should have much of the information a website has for people to review and take home with them. It is unlikely there will be many changes in telehealth procedures, allowing you to print many of these brochures before they need to be updated. The only thing that is a noted exception that a medical practice may leave off is insurance information. What insurances will and will not cover can change a lot and depends on many factors. With this in mind, you will save your front desk staff many headaches by leaving this off.
These brochures do not just have to stay in the office waiting room. They should be brought to any community event where a mental health provider has bought and set up a table. They can also be used in a direct mail marketing campaign to mailed to people in the community. Finally, if a mental health provider has a partnership or referral relationship with another business, they should have those brochures displayed there. A mental health provider should check in now and again to see if a refill of brochures is needed.
6. How can telehealth be promoted in the office of a mental health provider?
When a mental health provider is one-on-one with a client, it is a great time to promote telehealth gently. In most circumstances, a mental health provider will want to meet one-on-one with a client during their first few sessions. At the very least, they will likely need them to sign some paperwork and give a credit card and insurance card to be on file. During COVID-19, much of this was transferred online, and while that option may continue, many providers do enjoy some initial face-to-face time with their clients. It is during this time that a provider can offer the option of telehealth sessions with their client. It is a perfect opportunity for a therapist to answer questions one on one and alleviate any concerns. Depending on what systems they have access to, they may look up if a patient's insurance covers telehealth service. A provider can provide a powerful in-person message about the advantages of telehealth that will like to resonate with a client.
As for clients who still come in for in-person sessions or other help, a provider can reinforce that telehealth remains an option for them. There may be times in the future where a client may be unable to come to an office for a mental health session. A client could be prevented by weather, illness, work, or even road construction near the office. Instead of skipping a mental health appointment, it can instead be done online to continue a client's treatment. A provider can showcase how telehealth can provide more options for a client.
The experts at PatientGain.com can help a mental health providers market telehealth sessions to their patients and community. We have helped other doctors and mental health providers promote this service around the country. Let our experienced team show you what we have done for others and how we are ready to work to meet your goals!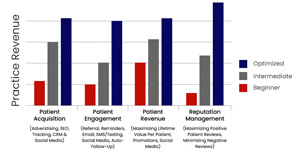 10 steps your Mental health marketing expert should take to help your practice
The need for mental health treatments has increased over the years. It has been recognized as a growing crisis in society. Many different mental health practices are opening up, and many large health networks are also creating mental health facilities. Competition in this area of healthcare will only increase, as will the demand for these services. A mental health practice needs to have an effective medical marketing plan to succeed. Below are ten steps a mental health marketing expert needs to take to grow a practice and help it meet its goals.
Step 1 – Search Engine Optimization
Search engine optimization, also known as SEO, is crucial for any healthcare website. Effective SEO helps tell a search engine what search terms are most relevant for that website so they can be displayed in search results. Excellent SEO work aims for a mental health practice's website to appear on the first page of organic results, preferably in the top three results. While a search engine will return billions of pages of results, the vast majority, if not practically all, of search engine users will only look at the first page of results. Many will focus on the top three results. Organic results are free, so these top spots are immensely valuable. 25% of all search engine users click on the first organic result.  
SEO involves inserting target keywords throughout content on relevant pages. These should both be short-tail keywords and long-tail keywords and should be the search terms a target audience would use in their search for mental health treatments. Short-tail keywords are three words or less, cover broad topics, have low conversions, and send a lot of traffic to a website. Long-tail keywords send lower amounts of traffic to a website, but have higher conversion rates, are four words are longer, and focus on more specific or unique topics. Both keywords work together for effective search engine optimization of a mental health practice's website.
Step 2 – Content Marketing
Working in conjunction with search engine optimization is content marketing. Search engines love content and gobble it up when determining what the relevant websites should be displayed in search results. Content on mental health websites needs to be unique, authoritative, relevant, and valuable to site visitors. Content that is just fluff or copied and pasted from other sources will not perform well and may even hurt overall rankings. Content also needs to have some length to it. The longer content is, the more authoritative it will look and the longer a site visitor will stay on a site. Time on site plays a role in organic ranking, so while a multi-chapter novel is not needed, 1,000 words about a mental health topic will perform better than 200 words.
Content also needs to be reviewed regularly. If the content is not refreshed, it will become stale and less relevant and authoritative in the eyes of a search engine. It needs to be updated, revised, refined, and additional content should be added continually. With that said, this needs to be done gradually to parts of a website over time. Refreshing all content all at once could confuse a search engine into thinking that it is an entirely new website, which could impact search results. A mental health practice should create a list of site pages and note the last time someone at the practice thoroughly read them to see if revisions are needed. The last thing a practice wants is a site full of out-of-date information, as it would make them look rather unprofessional.
Step 3 – Local Search Engine Optimization
When someone is searching for a nearby business, like a mental health practice, map results are often presented above organic results. A search engine will list three nearby businesses, within reasonable driving distance, near the location it thinks the person is conducting their search. These results are often explored first, and many users do not return to look at organic results. A mental health practice needs to appear in these results and the organic results.
A mental health practice needs to create a listing to appear in map results. Listings on Google, Bing, and Yelp should place a practice in map results of most major search engines. Before a listing appears on a map, it must be verified via phone, text, or a mailed postcard. Once verified, a mental health practice should check the accuracy of the information in these listings to ensure they match each other and the website. The following should be checked:
The physical address, including any office or suite numbers
Phone number, including fax
Website URL
Hours of operation
Name of mental health practice
Step 4 – Online Reviews & Reputation
The online reviews for a mental health practice are going to be frequently researched by new patients before they make an appointment. Mental health practices must manage them and continually acquire positive reviews for their online listings to maintain a good online reputation. Review ratings are often displayed in map results and, in some cases, next to organic results. An overall negative online reputation will dramatically impact the effectiveness of a marketing campaign and make it difficult for a mental health practice to acquire new patients. It is also essential to get as many good reviews as possible. A mental health practice with a 5.0 rating and ten positive reviews will face stiff competition from a competitor with a 4.7 rating and 600 reviews.
For a mental health practice to build a repository of good reviews, they need to make it easy for patients to leave one. A review request via email or text has been proven to be the most effective way to do it. Text message requests generally have a higher open and conversion rate than email requests, but email requests usually cost less. Many healthcare practices will use texts and emails to maximize their review intake. Remember, a mental health practice should respond to all reviews, positive or negative, to show new patients that feedback is taken seriously and problems will be addressed by management.
Step 5 – Email Marketing
When patients fill out intake paperwork, either in paper form or digital versions, many will often provide their email addresses. This gives a mental health practice an ever-growing list of email marketing opportunities. Remember to comply with federal law regarding spam. A mental health practice must get permission to send emails to their patients. They can not borrow or buy lists of emails from other health practices or email brokers. A mental health practice also needs to make it easy for a patient to unsubscribe from future emails.
As for email frequency and content, a mental health practice must be careful not to flood patients with irrelevant or unhelpful emails. A daily reminder of the hours of operation or the available services will look like spam, causing high unsubscription rates or, worse, being blocked by an email provider. Instead, a mental health practice should try to send out a monthly newsletter. A weekly newsletter means they will have to develop 52 interesting emails a year. Twelve emails needed for a monthly newsletter is a much more reasonable demand. The content in emails should be relevant, useful, and authoritative. It should include things like:
Local health information
Staff bio or accomplishment highlight
Service highlight
Link to a recent blog
Link to any recent news coverage involving a staff member
If applicable, any specials or discounts that are available
Step 6 – Text Message Marketing
Although more expensive than email marketing, text message marketing has proven very effective with mental health practices. Text messages have a much higher open (some studies suggest a 98% open rate) and conversion rate than emails. However, the space for a message is much more limited. Generally, a mental health practice will only have 240 characters, including spaces and punctuation. The message sent in a text message marketing campaign needs to be short, clearly identify who is sending it, include a call to action, and provide a link or phone number to patients to learn more information or explore.
Text message campaigns should be less frequent than email marketing campaigns. People do not like to get numerous marketing messages via text, and sending out too many will cause high unsubscription rates. For a healthcare practice, a monthly text message is probably the rate they should aim for to minimize unsubscriptions. There are certainly exceptions, such as a public health emergency, but generally, once a month should be enough. As with email marketing, a mental health practice should get permission from patients to send them text messages. They also can not buy or borrow cell phone numbers from others and need to make it easy to unsubscribe from text campaigns.
Step 7 – Medical Engagement Chatbots
Not all website visitors will be able to find the information they are looking for when visiting a mental health practice's site. Some will need assistance locating information about treatments or accomplishing a task, like making an appointment. These help requests will be sent to the front desk via secure message or a phone call. Unfortunately, there are times when patient volume is high and times when there could be a staffing shortage. In that case, a delay may begin to build in answering these requests. The longer the delay, the more likely the patient will seek treatment with a competitor. A medical engagement chatbot can help ease the pressure from the front desk and convert visitors into patients.
Many of the questions a patient will contact a mental health practice for will be similar. With that in mind, these questions and answers can be programmed into a medical engagement chatbot. The chatbot can mimic human conversation and engage with visitors to a site to help them find popular information or accomplish frequent tasks. These things can be programmed into a chatbot by a mental health practice and updated as needed. For example, if new COVID-19 protocols are in place, a chatbot can be updated to reflect them. For questions or tasks it can not assist with, a chatbot will take the help request and contact information of the site visitor and keep it in a HIPAA-compliant dashboard for a staff member to address later.
Step 8 – Google Ads
When search results are displayed in a search engine, paid results are the first thing people will see before map and organic results. Google Ads allows a mental health practice that does not quite yet have good organic rankings to rank high in search results. While a mental health practice can not "buy" their way to high organic results, Google Ads (with the right keywords and budget) can provide much quicker results. Even if a practice has good organic and local rankings, appearing in paid ads can be very helpful. Seeing the name of a mental health practice in paid ads, map results, and a top organic result is a powerful marketing message.
For Google Ads to be as effective as possible, they should be organized into campaigns. Themes, such as specific treatments, brand awareness, or competing against competitors, should be used to manage these campaigns. They will run more efficiently, and a practice will get more bang for their buck with their marketing budget. The words that ads target should be similar, if not the exact words SEO efforts focus on. Suppose the keyword targeted by a Google Ad is not a keyword being focused on by SEO work or doesn't even appear on the landing page an ad sends someone to visit. In that case, the ad will be less effective. Coordinating target keywords between search engine optimization work and Google AdWords creation will maximize their effectiveness. A mental health practice should try for meet or beat the average click through rate for the healthcare industry, which is just under 6%.
Step 9 – Referral Marketing
For mental health care practices, referrals play an essential role in getting new patients and increasing a business's revenue. Referrals from other doctors or mental health organizations can provide a steady flow of new patients for providers. An owner must first connect with another party to provide future referrals to the practice. It needs to be as easy as possible for other parties to refer patients to a mental health practice. Creating a dedicated, HIPAA secure portal for others to submit medical records and additional information about referral patients will help speed along the process. A practice should also consider assigning a staff member to be a "Referral Coordinator" so that other doctors and organizations are dealing with the same person repeatedly.
Finally, referral patients need to be treated extra special, especially in mental health practices. It should be effortless for them to step in and get the treatment they need without jumping through hoops to get it. A bad patient experience can have a profound impact on referral marketing. An unhappy patient may not return. The referring party may stop sending patients if they believe they are not getting the best treatment possible. A referral coordinator should ensure that a referral patient gets everything they need for the services they are seeking.
Direct mail marketing is a traditional marketing strategy that continues to be effective in today's digital world. Unlike TV, Radio, or Newspapers, direct mail marketing has a degree of targeting. Instead of sending a marketing message over a large geographic area to demographics that may not be interested in mental health services, a direct mail marketing campaign allows a practice to target specific neighborhoods, communities, and households. Direct mail marketing also can reach people who may not have been touched by digital marketing efforts or be another touchpoint that will only help push brand awareness.
Items being sent with a direct mail marketing campaign will still compete with other items in a mailbox, despite mail volume being down over the past decade. With that in mind, a marketing piece needs to get the attention of the person checking the mail, so it ends up on a fridge or corkboard and not in the trash. To find a combination that connects with their target audience, a mental health practice should experiment with size, paper texture, and brand colors. The marketing piece should have the practice's name, website URL, phone number, address, and a powerful call to action. The effectiveness of this campaign can be tracked through increases in "Direct Traffic" or, if possible, a unique landing page URL should be used.
Step 10- Direct Mail Marketing
The experts at PatientGain.com are available to help you create a high-performance healthcare website for your mental health practice. Contact us today, and let us show you what we have done for other practices across the country!