8 Medical Marketing Examples
Owners of Medical Clinics and Other Medical Professionals Waste Marketing Dollars Every Month. But Top Clinics Have Found The Secret.
Owners of medical clinics and other medical professionals waste marketing dollars every month as they try to figure out what strategies work best for their medical practice. A "trial and error" approach to finding the best marketing methods to promote your business is not the most efficient way to find the best ways to grow your patient count. Instead of guessing what might work, come to PatientGain.com. We've worked with hundreds of successful customers and know what is working in today's healthcare marketing environment and what is not.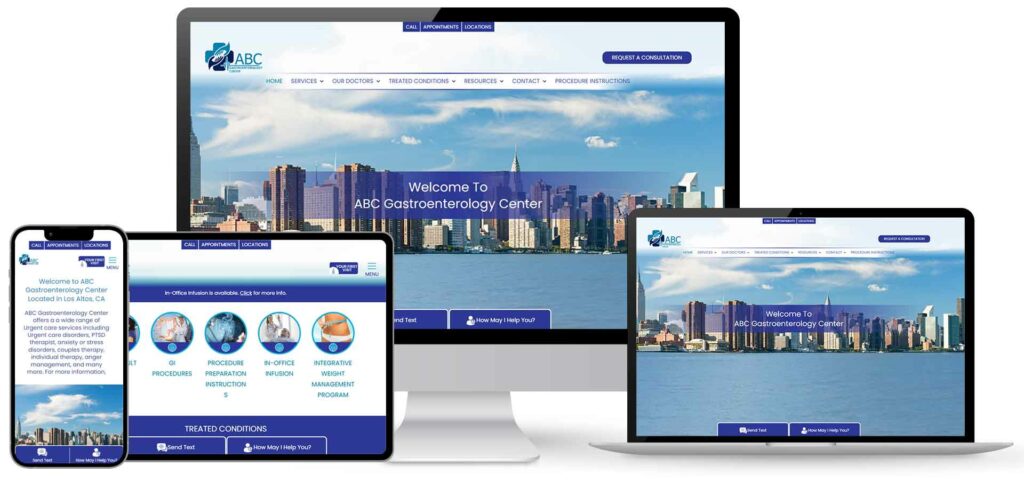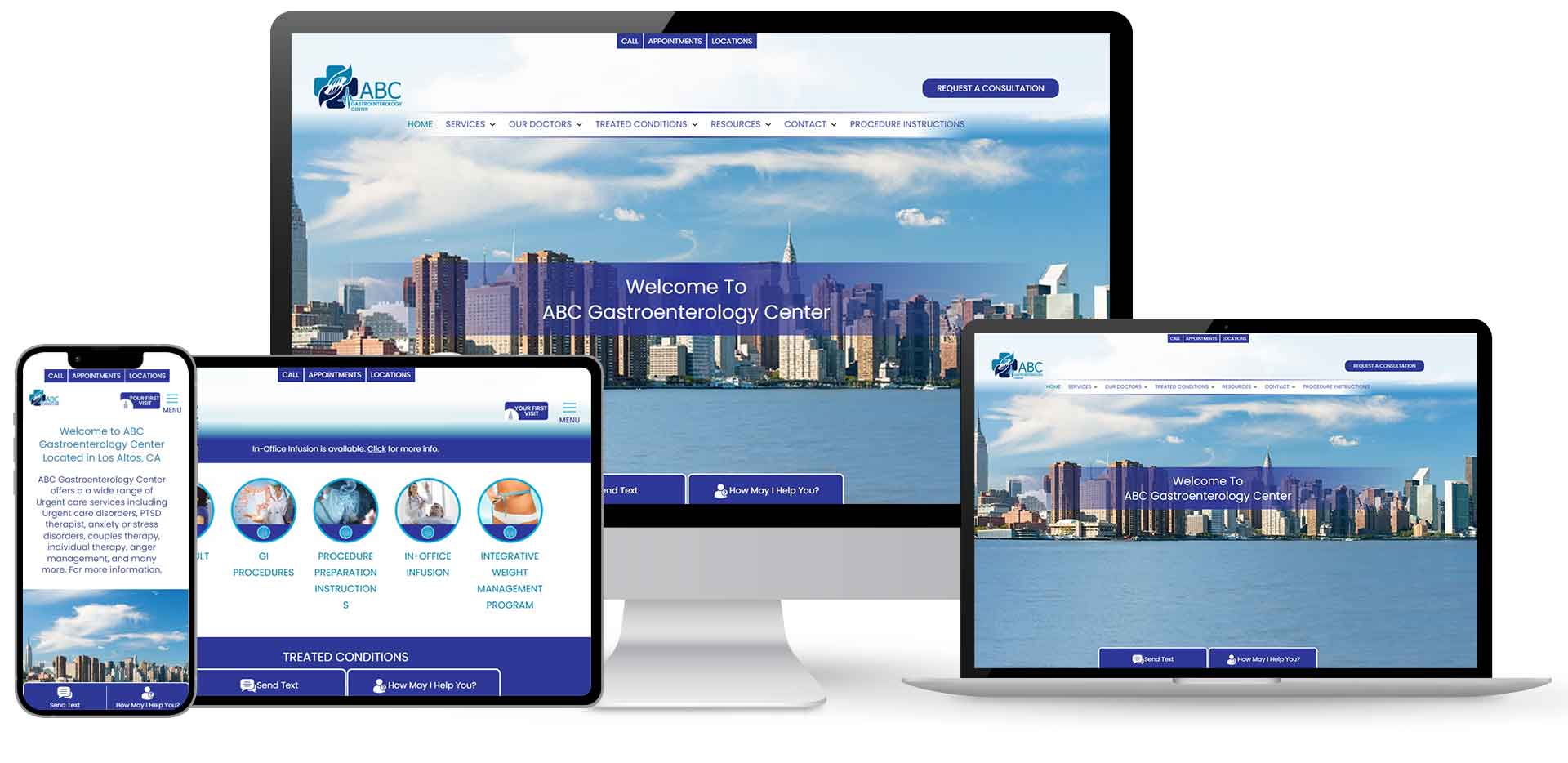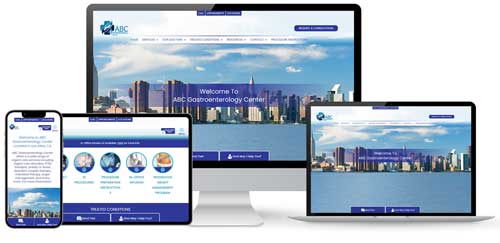 Medical clinic marketing plan for physicians & medical practices is outlined here. Our data shows that if you focus your medical marketing on important aspects of online digital presence, you will have excellent success. There are hundreds of activities you can be focusing on, however here are 8 proven areas and tactics to help your medical practice.
1. Google Local Listing for your medical practice
2. Google Maps, verified listing
3. Google Reviews rankings
4. Google Posts
5. Google Organic SEO results
6. Google Paid Search
7. Advertising on Facebook
8. Advertising on Instagram
Take the guesswork out of your marketing plans and let us help you reach your goals. Below are some crucial health care marketing examples we can bring to your business.
No 1. Investing In A Medical Marketing Website
Not all websites are created equal. Some medical practices have a website for their doctors. You do not want a website for your doctors; you want a medical marketing website for your medical practice. There is a difference between the two, and we've opened the eyes of many clients who didn't realize their website wasn't performing for them as it could.
A medical marketing website promotes your medical practice, not just the doctors who work there. While it is undoubtedly vital to have bios of those working for you at your location, that is only part of a complete website. Your website needs to have detailed information about the services you offer, the treatments available, and, most importantly, why potential patients need to come to your clinic for your assistance. Convince any visitor to your website that they do not need to visit a competitor's site because your clinic is the best choice for them.
No 2. Invest in SEO (Search Engine Optimization)
When it comes to practical SEO work on your website, we ascribe by the phrase "Content is King." What does that mean? The more unique, authoritative, and educational content you have on your website, the better it's organic rankings will be. Your top target keywords your target audience uses needs to be placed throughout your content. Every service or treatment you offer should have its page on your website. Effective SEO work will not change your search results overnight. It takes continual updates and monitoring, but over time it is a highly cost-effective way to promote your medical clinic. Our clients' SEO is monitored continuously, and we follow the latest trends to ensure the best practices are applied to your website.
No 3. Advertising Online
When you can not quite get the organic rankings you are looking for, online advertising may be an excellent choice to promote your clinic. Search Engine Advertising remains an effective way to get your website to people looking to make a healthcare choice. We can help you select the right target keywords and phrases that work best for your medical practice. Our experts will manage your Google and Bing search ads to get the most bang for your campaigns. Our dashboard will give you daily updates on where your money is being spent and the keywords that are performing the best.
No 4. Invest In Your Branding
If you have not put any thought into your healthcare business brand, you are missing a vital part of your medical marketing plan. Your brand is what will distinguish you from what is likely a crowded medical field in your community. The brand choices you make need to be unique and maintained across all of your marketing efforts. PatientGain.com can ensure your brand standards are adhered to and maintained throughout your medical marketing efforts. Some critical branding choices include:
• Logo
• Slogan
• Colors
• Font Type
• Voice
• Pictures
No 5. Reputation Management
The online reputation of your medical practice can make or break your success. The online reviews of your business affect your online reputation, so they must be monitored. The vast majority of your reviews will appear on Google, Yelp, or Facebook. To manage these reviews, you must claim or create listings in these three directories. Once verified, you will be able to monitor reviews, reply to them, and access the metrics related to your listings. Every negative review must be addressed! If you don't manage to solve their issue and change their review to something more positive, it will at least show potential patients you take their feedback seriously.
How do you get reviews? Most of the time, all you have to do is ask! PatientGain.com has great reputation management apps available that will ask for feedback from your patients. If positive, they will be directed to leave an online review. If neutral or negative, they will be instead sent to an online form that gets securely sent to you for review. Often, this will catch them before they leave an online review, giving you a chance to rectify the problem they had with their visit. Call today so we can show you the app in action!
No 6. Medical Engagement Chatbot
You likely do not run a clinic 24 hours a day. So what does a patient do if they have a question in the middle of the night? Sure, they may call and leave a message. But it may take some time for the staff to call them back with an answer to their simple question. Instead of potentially losing a conversion of a website visitor to a patient, deploy a medical engagement chatbot. This simple program will engage with a website visitor and help them get information or achieve a simple task, like making an appointment. For any question or subject they do not know much about, it will collect their contact information and send it on to your staff for review. A medical engagement chatbot works every day of the year and never takes a vacation! PatientGain.com has a medical chatbot that has been deployed to many websites of clients with great success!
No 7. Online Appointments
Online appointments are becoming a great thing many websites are offering to their patients. Online appointments, if properly connected to a clinic's EMR, give patients the power to choose their appointment time. This choice and freedom to schedule their appointments leads to higher conversions from your website. Instead of having to call in the middle of the night hoping to land an appointment, they can look at available times and schedule it immediately. PatientGain.com can help integrate an online appointment system on your website to help your patients make appointments.
No 8. Social Media
More medical practices are using social media to connect with patients and promote their brand. Many social media channels also have great advertising platforms built-in, allowing you to target audiences with more specificity then you can with a search ad. Social media channels can serve as a great way to promote the services you have as well as share news about health in your local community. PatientGain.com can help you create your profiles, manage them, and provide you with some branded content to post. Some of the social media channels you should be on include:
• Facebook
• Twitter
• Instagram
Some medical practices also find these channels to be helpful:
• Pinterest
• SnapChat
• Tik Tok
Contact PatientGain.com today and set up an appointment with our experts. We'll evaluate your current medical website and show you what we can do to help you meet your goals. We look forward to working with you!