Medical Website Design Company, PatientGain, Creates 5 Sample Designs For Your Medical Practice
During your website setup process, our designers will create 5 different designs for your medical practice.
Every medical practice is different. Your logo, your brand, your staff in unique. Your website should represent this. In addition you must also focus on A/B tested designs and conversion. Once we add your design elements, your brand, our best SEO practices and A/B tested designs, you will have a website that looks beautiful, represents your brand and produces new patients for you. As a customer of GOLD service from PatientGain, , you work with your project manager. The project manager is not a designer who is working by themselves. They have a complete team of 1) Technical staff 2) Best practices 3) Skills and 4) HIPAA compliant software.
Example of a website created for a customer: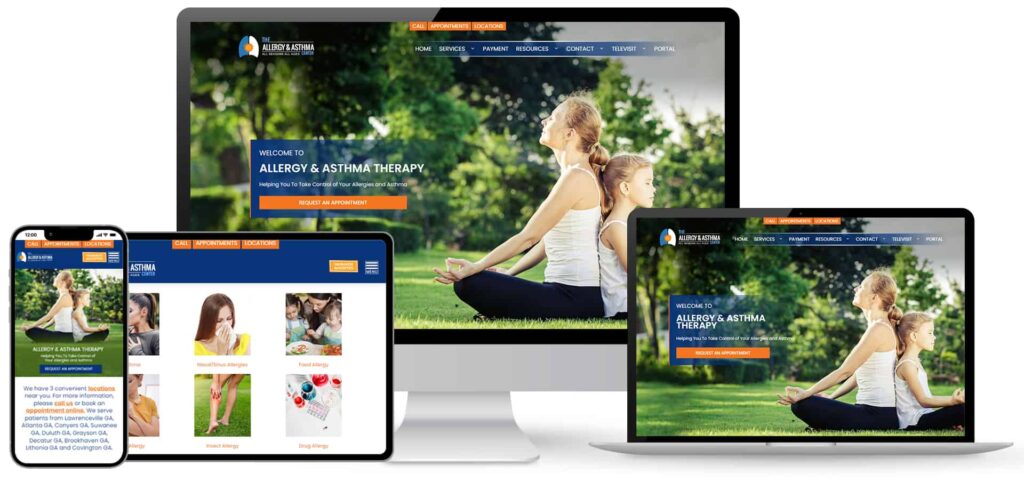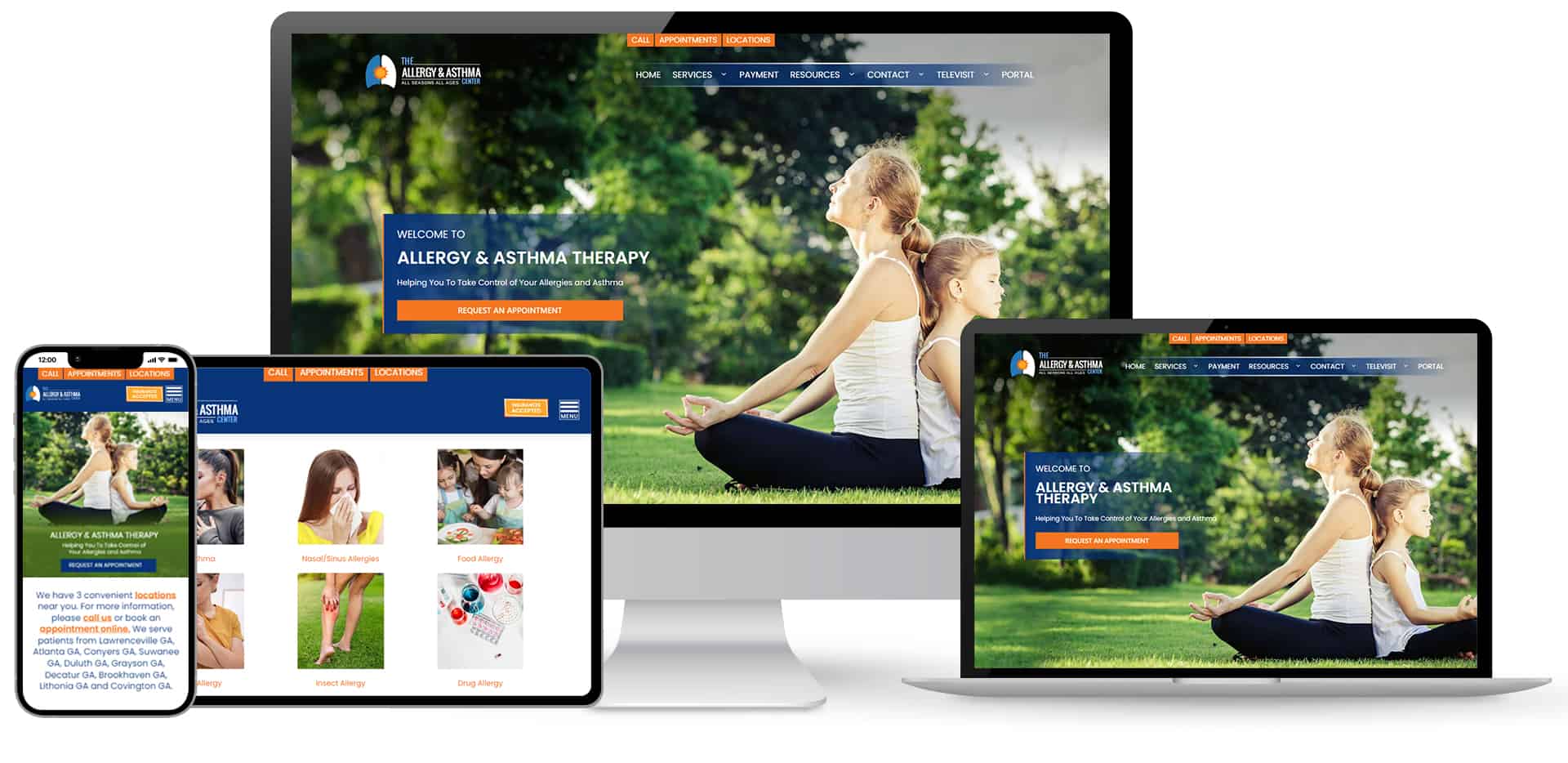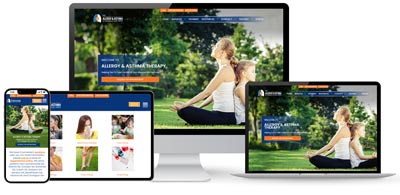 Ask Your Medical Website Design Company These Questions
Question No 1. Is the medical website design based on A/B tested design?
A/B testing is a common practice among software based marketing applications – in our case it is Medical marketing Websites. It is a way to compare two versions of medical marketing websites to arrive at a conclusion, based on data, not based on opinion, which of the 2 designs performs better. The test continues with multiple cycles until law of diminishing returns starts influencing a specific test. This is an ongoing process and never stops in the world on medical marketing and data driven results. For example, in our testing we found that it makes a big difference, where specific buttons are placed on the home page or a landing page of a medical marketing website. It also makes a big difference what the user sees first, specifically on a mobile device. For example the layout and user experience was kept the same in specific A/B tests, the only thing that was changed was how the images were formatted, branded VS non-branded generic images. There is a difference in results, based on hundreds and thousands or iterations of tests performed.
Example medical website design based on A/B tested design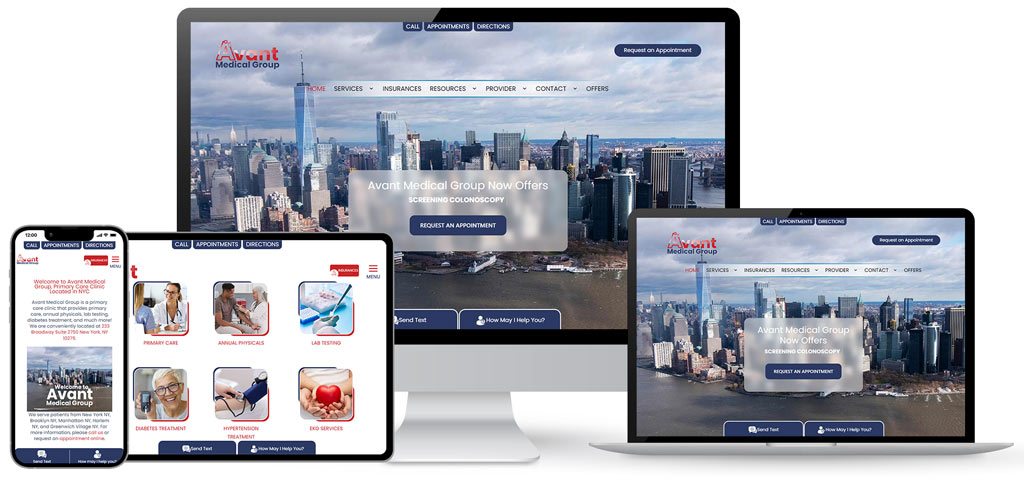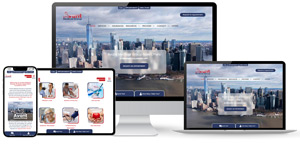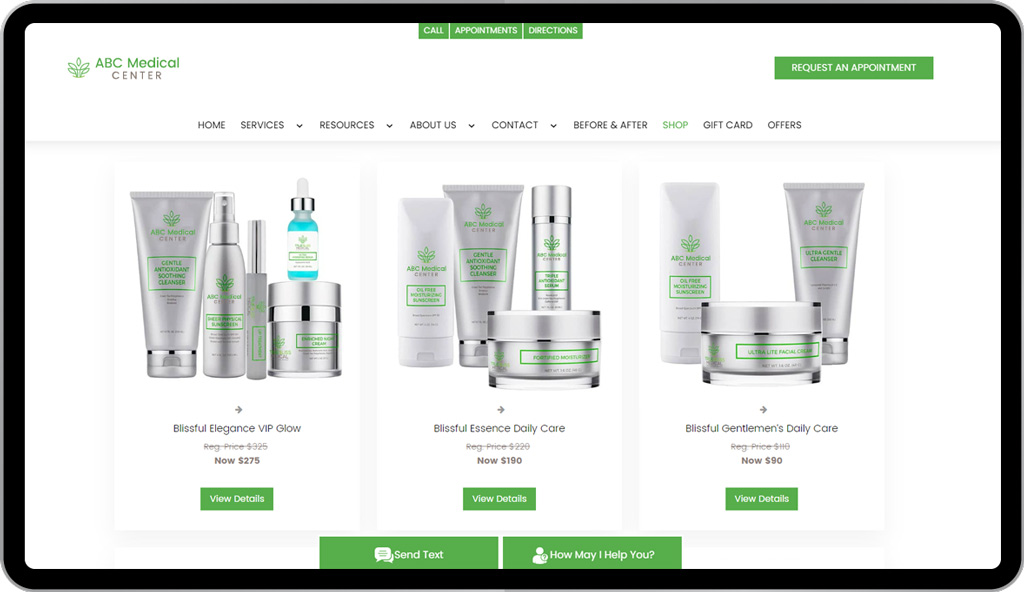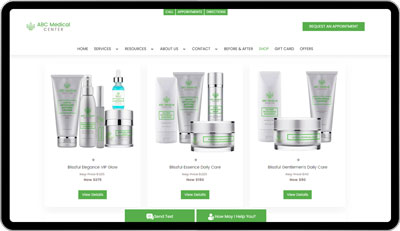 Question No 2. Is the medical website designed for immediate CTA?
Your medical marketing conversion website should have useful information for a patient visitor to easily contact you multiple ways. This includes 1. Click to Dial – Phone 2. Fill out an Appointment Request 3. Find Directions 4. Find Medical Services 5. Ability to Text/SMS the practice (74 percentage to 88 percentage of your patients visit your medical website using a mobile device) . 6. Intelligent ChatBot software designed to convert patients to book an appointment, get directions, check up on insurance coverage, send a Text/SMS, ask common questions, contact you or any other call-to-action. We recommend where every page of the website is a landing page. Since CTA (Call To Action) is present on every page, the overall conversion of this type of website increases.
Question No 3. Is the medical website design includes running on a secure servers and all communication is HIPAA compliant?
PatientGain.com's Healthcare platform not only improves your clinic's patient acquisition and engagement with intelligent apps, but also ensures your clinic's web presence is professional and effective. Although the power of PatientGain.com's solutions comes from our software powering your online marketing strategies, we also improve the cornerstone of your clinic's online strategy: your website. Any patient PHI information sent from your website should be considered carefully. If you are hosting your medical website with an ordinary hosting company that does not provide you with a BAA, then you should go through these steps. These are just some basic guidelines and not designed to be conclusive HIPAA compliance. By a "basic" website, we mean one that is setup at any web hosting provider (e.g. GoDaddy) and written using off the shelf software or by someone without training in website security best practices
Question No 4. Is the medical website design includes high quality content for services?
Your medical website design should include high quality content. Content should never be plagiarized. Content should be written by professional medical writers or physicians. This is a basic requirement for any successful medical SEO. Google search engine is the most accurate search engine with the best algorithms for search results. Majority of the world searches on Google. According to Google, over 200 "signals" are used to rank medical websites. The most important factor is your own content. So for medical SEO for doctors, you must focus on Google first, and start with adding Unique, High Quality Content – This means Non-Copied, Non-Plagiarized Content. Your content must be at least 96% unique.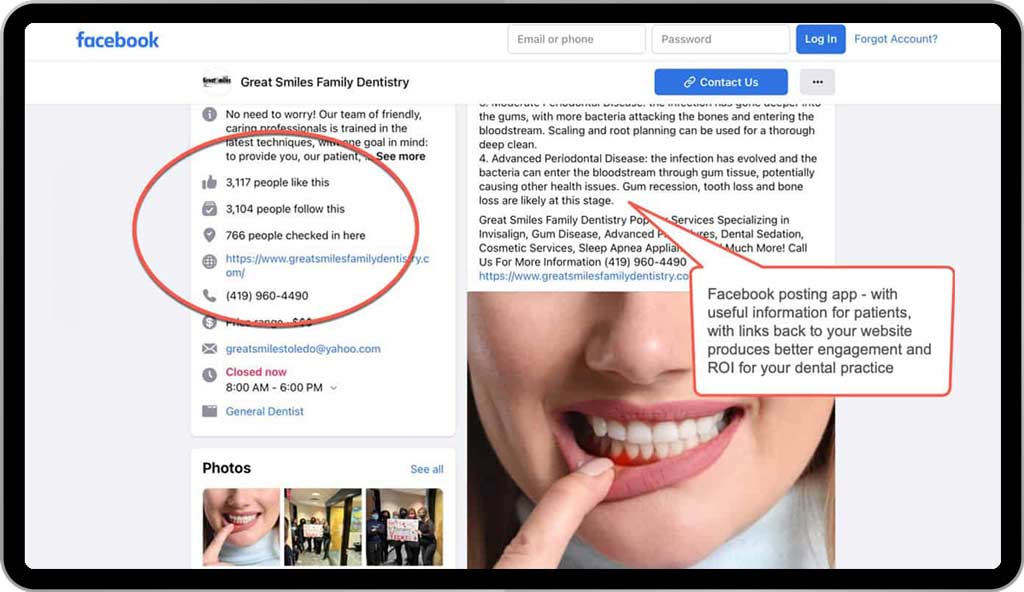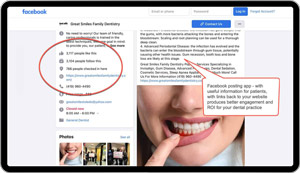 Question No 5. Is the medical website design includes laser focus on Medical SEO optimization?
92 Percentage of patients search for your medical services online. When they search, they either type or speak "search words" – Like "TMJ Doctor Near Me". If your website shows up in the top results, this is called "High SEO". This results in more patients, higher revenue and hence higher ROI. If your website is not in the first page of search results, you are not likely to get any patients looking at your website, and hence "finding" you. This is called "Low SEO".
A search engine wants to provide the most relevant information to a user. If someone is asking, "What is a dentist?" Google will present to them a simple paragraph describing this person, that might be more than enough to satisfy a user. Zero Click searches are more common on mobile devices and are very common in voice searches. Since voice search is becoming more and more important, optimizing your website to be in the Zero Position for this search result is vital. Often with voice searches, a user will not review additional results but just listen to the first thing a search engine spits back to the user.