Expert Marketing for GI (Gastroenterology) Medical Practices Cost $799/mon to $1299/mon
Like all medical practices, a gastroenterology medical practice needs an effective medical marketing plan in place to be successful. There are approximately 14,000 practicing GI doctors in USA. In addition there are approximately 2490 pediatric gastro specialists. Many of them have their own practice and they need a simple to use patient acquisition marketing system, this solution is available for $799 to$1299 per month.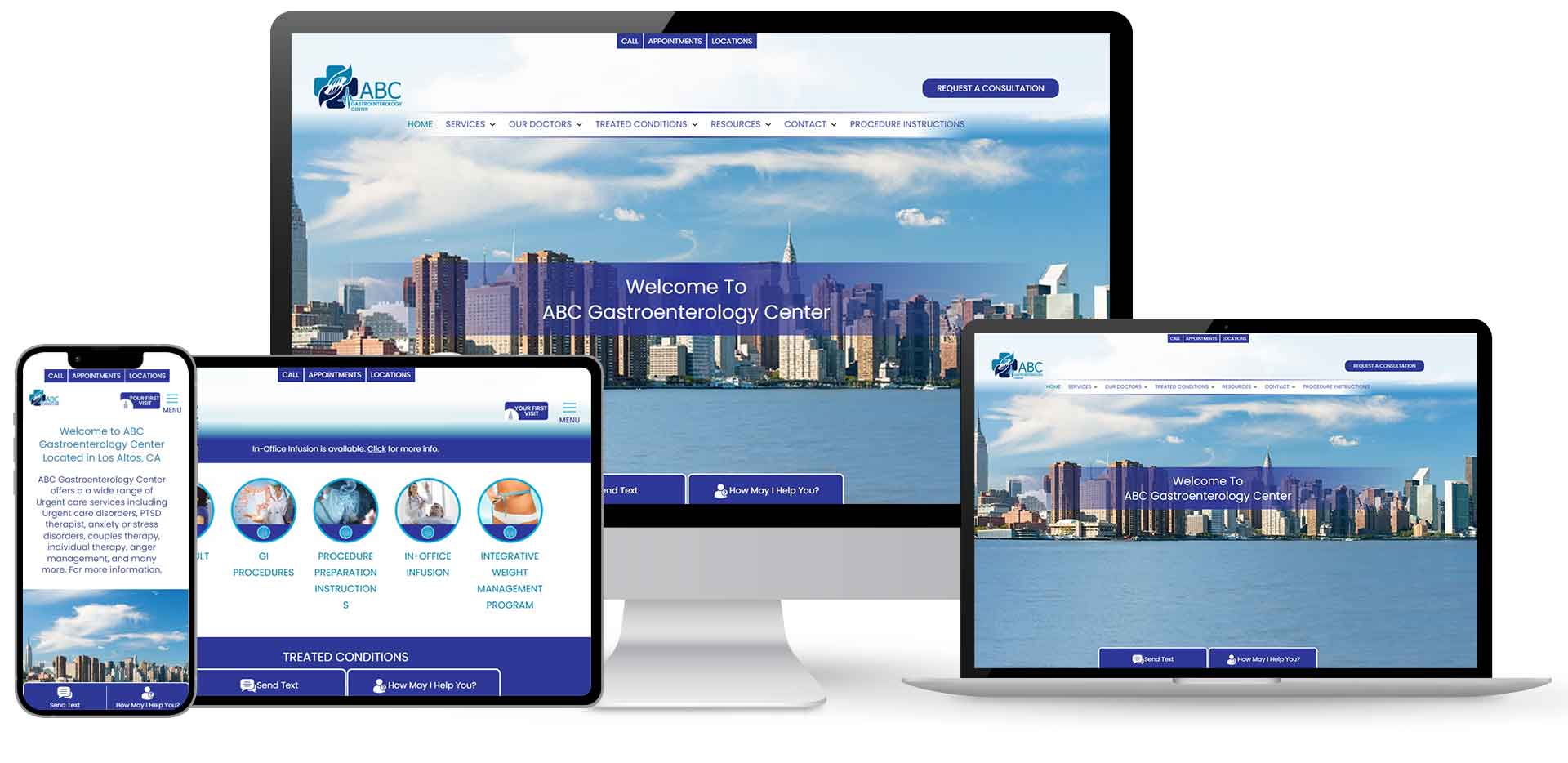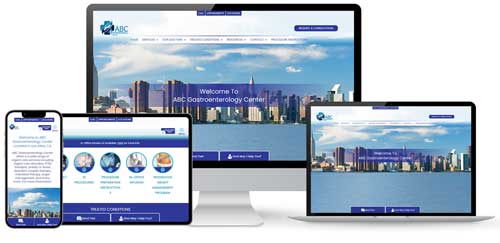 Effective gastroenterology digital marketing for GI (gastrointestinal) doctors and practices focuses on finding, attracting, engaging, and converting prospective GI patients. These channels include search engines, digital advertising, social media, review sites, email marketing, and using engagement and conversion apps like medical ChatBots, 2-Ways texting with a potential patient while they are still on your website.
Gastroenterology is an area of medicine that helps those with conditions with their digestive system. The doctors who work in a gastroenterology medical practice are known as gastroenterologists. This specialty in internal medicine helps those with diseases in the digestive system and gastrointestinal tract and the function of the gastrointestinal organs in those systems. Gastroenterology also helps those having issues with the movement of materials through the stomach and intestines, as well as the digestion and absorption of nutrients from food. It also helps with the removal of waste from the body as well as any problems with the liver.
Table of Contents:
Question No 1: What does a gastroenterologist do for a patient?
Question No 2: Why your services are important for marketing your gastroenterology medical practice practice?
Question No 3: How can content marketing help a gastroenterology medical practice get more patients?
Question No 4: Should a gastroenterology medical practice post the bios of its gastroenterologists and staff on its website?
Question No 5: How can SEO or search engine optimization help a gastroenterology medical practice get more patients?
Question No 6: Are any traditional or offline marketing methods still effective for gastroenterology medical practices?
Question No 7: How can digital intake forms help a gastroenterology medical practice?
Question No 1: What does a gastroenterologist do for a patient?


This is the foundation of your marketing. Understand the patient needs. For example, It is estimated that 63 million Americans suffer from acid reflux disease. This is just one condition that a gastroenterologist treats.

A doctor who is a gastroenterologist specializes in conditions and diseases that impact digestive organs and structures in the digestive system. Some parts of the body they can help treat include:

• esophagus, or food pipe
• stomach
• small intestine
• colon
• rectum
• pancreas
• gallbladder
• bile ducts
• liver

A gastroenterologist generally needs six years of study as an internal medicine doctor and additional training focusing on the digestive system. Once a doctor is certified as a gastroenterologist, they often work closely with other doctors and general medical practitioners. They also work with other specialists who help them diagnose medical issues. Some of the other specialists they work with include:

• Radiologists – Specializing in imaging
• Oncologists – Specializing in treating cancer.
• Hepatologist – Specializing in the liver.  

Question No 2: Why your services are important for marketing your gastroenterology medical practice practice?


Ask this question : When would a potential patient see a doctor at a gastroenterology medical practice?  So as a practice, you would need to have many pages dedicated to your services.

While general practice doctors can undoubtedly help patients with everyday issues in the digestive system, sometimes a specialist is needed for severe or persistent problems they can not treat. A primary care doctor may end up referring patients to a gastroenterologist if they have severe issues with:

• Stomach Pain
• Heartburn
• Diarrhea
• Difficulty Swallowing
• Jaundice
• Constipation
• Vomiting
• Nausea 

Some conditions treated at a gastroenterology medical practice include:

• Hepatitis 
• Pancreatitis
• Colon Polyps
• Colon Cancer
• Celiac Disease
• Gallbladder disease
• GERD – Gastroesophageal reflux/heartburn
• IBS – Irritable bowel syndrome

Question No 3: How can content marketing help a gastroenterology medical practice get more patients?  


Search engines love a website that has plenty of content. The more content a website has, the more relevant and authoritative it looks to a search engine. Even with that in mind, the content of a gastroenterology medical practice must have some substance. Adding content fluff to make a page longer will not help the organic ranking of a medical practice and may hurt it. The content on there also needs to be original and unique. Simply cutting and pasting from another website will, again, harm the organic ranking of the site. Another benefit for having pages with on topic, educational content is that it will keep a potential patient more engaged. A page with specific questions and answers about your treatment will provide a potential patient trust that you care and want to share basic treatment information. Search engines also provide higher rankings to pages that contain useful information about the subject. But the information cannot be copied and pasted from another site. Content must be written specifically for your website and for specific pages and topics.

Content marketing is not a marketing tactic completed once and left alone. This strategy is a continual process that requires constant attention from a gastroenterology practice. A medical practice should continually update, revise, or add content to its website. A search engine likes to see a site that is kept up to date, and if it is constantly making updates, it will know that site as being more relevant and authoritative. Do not make the mistake of updating all content on a site at once and then left alone. We recommend that fresh new content should be added and updated every month.

It would be wise for a practice to create a list of every page on a site and the last time that page was reviewed. Every month, someone at a gastroenterology practice should review the content on a few pages and make updates as needed. If a website gets to the point where there are barely any page updates needed, try writing a monthly blog for it. This unique, authoritative content will work well for a search engine and give some good content for other marketing campaigns such as a social media posts or email marketing campaigns. 

Question No 4: Should a gastroenterology medical practice post the bios of its gastroenterologists and staff on its website?


Some gastroenterology medical practices are hesitant about posting information about their providers on their websites. They fear competitors will swoop in and steal their best doctors and staff. This concern, while reasonable, should not prevent a practice from posting these bios. The benefits greatly outweigh the possible danger of them leaving the practice for another job. With today's social media and professional networks, it is not very difficult to track down a doctor's contact information, and a doctor may be actively trying to advance their career. If they are already looking for a new position, it does not make a difference if their bio is on a site.

Adding employees' bios to a gastroenterology medical practice's website has several benefits. First, it will let potential and current patients see who is treating them. Putting a name with a face will help make that connection and build brand loyalty. Likely, patients will also often do some initial research on a medical practice before making that first appointment. A well-written staff bio page showing various qualifications, certifications, and even reviews from past patients will help make that conversation. Finally, provider and staff bios make the content on a site unique, authoritative, and relevant. These bios will help any content marketing strategy and help boost organic rankings.  

A gastroenterology practice needs to update its page with provider and staff bios when needed. Suppose someone leaves the practice. That bio needs to be removed quickly. If a new provider or staff member joins the practice, that bio should be updated as soon as possible. It will look unprofessional for a gastroenterology medical practice if their bio page is filled with staff and providers that no longer work there. For those that continue to provide services, it is also essential to keep their bios up to date with new career milestones, updates from their personal lives, and links to any news articles where they are featured.  

Some details bios should include are:

• Where they received their medical education
• Years practicing medicine
• Certifications 
• Any recognitions or rewards from professional societies
• Any hobbies or significant life event updates

Question No 5: How can SEO or search engine optimization help a gastroenterology medical practice get more patients?  


Many patients with digestive system problems will likely begin their search for care by entering keywords into a search engine. The keywords are probably related to symptoms or possible conditions they think they could be suffering from. When a patient begins their search, it is unlikely they will start searching by the name of a gastroenterology practice in a search engine. Search engines like Google will return billions of results on billions of pages, and most potential patients will not look past the first page. With that in mind, a practice needs to build its organic rankings to appear on the first page of results and, if possible, in the top three returned results. Search engine optimization can help achieve that goal.

SEO is the process of inserting keywords throughout the content of a website. These keywords will be the exact keywords the target audience of a gastroenterology medical practice will use when seeking care. They need to be spread out across the entire website and need to be relevant to the page. For example, keywords related to heartburn should not be on colon cancer pages. Also, keywords can not be stuffed into every sentence or paragraph. "Keyword Stuffing" is a "black hat" SEO tactic that search engines forbid and can lead to organic penalties being applied to a site.  

Finally, when selecting target keywords for SEO work, a gastroenterology practice can get quite a boost by using short and long-tail keywords. Short-tail keywords are three words or less, cover broad topics, drive high web traffic to a site, and have low conversion rates. Long-tail keywords are four words or more, focus on narrow or unique topics, drive lower amounts of traffic to a site, and have higher conversion rates. Long-tail keywords also focus on voice searches done from smart speakers and personal digital assistants. Both types of keywords working together can help the organic ranking of a gastroenterology website. However, remember that these improvements often take months, and a practice will not see many differences overnight.  

Question No 6: Are any traditional or offline marketing methods still effective for gastroenterology medical practices?  


The most significant drawback with traditional advertising is that less targeting is available than digital marketing methods. Advertising on TV, Radio, or in regional newspapers is expensive and will advertise to a large audience of which many may not be interested in the services available. However, direct mail marketing allows a practice to focus its marketing efforts on specific households, neighborhoods, communities, and even mail routes. This kind of targeting can be very effective if used correctly and combined with a digital element.  

While decreased mail volume means whatever is sent to an address will have less to compete with, the mailing piece still needs to get the attention of whoever checks the mail. Otherwise, that mailing piece will end up in the recycling bin. A practice should experiment with paper texture, size, color, and call to action messages on mailing pieces until it finds a combination that works best for them. Every mailing piece should have the following:

• Name of the gastroenterology medical practice
• Hours of operation
• Phone numbers
• Address, including any suite or office numbers
• Site URL

Question No 7: How can digital intake forms help a gastroenterology medical practice?


Intake forms are one of the most annoying aspects of visiting a new doctor. For patients, they often must arrive at least 15 minutes early to fill out the information they have filled out countless times before. The front desk staff will need to copy over what this new patient has submitted into their patient database. For both, it can take longer than it needs to take. Mistakes and delays can also happen if the staff can not read the handwriting of the new patient. Digital intake forms can help ease the burden on both staff and patients.

One of the most significant advantages of digital intake forms is that the patient does not need to enter the waiting room to fill them out physically. Forms can be completed at home before an appointment on a computer on their phone while waiting in a parking lot. All they need to do for staff is confirm the information, make sure no essential fields are left blank, and then upload it to the patient's digital file. This saves time for everyone involved with the process. 
 
Digital intake forms, however, must be encrypted, and information sent to a practice must be made over a secure connection to be HIPAA compliant. All data sent to the practice must be stored on HIPAA compliant servers and protected. Many patient management systems have these protections in place, but a practice must ensure that its website is secure with an SSL connection before any data can be submitted through a portal.  

Tracking the effectiveness of a direct mail marking piece can be tricky. One way to do it is to include a coupon or discount code that people can use online or bring in at the time of their appointment. When that is not practical, a gastroenterology practice can either set up a landing page URL that can be easily typed in from the mailing piece or monitor direct traffic on analytics for any visitor spikes. 
 
The experts at PatientGain.com have years of experience creating and executing an effective medical marketing plan for medical practices. We have helped many gastroenterology medical practices meet their goals and grow their business. The experts at PatientGain.com are available to help you create a high-performance healthcare website for your gastroenterology medical practice. Contact us today, and let us show you what we have done for other practices across the country!