Podiatry Marketing Plan – Used By Top Clinics $699/mon
Expert Podiatry Marketing = GOLD Service Includes 20 Apps With Focus On Conversion and High SEO Website For Podiatrists & Foot and Ankle Doctors
Congratulations, you have successfully opened a Podiatry Practice! Now, the hard part is starting: Marketing your clinic to your target audience in your community. You should not expect patients just to walk, hop, limp, or hobble off the street and into your waiting room for foot, leg, or lower extremity treatments.
You will need to market your podiatry clinic in your area to start to build your patient count. Below are some areas if your medical marketing plan you should focus on to get off to a good start.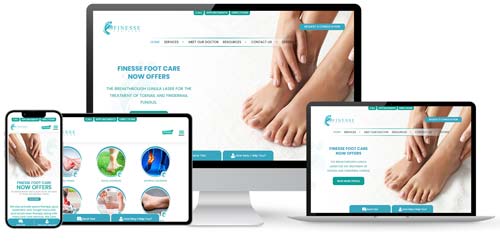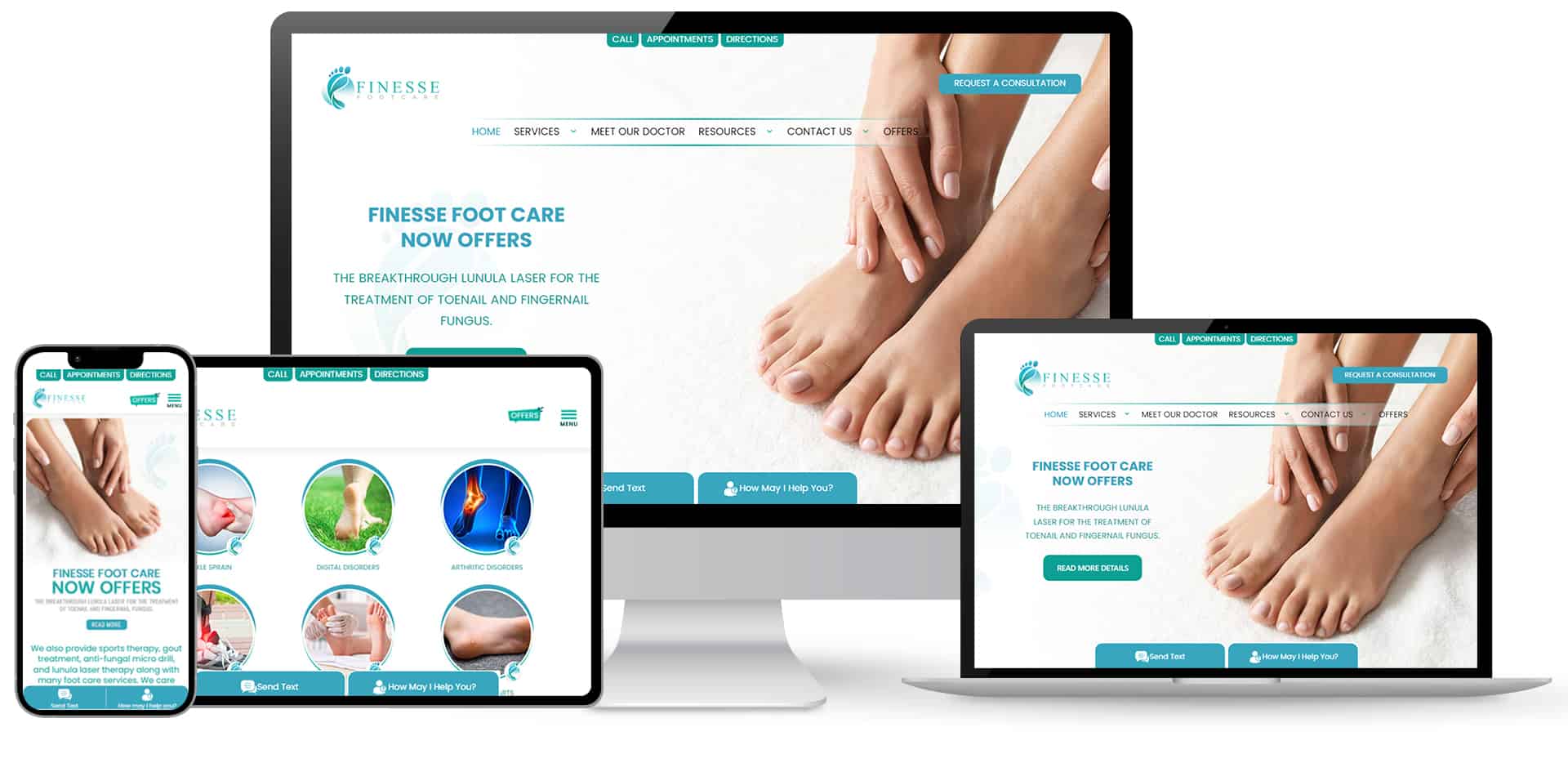 1. Local SEO
Once you have an established location with a physical address and a website, you need to get listed in local directories. This is known as Local SEO or Local Search Engine Optimization. These local directories feed into the most popular mapping apps people use today, including Google Maps, Apple Maps, Bing Maps, and Waze. Many search engines will provide local "Map Results" when people search online. A healthy portion of all search users will first explore map results before moving on to organic or paid results. You may not even have a chance to present your website to your target audience! Getting on these mapping apps is a priority, and the only way to do it is to be listed in directories. Make sure you have created or claimed a listing on:
• Google
• Yelp
• Bing
• Facebook
• Foursquare
Ensure all of the information on there is accurate, matches your other listings, and matches your website. Different phone numbers, addresses, and hours of operation in several locations will hurt your overall search ranking. These directories are also where your reviews will live and be displayed. Once claimed, you can respond to reviews as needed. Some directories allow you to provide updates directly to those viewing your profile, informing patients of upcoming special dates or sales.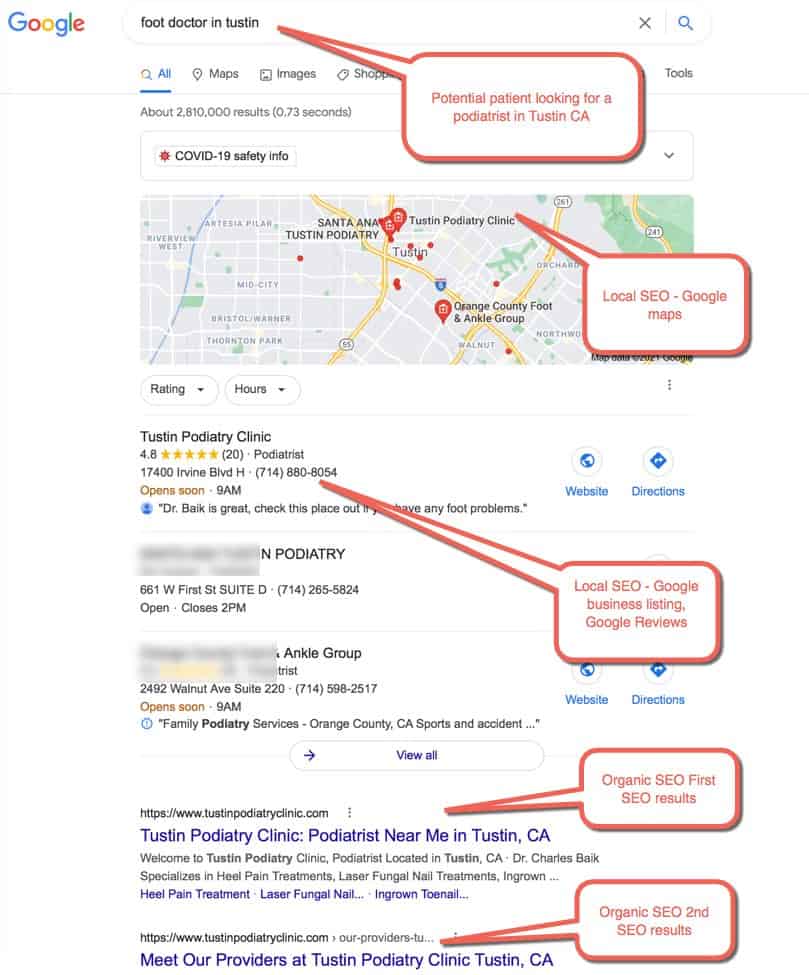 2. Website SEO
Applying search engine optimization (SEO) to your podiatrist website is a must if you want your foot and ankle clinic to succeed. In a nutshell, applying SEO strategies to your website helps search engines better understand what your site is about and helps make it more relevant to the target keywords your target audience uses. That may sound confusing and like an impossible challenge, but it only takes dedication and time to succeed. First, you need to identify the words your podiatry patients use when searching for foot care. Keep in mind that these words may not be medical terms and may be common symptoms of conditions and injuries. Sprinkle these words throughout the content of your podiatry clinic's website to help search engines understand you are the best choice for their users.
SEO work on your website is not a one and done situation. You need to keep up on what terms and phrases are being used by those seeking a Podiatrist. They may change over time, and as they change, so should your website.
3. Email Marketing
Email marketing should be part of every podiatry marketing plan. Many people prefer their communication by email, and an email address is one of the things your patients will likely write down on their registration form. The emails you sent out to your patients need to be well written, useful, informative, and engaging. Do not send out a list of your hours of operation every week or remind people that you can treat their foot injuries. If they are in your patient database, they are going to be aware of this. Instead, email them about any new services you offer, upcoming promos, or health news about feet. An email like this will be engaging to your patients and not be immediately deleted, followed by an unsubscribed request.
4. Content Marketing
Content marketing is an incredibly effective way to boost your organic rankings. While it takes time to see results, it is very cost-effective. Content marketing is the process of updating, adding, or expanding the content on your website. This must be a continuous process and not a "one and done" strategy. Updating, adding, and expanding content shows a search engine that your website is up to date and strives to remain current. The more unique content you have on your site, the more authoritative you will appear. If a patient spends 5 minutes on your website reading content about podiatry services vs. 30 seconds on a competitor's website, your site will look more relevant and authoritative. Engaging in content marketing will help your rankings immensely over time and is worth putting resources into it.
5. Direct Mail Marketing
This traditional marketing tactic is coming back! Mail volume has decreased over the years, meaning your mailer will have to compete with less mail then it would have in the past. Unlike mobile search ads, which might target someone just passing through the area, your direct mail marketing campaign is targeting actual houses within a certain distance of your location. Put time and design effort into your mailer, so it stands out among the rest. Use bold colors, text, and even an unusual shape to make it stick out in a pile of mail. Ideally, you want a current or potential patient to save whatever you mail them and pin it on their fridge or bulletin board. If they do, you'll be advertising to everyone in that house every day of the week! Some podiatry clinics send out promotional items like magnets or calendars. These items work best if they do not have a marketing message that will be out of date in a few weeks or months, but rather a simple line of contact information for people to call and reminder of services.
6. Community Events
Community events often have a lot of people walking around. These gathers are perfect to set up a table for your podiatry clinic! Staff your stand with knowledgeable, friendly employees, and stock plenty of brochures and promotional items for people to take home. If practical, offer a free foot screening by one of your providers. A quick examination with some suggestions on foot care and encouragement to make an appointment could result in some new patients. When you offer a screening or cursory examination, be sure your provider writes down notes on a card for a potential patient to take home. The card should have your complete contact information and any notes for them to review.
Marketing a podiatry clinic can be tricky, as it may not be an area as well known as others, like a pediatric medical clinic. However, the principals for the successful promotion of this business are clear. PatientGain.com has helped many clients, including other podiatrists, market their clinics over the years. Call today and let our experts show you what we can do for you. We apply the strategies mentioned above and more when we begin working for our clients!