8 Good Medical Advertising Examples
Medical Advertisement is More Than Putting a Sign-out Front Saying, "Accepting New Patients"
As the owner of a medical practice, practice manager or and administrator of marketing for a hospital, you need to advertise your healthcare facility to maintain and build your patient count. Medical advertisement is more than putting a sign-out front saying, "The Doctor Is In." While this may work in the movies, a bit more effort must be made by a business owner in the highly competitive world of healthcare to achieve the results they want. Below are eight examples (Five online and three offline) of good medical advertising and how it could apply to your medical practice. Some medical practices use all eight while others may pick and choose what works best for them. Key question asked by practice managers is, is medical advertising worth it? Is there any real data available that shows an increase in new new patients? Answer is YES. We can show you hundreds of customers.
Most Doctors Ask Us: What is the purpose of digital ads?
The purpose of a digital advertising is to draw more relevant and targeted patients to your website. However, if your website is not designed for conversion and the web pages are slow to load, you will get mediocre results. This page outlines the entire process of patient acquisition. So even if your advertising campaign is performing (ads can be on social media, Google PPC ads, or other mediums), but your website pages are not designed for "conversion" or do not have relevant information, lack content, lack good reviews, lack conversion tracking, lack ability to capture leads from mobile users/patients (majority of users/patients are mobile), you will still not get high ROI from digital advertising for your medical or dental practice.
Example of a digital ad for a dental practice promoting dental implants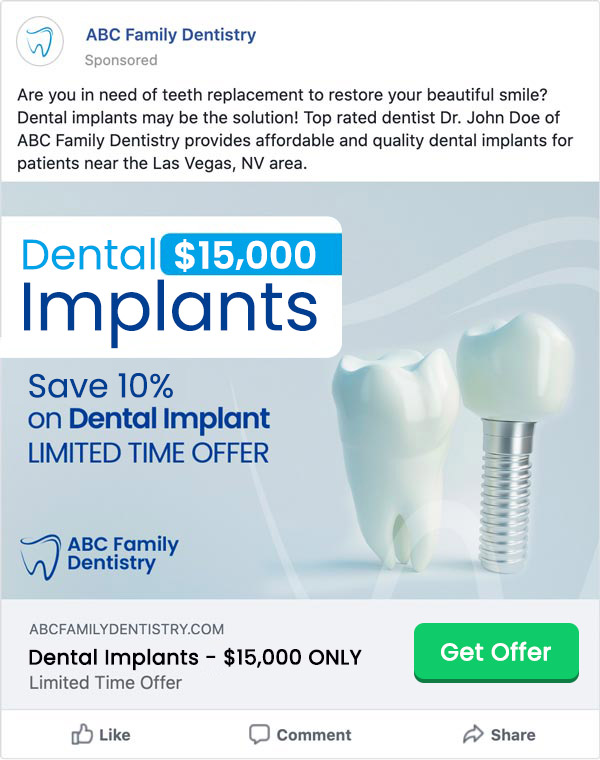 Example of a digital ad for an aesthetics practice promoting microneedling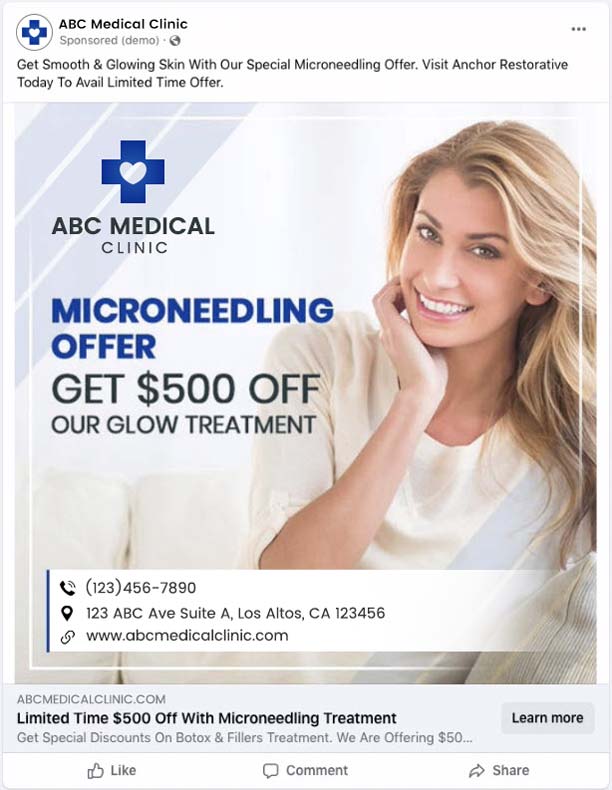 Example of a digital ad for a medical weight loss practice promoting semaglutide for weight loss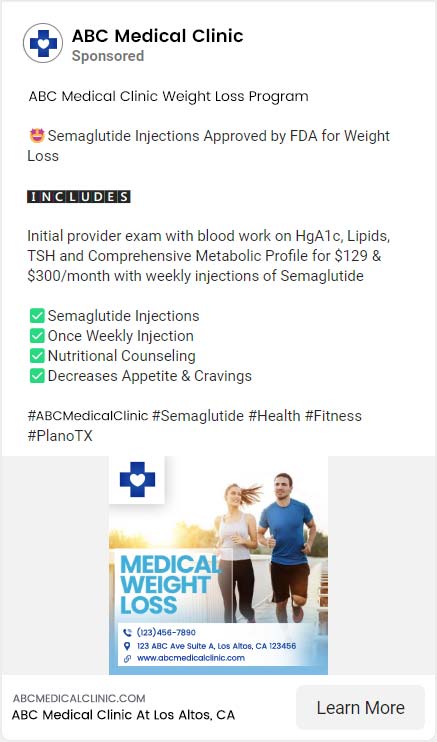 If you are medical practice, hospital, or a chain of medical practice or dental practices, this is a very good page to read an understand how Practice Marketing Platform by PatientGain.com allows you replace 5 to 8 vendors with a single proven high performance digital marketing platform with awesome support.
PatientGain Healthcare Marketing Services and Prices. Starting From $299/mon. Typical Pricing is $500/mon to $1299/mon For Services and Apps. All of our apps include service and automation.
Very good example of an ad used during COVID-19 crisis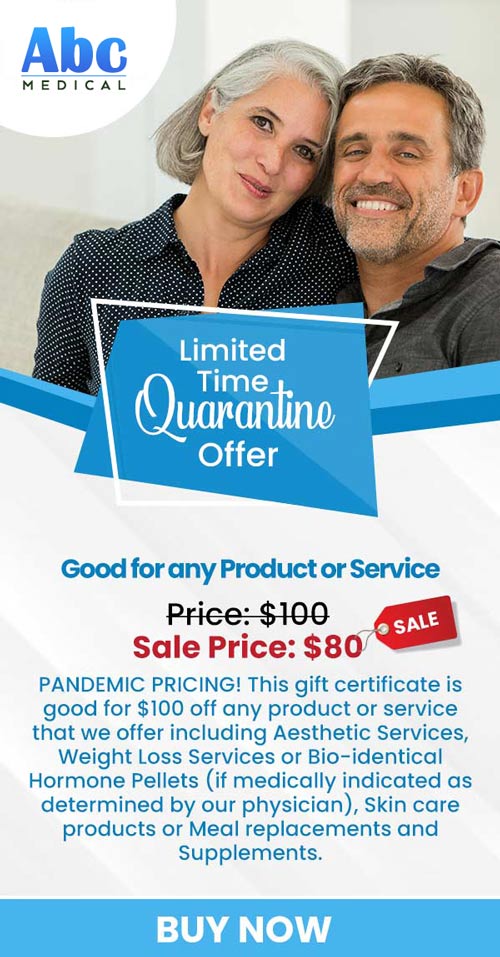 First divide your advertising into
A. Online advertising and
B. Offline advertising
Online Advertising
1. Google Ads
Google search ads, also known as PPC ads, are going to be a great source of potential patients to your medical practice. When people are searching for medical solutions online, they want answers right now. A PPC ad allows you to bid to place your medical advertisement in front of those potential patients as possible solutions to their needs. PPC ads are great when your medical website does not quite have the organic ranking for your target keywords. Even if you do have a high organic ranking, a PPC ad is just another chance to get out in front of your eyes twice.
A good Google AdWords marketing campaign has multiple campaigns focusing on specific topics, with particular keywords and specific ad copy written for it. So instead of having one colossal campaign advertising all of the services you offer and your medical practice in general, each one should have its campaign. For example, a "Vaccines for School" campaign focusing on immunizations should have keywords and ads specifically focused on that topic. A separate campaign should be put together for "School Physicals" with its own set of keywords and ad copy. Finally, a great Google AdWords campaign will limit where its ads are shown. While you may want to show ads in a 20-mile radius around your clinic, make sure that makes sense for you. For example, if your business is near a state border, those who live across that state line may not be able to use their insurance at your clinic, making your ads useless. Learn more about Google ads for doctors here.
2. Google SEO
SEO, or search engine optimization, is one of the most cost-effective ways to advertise your medical business. However, unlike a PPC ad, the results from good SEO work take time to show. You should not expect amazing overnight results where you are suddenly number one in organic search results. Google SEO work involves changes to your website so that the Google Search Engine can better understand what your medical practice has to offer so it can present it as a relevant result to a potential patient searching for a solution. Better SEO means higher organic results, so you do not have to pay for ads. Medical SEO is complex and takes time. It costs money, time and expertise in 3 areas 1) detailed knowledge of your medical services, procedure 2) content writing skills 3) deep technical and non technical knowledge about SEO algorithms, best practices and conversion techniques.
Good Google SEO will select the best keywords patients who need your services use when looking for a provider or researching a condition you treat at your business. These keywords are naturally spread throughout the content of your website. If you attempt "keyword packing" or stuffing as many keywords as possible into your content, search engines are advanced enough today to detect that and penalize your website. Finally, good Google SEO will include both broad keywords and phrases that could apply to several businesses in you are as well as unique keywords and phrases that would only apply to your location. Learn more about Medical SEO here.
3. Mobile Ads
Mobile Ads are advertisements that appear on your smartphone or other mobile devices. In some cases, these are search engine ads, like Google PPC ads that appear in search results when people are using Google on their phones. Mobile ads often must be written a little differently with a great call to action statement to boost conversions. Someone searching for a medical solution on their phone has an even higher chance of converting compared to someone using a desktop computer. An excellent mobile medical advertisement features a "Click to call" or "Click for directions" feature that will instantly connect them to the front desk or show how far away they are from your medical practice. These kinds of ads result in very high conversions for medical practices.
Another mobile ad you should consider is advertising on gaming apps that are often installed on phones. Granted, the click-through rate for these ads is very low. However, spreading brand awareness during flu season on the #1 played game in your area may be a good use of your marketing money. Good display ads are simple, catch the eye, and gives a strong call to action message.
4. Facebook Ads
Facebook Ads, while having less of a reach than Google Ads, are built on a very powerful ad platform. You can limit your ads by radius or location, like Google AdWords, but you can also refine your ad reach even further. You can select certain ages, gender, interests, and other likes to target specific people in the Facebook community. You can also choose the goals of your ad, such as getting someone to message your page, collecting contact information, sending people to your website, or boosting the reach of your post.
An excellent Facebook ad will have great ad copy, a compelling picture (or multiple pictures) or video, and a call to action for a patient. Behind the scenes, the ad will have a clearly defined target audience, geographic location, and, if possible, targeting interests that are relevant to the medical advertisement. Facebook gives you an indication if your target audience is too narrow or too broad. A good Facebook ad will be neither of these. Learn more about Facebook advertising and marketing here.
5. Instagram Ads
While Facebook owns Instagram, it, too, has its ad platform for you to advertise from through its app. While it does not give you as many options for refinement as Facebook does, you still can reach a significant number of people in your area by selecting where you want your ad to appear.
A good Instagram medical advertisement must have a great photo or video. Either one must have a clear message about your medical practice and a call to action. Explore the posts of other medical competitors in your area and look at their Instagram accounts, if they have one. Try to design a photo, graphic, or video that makes you stand out from the rest.
Facebook & Instagram advertising can be very effective, just like Google search advertising. However, depending on type of medical or dental service you are promoting, the ROI (Return On Investment) is different. For example if you own a medical spa and you want new clients for CoolSculpting, you can see a good ROI by running a campaign on Facebook and/or Instagram or other social media platforms. However for a surgeon, podiatrist, family practice etc, the conversion will be very low. So what is conversion? Conversion means how many patients actually take an action to contact you, book an appointment, buy something from your website, add to a shopping cart, download a white-paper, click to dial, send a text/SMS, register for a patient portal account.
Offline Advertising
6. Direct Mail
Direct mail may seem like it is out of date, but for brand awareness, it can be advantageous. Through the United States Post Office, you can create a campaign that ensures every single house in a neighborhood or area gets your mailing material. You also save money by being charged a "bulk" rate instead of stamping and sending things out yourself. (Which you can do for small mailings, like birthday cards, but large mailings, direct mail is better.) Through the United States Post Office, you'll be able, in many cases, to even select which neighborhoods get your mailing.
People get a lot of junk mail every day, so you need to make sure your marketing material stands out. A good piece of direct mail will stick out from the rest of the mail a person gets to their house. If you are sending a postcard, chose an engaging picture, or send a cut out of a doctor to get someone's attention. A simple postcard with your name and address on it with a list of services will end up in recycling. A postcard with a picture of your staff, a clinic mascot, and a list of services may end up on the fridge. Think about the kind of unsolicited mail you throw away and the mail you keep. Use that as a rough guide in your marketing material decisions.
7. Community Events
Your community likely has events throughout the year during every season. These events are great opportunities to meet new people and expose them to your medical practice. For a reasonable fee, you can rent out a "booth" or "table" and set up information to hand out at an event. You should be represented by knowledgeable and friendly staff members that do not mind meeting and greeting random people. This is an opportunity to show the personality of your medical practice and leave a good impression with your community.
Medical practices that do a good job at community events will offer free screenings for anyone who stops by their booth or table. These screenings are often simple things like vision, hearing, or blood pressure. The results of that free screening are written down for that person to take home with them on a card. That card will also have all of the contact information they need to get in touch with your clinic for a follow-up.
8. Business Organizations
Joining a business organization is a great way to promote your medical practice amongst other businesses in the area. Many medical practices will join a local or regional Chamber of Commerce for networking opportunities and access to specialized resources. This organization's goal is to facilitate the success of businesses in the area and help them connect with each other—an excellent approach to joining a business organization to see which one would most benefit your healthcare business. You do not need to become a member of every single business organization or club, but instead, join only ones that will help you and that have meetings you can attend. Also, if an opportunity arises for you to present at one of these meetings, take it so you can show off your expertise.
Medical advertising is a must for the healthcare business. Embrace some or all of these great examples above, and you will surely be able to grow your business! Learn how much your competitors spend on advertising here. This is a good page for medical marketing for doctors ROI (Return On Investment)
Examples of medical advertising
Medical Spa Advertising Example : Kybella for the fellas – Father's day ad.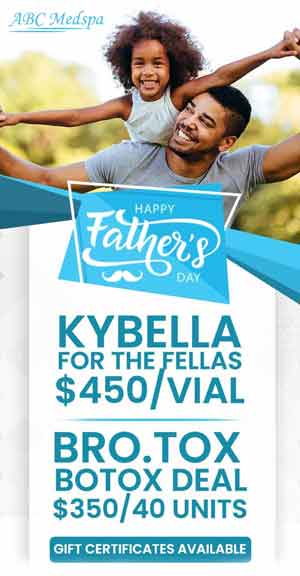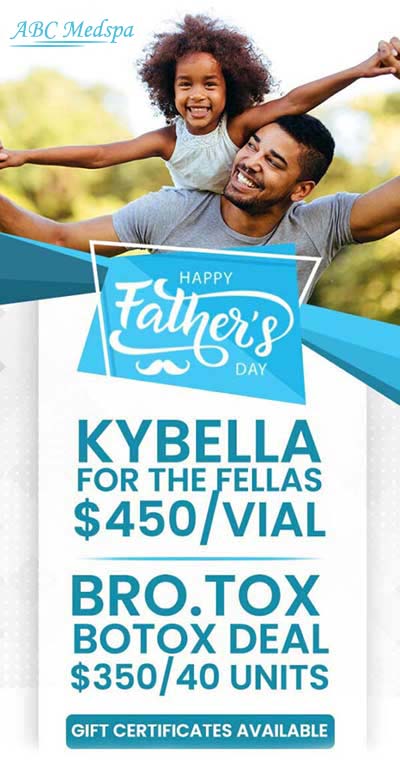 Medical Weight Loss Advertising Example : Facebook ad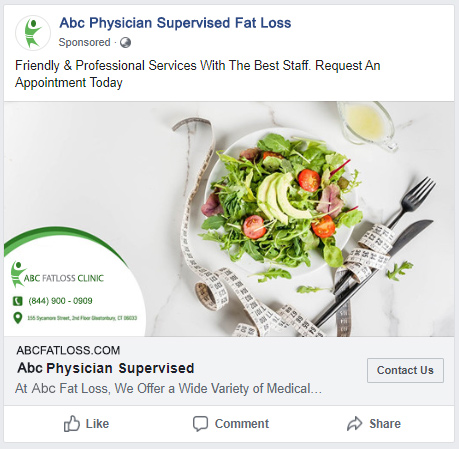 Medical Weight Loss Advertising Example : Instagram ad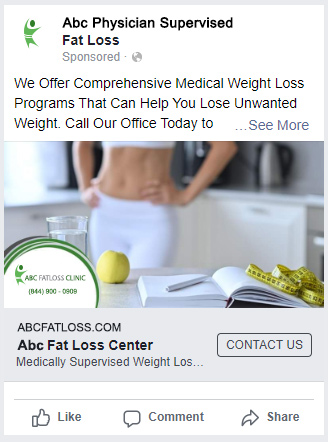 Google Pay Per Click (PPC) Advertising Example : Medical spa ad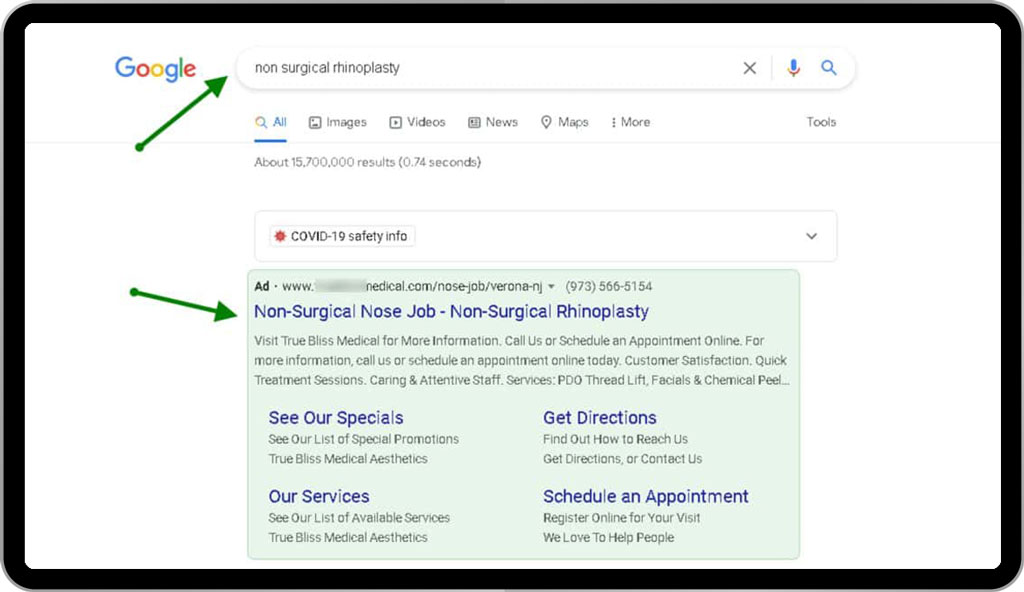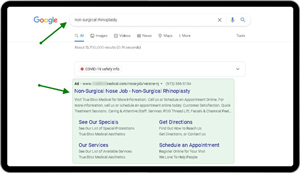 Is online advertising for doctors worth it?
Yes, we consistently see good results from your investments in online campaigns. For example an urgent care increased new patients by 63% by using PPC ads on Google. A Medspa focused on specific aesthetic services increased new client inquiries from our Facebook and Instagram advertising campaign by over 119 % and actual new patients by 28%. Key issue with online ads is who runs and manages your campaign, what type of tracking is used and is the company managing your campaign professional company focused on improving your results. For example, PatientGain's advertising staff have not one but typically three certifications, and their entire focus is to improve campaigns. They are not generalists. They breathe, drink and eat online advertising. In addition, they have the most effective leads tracking system available, hence the campaigns can be improved based on real conversion data.