Podiatry Marketing $799/mon Used By Top Podiatrists
Marketing for podiatrists & podiatric surgeons does not have to be difficult. There are more than 16,200 podiatrists in the US & Canada. They all need a simple to implement online marketing plan. PatientGain's GOLD service costs $799/month and offers very good ROI for podiatrists.
Like all healthcare businesses, Podiatrists and Podiatric Surgeons need a high-quality medical marketing plan to succeed. Healthcare is more competitive today than ever before, and it is unlikely for these doctors to operate in an environment where there is no competition. The experts at PatientGain.com are standing by and ready to help develop a great marketing plan for Podiatrists and Podiatric Surgeons. Below are some great marketing techniques that we have used for our other clients in this field of medicine
How to gain new patients for podiatrists – 12 Step process
Step 1: Improve your podiatrist website
Start with a website designed for 1) high conversion 2) high SEO (Search engine optimization) 3) must be mobile optimized 4) should be pretty, attractive and convey your brand 5) It should have good quality content. Your website is the most important part of your business, it represents you to the local community, your preferred providers, and your patients. Learn more about how podiatrist websites are created and HIPAA plays into your website.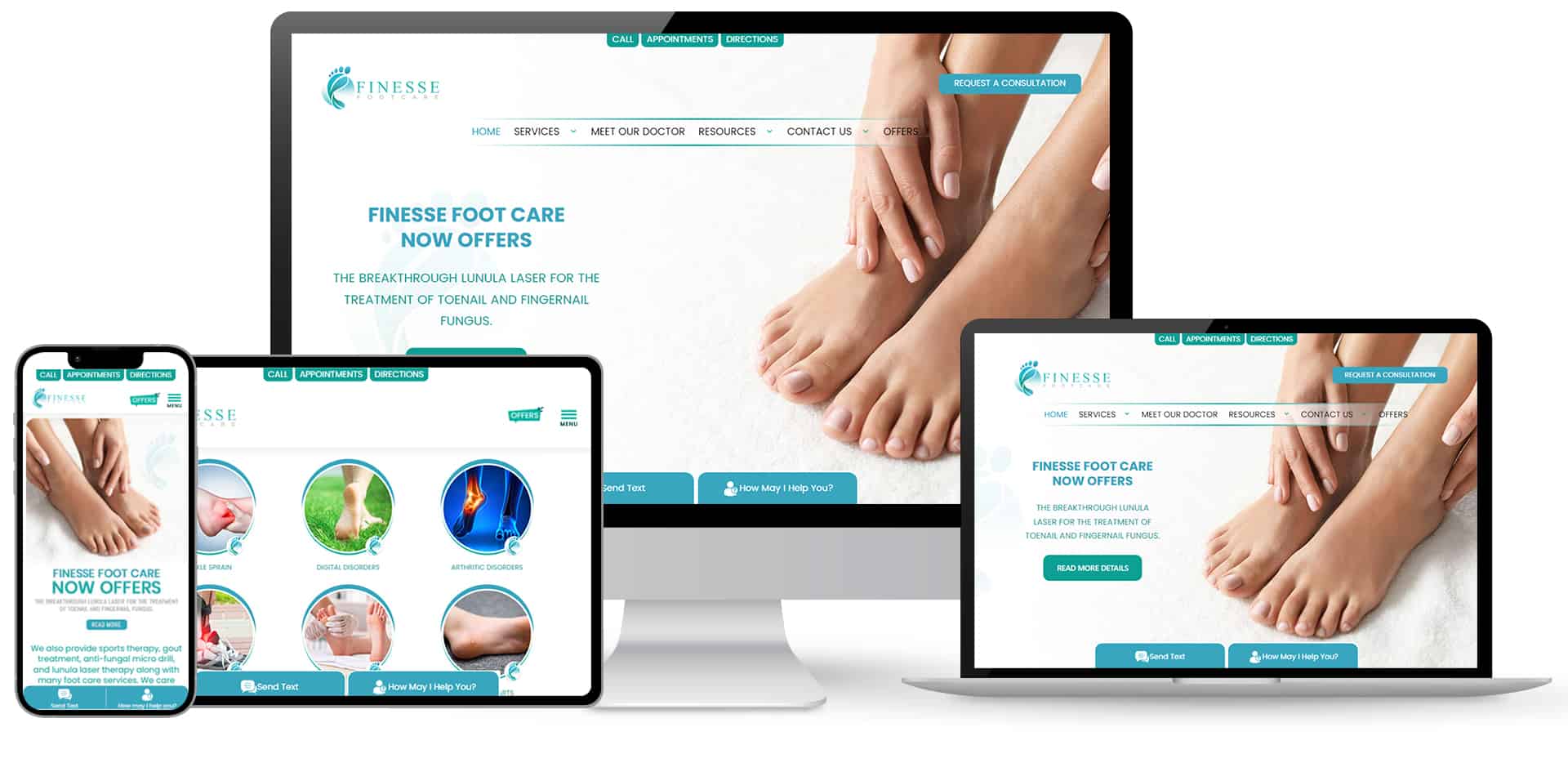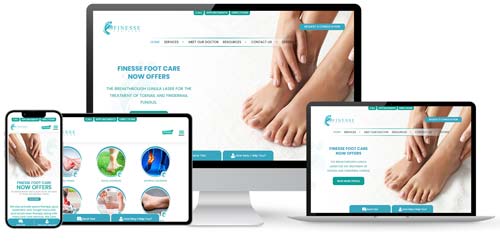 Step 2: SEO (Search engine optimization)
There are 3 important parts of the SEO for podiatrists 1) Local SEO 2) Organic SEO 3) Technical SEO. All three of them are important. You cannot skip or ignore any of them. Learn more about local SEO and how it works.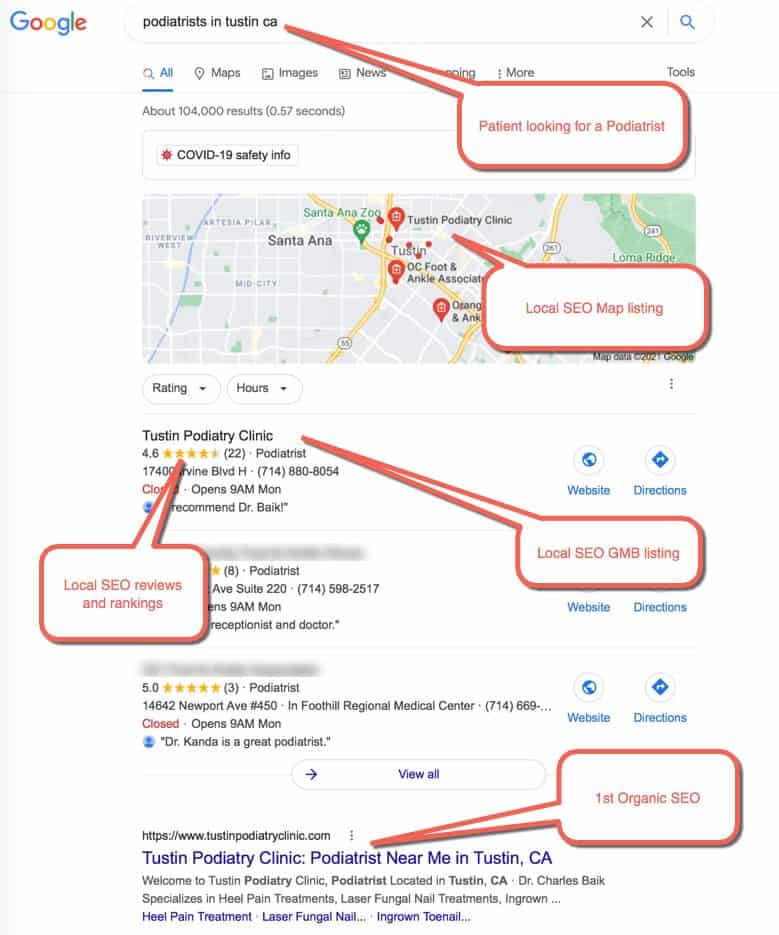 How can local SEO help Podiatrists and Podiatric Surgeons market their practice?
Local SEO, or local Search Engine Optimization, can play a tremendous role in marketing Podiatrists and Podiatric Surgeons. Local SEO impacts whether or not a business will show up in the map results on a search results page. When looking for a business, search results generally display three kinds of results: Paid results, map results, and organic results. Many people will begin their search by exploring the map results, which usually display the top three results. It is critical to appear in these map results for as many target keywords as possible. Some search engine users will not even explore organic results and look through different map results.  
The first step in appearing in local results is creating or claiming listings on review sites. This means creating profiles on Google, Bing, and Yelp for the most part. These listings require verification to ensure no one has unauthorized access to the listing. Verification comes in a phone call, text, or postcard mailed to the business. Once verified, the listing will appear on maps (Such as Google Maps, Bing Maps, and Apple Maps) and in map results on search engines. For the best results, ensure that the information in every listing matches each other and matches the information on the podiatrist's and podiatric surgeon's websites. A practice should check to ensure that the name, address (including any office or suite numbers), business hours, and website URL match on a business listing.
Another way to boost the Local SEO of a podiatrist and podiatric surgeon's website is to embed a map onto a website to allow visitors to explore and get directions. Google Maps makes it easy to embed a map showing an office's location on to a website. Some medical practices go the extra mile and create a "Directions Page" on their website. A medical practice will write out directions to their location on this page. They will mention streets, landmarks, and even other businesses to describe how to reach there. If a Podiatrist and Podiatric Surgeon's office is near public transportation, like a bus, rail, or subway stop, they should include that on their directions page. These descriptions will help search engines better associate your location with a physical location. The location of a business and a search engine user's location play a significant role in what map results will appear for them. The better a search engine knows where the office is located, the better local SEO.
Step 3: Advertising your podiatry practice online and offline
There are 2 main ways you can advertise your practice,
1) Traditional (offline) advertising – this means newspapers, billboards, printed materials, flyers, radio, TV etc
2) Modern online digital advertising – this means ads on Google, social media and some selected websites
Both are important, however the ROI ( Return On Investment) is higher for no 2. Many podiatrists consider SEO is a part of digital advertising. However, we distinguish "paid" advertising as different from SEO, learn more about online advertising for podiatrists here.
Are there any traditional or offline marketing methods that Podiatrists and Podiatric Surgeons can benefit from?
While digital marketing is generally more cost-effective than traditional marketing for most healthcare businesses, traditional marketing should not be completely ruled out. If used correctly, they can be incredibly effective in reaching a target audience that digital campaigns may have missed. Many healthcare practices still use an offline marketing method: direct mail marketing. Unlike other traditional tactics, direct mail marketing has a degree of targeting associated with it. A practice can determine which households receive information about the services or specials available at a Podiatrist and Podiatric Surgeon's location. Direct mail marketing can help reach older populations or an audience without easy access to the internet. This method of reaching people can be cost-effective as well if appropriately organized. The United States Post Office offers discounted postage based on volume and how marketing materials sent to distribution centers.
The goal of any direct mail marketing campaign is for whatever is sent to a household to be looked at and not end up in the recycling bin. Ideally, it will be stuck to a fridge or corkboard to be viewed constantly. While mail volume has fallen over the years, any piece of mail sent by a podiatrist or podiatric surgeon will compete with other things in the mail. A practice should experiment with colors, fonts, paper thickness, and even texture to get the attention of whoever checks the mail. Anything sent to current, or potential patients should have the practice's name, the address, website URL, hours of operation, phone number, and a compelling call to action. While these campaigns can not be directly tracked via website analytics, look for an increase in specific keywords and direct website traffic when campaigns launch to see how effective it is.
Step 4: Reputation management app for podiatrists
Online reputation management can be a headache or a winning strategy for podiatrists. 72% Of the patients who are unhappy and who post negative feedback on Google and Yelp are not doing so because of the patient-physician experience; they are unhappy due to billing issues, incorrect deductible payment, rude front desk person, lack of perceived patient focus, improper handling of the paper-work, long wait time or impolite response from a clinic staff member ( non-physician ). There are 3 specific ways you can implement reputation management strategy for your podiatric practice.
Step 5: Email marketing
Getting a new patient to walk through your medical practice doors is the goal of your medical marketing plan. However, it is not the only goal! Ultimately, you want that patient to come back again and again. When they do, you get a greater return on your marketing investment in them. One of the best ways to keep your medical practice engaged with your patient is through email marketing.
Despite the changes in technology in recent years, email marketing remains a powerful tool to reach more patients and grow your business, learn more how Email marketing technology helps your podiatric practice.
Step 6: Posting on social media
There are hundreds of social media sites. The most important for you are 1) Facebook 2) Instagram 3) Google posts 4) Twitter. As a busy professional, it is difficult to find time and staff who can post content for you on a regular basis. PatientGain's service include posting for a number of social sites like Facebook and Google posts. Content based posts for your specialty and services are created and sent for your approval. Examples of PatientGain Facebook posting app are included here.
Step 7: HIPAA Compliant patient texting – 2 way texting with podiatric patients
Podiatric practices see an immediate increase in engagement, conversion to paying patients if you use this app. This app is very significant, as it functions several ways:
1) Your staff can initiate the texts from a simple dashboard
2) Patients can send initial text from your website
3) Patients receive messages on their personal mobile device
4) It is HIPAA compliant
5) All conversations are captured in a secure database so you can review how your staff communicates with patients
6) Reduces the number of inbound phone calls in your clinic, while increasing the conversion rates
7) This app is available on iPhone and Android phones – you messages can be answered anywhere.
Patients read 97% of text messages. 71% to 88% of your patients are mobile. They are browsing on their cell phones and visiting your website. They also prefer to communicate with you using texting/sms, learn more about 2-way texting app for podiatrists.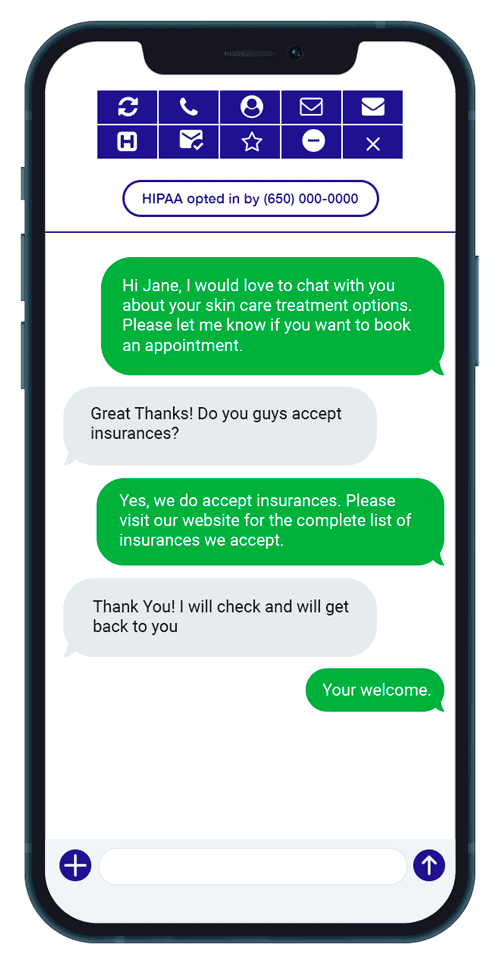 Step 8: HIPAA Compliant online appointment requests for podiatry website
Podiatric practices can win more patients if you offer ability for patients to "request" an appointment from your website. Your patients love convenience. With online appointment scheduling, it's never been easier for them to quickly find a medical provider, and set-up a time to be seen. By including appointment on your website, and specifically on the mobile site, your patients can easily request a time. PatientGain's appointment app can be setup in 2 ways 1) Appointment requests 2) Appointment bookings. Podiatrists are seeing more patients using this appointment request app, all across the USA.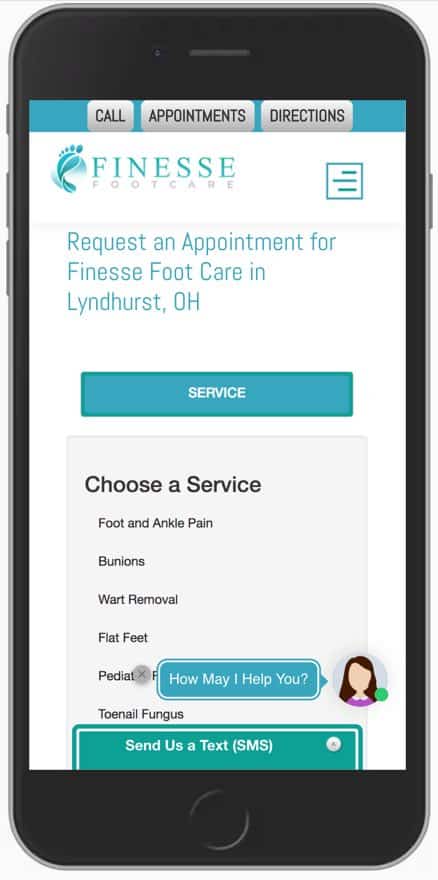 Step 9: Add promotions app to your website for mobile patients
How does a promotions app help market a podiatrist and podiatric surgeon's practice?
Many businesses will offer promotions to current and potential customers. Many healthcare businesses will do the same with their current and potential patients. While not all medical practices can find a way to utilize a promotion, Podiatrists and Podiatric Surgeons often can. Offering discounts for first-time services or free consultations are a great way to bring in new potential patients to try the services at that practice. With that in mind, promotions need to be handled carefully, or they can cause negative experiences with patients. Promotions need to be posted and shared at the right time so that potential and current patients can take advantage of them and share it among their friends and family. Posting a promotion that ends in 24 or 48 hours without warning will not get the results a practice wants and may lead to frustration. Leaving up a promotion past the expiration date will also cause frustration among those who take it and bring it in only to find out it is no longer valid. While taking these promotions up and down may seem easy, they can fall by the wayside in a busy office.
A promotions app helps Podiatrists and Podiatric Surgeons manage their promotions on their websites. The PatientGain.com Promotions App can easily set start and stop dates for any active promotion. There is no need to remind a web designer when to post it and take it down. The app will do it based on the dates set by the clinic manager. Another advantage of using a promotions app is collecting contact information from visitors who want the special. A practice can then use this information to market to those interested people or research who came in to redeem the special to gauge the campaign's effectiveness. Promotions can also be shared across social media channels, like Facebook and Google Posts, and make great content for a monthly email marketing newsletter.
Step 10: Add online payments app to your website
How do online payments help market Podiatrists and Podiatric Surgeons?
Online payments are as common today as cell phones. Consumers fine online payments to be convenient, fast, easier to track, and do not require an envelope and a postage stamp. Businesses get their money faster, it also simplifies bookkeeping, and they do not need to go to the bank to deposit cash or checks. Podiatrists and Podiatric Surgeons should take advantage of this technology, offer online payments to their patients and use this service in their marketing materials. While insurance will likely cover many health-related bills, practices will still need to collect deductibles or co-insurance from patients. Offering this convenience to patients will get funds faster, making it easier to run their practice.
Online payments need to be processed over a secure connection. With that in mind, all sites need to have SSL security and start with HTPPS for their site's URL. Many web browsers will visually alert users if they explore an unsecured site or a site that might put their payment information at risk. If payment information is stolen from patients through a podiatrist and podiatric surgeon's website, it will cause a lot of damage to their online reputation. PatientGain.com's online payment system is secure and is integrated with Square payment software and Stripe payments. These two companies are among the industry leaders in online payments, and we can help you embed their payment systems into your website. Podiatrists and Podiatric Surgeons can not only accept online payments, but they will be alerted when a payment arrives, and patients can be sent reminders when a bill is due.
Step 11: Add automated Chatbot to your website
How can a medical engagement chatbot help a podiatrist and podiatric surgeon's practice?
The staff at the front desk of any medical practice is often very busy. Not only are they taking intake paperwork for those in the waiting room, but they are also fielding questions from current and potential patients. These questions either come over the phone, through email or via some other messaging system used by a clinic. While they should be pretty good at handling and processing these help requests, high patient volume or staff shortages can cause delays in replies. Delays in getting back to current and potential patients can give opportunities for competitors to steal those patients. Using a medical engagement chatbot can help you convert those website visitors who need help into patients.
Many questions a front desk staff gets asked are often the same or very similar. These questions need to be programmed into a medical engagement Chabot. While a chatbot mimics human conversation, it can only answer questions programmed into it. Filling it with the most common questions and tasks will hopefully divert some of those patients from calling a podiatrist's and podiatric surgeon's office. This will allow the front desk staff to concentrate on more difficult patient questions and issues, serving everyone faster. For any questions a chatbot can not answer, it will take the patient's contact information and question and store it in a HIPAA compliant server for staff to address. One of the most significant advantages of a medical engagement chatbot is it being always available. It can assist website visitors after hours, over holidays, or even when inclement weather shuts down a practice for a day. Finally, chatbots are very versatile. They can be updated quickly with new information and questions, such as changes in COVID-19 protocols.  
Step 12: Add 2-way texting app to your website
How can 2-way texting help market a podiatrist and a podiatric surgeons?
Texting today is so common today that it is unusual to come across someone who does not engage in texting. Even senior citizens over the last decade have become very adept at using cell phones to text and keep in touch with others. With that in mind, many businesses are taking advantage of texting by allowing customers to text a business for questions, assistance, or appointments. Healthcare businesses can also take advantage of this, as many people prefer texting a company (as well as friends and families) to calling them. However, unlike a department store or restaurant, specific rules must be followed to remain HIPAA compliant.  
A podiatrist and podiatric surgeon can not simply have a cell phone sitting on the front desk that is passed between staff members to answer texts. There is no practical way to track who accesses the phone, how that data is used, or if that data is sent elsewhere. Instead, texts must be sent to a HIPAA-compliant dashboard where limited access and usage are audited. The assigned staff member can then address the question, concern, or request the person is making from that dashboard. The staff member handling text message communication also needs to keep HIPAA privacy guidelines in mind. While texting is secure on the practice's end, texts sent to a phone are not considered secure. While they are generally deemed encrypted when sent, there is no way for an office to know who has access to that phone or how that data is used on that end. With that in mind, any text responses can not include any personal health information.
The experts at PatientGain.com are available to help create a high-performance healthcare website for Podiatrists and Podiatric Surgeons across the country. Contact us today, and show us what we have done for other practices across the country!