Medical Advertising For Physicians & Medical Practices in USA and Canada
Healthcare advertising can be tricky & costly. Doctors and medical practice owners face an avalanche of day-to-day responsibilities, which can often cause them to struggle with their practice's marketing strategies.
Common question asked by doctors and practice managers: Does Online Medical Advertising Increase Your New Patient Count?
Answer: YES
There are hundreds of options, many software tools, countless "medical marketing experts" and enough material on "how to acquire new patients" on the internet. PatientGain.com has simplified this challenge for you. There are hundreds of medical practices using PatientGain.com's proven Medical Advertising & Marketing platform.  The ROI from using the system has been 11X to 39X. Medical practices range from a stand alone single locations to medical practices with more one hundred locations.
Top 5 Common Medical Advertising Challenges Doctors and Medical Practices Face
1. Ensuring Your Medical Practice is Easily Visible in Search Engines – SEO – Search Engine Optimization
Getting your clinic visible online is tough, even when you're familiar with online marketing strategies. To get good visibility, a Medical Practice needs to show up well in the three major areas of search results: Ads, Google's Business Listings, and organic. It is called SEO – Search Engine Optimization ( Read more here ). And for each one of these major areas, doctors not only need an effective strategy on how to improve their clinic's presence, but also a reliable and actionable plan to ensure the clinic's continued visibility. To be successful in search engines, clinics need an effective advertising campaign on Google that's actively managed and updated, original content on their website that's added regularly to improve organic rankings, and ensure you have your Google My Business listing optimized and stocked full of good reviews. Medical practices staff rarely have the expertise or time to run these types of strategies, and have to pay multiple medical marketing companies to run each of their campaigns. There is a simple solution.
Medical Advertising and SEO Example 1.
In this example below, a patient is searching for an "semaglutide in Cary NC" . You can see the results. This an example of Medical Advertising and SEO.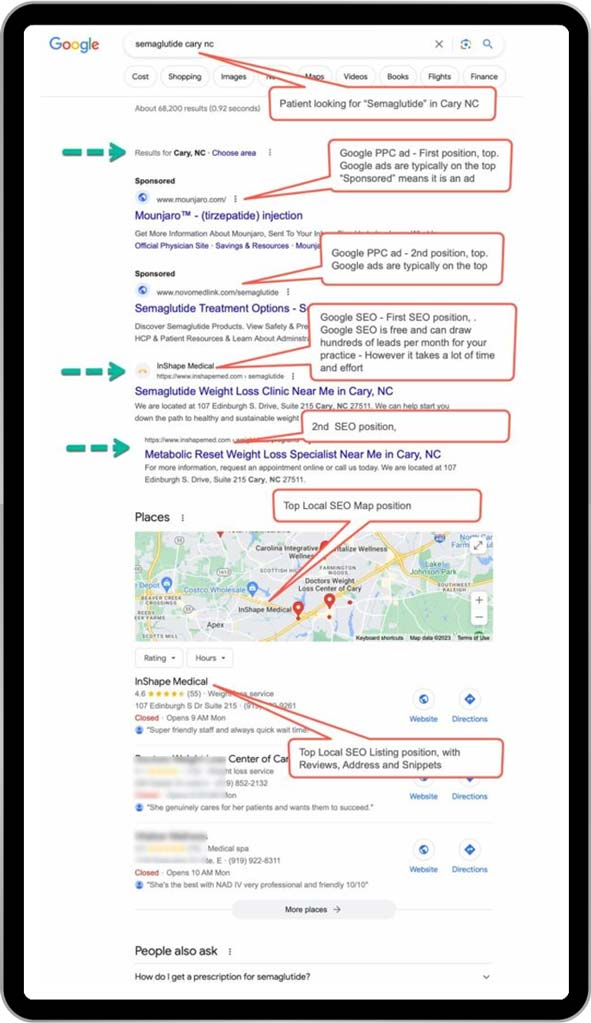 2. Acquiring Positive Reviews and Building a Good Online Reputation
Many doctors also struggle with their medical practices's online reputation – seeing not-so-great review scores on Google or Yelp, and visible negative reviews are common problems. Some medical practices try to combat this by asking patients for reviews, but most do this without a plan on how to effectively request reviews, follow up, and respond to reviews. Without a solid strategy in place, most efforts don't produce much for results. Medical practices and physicians also often ask patients for reviews via individual emails, or in person or over the phone, and so end up only sending out a few requests each week due to the time requirements. Medical practices that don't have software tools or a cohesive strategy to help empower their efforts get very few reviews from their patients, and struggle to turn their poor ratings into good ones. So the strategy should be maximize the POSITIVE reviews and MINIMIZE the negative reviews about your clinic and providers.
3. Converting Online Patient Visitors into Patients at the Clinic
One of the most important marketing challenges your clinic can face is figuring out how to convert patient leads into patients walking in through your doors. Without an effective patient conversion strategy in place, your other marketing efforts aren't going to be of much use to your clinic. HIPAA compliant Apps on your website for appointment scheduling, patient registration, and contact requests are vital for converting people who find your website into walk-ins. Many clinics have 'flat' websites, with no integrated apps; the clinics that do have apps on their site often lack HIPAA compliant sites. Without apps to power patient conversion strategies, doctors and clinic owners never see many of the potential patients who go to their site come into their clinic.
4. Keeping Past Patients Engaged and Coming Back for Future Care
To maximize your clinic's patient daily patient, you need to keep past patients engaged and returning to your clinic for future medical needs. Email marketing is a great way to stay in front of your patients with news, interesting information, and promotions to entice them to come back to see you. However, many clinics neglect this aspect of their marketing strategy, and don't implement any patient engagement strategies. Writing up newsletters, collecting and uploading patient emails, and sending email campaigns is difficult work when you don't have software to power your efforts. Often, clinics don't have the promotion apps, email marketing tools, and other patient communication software they need to effectively run their engagement strategies. As a result of the lack of communication and marketing, many patients only come for their first visit, and the clinic rarely sees repeat patients.
5. Paying for Expensive and Convoluted Medical Marketing Solutions
With all the different issues surrounding their marketing strategies, many clinics choose to look for help from other companies. But with all the different parts and plans the clinic needs to operate, many doctors and owners have to buy separate tools and solutions from three to five vendors. This proves to be very expensive and time consuming, as the clinic has to pay for multiple solutions that aren't designed to complement or fit each other. Duplicate costs, and time investments required to keep everything running smoothly, cut into the value generated by these solutions. As a result, the clinic is often saddled with new problems that replace the old ones, and has to now coordinate with multiple vendors to keep their solutions running smoothly.
Simple Solution For Online Advertising For Doctors
If your clinic is suffering from any of these five problems, there's an easy way you can fix your clinic's marketing challenges: PatientGain.com's Gold Package. Our comprehensive solution covers your clinic's patient acquisition and engagement strategies, boosting your daily patient counts and improving your bottom line. PatientGain.com's Gold Package is used by hundreds of clinics across the US, and is trusted by industry leading organizations to manage their clinics' entire online presence. Call us today to learn more about our patient acquisition and engagement solution, and see how PatientGain.com can help your clinic grow its business.
Healthcare Medical Marketing ROI Calculator & Examples
We have ROI data and results from healthcare providers from across the USA & Canada. Read more.